More Than Vaccinations
Passport Health's Travel Medical Services extend beyond just giving advice and vaccinations. For many of our travelers, there are requirements that exceed preparing to stay healthy on their trip. Complicated paperwork, laboratory testing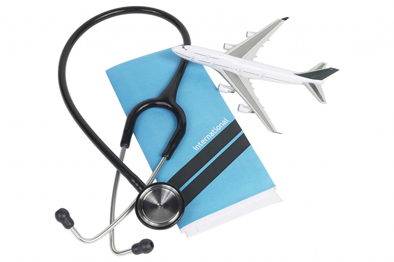 and other demands by destination countries and organizations can be confusing and time consuming. Many general practice clinicians don't have the time, experience or resources to address these obligations and refer their patients to us.
Our experienced clinicians perform specialty physical exams daily and our staff is prepared to address the sometimes confusing and complex paperwork required for more extended travel plans.
Specialty travel physical exams can be for DOD Civilian Contractor Pre-deployment, Visas for Work or Study Abroad and medical clearance for humanitarian efforts with The Peace Corps or other international relief organizations. We've performed many physicals for clients traveling to Saudi Arabia, Spain, China, Taiwan, Guyana, Democratic Republic of Congo, Jordan, New Zealand, Switzerland and lots of other destination countries. We are familiar with their medical forms and, more importantly, the specific requirements that are unique to those countries. Be prepared. Some of these exams are complicated, require uncommon lab tests and take longer than you would expect.
More Than Physical Exams for Travel
Also, since we are skilled in some of the most difficult types of physicals exams, we perform some of the more complicated domestic physical exams that require specific training and certification like DOT/CDL Physical Exams for Commercial Motor Vehicle Drivers and Immigration or "Green Card" Medical Exams for those seeking to become United States citizens.
The simplest specialty services we perform include lab tests for diseases like Malaria and Tuberculosis and blood titers to demonstrate exposure or immunity from prior immunizations. In addition, since Passport Health is a nationwide network of vaccination clinics, we work with pharmaceutical, surgical instrument and other medical companies to credential their employees and provide a single, always accessible record of vaccinations.
Please select any of the services below to learn more about our abilities to provide you with the results you need efficiently and effectively:
o MOD 14 Pre Deployment, Work/Study Abroad Visas and other Pre-Travel Medical Exams
o DOT Physical / CDL Medical Exam
If you have any questions, please call us.
The Passport Health Advantage:
270+ Clinics Nationwide
Decades of Wellness-Preparation Expertise
Extensive Contract Experience with Large Organizations
We Customize Our Services to Fit Your Needs
One-Stop Shop Solutions Provider: Examinations, Medical Tests, Laboratory and Blood Testing, Vaccinations