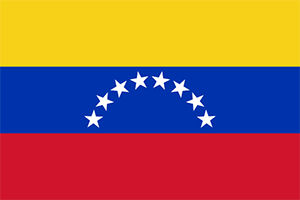 Travel Vaccines and Advice for Venezuela
If you wish to see a lush and unspoiled landscape, Venezuela is a must visit.
Venezuela's Catatumbo river is famous for the Catatumbo lightning, as there are sometimes over 100,000 lightning strikes each night. If that isn't fascinating enough, Mount Roraima, found in the Canaima National Park, was part of the inspiration for Sir Arthur Conan Doyle's classic The Lost World.
Do I Need Vaccines for Venezuela?
Yes, some vaccines are recommended or required for Venezuela. The CDC and WHO recommend the following vaccinations for Venezuela: hepatitis A, hepatitis B, typhoid, yellow fever, rabies, meningitis, polio, measles, mumps and rubella (MMR), Tdap (tetanus, diphtheria and pertussis), chickenpox, shingles, pneumonia and influenza.
COVID-19 vaccination is recommended for travel to all regions, both foreign and domestic. Check with your local Passport Health clinic if immunization is offered in your area.
See the bullets below to learn more about some of these key immunizations:
See the tables below for more information:
Recommended Travel Vaccinations for Venezuela

VACCINE
HOW DISEASE SPREADS
DETAILS

COVID-19
Airborne & Direct Contact
Recommended for all unvaccinated individuals who qualify for vaccination
Hepatitis A
Food & Water
Recommended for most travelers
Hepatitis B
Blood & Body Fluids
Accelerated schedule available
Typhoid
Food & Water
Shot lasts 2 years. Oral vaccine lasts 5 years, must be able to swallow pills. Oral doses must be kept in refrigerator.
Yellow Fever
Mosquito
Required if traveling from Brazil. Recommended for all travelers over 9 months of age. Excludes Merida, Tachira, Trujillo, Falcon, Lara, Margarita Island, Caracas and Valencia.
Rabies
Saliva of Infected Animals
Moderate risk country. Vaccine recommended for certain travelers based on destination, activities and length of stay.
Routine Vaccinations for Venezuela

VACCINE
HOW DISEASE SPREADS
DETAILS

Measles Mumps Rubella (MMR)
Various Vectors
Given to anyone unvaccinated and/or born after 1957. One time adult booster recommended.
TDAP (Tetanus, Diphtheria & Pertussis)
Wounds & Airborne
Only one adult booster of pertussis required.
Chickenpox
Direct Contact & Airborne
Given to those unvaccinated that did not have chickenpox.
Shingles
Direct Contact
Vaccine can still be given if you have had shingles.
Pneumonia
Airborne
Two vaccines given separately. All 65+ or immunocompromised should receive both.
Influenza
Airborne
Vaccine components change annually.
Meningitis
Airborne & Direct Contact
Given to anyone unvaccinated or at an increased risk, especially students.
Polio
Food & Water
Considered a routine vaccination for most travel itineraries. Single adult booster recommended.
A yellow fever vaccine is generally recommended for all travelers to Venezuela. Dengue and Zika are also present in the country, be sure to use mosquito netting and repellents.
Malaria is found in some parts of Venezuela. Antimalarials are recommended for some itineraries.
Visit our vaccinations page to learn more. Travel safely with Passport Health and schedule your appointment today by calling or book online now.
Do I Need a Visa for Travel to Venezuela?
Yes, you do need a visa to travel to Venezuela, and you must obtain it before you arrive.
You will also need a passport in good condition with two blank pages for the entry stamp and six months validity.
Venezuela Entry Requirements

Do I Need A…
For My Trip to Venezuela?

Passport
Tourist Visa
Business Visa
Vaccinations
Sources: Embassy of Venezuela and U.S. State Department
What Is the Climate Like in Venezuela?
Due to its geography Venezuela has a variable tropical climate.
Temperatures stay regionally consistent throughout the year. Most of the country has temperatures in the high-70's to low-80's. The higher in Venezuela you go the cooler it is. Temperatures in the Andes often fall to the 40's.
The rainy season is from May to November. During this time low-lying regions are at a strong flooding risk. Though hurricanes are rare, the downpours from the hurricane season can cause disasters. Rain can come at anytime, even in the dry season. This is especially true for the mountainous areas.
How Safe Is Venezuela?
While Venezuela is an often popular country to visit. There are some key items to consider. Political unrest is common in the region. Until the situation has resolved, consider avoiding travel to the region.
Travelers should avoid buses and the metro as crimes rates are very high. Don't hire taxis on the street or use "libre" taxes as they pose a significant risk to travelers. Some drivers kidnap, rob, overcharge and more.
Many cars in the country, even rentals or taxis, do not have seat belts or child car seats. If you are driving while in Venezuela note that many drivers also do not follow the law. Traffic jams are frequent sites for armed motorcycle gangs. Tunnels are also prime spots for attacks. Road damage is not well-marked.
See the Staggering Angel Falls
Avoid mosquitoes and other bugs
Venezuela's Angel Falls is the tallest waterfall in the world at about 3,212 feet – 19 times as high as Niagara Falls. It is in Bolivar in the Canaima National Park. The sandstone tepuis of the waterfall was formed over 130 million years ago.
Angel Falls is named for American pilot Jimmy Angel who was stuck with his wife and two companions at the top of Auyantepui in 1937. Instead of gold after trekking for days they found the falls.
Local Indians call it "Kerekupai-Meru" in Pemom, or, "falls of the water to the deepest site".
To see Angel Falls, visitors may travel by boat and/or by plane, and many often enjoy seeing double rainbows over it. Angel Falls is fuller from July to September due to rain.
What Should I Pack for Venezuela?
If you're going to Venezuela, you should pack light clothes, sunscreen, sunglasses, a hat, and insect repellent to protect yourself from the hot sun and mosquito-borne diseases. Bring cash and a credit card, as well as any necessary travel documents.
Pack any medication you need, and bring a water bottle and water purification tablets or a filtering system, as it's not safe to drink tap water. Bring a camera to capture the beautiful scenery and binoculars for wildlife spotting. Wear comfortable shoes for walking and hiking.
It's important to be cautious when traveling to Venezuela due to political unrest and crime. Learn some basic Spanish phrases to communicate with locals, and check your country's travel advisory for up-to-date information and guidance.
U.S. Embassy in Venezuela
All Americans visiting Venezuela should register online with the U.S. Department of State before departure. This will inform the office of your travel plans within the country and will allow them to reach out in the case of an emergency or evacuation.
The U.S. embassy in Venezuela used to offer services for travelers like helping people get visas to go to the United States, providing information on travel safety, and assisting U.S. citizens in case of emergencies. However, the embassy has been closed since 2019 and all U.S. consular services were suspended.
While there is no active embassy in Venezuela, travelers are advised to contact the U.S. Embassy in Colombia for consular needs:
U.S. Embassy Colombia
Calle 24 Bis No. 48-50
Bogotá, D.C. Colombia
Telephone: +(57)(1) 275-2000
Emergency: +(57)(1) 275-2000
Stay safe abroad with Passport Health. Call or book online now and start traveling safely today!
Customer Reviews
Passport Health – Travel Vaccines for Venezuela
Overall rating: 5 stars – 3 reviews
"

I Keep Coming Back

"

"I have visited Passport Health on three occasions for vaccines and health information prior to going overseas. The binder the office prepares for me with particulars on the area to which I travel is incredibly helpful; in fact, he first time I went to Passport Health and got my binder on Venezuela, my mind was blown! The attention to detail is truly outstanding. The nurses are dedicated, caring and seem very interested in their clients and where we plan to travel. I love the photos and postcards clients have brought back for the bulletin board–it strikes me that if people bring back photos for the office, they must feel as good about Passport Health as I do."
"

a very reliable clinic

"

"I received a detailed briefing regarding travel to Venezuela , what recommendations are needed to be protected adequately, especially in rural areas. The counseling was very professional., making me feel very confident about the immunizations to be administered"
"

excellent

"

"Highly recommend this service. In addition to receiving all our important immunization shots, we were given so much information about Venezuela. It was really comforting to know that we were totally prepared for our trip."
On This Page:
Do I Need Vaccines for Venezuela?
Do I Need a Visa for Travel to Venezuela?
What Is the Climate Like in Venezuela?
How Safe Is the Venezuela?
See the Staggering Angel Falls
What Should I Pack for Venezuela?
U.S. Embassy in Venezuela