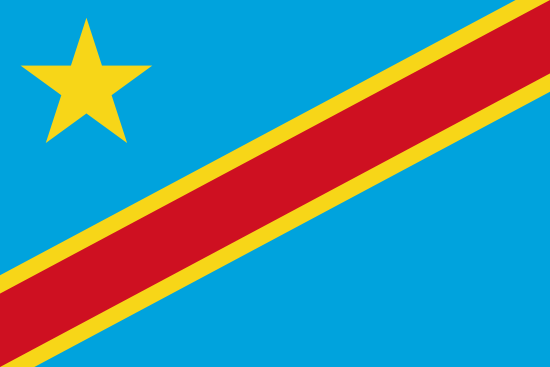 Travel Vaccines and Advice for the Democratic Republic of the Congo
The Democratic Republic of the Congo (DRC), located in Central Africa, was previously known as Zaire. In area it is the second largest country in Africa.
Travelers visiting the DRC will have a lot to explore including rainforests and wildlife. They can also enjoy city life as well as the historical sites. Brazzaville is a great place for tourists to visit Brazzaville Basilica, the marketplace, the Congo River Rapids and the Lefini Faunal Reserve.
If you enjoy cruises, the DRC has a tour that takes you down the Congo River. It starts from the capital of Kisangani to the city of Kinshasa. This 1750-kilometer cruise is ideal if you have a lot of free time on your hands.
The Democratic Republic of the Congo is a great destination for tourists. There's so much to explore. Whether you travel by train or by air, the DRC awaits you.
Do I Need Vaccines for the Democratic Republic of Congo?
Yes, some vaccines are recommended or required for Democratic Republic of Congo. The CDC and WHO recommend the following vaccinations for Democratic Republic of Congo: hepatitis A, hepatitis B, typhoid, cholera, yellow fever, rabies, meningitis, polio, measles, mumps and rubella (MMR), Tdap (tetanus, diphtheria and pertussis), chickenpox, shingles, pneumonia and influenza.
See the bullets below to learn more about some of these key immunizations:
See the tables below for more information:
Recommended Travel Vaccinations for Democratic Republic of Congo

VACCINE
HOW DISEASE SPREADS
DETAILS

Hepatitis A
Food & Water
Recommended for most travelers
Hepatitis B
Blood & Body Fluids
Accelerated schedule available
Typhoid
Food & Water
Shot lasts 2 years. Oral vaccine lasts 5 years, must be able to swallow pills. Oral doses must be kept in refrigerator.
Cholera
Food & Water
Recommended for travel to most regions. Active transmission occurs in most parts of the country.
Yellow Fever
Mosquito
Required for all travelers over 9 months of age.
Rabies
Saliva of Infected Animals
High risk country. Vaccine recommended for long-term travelers and those who may come in contact with animals.
Meningitis
Airborne & Direct Contact
Located in the meningitis belt, vaccination is recommended during the dry season (Dec. – June)
Polio
Food & Water
The DRC has had documented polio cases in the last year. Vaccination or a single adult booster is recommended.
Routine Vaccinations for Democratic Republic of Congo

VACCINE
HOW DISEASE SPREADS
DETAILS

Measles Mumps Rubella (MMR)
Various Vectors
Given to anyone unvaccinated and/or born after 1957. One time adult booster recommended.
TDAP (Tetanus, Diphtheria & Pertussis)
Wounds & Airborne
Only one adult booster of pertussis required.
Chickenpox
Direct Contact & Airborne
Given to those unvaccinated that did not have chickenpox.
Shingles
Direct Contact
Vaccine can still be given if you have had shingles.
Pneumonia
Airborne
Two vaccines given seperately. All 65+ or immunocompromised should receive both.
Influenza
Airborne
Vaccine components change annually.
Yellow fever is still a problem in the DRC. Proof of yellow fever vaccination is required to enter the country.
Zika is present in the DRC. Women who are pregnant or may become pregnant should avoid travel to the region. Steps should be taken to prevent mosquito bites and sexual exposure to the virus.
Malaria is a serious mosquito-borne disease which is present in the DRC. Antimalarials are the best form of prevention alongside repellents and mosquito netting.
Dengue and chikungunya are also present. Both are only preventable through repellents, netting and other anti-mosquito measures.
See our vaccinations page to learn more about these infections and vaccines. Ready to protect yourself? Book your travel health appointment today by calling or schedule online now.
Is There Cholera in the Democratic Republic of the Congo?
There is a risk of contracting cholera in the DRC. The CDC recommends travelers get the vaccine when traveling to a place with active cholera transmission. Avoiding contaminated food and drink can also help prevent cholera.
Cholera cases have been reported in the DRC. Over 20,000 cases were reported from Jan to October 2016. Nearly seven hundred people died in the outbreak.
Passport Health's travel clinics carry Vaxchora, the only cholera vaccine approved for use in the United States. Book your cholera vaccination appointment today by calling or book online now.
Customer Reviews
Passport Health

Travel Vaccines for Democratic Republic of the Congo
Overall rating:

5

stars –

8

reviews
"

Great clinic

"

"I had a last minute trip to the Democratic Republic of the Congo. Clinic was booked, but they took my name in case of a cancellation. They got back to me within an hour, got me in, were incredibly thorough and professional. I VERY much appreciated all they did for me…"
"

Very good experience

"

"Excellent consultation with a very smart and kind RN. My husband got 6 shots and still left very happy. Travelling to the Democratic Republic of the Congo."
"

Amazing Service and Care

"

"I came to the clinic to get my vaccinations for a trip to Uganda and the Democratic Republic of the Congo. I was more than pleased with the level of service and care I received. I'm all set for my trip and they walked me through everything I needed to consider."
"

Great Experience

"

"I went back for a booster shot today and was promptly greeted by the friendly staff and got in a bit early. We talked about my trip to Turkey and Tiblisi as she readied the shot. She said there would be a slight sting…. But there was none as she gave me the shot in my right shoulder. I was amazed I did not feel the needle enter my arm and thought it must have been a very tiny needle, but when I looked at it, it was normal sized. I commented that I did not feel it and she said they use 25 gauge needles which are a better quality that most other medical facilities. She prepared my documentation and explained it thourougly. She provided advice to me reference upcoming trips to Scotland and the Democratic Republic of the Congo. Overall, the service could not have been better!"
"

Great Job!

"

"i Loved the easy online booking system, and the fact that I walked in, and did NOT have to wait in crowds all day to see someone. I arrived at my scheduled time, was called to the office 2 minutes later and everything was completely printed out and organized according my health background and travel plans to the Democratic Republic of the Congo. Alt ought it was a lot of information to process, everything was clear and concise. The consultant really took time to answer all my questions. I left the office with all the vaccines and immunizations I needed plus a nice packet to reference of ALL possible conditions (outbreaks, symptoms etc) I may encounter in my travels."
"

Priority shot

"

"Though the yellow fever vaccine is in short supply, an arrangement was made for me to receive the shot only two days after my request. Thanks for the early scheduling. It enables me to get a visa to the Democratic Republic of the Congo in a timely manner."
"

Very Helpful

"

"The travel nurse I had was very nice and helpful in preparing me for the Democratic Republic of the Congo."
"

Great experience

"

"The RN was very knowledgable and well informed. Everything was clear and managed confidently. I feel reassured going to the Democratic Republic of the Congo."
Do I Need a Visa or Passport for the Democratic Republic of the Congo?
A passport, visa, and World Health Organization (WHO) card with yellow fever vaccination are required to enter the DRC. It's important to have your visa before traveling to the DRC. Contact a Passport Health Passport and Visa Specialist today to start the process.
Sources: Embassy of Democratic Republic of Congo and U.S. State Department
The U.S. Department of the State doesn't know of any HIV/AID restrictions for people visiting the DRC or foreign residents in the DRC.
For more information, see our Democratic Republic of the Congo visa page. Or contact a Passport Health Passport and Visa specialist by calling 1-844-366-8472 or by filling out our online form.
What is the Climate Like in the Democratic Republic of the Congo?
The DRC has an equatorial and tropical climates making it hot and humid. The average temperature in the high 70s in the low central basin and mid-60s at altitudes of 5,000 feet. The best time to travel to the DRC is during dry season.
Here is what to expect from the climate in DRC:
Equatorial Climate – The temperature is stable throughout the year. There is a lot of rain during the months of April-May, and October-November. The least months with rainfall are January-February and June-July.
Tropical Climate – This occurs to the north and south of the equatorial zone. The climate becomes tropical and the rainfall averages between 40 to 67 inches per year. The temperature is lower in the winter dry season but higher during the summer rainy season. The spring is the end of the dry season.
The Mountains – In the east the DRC experiences the East African Rift that has created many lakes. The mountains affect precipitation, causing the west to have more rain while the east remains dry.
The coast experiences fog and low clouds because of the cool sea current. Travelers exploring the southern DRC will feel the dry season is more evident.
How Safe is the Democratic Republic of the Congo?
There are some parts of the DRC travelers should not visit. The eastern part of the DRC is not stable because of rebel and military groups. Violence has occurred including hurting civilians, killing, rape, and kidnapping. Pillaging is still happening in places like North Kivu, South Kivu, Tanganyika, Haut, Lomami, Ituri, Bas-Uele and Haut-Uele. Civil unrest is ongoing.
Travelers should stay away from demonstrations and large crowds. Protests can turn from peaceful to violent at any moment. People also need to be cautious of roadblocks and security forces. When you're driving, you should keep doors and windows locked. Don't let soldiers get into the car with you. It's important not to get into a vehicle with anyone.
If you need to communicate with a legitimate officer, you should make sure your doors are locked. Only leave your window open a little bit to communicate with the officer.
You need to have your identity papers with you to show the police if the situation calls for them. It will make things easier if you follow the officer's commands and if threatened, don't resist.
If a crime occurs or you're a victim of a crime, you should report it to the U.S. Embassy of Kinshasa.
Senkwekwe Gorilla Orphanage
Travelers who want to connect with the wildlife of the DRC should visit the gorilla orphanage. This orphanage can be found on the grounds of Mikeno Lodge. The Senkwekwe Gorilla Orphanage was named after a silverback killed defending the Rugendo group against poachers in 2007. Four gorillas now live in the orphanage and two of them, Ndakasi and Ndeze, survived the massacre.
Travelers who stay at the hotel have access to the gorilla orphanage for free. It is open from 8am-4pm, and it's an experience tourists should not miss out on when they travel to the Democratic Republic of the Congo.
What Should I Take To the Democratic Republic of the Congo?
When you're planning your trip to the DRC, there are some things you should consider taking with you.
Packing – Sunscreen, insect repellent, cotton clothing that is comfortable, good walking shoes, sunglasses, and a camera with plenty of film are some of the essentials you'll need for your trip.
Currency/Money – U.S. money is accepted everywhere. There are also moneychangers available in many cities in the DRC. ATMS, that are internationally linked, are available in the larger cities, but they are not that reliable. When travelers tip, a 5% to 7% tip is expected. Most taxi drivers don't expect tips but some ask for them. A good tip to have on you is CDF500, and it's good to carry cash just in case of emergencies.
Medicines and Supplies – Prescription medicines, medical supplies, over the counter medicines, a first aid kit, and supplies to prevent injury and illness are important things to consider on your trip to the DRC.
It doesn't hurt to be prepared on your trip so make sure you take everything you need to travel and stay healthy.
U.S. Embassy in the Democratic Republic of the Congo
The U.S. Embassy's mission is to advance the interests of the United States as well as to serve and protect U.S. citizens in the DRC.
U.S. Embassy Kinshasa
310 Avenue des Aviateurs
Kinshasa, Gombe
Democratic Republic of the Congo
Telephone: +243 97-261-6145 or +243 81-884-4609
Emergency After-Hours Telephone: +243 81-556-0151/152
Fax: (243) 81 55 60 175
Email: USEmbassyKinshasa@state.gov
Ready to start your next journey? Call us at or book online now!
On This Page:
Do I Need Vaccines for the Democratic Republic of the Congo?
Is There Cholera in the Democratic Republic of the Congo?
Do I Need a Visa or Passport for the Democratic Republic of the Congo?
What is the Climate Like in the Democratic Republic of the Congo?
How Safe is the Democratic Republic of the Congo?
Senkwekwe Gorilla Orphanage
What Should I Take To the Democratic Republic of the Congo?
U.S. Embassy in the Democratic Republic of the Congo