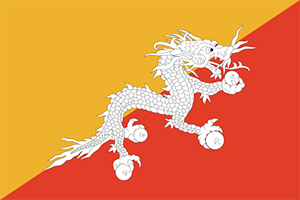 Travel Vaccines and Advice for Bhutan
Bhutan is a country that combines traditional Buddhist traditions with sustainability and development. The Bhutanese have restricted tourism, requiring travelers to pay hefty tariffs each day and make plans with local tour operators. But, this means that visiting the country provides a very genuine look at the culture.
The country is known for its environmental protection effort. This has lead to gorgeous national parks, forests, and snowy mountains to visit. In the cities, there are also dance festivals, textiles, and handcrafts to admire.
A visit to Bhutan will be an experience unlike any other.
Do I Need Vaccines for Bhutan?
Yes, some vaccines are recommended or required for Bhutan. The CDC and WHO recommend the following vaccinations for Bhutan: hepatitis A, hepatitis B, typhoid, Japanese encephalitis, rabies, meningitis, polio, measles, mumps and rubella (MMR), Tdap (tetanus, diphtheria and pertussis), chickenpox, shingles, pneumonia and influenza.
COVID-19 vaccination is recommended for travel to all regions, both foreign and domestic. Check with your local Passport Health clinic if immunization is offered in your area.
See the bullets below to learn more about some of these key immunizations:
See the tables below for more information:
Recommended Travel Vaccinations for Bhutan

VACCINE
HOW DISEASE SPREADS
DETAILS

COVID-19
Airborne & Direct Contact
Recommended for all unvaccinated individuals who qualify for vaccination
Hepatitis A
Food & Water
Recommended for most travelers
Hepatitis B
Blood & Body Fluids
Accelerated schedule available
Typhoid
Food & Water
Shot lasts 2 years. Oral vaccine lasts 5 years, must be able to swallow pills. Oral doses must be kept in refrigerator.
Japanese Encephalitis
Mosquito
Recommended depending on itinerary and activities. May be given to short- and extended-stay travelers, recurrent travelers and travel to rural areas. Most common in non-mountainous regions.
Rabies
Saliva of Infected Animals
High risk country. Vaccine recommended for long-term travelers and those who may come in contact with animals.
Routine Vaccinations for Bhutan

VACCINE
HOW DISEASE SPREADS
DETAILS

Measles Mumps Rubella (MMR)
Various Vectors
Given to anyone unvaccinated and/or born after 1957. One time adult booster recommended.
TDAP (Tetanus, Diphtheria & Pertussis)
Wounds & Airborne
Only one adult booster of pertussis required.
Chickenpox
Direct Contact & Airborne
Given to those unvaccinated that did not have chickenpox.
Shingles
Direct Contact
Vaccine can still be given if you have had shingles.
Pneumonia
Airborne
Two vaccines given separately. All 65+ or immunocompromised should receive both.
Influenza
Airborne
Vaccine components change annually.
Meningitis
Airborne & Direct Contact
Given to anyone unvaccinated or at an increased risk, especially students.
Polio
Food & Water
Considered a routine vaccination for most travel itineraries. Single adult booster recommended.
Typhoid vaccination is highly recommended for travelers to Bhutan. Individuals who visit friends or relatives or go to rural areas are at greater risk and should be immunized.
Rabid dogs and other animals are common in Bhutan. Pre-exposure rabies vaccination should be considered before a trip to the country. Children are at an increased risk.
Japanese encephalitis is a serious risk in Bhutan. Even one bite can end a trip. Be sure to receive a vaccine before your trip. Dengue is also present in Bhutan. Mosquito repellents and netting can help protect against both infections.
See our vaccinations page to learn more about these infections and vaccines. Ready to protect yourself? Book your travel health appointment today by calling or schedule online now.
Do I Need a Visa for Bhutan?
A passport and visa are required to enter Bhutan. Your trip also be through a licensed tour operator. Your visa will only be issued if your trip is booked in this way.
Bhutan Entry Requirements

Do I Need A…
For My Trip to Bhutan?

Passport
Tourist Visa
Business Visa
Vaccinations
Sources: Embassy of Bhutan and U.S. State Department
Travelers must pay $40 and provide two passport photos upon arrival.
What is the Climate Like in Bhutan?
Bhutan is a country that has different weather depending on the time of year and location. Paro, Thimphu, Punakha, and Bumthang are some of the most popular tourist destinations in Bhutan. The weather in Paro and Thimphu is generally pleasant all year round, but it can get quite cold in winter. The best time to visit these places is during spring and autumn when the weather is mild and clear.
Punakha is a good place for trekking and rafting, and the weather is warm and pleasant. Bumthang is known for its valleys and monasteries, weather there is cooler than other regions.
The best time to visit Bhutan is during spring and autumn, which is from March to May and September to November. During these months, the weather is mild and dry, making it a good time for outdoor activities and sightseeing.
How Safe Is Bhutan?
Bhutan is a peaceful and friendly country, but it's important to take precautions to stay safe while traveling there. Some tips include respecting local customs and traditions, keeping an eye on your belongings and taking care of your health.
It's important to dress modestly and be respectful of religious artifacts when visiting temples and monasteries. Travelers should use licensed tour operators and guides to ensure they are in safe hands. Political demonstrations and protests can occur, and it's essential to avoid these events as they can turn violent.
Travelers should take care of their health by acclimatizing slowly to the high altitude, staying hydrated, and being cautious of the food and water they consume.
By following these tips and using common sense, travelers can have a safe and enjoyable trip to Bhutan.
Visiting Thimphu
Avoid an Embarrassing Stop
Thimphu is the capital city of Bhutan and a popular tourist destination for its mix of modern amenities and traditional culture.
Visitors to Thimphu can explore cultural landmarks like the Tashichho Dzong, a fortress and monastery that serves as the Bhutanese government's seat.
Thimphu also has several museums and galleries showcasing Bhutanese art, history, and culture. Visitors can attend festivals and events, such as the Thimphu Tshechu, which celebrates Buddhist teachings. They can also shop for souvenirs and traditional handicrafts at the weekend market. Thimphu's unique blend of modernity and tradition is sure to charm visitors.
What Should I Take to Bhutan?
It's important to make sure you have everything you may need for your trip to Bhutan. Be sure to include these items:
Hiking Shoes – Bhutan is known for having amazing hiking. Bring appropriate shoes to enjoy it without hurting your feet.
Cash – Carry cash or traveler's checks. Though use of credit cards is becoming more common in Bhutan, cash is always accepted.
Plug Adapters – Power adapters and voltage vary by country. Make sure you bring the right options for Bhutan.
U.S. Embassy to Bhutan
When traveling it is very helpful to find out exactly where the U.S. embassy or consulates are located. Keep the address written down in case you have a legal problem, you lose your passport, or you want to report a crime. Be sure to keep a copy of your passport with you in case you lose the original.
U.S. affairs within Bhutan are handled by the embassy in New Delhi, India:
U.S. Embassy New Delhi
Shantipath, Chanakyapuri
New Delhi – 110021
Phone: 011-91-11-2419-8000
The embassy offers services like information on visas and customs, and help getting a passport. They can help if an American has an emergency, like needing medical help or getting in trouble with the law. They can also help if an American loses their important documents or property.
Ready to start your next journey? Call us at or book online now!
Customer Reviews
Passport Health – Travel Vaccines for Bhutan

Overall rating: 5 stars – 4 reviews

"

Amazing!

"

"The nurse was very nice and helpful. She took the time to explain everything to me- and I had a lot of questions! I feel better about my trip to Bhutan knowing that Passport Health made sure that I was prepared!"

"

Efficient and knowledgeable

"

"We went in prior to our upcoming trip to Bhutan. The nurse had everything ready to talk to us about and gave us the immunizations we needed and answered all our questions. I had another question this morning and she responded quickly."

"

Excellent advice about our future trip to Asia

"

"The RN was extremely knowledgeable and forthcoming in reviewing our health risks in traveling extensively in India, Myanmar, Bhutan, and Thailand. Although we have lived in SE Asia for some years, and have traveled there several times since, her review was a learning experience for us. We valued her advice and time. Thank you for your kind assistance."

"

Ready for travel

"

"I had my immunization records reviewed and recommendations made for my upcoming travel that includes India, Bhutan, Uganda and Rwanda."

On This Page:
Do I Need Vaccines for Bhutan?
Do I Need a Visa for Bhutan?
What is the Climate Like in Bhutan?
How Safe Is Bhutan?
Visiting Thimphu
What Should I Take to Bhutan?
U.S. Embassy to Bhutan