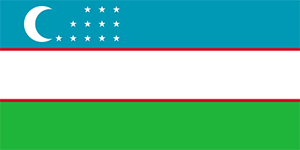 Travel Vaccines and Advice for Uzbekistan
Uzbekistan is a country resting in Central Asia. This small nation has great history, culture and art. With Islamic history and the historic Silk Road, this country offers insight and beauty to travelers.
Tashkent mixes of Soviet and modern style architecture. The capital is also known for its many museums. Some of these include the Museum of Applied Arts and the Museum of Nature. Other popular destinations include the Tashkent Botanical Garden and the Chorsu Bazaar.
Khiva is another choice destination for history-lovers and archeologists at heart. This city was established at the beginning of the Christian era. Itchan Kala, the walled inner city, was the first site in Uzbekistan to be named a World Heritage Site. This inner part of Khiva contains over 50 historic monuments alone. These include the Djuma Mosque, first established as far back as the tenth century.
Uzbekistan is a great destination for any traveler looking to learn about interesting traditions.
Do I Need Vaccines for Uzbekistan?
Yes, some vaccines are recommended or required for Uzbekistan. The CDC and WHO recommend the following vaccinations for Uzbekistan: hepatitis A, hepatitis B, typhoid, rabies, meningitis, polio, measles, mumps and rubella (MMR), Tdap (tetanus, diphtheria and pertussis), chickenpox, shingles, pneumonia and influenza.
COVID-19 vaccination is recommended for travel to all regions, both foreign and domestic. Check with your local Passport Health clinic if immunization is offered in your area.
See the bullets below to learn more about some of these key immunizations:
See the tables below for more information:
Recommended Travel Vaccinations for Uzbekistan

VACCINE
HOW DISEASE SPREADS
DETAILS

COVID-19
Airborne & Direct Contact
Recommended for all unvaccinated individuals who qualify for vaccination
Hepatitis A
Food & Water
Recommended for most travelers
Hepatitis B
Blood & Body Fluids
Accelerated schedule available
Typhoid
Food & Water
Shot lasts 2 years. Oral vaccine lasts 5 years, must be able to swallow pills. Oral doses must be kept in refrigerator.
Rabies
Saliva of Infected Animals
High risk country. Vaccine recommended for long-term travelers and those who may come in contact with animals.
Routine Vaccinations for Uzbekistan

VACCINE
HOW DISEASE SPREADS
DETAILS

Measles Mumps Rubella (MMR)
Various Vectors
Given to anyone unvaccinated and/or born after 1957. One time adult booster recommended.
TDAP (Tetanus, Diphtheria & Pertussis)
Wounds & Airborne
Only one adult booster of pertussis required.
Chickenpox
Direct Contact & Airborne
Given to those unvaccinated that did not have chickenpox.
Shingles
Direct Contact
Vaccine can still be given if you have had shingles.
Pneumonia
Airborne
Two vaccines given separately. All 65+ or immunocompromised should receive both.
Influenza
Airborne
Vaccine components change annually.
Meningitis
Airborne & Direct Contact
Given to anyone unvaccinated or at an increased risk, especially students.
Polio
Food & Water
Considered a routine vaccination for most travel itineraries. Single adult booster recommended.
Tuberculosis is a common threat in Uzbekistan. Consider TB testing if you believe you may have been exposed during your trip. Pre-travel testing is recommended if staying for an extended period of time.
Visit our vaccinations page to learn more. Travel safely with Passport Health and schedule your appointment today by calling or book online now.
Do I Need a Visa for Uzbekistan?
Yes, a visa is required for travel to Uzbekistan. Due to the complicated immigration laws in place, it is best to start the process early. Visas vary based on where a traveler stays. A tourist visa is for staying in a hotel. A private visitor visa is for staying at a private home such as with friends or family. Business visas are also required for business travelers.
Uzbekistan Entry Requirements

Do I Need A…
For My Trip to Uzbekistan?

Passport
Tourist Visa
Business Visa
Vaccinations
Sources: Embassy of Uzbekistan and U.S. State Department
The Uzbek visa office will determine the duration of your visa at the time of processing. Overstay penalties result in a $2000 USD fine per week overstayed.
What Is the Climate Like in Uzbekistan?
Uzbekistan is a country with a hot and dry climate. The weather can vary depending on the city and the time of year. Tashkent, the capital city, has hot summers and cold winters. Samarkand, another popular destination, also has hot summers and cold winters, but the temperatures can be more extreme.
Bukhara and Khiva are both located in desert regions and have hot summers and cool winters. The best time to visit Uzbekistan is in the spring or autumn when the weather is mild and pleasant.
If you like hot weather, summer can also be a good time to visit. If you visit in the summer, be prepared for high temperatures that can sometimes reach up to 110 degrees.
Uzbekistan is a great country to visit with many different weather patterns to experience.
How Safe Is Uzbekistan?
Avoid an Embarrassing Stop
Threats of terror can occur in Uzbekistan. Various terrorist groups operate throughout Central Asia. Local authorities are on high alert and aggressive in dealing with these threats. Certain areas may be off limits due to security concerns during your trip. Consider contacting the U.S. embassy before your trip to see if your itinerary may be affected.
Violent crime has become more common in Uzbekistan in recent years. Travelers should stay in groups and avoid going out at night. Do not openly display cash and avoid flashy clothing.
Pickpockets and petty thieves are in public areas like markets and buses. Take precautions and be aware of your surroundings at all times.
Only use marked taxis and try to avoid taking taxis alone, especially if you are a woman. Taxi-related scams are common in urban areas.
Staying Respectful While in Uzbekistan
Some of the sightseeing highlights in Uzbekistan are historic mosques and madrasas. Remember these aren't just tourist destinations. They are places of worship where they pray, or places of great religious significance.
Always behave respectfully. Travelers should dress more conservatively, especially if you are a woman.
These locations may also require you to remove your shoes before entering, as a sign of respect. In some mosques and madrasas, photography may be limited or prohibited altogether.
You may see these cultural sights, but don't forget to do so with respect, understanding and humility.
What Should I Pack for Uzbekistan?
If you're going to visit Uzbekistan, you should pack clothes that are comfortable, made of breathable materials like cotton or linen, and modest since Uzbekistan is a Muslim country. You should also bring comfortable walking shoes, sun protection like sunscreen, sunglasses, and a hat, and travel documents like your passport, visas, and travel insurance papers.
Bring enough medication to last the whole trip and a small first aid kit, including items like painkillers, antiseptic cream, and plasters. You should bring cash in US dollars, euros, or pounds, as well as electronic devices like chargers, power banks, and adapters. Mosquito repellent is also necessary since mosquitoes can be a problem in some areas, especially in the summer.
When visiting religious sites, mosques, and shrines, dress modestly and respectfully. Finally, bring a guidebook or phrasebook to help you navigate the country and communicate with locals who may not speak English.
U.S. Embassy in Uzbekistan
All Americans visiting Uzbekistan should register online with the U.S. Department of State before departure. This will inform the office of your travel plans within the country and will allow them to reach out in the case of an emergency or evacuation.
The U.S. embassy in Uzbekistan provides many helpful services to people who are visiting or living in Uzbekistan. These services include things like helping American citizens with passports and emergency assistance, providing visas for Uzbek citizens who want to travel to the United States, and organizing programs to help people learn about each other's cultures.
Once in Uzbekistan, the information for the U.S. Embassy is:
U.S. Embassy Tashkent
3 Moyqorghon Street
5th Block, Yunusobod District, 100093 Tashkent
Phone: (+99871) 120-5450
Fax: (+99871) 120-6335
The embassy also works to promote trade and investment between the two countries, and helps U.S. businesses that want to work in Uzbekistan. They also help keep U.S. citizens safe in Uzbekistan by providing security and emergency services, and giving information about travel requirements and safety tips.
Stay safe abroad with Passport Health. Call or book online now and start traveling safely today!
Customer Reviews
Passport Health Travel Vaccines for Uzbekistan
Overall rating: 5 stars – 3 reviews
"

Care for sons upcoming trip abroad

"

"The care and detailed info for my son's inoculations and for his trip to Uzbekistan for the year was very helpful."
"

Great Travel Health Clinic

"

"Your Vernon Hills clinic provided excellent service. Your website is well organized and the advance communication is excellent. I knew exactly what to bring with me. All of my questions were answered clearly. I left knowing exactly what I need to do before traveling to Uzbekistan. I will be traveling with my brother and will insist that he go to one of your Wisconsin locations."
"

Very Informational

"

"My husband and I had a great experience at Passport Health. We are traveling to Uzbekistan and Dubai and came in to learn more about vaccinations and health risks within those regions. Our RN was prepared and extremely knowledgeable. She walked us through all of the potential health concerns we may encounter and then explained the regions' recommended vaccinations and their side effects. At the end of the appointment we were given the opportunity to choose which (if any) we wanted. She also write us a prescription of a Z pack to take with us, in the event we got ill during our trip. Overall wonderful experience – I would highly recommend Passport Health!"
On This Page:
Do I Need Vaccines For Uzbekistan?
Do I Need a Visa For Uzbekistan?
What Is The Climate Like In Uzbekistan?
How Safe Is Uzbekistan?
Staying Respectful While In Uzbekistan
What Should I Pack for Uzbekistan?
U.S. Embassy in Uzbekistan