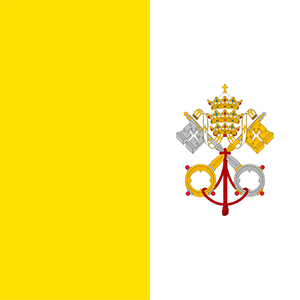 Travel Vaccines and Advice for the Vatican
The Vatican, also known as the See of Rome, is a sovereign territory containing Vatican City. It is located in the north part of Rome and easily reached by public transportation.
It is the smallest country in the world. The Pope is the ruler of the Vatican City State and the Vatican. Tourists from all over the world come to see the Vatican Museums, St. Peter's Basilica, and other sites.
It is a beautiful place to visit for those of the Catholic religion or for those interested in exploring the history of Rome.
Do I Need Vaccines for the Vatican?
Yes, some vaccines are recommended or required for the Vatican. The CDC and WHO recommend the following vaccinations for the Vatican: hepatitis A, hepatitis B, rabies, meningitis, polio, measles, mumps and rubella (MMR), Tdap (tetanus, diphtheria and pertussis), chickenpox, shingles, pneumonia and influenza.
COVID-19 vaccination is recommended for travel to all regions, both foreign and domestic. Check with your local Passport Health clinic if immunization is offered in your area.
See the bullets below to learn more about some of these key immunizations:
See the table below for more information:
Recommended Travel Vaccinations for the Vatican

VACCINE
HOW DISEASE SPREADS
DETAILS

COVID-19
Airborne & Direct Contact
Recommended for all unvaccinated individuals who qualify for vaccination
Hepatitis A
Food & Water
Recommended for most travelers
Hepatitis B
Blood & Body Fluids
Accelerated schedule available
Rabies
Saliva of Infected Animals
Vaccine recommended for long-term travelers and those who may come in contact with animals.
Routine Vaccinations for the Vatican

VACCINE
HOW DISEASE SPREADS
DETAILS

Measles Mumps Rubella (MMR)
Various Vectors
Given to anyone unvaccinated and/or born after 1957. One time adult booster recommended.
TDAP (Tetanus, Diphtheria & Pertussis)
Wounds & Airborne
Only one adult booster of pertussis required.
Chickenpox
Direct Contact & Airborne
Given to those unvaccinated that did not have chickenpox.
Shingles
Direct Contact
Vaccine can still be given if you have had shingles.
Pneumonia
Airborne
Two vaccines given separately. All 65+ or immunocompromised should receive both.
Influenza
Airborne
Vaccine components change annually.
Meningitis
Airborne & Direct Contact
Given to anyone unvaccinated or at an increased risk, especially students.
Polio
Food & Water
Considered a routine vaccination for most travel itineraries. Single adult booster recommended.
See our vaccinations page to learn more about these infections and vaccines. Ready to protect yourself? Book your travel health appointment today by calling or schedule online now.
Do I Need a Passport or Visa for the Vatican?
The Vatican is a sovereign territory within Italy. But, it follows Italian entry and exit requirements. This means a visa is not required for stays under 90 days.
Vatican Entry Requirements

Do I Need A…
For My Trip to the Vatican?

Passport
Tourist Visa
Business Visa
Vaccinations
Sources: Embassy of Italy and U.S. State Department
Outside of Catholic clergy, there are no visas or other documents issued for the Vatican. All travel is to, through or from Italy.
What Is the Climate Like in The Vatican?
Vatican City is a small city-state located within Rome, Italy, so the weather there is similar to Rome. The climate in Rome is generally mild with cool, damp winters and hot, dry summers. Spring and autumn are usually the best times to visit, as the temperatures are mild and the weather is pleasant.
Some of the most popular tourist destinations in Vatican City include St. Peter's Basilica, the Vatican Museums, and the Sistine Chapel. These indoor attractions are not affected by the weather conditions outside.
If you are planning to visit the Vatican Gardens, you should be aware that they are open to the public only during certain periods of the year. The opening times and dates can be affected by weather conditions. It is always a good idea to check the weather forecast before visiting any outdoor attractions to ensure you are dressed appropriately and can enjoy your visit comfortably.
How Safe Is the Vatican?
The Vatican has a very low amount of crime. Most of the resident population is Catholic clergy. Internal strife is rarely reported. But, there are museums and other areas of the Vatican that are open to the public.
In these sections, pick-pocketing and petty theft are not uncommon. Travelers should take precautions to make sure they bags cannot be easily accessed.
While there have been threats of terrorism against the Vatican. No attack has been carried out.
Visiting the Vatican Museums
Avoid an Embarrassing Stop
The Vatican Museums contain a huge collection of works by Popes, Roman Emperors and famous artists. The museums have about 70,000 works and currently displays 20,000 of them.
The Sistine Chapel has its ceiling painted by Michelangelo and the Stanze di Raffaello by Raphael. Other notable paintings include Leonardo da Vinci's St. Jerome in the Wilderness, Filippo Lippi's Marsuppini Coronation, and Perugino's Madonna and Child with Saints.
There are also sculpture museums, such as the Museo Pio-Clementino and Museo Chiaramonti. There is also the Vatican Historical Museum, which contains a collection of portraits of the Popes from the 16th century to now. The papamobili (Popemobiles) are on display.
U.S. Embassy to the Vatican
All Americans visiting the Vatican should register online with the U.S. Department of State before departure. This will inform the office of your travel plans within the country and will allow them to reach out in the case of an emergency or evacuation.
The United States doesn't have an embassy in the Vatican City, but it has one in Rome, Italy. This embassy helps U.S. citizens who are traveling to the Vatican City with things like getting a passport or visa, emergency assistance, and information about local laws and customs. The embassy's website also has information to help travelers stay safe and healthy while visiting Italy and the Vatican City.
There is no Vatican embassy. Instead, use the U.S. embassy in Rome:
U.S. Embassy Rome
via Vittorio Veneto 121
00187 Roma
Phone: (+39) 06.46741
Ready to start your next journey? Call us at or book online now!
Customer Reviews
Passport Health – Travel Vaccines for Vatican

Overall rating: 5 stars – 5 reviews

"

Highly Competent

"

"My recent experience with Passport Health was very satisfactory. The professional advising on inoculations needed for travel to Europe and the Vatican was very informative and then administered the shots quickly and easily. In addition, she was extremely pleasant."

"

Great Experience

"

"My husband and I used the services of this clinic for a trip to Italy and the Vatican. This was a very efficient operation led by an experienced and customer centered professionalism. She had a prepared notebook individualized for us when we arrived which included recommended immunizations . We could not have been more pleased."

"

First time experience

"

"My husband and I came to the Tustin clinic with another couple. We are traveling to South Africa. We met with a nurse . She was very knowledgeable and individualized her recommendations. It was a great experience."

"

Patient and Knowledgeable

"

"My son and I went to the Passport Health Facility in Roslyn yesterday in preparation for our trip to Italy and the Vatican in August. Our Passport health representative was extremely knowledgeable about the subject matter, patiently answered all of our questions, gave us all the available options for treatment and was wonderful with the needles. I highly recommend this location!"

"

Great Job

"

"My husband and I felt very confident about the information that we were given. We also have a better idea of how to prepare for our trip to Europe and the Vatican."

On This Page:
Do I Need Vaccines for the Vatican?
Do I Need a Passport or Visa for the Vatican?
What is the Climate Like in The Vatican?
How Safe is the Vatican?
Visiting the Vatican Museums
U.S. Embassy to the Vatican