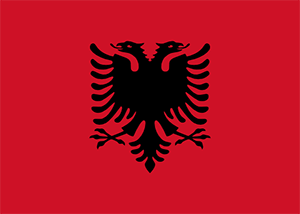 What Vaccines Do I Need for Albania?
Do I Need a Visa to Enter Albania?
What Is the Climate Like In Albania?
How Safe is Albania?
Visiting the Llogora Pass
What Should I Bring to Albania?
U.S. Embassy in Albania
Albania is located on the Southeastern tip of Europe's Balkan Peninsula. The country is home to a plethora of castles and archaeological sites.
Its capital, Tirana, is on the site of the National History Museum in Skandberg Square.
The country is known for its Adriatic and Ionian coastlines and the Albanian alps.
What Vaccines Do I Need for Albania?
Yes, some vaccines are recommended or required for Albania. The CDC and WHO recommend the following vaccines for Albania: hepatitis A, hepatitis B, rabies, and influenza.
---
Europe has been vigilant in its efforts to eradicate measles. But, this past March the continent saw over 500 cases of measles be reported. While Albania is not at high-risk for measles, make sure you are vaccinated.
See our vaccinations page to learn more about these infections and vaccines. Ready to protect yourself? Book your travel health appointment today by calling or schedule online now.
Customer Reviews
Passport Health

Travel Vaccines for Albania
Overall rating:

5

stars –

3

reviews
"

Fast, Friendly and Effective!

"

"I received short notice that I needed to travel to Albania for business. I contacted my Primary Care physician to confirm my immunizations and he referred me to Passport Health. The entire team worked to get me on their schedule and were well equipped, professional, friendly and helpful in getting me ready with the safeguards I needed for my trip abroad. I can't say enough positive things about the experience. I immediately referred my team members who had upcoming international trips. The fact that I passed it on should speak loudly about my review. Key Likes: booklet made especially for me with all the details about the areas I am travelling to, expertise in requirements, care and tenderness given while administering shots, friendly and engaging staff from the moment you call in to make an appt, high tech web service for information gathering yet simple to use."
"

Best Clinic Ever

"

"The nurse was outstanding! She went over all the details with me so that I would know what to expect in Albania. I feel confident my health will not be compromised due to her careful diligence. They are so personable that the process was very enjoyable and they give the best shots ever."
"

Vaccinations

"

"I'm going to Albania. They had a packet about all of the medical concerns in india with my name on the packet. The lady was the sweetest and was very clear and presented me with an amazing amount of research and options. A great experience! I have already recommended one of my friends and will definitely be back for my next trip."
Do I Need a Visa to Enter Albania?
A visa is not required to enter the country. You may stay for up to one year without having to apply for a residency permit. Your passport must be valid for 3 months after your stay and have one page for the entry stamp.
Sources: U.S. State Department and Embassy of Albania
For more information contact a Passport Health Passport and Visa specialist by calling 1-844-366-8472 or by filling out our online form.
What Is the Climate Like In Albania?
The climate in Albania has hot, dry summers and cool, wet winters in its lowlands. In the highlands, the mountains are very cold from November to March and tend to have a lot of snowfall. Its Mediterranean climate is best to visit in the summer.
Tirana has a rainy period from October to June with plenty of rainfall. Winters, while generally mild in temperature, are very wet and can become colder at night. The summer features more intense heat with temperatures reaching the 90's.
The coastal climate varies little year-round. The summers are more breezy and cooler. Winters have more mild temperatures and the nights don't see as large of a drop-in temperature.
July and August tend to be the best months to visit Albania if you want a relaxing beach vacation.
How Safe Is Albania?
Because of its label as a European country, Albania remains at risk for terrorist attacks. Always be aware of your surroundings. If you see something suspicious, get yourself far away from the area and then report it to local police.
Public demonstrations are common and can result in violence so it is best to avoid them altogether.
Visiting the Llogora Pass
If you're someone who loves scenic drives, then this is the place for you to visit. The road is over 1,000 meters above sea level and is in the middle of the Llogora National park. At the very top of the road, is a variety of restaurants all with scenic views. While driving through the park, you may get to see various animals such as the golden eagle, fallow deer, and even the European wildcat.
The Llogora Pass even has a resort along the road where you can stay and enjoy the views 24/7. The winding road features spectacular views of the Ionian Coast and Albanian Riviera. The road first opened in 1920 and was officially declared a national park in 1966. All along the road you can peer down to see the beautiful villages and old, historic castles which are being reclaimed by nature.
What Should I Bring to Albania?
Albania is a beautiful destination but does need some preparation. Be sure to bring these items:
Clothing – If you're visiting in the wet months, bring snow or rain boots and thick socks to stay dry and warm. The summer can get very hot so bring lightweight, light colored clothing.


Wall Adapter – Some outlets in European countries are different than those in the United States. Be prepared by bringing an adapter so you will be able to charge your electronic devices.


Phone Case – Waterproof carrying cases come in handy for when you go to the beach or on hikes near rivers or lakes.
U.S. Embassy in Albania
All Americans visiting Albania should register online with the U.S. Department of State before departure. This will inform the office of your travel plans within the country and will allow them to reach out in the case of an emergency or evacuation.
Once in Albania, the information for the U.S. Embassy is:
U.S. Embassy Tirana
Rruga e Elbasanit, No. 103
Tirana, Albania
Phone: +(355) 4 2247 285
Stay safe abroad with Passport Health. Call or book online now and start traveling safely today!