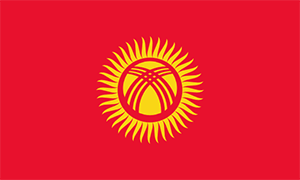 Travel Vaccines and Advice for Kyrgyzstan
Kyrgyzstan is in Central Asia. It is a landlocked country bordered by Kazakhstan, Uzbekistan, Tajikistan, and China. The capital is Bishkek.
Kyrgyzstan has amazing mountain lakes, great hospitality, and beautiful sunsets. Its natural beauty is clear to see by the country's spacious pastures and shepherd dwellings. Travelers will find most of the attractions in Kyrgyzstan are rural and high in altitude.
When travelers explore the sites, they should experience Lake Song-Kol, Alay Valley and Arelanbob. These places are perfect for the nature lover inside you.
Whether you enjoy the natural settings of Kyrgyzstan or the history and culture, you'll find everything you'll need.
Do I Need Vaccines for Kyrgyzstan?
Yes, some vaccines are recommended or required for Kyrgyzstan. The CDC and WHO recommend the following vaccinations for Kyrgyzstan: hepatitis A, hepatitis B, typhoid, yellow fever, rabies, tickborne encephalitis, meningitis, polio, measles, mumps and rubella (MMR), Tdap (tetanus, diphtheria and pertussis), chickenpox, shingles, pneumonia and influenza.
COVID-19 vaccination is recommended for travel to all regions, both foreign and domestic. Check with your local Passport Health clinic if immunization is offered in your area.
See the bullets below to learn more about some of these key immunizations:
See the tables below for more information:
Recommended Travel Vaccinations for Kyrgyzstan

VACCINE
HOW DISEASE SPREADS
DETAILS

COVID-19
Airborne & Direct Contact
Recommended for all unvaccinated individuals who qualify for vaccination
Hepatitis A
Food & Water
Recommended for most travelers
Hepatitis B
Blood & Body Fluids
Recommended for travelers
to most regions.
Typhoid
Food & Water
Recommended for travelers
to most regions.
Yellow Fever
Mosquito
Required if traveling from a country with risk of yellow fever transmission.
Rabies
Saliva of Infected Animals
High risk country. Vaccine recommended for long-term travelers and those who may come in contact with animals.
Tickborne Encephalitis
Ticks & Unpasteurized Animal Products
Limited information is available from local authorities. Human cases have been reported in rural areas.
Routine Vaccinations for Kyrgyzstan

VACCINE
HOW DISEASE SPREADS
DETAILS

Measles Mumps Rubella (MMR)
Various Vectors
Given to anyone unvaccinated and/or born after 1957. One time adult booster recommended.
TDAP (Tetanus, Diphtheria & Pertussis)
Wounds & Airborne
Only one adult booster of pertussis required.
Chickenpox
Direct Contact & Airborne
Given to those unvaccinated that did not have chickenpox.
Shingles
Direct Contact
Vaccine can still be given if you have had shingles.
Pneumonia
Airborne
Two vaccines given separately. All 65+ or immunocompromised should receive both.
Influenza
Airborne
Vaccine components change annually.
Meningitis
Airborne & Direct Contact
Given to anyone unvaccinated or at an increased risk, especially students.
Polio
Food & Water
Considered a routine vaccination for most travel itineraries. Single adult booster recommended.
See our vaccinations page to learn more about these infections and vaccines. Ready to protect yourself? Book your travel health appointment today by calling or schedule online now.
Cholera in Kyrgyzstan
Cholera cases have been reported in Kyrgyzstan, but the risk is low for travelers to be infected. Cholera vaccination for relief workers or health care professionals are high risk. It is also recommended for people who don't have access to medical care in these professions.
Do I Need a Visa for Kyrgyzstan?
A visa is not required for stays under 60 days. A valid passport is essential for visiting Kyrgyzstan. The passport needs to be valid up to six months from the date of entering Kyrgyzstan. A full blank page must be available if you are thinking about applying for a visa.
Kyrgyzstan Entry Requirements

Do I Need A…
For My Trip to Kyrgyzstan?

Passport
Tourist Visa
Business Visa
Vaccinations
Sources: Embassy of Kyrgyzstan and U.S. State Department
Travelers visiting for religious purposes must include this information on their visa application. People involved in missionary work have to get a work visa and register with the Office of Religious Affairs. You can't be involved in any religious activity on a tourist visa because it is illegal.
What Is the Climate like in Kyrgyzstan?
Kyrgyzstan is a country in Central Asia that has many popular tourist destinations. The weather in these places depends on the season and location. Kyrgyzstan has a continental climate with dry and hot summers and cold winters.
Issyk-Kul Lake is one of the most popular tourist destinations, and the weather is generally mild. The temperature is around 70 to 80 degrees during summer (June-August) and 15 during winter (December-February).
Bishkek, the capital city, has hot summers and cold winters. During the summer months, temperatures can reach 95, and during winter, it can be 5.
Karakol, another famous tourist destination, has cold and dry weather, with temperatures ranging from 15 to 30 degrees during winter (December-February) and 60 to 75 during summer (June-August).
Osh, located in the southern part of Kyrgyzstan, experiences subtropical weather with hot summers and mild winters. During the summer months, temperatures can go up to 95 degrees, and during winter, it is usually 20 to 40.
It is always a good idea to check the weather forecast before traveling to Kyrgyzstan and its various destinations as weather conditions can vary.
How Safe Is Kyrgyzstan?
To stay safe in Kyrgyzstan, travelers should research the country and learn about local customs and laws. They should be aware of their surroundings, especially when walking alone or in unfamiliar areas, and keep an eye on their belongings.
It's important to stay informed about current events and travel warnings, and to respect local customs and traditions. Travelers should avoid attending demonstrations or protests and should choose reputable accommodations and transportation.
They should keep in touch with friends and family back home and carry important documents, like their passport and visa, with them at all times. It's also helpful to learn some basic language skills to communicate with locals and navigate the country.
By following these tips, travelers can help ensure their safety while enjoying their trip to Kyrgyzstan.
Ala Archa National Park
Avoid an Embarrassing Stop
Ala Archa National Park is a beautiful place in Kyrgyzstan where tourists can enjoy nature and hiking. There are different hiking trails for people who like easy or hard hikes. Visitors can see waterfalls, glaciers, and mountains while hiking. The park is also a great place for a picnic and to relax with family and friends.
Visitors might see some animals like ibex, lynx, or snow leopards. During the winter, the park is a popular destination for skiing and snowboarding. Photographers can take pictures of the beautiful landscapes and wildlife.
Ala Archa National Park is a great place for people who love nature, hiking, and outdoor activities. Visitors can hike, have a picnic, see animals, ski, and take pictures.
What Should I Take to Kyrgyzstan?
When you prepare for travel to Kyrgyzstan, there are some things you need to take with you on your trip.
Visa and Passport — You need a visa to travel to Kyrgyzstan if you're planning to stay more than 60 days. You will also need a passport that is valid from 6 months from the date of entry.
Health and Safety — It's important to pack for your health and safety in Kyrgyzstan. Prescription medicines, medical supplies, and over the counter medicines are what you need to consider before traveling to Kyrgyzstan. You should also pack supplies to prevent injury and illness and a first aid kit.
U.S. Embassy in Kyrgyzstan
All Americans visiting Kyrgyzstan should register online with the U.S. Department of State before departure. This will inform the office of your travel plans within the country and will allow them to reach out in the case of an emergency or evacuation.
Once in Kyrgyzstan, the information for the U.S. Embassy is:
The embassy can help in an emergency situation, like a natural disaster or medical emergency. They can also give information about traveling in Kyrgyzstan, including safety and cultural customs.
U.S. Embassy Bishkek
171 Prospect Mira
Bishkek 720016 Kyrgyz Republic
Telephone: +996 312 597 000
The services offered by the embassy may change based on the current situation. It's a good idea to check the embassy's website or contact them directly to get the most recent information.
Ready to start your next journey? Call us at or book online now!
Customer Reviews