The COVID-19 pandemic has affected travel to many countries. The United Arab Emirates may require you to have a negative COVID-19 test for entry.
Please see our COVID-19 Restrictions page to learn more.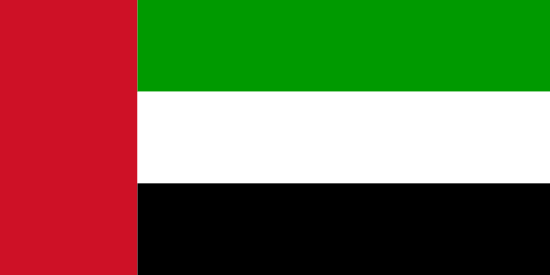 Travel Vaccines and Advice for the United Arab Emirates
Abu Dhabi, Ajman, Dubai, Fujairah, Ras al-Khaimah, Sharjah, and Umm al-Quwain are the seven emirates in the United Arab Emirates. These emirates make the country a diverse and unique place to travel.
Travelers can visit the Sheikh Zayed Grand Mosque, the Abu Dhabi Heritage Village, the Dubai Museum, and many more sites. Other activities include desert safaris in Dubai, sightseeing tours, dinner cruises and waterparks. They have something for everyone.
If travelers are feeling hungry, the cuisine of the United Arab Emirates will fill your appetite. The food ranges from Pakistani and Peruvian to Ethiopian and Iranian.
Whether you love adventure, eating great food or learning about culture, the United Arab Emirates has everything you need.
Do I Need Vaccines for the United Arab Emirates?
Yes, some vaccines are recommended or required for the United Arab Emirates. The CDC and WHO recommend the following vaccinations for United Arab Emirates: hepatitis A, hepatitis B, yellow fever, typhoid, rabies, anthrax, meningitis, polio, measles, mumps and rubella (MMR), Tdap (tetanus, diphtheria and pertussis), chickenpox, shingles, pneumonia and influenza.
COVID-19 vaccination is recommended for travel to all regions, both foreign and domestic. Check with your local Passport Health clinic if immunization is offered in your area.
See the bullets below to learn more about some of these key immunizations:
See the tables below for more information:
Recommended Travel Vaccinations for the United Arab Emirates

VACCINE
HOW DISEASE SPREADS
DETAILS

COVID-19
Airborne & Direct Contact
Recommended for all unvaccinated individuals who qualify for vaccination
Hepatitis A
Food & Water
Recommended for most travelers
Hepatitis B
Blood & Body Fluids
Accelerated schedule available
Yellow Fever
Mosquito
Required if traveling from a country with risk of yellow fever transmission
Typhoid
Food & Water
Shot lasts 2 years. Oral vaccine lasts 5 years, must be able to swallow pills. Oral doses must be kept in refrigerator.
Rabies
Saliva of Infected Animals
Vaccine recommended for certain travelers based on destination, activities and length of stay.
Anthrax
Animals & Biological Agents
Vaccination may be recommended or required for U.S. government employees or contractors.
Routine Vaccinations for the United Arab Emirates

VACCINE
HOW DISEASE SPREADS
DETAILS

Measles Mumps Rubella (MMR)
Various Vectors
Given to anyone unvaccinated and/or born after 1957. One time adult booster recommended.
TDAP (Tetanus, Diphtheria & Pertussis)
Wounds & Airborne
Only one adult booster of pertussis required.
Chickenpox
Direct Contact & Airborne
Given to those unvaccinated that did not have chickenpox.
Shingles
Direct Contact
Vaccine can still be given if you have had shingles.
Pneumonia
Airborne
Two vaccines given seperately. All 65+ or immunocompromised should receive both.
Influenza
Airborne
Vaccine components change annually.
Meningitis
Airborne & Direct Contact
Given to anyone unvaccinated or at an increased risk, especially students.
Polio
Food & Water
Considered a routine vaccination for most travel itineraries. Single adult booster recommended.
Dengue is a mosquito-borne disease present in the UAE. The risk is highest in urban and residential areas. Travelers should avoid getting bug bites to protect themselves from the virus.
Polio vaccination is not recommended for the United Arab Emirates. But, a single adult may recommended for some surrounding countries.
Proof of yellow fever vaccination is required for entry to the UAE if arriving from a region with the virus. Immunization is not otherwise recommended for the country.
See our vaccinations page to learn more about these infections and vaccines. Ready to protect yourself? Book your travel health appointment today by calling or schedule online now.
Customer Reviews
Passport Health – Travel Vaccines for the United Arab Emirates

Overall rating: 5 stars – 5 reviews

"

Great staff

"

"We had a great experience at PH preparing for our trips to UAE, India, and China. Tara was extremely knowledgeable, efficient, and has the sweetest personality. We would definitely recommend this clinic to anyone."

"

Great first experience

"

"Going to the UAE to work with families in rural areas, so needed shots and medicines. The nurse was knowledgeable, thorough, and explained everything clearly with right amount of details. She also provided documentation to take with me. Will certainly use this service in the future and highly recommend it to others."

Submitted by:

Traveling volunteer

"

Awesome experience!

"

"Incredible staff! I needed a vaccine for an upcoming trip to UAE and the stagf was incredibly helpful, friendly, professional, and answered all my questions regarding the trip."

"

Awesome

"

"It was great to sit and talk about my trip to UAE Everything was explained to me in great detail and I know feel more ready for my trip. It was also great to be able to get my shots, meds, and insect repellant all at the same time. I'm that much closer to being completely ready for my trip! Thank you! and I will refer others to you!"

"

Great Work!

"

"Called to get an evaluation Called to get an evaluation as to what we needed for our visit to UAE Return call was prompt and gave pertinent and specific information. We will make an appointment to get the needed shots and more specific information."

Do I Need a Passport or Visa for the United Arab Emirates?

A passport and visa are required to enter the United Arab Emirates. Visas are valid for thirty days.

A medical exam is mandatory for the UAE. Travelers with HIV/AIDS, tuberculosis or hepatitis may be denied entry.

United Arab Emirates Entry Requirements
Do I Need A…
For My Trip to the United Arab Emirates?
Passport
Tourist Visa
Business Visa
Vaccinations

Sources: Embassy of the United Arab Emirates and U.S. State Department

A departure fee may be required depending on when you are leaving and where you are going.

For more information contact a Passport Health Passport and Visa specialist by calling 1-844-366-8472 or by filling out our online form.

What Is the Climate like in the United Arab Emirates?

It is generally hot and dry in the United Arab Emirates. July and August are the hottest months with temperatures in the 100's on the coastal plain. Cooler temperatures are in the mountains of the Al Hajar Gharbi because of the increased altitude. In January and February the temperatures range from 10 to 14 degrees Celsius.

The sea has its own temperatures in the United Arab Emirates. The temperature of the water depends on the temperature of the air. In the winter the Persian Gulf sees temperatures in the 80's. The Indian Ocean and Arabian Sea have temperatures in the 70's.

Dust storms are also known to occur violently, causing limited visibility.

How Safe Is the United Arab Emirates?

Terrorism is a concern in the United Arab Emirates. Travelers should exercise caution when coming to this country. There is a possibility of terrorist attacks on travelers to the UAE and areas of the Gulf. ISIS is another group that are currently planning attacks. Avoid drawing attention to yourself and avoid contact with people who look suspicious.

Photography is not allowed in military and civilian sites. The punishment is arrest, detention, and prosecution by authorities. Mapping activities are prohibited as well and will result in the same punishments.

Crime doesn't happen that much in the United Arab Emirates. Car break-ins are not common, but travelers should still take their valuables with them.

Women shouldn't bring attention to themselves while riding a taxi. Victims should contact the U.S. Embassy in Abu Dhabi or the U.S. Consulate General in Dubai.

The Global Village

Avoid an Embarrassing Stop

If you love shopping, the Global Village in Dubai is the perfect place to explore. It has a carnival like atmosphere that will draw you in. From November to late January shoppers can look around more than 30 pavilions. The village is like a world fair and offers travelers the chance to learn about the UAE's culture.

The Global Village isn't only for shopping, but they have a fair with a lot of rides. Entertainment includes dancing, music, a haunted house, and so much more.

What Should I Take to the United Arab Emirates?

When you travel to the United Arab Emirates, you need to pack the essentials. Since there is so much to do, you should pack for every occasion.

Seasonal Packing — In summer, pack modest and loose clothing that covers their arms and legs. Sunscreen, hats, sunglasses, and lip balm are also great things to pack. Sandals and bathing suits are good to pack for the beach as well as a waterproof camera. An umbrella is a great thing to pack to protect you from the sun's rays. In the winter pack a light jacket or sweater for those winter nights in the desert. In the daytime you can pack what you usually do for the summer.
Other Essentials — Moisturizer will keep your skin hydrated when it's dry. A portable fan is a good thing to have when it's hot. If you're planning to hike, you should bring hiking boots, a backpack, water, and extra clothing. Extra underwear and socks are good to pack because it's constantly humid.
Currency — The United Emirate's currency is dirham. You should carry cash for smaller shops. Debit and credit cards are accepted everywhere.
Passport and Visa — You should take a passport that has six months validity after the date of arrival. You should have a blank page for an entry stamp. You need a visa before you travel to the United Arab Emirates.

U.S. Embassy in the United Arab Emirates

If you find yourself in need of help while traveling in the UAE, there is a U.S. embassy in Abu Dhabi.

U.S. Embassy Abu Dhabi
Embassies District, Plot 38, Sector W59-02, Street No. 4
Abu Dhabi, U.A.E.
Telephone: +(971) (2) 414-2200
Emergency After-Hours Telephone: +(971) (0) 2-414-2200
Fax: +(971) (2) 414-2241

Ready to start your next journey? Call us at or book online now!

On This Page:
Do I Need Vaccines for the United Arab Emirates?
Do I Need a Passport or Visa for the United Arab Emirates?
What Is the Climate like in the United Arab Emirates?
How Safe Is the United Arab Emirates?
The Global Village
What Should I Take to the United Arab Emirates?
U.S. Embassy in the United Arab Emirates