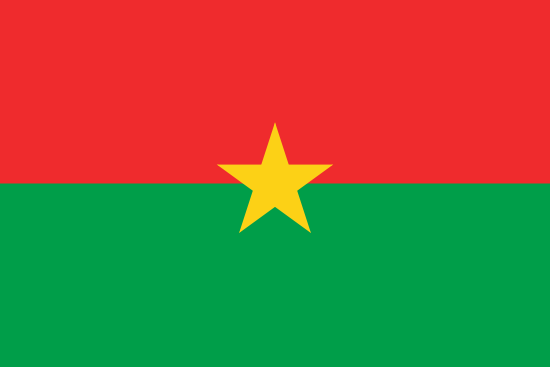 For travelers looking to explore a beautiful country, meet friendly locals, and explore different African cultures, Burkina Faso is a fantastic destination.
The capital city, Ouagadougou is known for its many musical events and gorgeous handmade items. In Ouaga, every odd-numbered year Fespaco, Africa's premier film festival, is held.
But, recent terrorism alerts mean travelers should exercise caution when visiting.
Do I Need Vaccines for Burkina Faso?
Yes, some vaccines are recommended or required for Burkina Faso. The CDC and WHO recommend the following vaccines for Burkina Faso: typhoid, hepatitis A, hepatitis B, cholera, yellow fever, rabies, measles, mumps, rubella (MMR), meningitis, and influenza.
---
There is a risk of yellow fever in Burkina Faso. All travelers over the age of nine months must be vaccinated. The country requires all travelers entering to show proof of yellow fever vaccination.
Burkina Faso is in the meningitis belt, a region known for carrying the disease. meningitis vaccination is recommended for travelers especially between December and June.
Travelers should take antimalarial medication before, during, and after their trip. Travelers should also take steps to avoid mosquito bites.
See our vaccinations page to learn more about these infections and vaccines. Ready to protect yourself? Book your travel health appointment today by calling or schedule online now.
Is There Cholera in Burkina Faso?
Burkina Faso has had cholera outbreaks in recent years. Vaccination is recommended for travelers, especially for aid workers and individuals heading to rural areas.
The best protection against cholera is through vaccination. Passport Health clinics offer Vaxchora, the only cholera vaccine available in the United States. Book your cholera vaccination appointment today!
Customer Reviews
Passport Health

Travel Vaccines for Burkina Faso
Overall rating:

5

stars –

2

reviews
"

Travel shots made easy

"

"This was so easy from start to finish. We are going to Burkina Faso, and I a needed yellow fever vaccination. When I called, they were able to accommodate my schedule at either clinic, and when the day of the appointment I had a conflict, they worked around it. Everyone was really friendly upon arrival, and I was advised that a meningitis vaccination was a good idea. OK! I got everything I need, and the nurse was great. Fast too."
"

Fantastic Job!

"

"When you say Burkina Faso most people will just stare and say "where" are you going? Here, every thing was prepared: booklet, vaccinations, medications, alternate suggestions, strategies, everything I needed. Shots were given in a blink of an eye with no pain."
Do I Need a Visa or Passport for Burkina Faso?
American travelers visiting Burkina Faso must have a valid passport and a visa to enter the country. All travelers must also show proof of yellow fever vaccination.
Sources: Embassy of Burkina Faso and U.S. State Department
Some visa types can be obtained on arrival. But, it is best to have your travel documents in-hand before entering the country.
For more information, see our Burkina Faso visa page. Or contact a Passport Health Passport and Visa specialist by calling 1-844-366-8472 or by filling out our online form.
What is the Climate Like in Burkina Faso?
Burkina Faso has a tropical climate, dominated by two seasons: the dry season and the rainy season.
The dry season is from June to September and a hot wind, called the harmattan, blows from the Sahara into the country.
The rainy season is from October to May. In the northern part of the country, there is less rain due to proximity to the Sahel.
How Safe is Burkina Faso?
The U.S. Department of State's warns U.S. citizens traveling to Burkina Faso to exercise caution.
Travelers should avoid the northern part of the Sahel region due to terrorism threats. In the border area shared by Mali, Niger, and Burkina Faso there have been attacks against Westerners.
Always maintain situational alertness, have evacuation plans ready, and travel in groups.
Visiting Reserve de Nazinga
In the 1970s the Reserve de Nazinga was formed, a 97,000-hectare wildlife reserve. At the park travelers can see antelopes, monkeys, crocodiles, elephants, warthogs, birds, and more. In fact, the reserve is home to over 20,000 animals. There are safari rides available for travelers to get a safe, guided tour through the area.
What Should I Pack for Burkina Faso?
Burkina Faso is a beautiful country with much to offer visitors. But, it's important you pack appropriately for your trip.
Money Belt – Due to the crime levels in the country, a money belt will allow you to keep your money and passport safe.


Plug Adaptors – Burkina Faso uses the 2-pin French system for outlets.


Water Bottle – It can get very hot and dry, so a water bottle is a must if traveling outside for long periods of time.


Bug Repellent – There are plenty of mosquitoes in West Africa. Many mosquitoes carry diseases like malaria or yellow fever.
U.S. Embassy in Burkina Faso
When traveling it is very helpful to find out exactly where the U.S. embassy or consulates are located. Keep the address written down in case you have a legal problem, you lose your passport, or you want to report a crime. Be sure to keep a copy of your passport with you in case you lose the original.
U.S. Embassy Ouagadougou
Ouagadougou, Burkina Faso
American Embassy
secteur 15, Ouaga 2000
Rue 15.873
Phone: (226) 25-49-53-00
E-mail: amembouaga@state.gov
Visit the Embassy to Burkina Faso website before departure to confirm correct contact details for the office.
Stay safe abroad with Passport Health. Call or book online now and start traveling safely today!