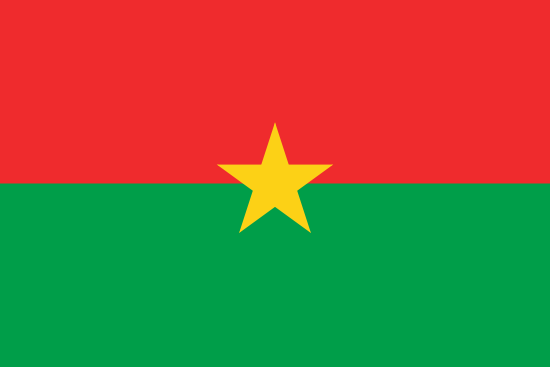 Travel Vaccines and Advice for Burkina Faso
For travelers looking to explore a beautiful country, meet friendly locals, and explore different African cultures, Burkina Faso is a fantastic destination.
The capital city, Ouagadougou is known for its many musical events and gorgeous handmade items. In Ouaga, every odd-numbered year Fespaco, Africa's premier film festival, is held.
But, recent terrorism alerts mean travelers should exercise caution when visiting.
Do I Need Vaccines for Burkina Faso?
Yes, some vaccines are recommended or required for Burkina Faso. The CDC and WHO recommend the following vaccinations for Burkina Faso: hepatitis A, hepatitis B, typhoid, cholera, yellow fever, rabies, meningitis, polio, measles, mumps and rubella (MMR), Tdap (tetanus, diphtheria and pertussis), chickenpox, shingles, pneumonia and influenza.
COVID-19 vaccination is recommended for travel to all regions, both foreign and domestic. Check with your local Passport Health clinic if immunization is offered in your area.
See the bullets below to learn more about some of these key immunizations:
See the tables below for more information:
Recommended Travel Vaccinations for Burkina Faso

VACCINE
HOW DISEASE SPREADS
DETAILS

COVID-19
Airborne & Direct Contact
Recommended for all unvaccinated individuals who qualify for vaccination
Hepatitis A
Food & Water
Recommended for most travelers
Hepatitis B
Blood & Body Fluids
Recommended for travelers
to most regions.
Typhoid
Food & Water
Recommended for travelers
to most regions.
Cholera
Food & Water
The last major cholera outbreak in Burkina Faso was in 2005. But, cases are still reported each year. Vaccination may be recommended for travelers to the capital.
Yellow Fever
Mosquito
Required if traveling from a region with yellow fever. Recommended for all travelers over 9 months of age.
Rabies
Saliva of Infected Animals
High risk country. Vaccine recommended for long-term travelers and those who may come in contact with animals.
Meningitis
Airborne & Direct Contact
Located in the meningitis belt, vaccination is recommended during the dry season (Dec. – June)
Routine Vaccinations for Burkina Faso

VACCINE
HOW DISEASE SPREADS
DETAILS

Measles Mumps Rubella (MMR)
Various Vectors
Given to anyone unvaccinated and/or born after 1957. One time adult booster recommended.
TDAP (Tetanus, Diphtheria & Pertussis)
Wounds & Airborne
Only one adult booster of pertussis required.
Chickenpox
Direct Contact & Airborne
Given to those unvaccinated that did not have chickenpox.
Shingles
Direct Contact
Vaccine can still be given if you have had shingles.
Pneumonia
Airborne
Two vaccines given separately. All 65+ or immunocompromised should receive both.
Influenza
Airborne
Vaccine components change annually.
Polio
Food & Water
Considered a routine vaccination for most travel itineraries. Single adult booster recommended.
There is a risk of yellow fever in Burkina Faso. All travelers over the age of nine months must be vaccinated. The country requires all travelers entering to show proof of yellow fever vaccination.
Burkina Faso is in the meningitis belt, a region known for carrying the disease. Meningitis vaccination is recommended for travelers especially between December and June.
Typhoid vaccination is recommended for most travelers to Burkina Faso. Individuals visiting friends or family or going to rural areas are at a higher risk and should receive immunization.
Travelers should take antimalarial medication before, during, and after their trip. Travelers should also take steps to avoid mosquito bites.
See our vaccinations page to learn more about these infections and vaccines. Ready to protect yourself? Book your travel health appointment today by calling or schedule online now.
Is There Cholera in Burkina Faso?
Burkina Faso has had cholera outbreaks in recent years. Vaccination is recommended for travelers, especially for aid workers and individuals heading to rural areas.
The best protection against cholera is through vaccination. Passport Health clinics offer the cholera vaccine. Book your cholera vaccination appointment today!
Do I Need a Visa or Passport for Burkina Faso?
American travelers visiting Burkina Faso must have a valid passport and a visa to enter the country. All travelers must also show proof of yellow fever vaccination.
Burkina Faso Entry Requirements

Do I Need A…
For My Trip to Burkina Faso?

Passport
Tourist Visa
Business Visa
Vaccinations
Sources: Embassy of Burkina Faso and U.S. State Department
Some visa types can be obtained on arrival. But, it is best to have your travel documents in-hand before entering the country.
What is the Climate Like in Burkina Faso?
Burkina Faso is a country with a tropical climate that has two seasons: a rainy season from May to October and a dry season from November to April.
The temperature is hot and consistent all year, with an average temperature ranging from the mid-90s to over 100 degrees.
Ouagadougou is the capital and largest city in Burkina Faso with hot and dry weather throughout most of the year. Bobo-Dioulasso is the second-largest city in Burkina Faso and has a milder climate than Ouagadougou.
Banfora is a popular tourist destination known for its waterfalls and natural beauty and has similar weather patterns as Bobo-Dioulasso. Gorom-Gorom, located in the north of Burkina Faso, is hot and dry throughout most of the year and is a popular base for exploring the Sahel region.
It's important to note that weather patterns may vary from year to year. Visitors should check the local weather forecast before traveling and pack appropriate clothing.
How Safe is Burkina Faso?
If you are planning to travel to Burkina Faso, there are some things you can do to stay safe.
It is important to research the country and check for any travel advisories. If possible, avoid traveling to high-risk areas, especially those near the borders with Mali and Niger. It is also important to stay in secure accommodations, like hotels with security personnel, and avoid traveling by road at night.
It's a good idea to dress modestly and not draw attention to yourself by wearing expensive jewelry or carrying large amounts of cash. Be aware of your surroundings and follow local customs and laws. Always carry your passport and other important documents with you. You can also ask for advice from local authorities, like the police or hotel staff. Consider hiring a local guide to provide you with information on local customs, laws, and potential risks.
By taking these precautions, you can help ensure a safe and enjoyable trip to Burkina Faso.
Burkina Faso's Banfora
Avoid an Embarrassing Stop
Many tourists visit Banfora because of its beautiful natural attractions and outdoor activities. Visitors can see waterfalls called Karfiguela, climb the rock formations called Sindou Peaks, and explore volcanic rock formations called Domes of Fabedougou. They can also visit a freshwater lake called Lake Tengrela and go fishing.
Banfora has a lively market where visitors can buy traditional crafts and food. A nearby wildlife reserve called Nazinga is home to many different kinds of animals such as elephants and antelopes. Visitors can take a safari tour to observe them.
Banfora is a unique and beautiful place that offers a lot of fun things to do for tourists.
What Should I Pack for Burkina Faso?
Burkina Faso is a beautiful country with much to offer visitors. But, it's important you pack appropriately for your trip.
Money Belt – Due to the crime levels in the country, a money belt will allow you to keep your money and passport safe.
Plug Adapters – Burkina Faso uses the 2-pin French system for outlets.
Water Bottle – It can get very hot and dry, so a water bottle is a must if traveling outside for long periods of time.
Bug Repellent – There are plenty of mosquitoes in West Africa. Many mosquitoes carry diseases like malaria or yellow fever.
U.S. Embassy in Burkina Faso
When traveling it is very helpful to find out exactly where the U.S. embassy or consulates are located. Keep the address written down in case you have a legal problem, you lose your passport, or you want to report a crime. Be sure to keep a copy of your passport with you in case you lose the original.
U.S. Embassy Ouagadougou
Secteur 53, Ouaga 2000
Avenue Sembène Ousmane, Rue 15.873
Ouagadougou, Burkina Faso
Phone: +(226) 25-49-53-00
E-mail: amembouaga@state.gov
Visit the Embassy to Burkina Faso website before departure to confirm correct contact details for the office.
Stay safe abroad with Passport Health. Call or book online now and start traveling safely today!
Customer Reviews
Passport Health – Travel Vaccines for Burkina Faso

Overall rating: 5 stars – 2 reviews

"

Travel shots made easy

"

"This was so easy from start to finish. We are going to Burkina Faso, and I a needed yellow fever vaccination. When I called, they were able to accommodate my schedule at either clinic, and when the day of the appointment I had a conflict, they worked around it. Everyone was really friendly upon arrival, and I was advised that a meningitis vaccination was a good idea. OK! I got everything I need, and the nurse was great. Fast too."

"

Fantastic Job!

"

"When you say Burkina Faso most people will just stare and say "where" are you going? Here, every thing was prepared: booklet, vaccinations, medications, alternate suggestions, strategies, everything I needed. Shots were given in a blink of an eye with no pain."

On This Page:
Do I Need Vaccines for Burkina Faso?
Is There Cholera in Burkina Faso?
Do I Need a Visa or Passport for Burkina Faso?
What is the Climate Like in Burkina Faso?
How Safe is Burkina Faso?
Burkina Faso's Banfora
What Should I Pack To Burkina Faso?
U.S. Embassy in Burkina Faso