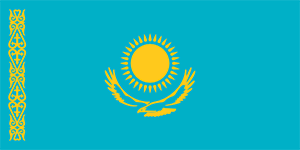 Travel Vaccines and Advice for Kazakhstan
Kazakhstan declared its independence from the Soviet Union in 1991 and was the last of the Soviet Republics to do so. Its largest city, Almaty, is a central trading hub and has several landmarks including the Ascension Cathedral.
Do I Need Vaccines for Kazakhstan?
Yes, some vaccines are recommended or required for Kazakhstan. The CDC and WHO recommend the following vaccinations for Kazakhstan: hepatitis A, hepatitis B, typhoid, yellow fever, rabies, meningitis, polio, measles, mumps and rubella (MMR), Tdap (tetanus, diphtheria and pertussis), chickenpox, shingles, pneumonia and influenza.
COVID-19 vaccination is recommended for travel to all regions, both foreign and domestic. Check with your local Passport Health clinic if immunization is offered in your area.
See the bullets below to learn more about some of these key immunizations:
See the tables below for more information:
Recommended Travel Vaccinations for Kazakhstan

VACCINE
HOW DISEASE SPREADS
DETAILS

COVID-19
Airborne & Direct Contact
Recommended for all unvaccinated individuals who qualify for vaccination
Hepatitis A
Food & Water
Recommended for most travelers
Hepatitis B
Blood & Body Fluids
Accelerated schedule available
Typhoid
Food & Water
Shot lasts 2 years. Oral vaccine lasts 5 years, must be able to swallow pills. Oral doses must be kept in refrigerator.
Rabies
Saliva of Infected Animals
High risk country. Vaccine recommended for long-term travelers and those who may come in contact with animals.
Yellow Fever
Mosquito
Required if traveling from a country with risk of yellow fever transmission
Routine Vaccinations for Kazakhstan

VACCINE
HOW DISEASE SPREADS
DETAILS

Measles Mumps Rubella (MMR)
Various Vectors
Given to anyone unvaccinated and/or born after 1957. One time adult booster recommended.
TDAP (Tetanus, Diphtheria & Pertussis)
Wounds & Airborne
Only one adult booster of pertussis required.
Chickenpox
Direct Contact & Airborne
Given to those unvaccinated that did not have chickenpox.
Shingles
Direct Contact
Vaccine can still be given if you have had shingles.
Pneumonia
Airborne
Two vaccines given seperately. All 65+ or immunocompromised should receive both.
Influenza
Airborne
Vaccine components change annually.
Meningitis
Airborne & Direct Contact
Given to anyone unvaccinated or at an increased risk, especially students.
Polio
Food & Water
Considered a routine vaccination for most travel itineraries. Single adult booster recommended.
Malaria is not present in Kazakhstan. But, malaria is in some surrounding countries. Precautions may be recommended depending on if you are visiting other destinations.
See our vaccinations page to learn more about these infections and vaccines. Ready to protect yourself? Book your travel health appointment today by calling or schedule online now.
Customer Reviews
Passport Health – Travel Vaccines for Kazakhstan

Overall rating: 5 stars – 4 reviews

"

Excellent Summary

"

"We were pleased with the information regarding our international travel and the needs for boosters/shots for various diseases in Kazakhstan. There was an excellent overview and document provided to us about our travel planning."

"

Great Help!

"

"I was pleased with the printed information I was given. I was happy that the vaccines were there and available for Kazakhstan."

"

Great clinic

"

"My RN knew exactly what I needed and answered all of my questions extremely well. I'm glad I had access to the knowledge she provided for my trip to Kazakhstan."

"

So Informative!

"

"Not only did I receive my vaccinations that I needed, but also a detailed booklet of travel precautions in general for my area. They really gave me a lot of information and tips on how to stay safe and healthy during my trip to Kazakhstan."

Do I Need a Visa to Enter Kazakhstan?

Kazakhstan has a pilot program allowing U.S. citizens to remain in the country for up to 15 days. This excludes those seeking employment or performing missionary work.

Tourists wishing to remain longer than two weeks must get a visa which is valid for up to 30 days.

Sources: Embassy of Kazakhstan and U.S. State Department

To enter the country, a U.S. citizen must have a passport with three months' validity and two blank pages.

For more information contact a Passport Health Passport and Visa specialist by calling 1-844-366-8472 or by filling out our online form.

What Is the Climate Like in Kazakhstan?

Kazakhstan known for very cold winters with a with snow accumulation. But, there are plenty of blizzards, dust storms, and strong winds. Winter lasts from November until the end of April.

The country is very arid and contains many desserts. Spring in the northern and central region tends to bring flooding. The summers are dry and hot with temperatures in the 80's. The end of September until the beginning of November brings the cool Autumn.

How Safe Is Kazakhstan?

All foreigners must carry a valid passport while in Kazakhstan. You may be placed under surveillance. Phone calls and hotels may be monitored as well as searched.

Crimes such as pickpockets, purse snatching and robbery are the most common. Other more serious crimes such as ATM skimming are becoming more common.

To protect yourself from being a victim you take the following precautions:

Never enter an unmarked or unregistered cab. All cabs should show pre-arranged identification or produce it upon request.
Always remain aware of your surroundings especially at night or in busy places.
Avoid violence by complying with street criminals demands. Once you reach safety, report it to the nearest police and U.S. embassy.

Visiting the Charyn Canyon

Avoid an Embarrassing Stop

Charyn Canyon is in Charyn National Park whose mission is to preserve the geography and nature of the landscape. The area is also home to many endangered species which the park is fighting to protect. The canyon itself has a depth of 200 meters and was formed over 12 million years ago. The canyon is known for its "Valley of Castles," which is an area of rock deposits in the form of a tower. The canyon itself is also home to over 1500 plant and animal species.

What Should I Pack for Kazakhstan?

Packing for any destination can be stressful. Check out this helpful list for everything you may need for Kazakhstan.

Warm layers are necessary for cold nights as temperatures can become very cold at night.
Waterproof boots and jacket are handy for unpredictable rainfall.
Good hiking boots are better for long hikes than regular sneakers.
Hand sanitizer can help prevent you from getting sick.
Insect repellant is a must to protect against mosquitos in the summer.
Bring all personal medications or other necessities such as contact lenses. You may not be able to buy them in Kazakhstan.

U.S. Embassy in Kazakhstan

All Americans visiting Kazakhstan should register online with the U.S. Department of State before departure. This will inform the office of your travel plans within the country and will allow them to reach out in the case of an emergency or evacuation.

Once in Kazakhstan, the information for the U.S. Embassy is:

U.S. Embassy Astana
Rakhymzhan Koshkarbayev Avenue, No. 3.
Astana, Kazakhstan, 010010
Phone: +7 (7172) 70-21-00

Ready to start your next journey? Call us at or book online now!

On This Page:
Do I Need Vaccines to Enter Kazakhstan?
Do I Need a Visa to Enter Kazakhstan?
What Is the Climate Like in Kazakhstan?
How Safe Is Kazakhstan?
Visiting the Charyn Canyon
What Should I Pack for Kazakhstan?
U.S. Embassy in Kazakhstan