The COVID-19 pandemic has affected travel to many countries. Cambodia may require you to have a negative COVID-19 test for entry.
Please see our COVID-19 Restrictions page to learn more.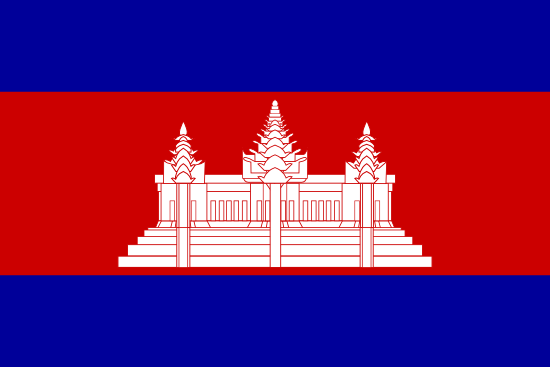 Travel Vaccines and Advice for Cambodia
Amazing vistas, stone temples and massive green jungles are just a few of Cambodia's sights. In the cities, travelers can find world-class restaurants and a fun nightlife.
For those looking to experience a new culture and meet new people, Cambodians are generous and very hospitable.
For the history buffs, Cambodia has been working to rebuild after the starvation, poverty, and violence that plagued the Khmer Rouge from 1975 to 1979, putting up monuments and statues to celebrate what the country overcame.
Do I Need Vaccines for Cambodia?
Yes, some vaccines are recommended or required for Cambodia. The CDC and WHO recommend the following vaccinations for Cambodia: hepatitis A, hepatitis B, typhoid, yellow fever, Japanese encephalitis, rabies, meningitis, polio, measles, mumps and rubella (MMR), Tdap (tetanus, diphtheria and pertussis), chickenpox, shingles, pneumonia and influenza.
COVID-19 vaccination is recommended for travel to all regions, both foreign and domestic. Check with your local Passport Health clinic if immunization is offered in your area.
See the bullets below to learn more about some of these key immunizations:
See the tables below for more information:
Recommended Travel Vaccinations for Cambodia

VACCINE
HOW DISEASE SPREADS
DETAILS

COVID-19
Airborne & Direct Contact
Recommended for all unvaccinated individuals who qualify for vaccination
Hepatitis A
Food & Water
Recommended for most travelers
Hepatitis B
Blood & Body Fluids
Recommended for travelers
to most regions.
Typhoid
Food & Water
Recommended for travelers
to most regions.
Yellow Fever
Mosquito
Required if traveling from a country with risk of yellow fever transmission.
Japanese Encephalitis
Mosquito
Recommended depending on itinerary and activities. May be given to short- and extended-stay travelers, recurrent travelers and travel to rural areas. Present throughout country. Most cases from May to October.
Rabies
Saliva of Infected Animals
High risk country. Vaccine recommended for long-term travelers and those who may come in contact with animals.
Routine Vaccinations for Cambodia

VACCINE
HOW DISEASE SPREADS
DETAILS

Measles Mumps Rubella (MMR)
Various Vectors
Given to anyone unvaccinated and/or born after 1957. One time adult booster recommended.
TDAP (Tetanus, Diphtheria & Pertussis)
Wounds & Airborne
Only one adult booster of pertussis required.
Chickenpox
Direct Contact & Airborne
Given to those unvaccinated that did not have chickenpox.
Shingles
Direct Contact
Vaccine can still be given if you have had shingles.
Pneumonia
Airborne
Two vaccines given seperately. All 65+ or immunocompromised should receive both.
Influenza
Airborne
Vaccine components change annually.
Meningitis
Airborne & Direct Contact
Given to anyone unvaccinated or at an increased risk, especially students.
Polio
Food & Water
Considered a routine vaccination for most travel itineraries. Single adult booster recommended.
A Japanese encephalitis vaccine is recommended for some travelers. This is especially true if you will be staying longer-term or visiting rural areas.
Travelers should also take steps to avoid mosquito bites and mosquito-borne disease like malaria and dengue. Share your itinerary with a travel medicine specialist to see if there are other steps you can take to prevent malaria, including antimalarials.
See our vaccinations page to learn more about these infections and vaccines. Ready to protect yourself? Book your travel health appointment today by calling or schedule online now.
Customer Reviews
Passport Health – Travel Vaccines for Cambodia
Overall rating: 5 stars – 15 reviews
"

Best Advice

"

"Passport Health gave me the best advice for my trip to cambodia and vietnam. The report prepared for me was excellent. The follow up was great. I will certainly use service again."
"

Excellent Service

"

"My wife and I visited for immunizations in preparation for a trip to Cambodia. Our nurse was extremely informative and highly professional. She assisted us in choosing the immunizations that we would require for a safe trip and provided us with an excellent reference booklet customized for our itinerary. Overall, we were very pleased with our experience at Passport Health."
"

Well Prepared

"

"I was nervous about my visit before my volunteer trip to Cambodia because I don't do well with shots, but my nurse was so helpful! When I walked in she was prepared with maps, videos, and an information packet made specifically for my visit. She was honest about what was necessary and what was optional, as well as the costs of all the vaccinations. As for the shots, they weren't as bad as I was expecting, because the nurse was courteous and played a video to distract me. Also, the prices were all reasonable! Overall, a great experience, and I feel very prepared for my upcoming volunteer trip!"
"

Cambodia Again

"

"Our family of three will be making our second trip to Cambodia. Our first trip was in 2010-2011. We first visited Passport Health in 2010 to make sure we had all the vaccinations that were needed for our time in East Asia. We went back to Passport Health again to confirm that we did or do not need any immunizations or boosters, or if there were any new health care concerns. We highly recommend Passport Health."
"

Best nurse ever

"

"I had less than a week to prepare for my Cambodia trip when I realized I needed vaccinations. I was concerned after reading the CDC website, of the dangers of certain diseases in the area I was visiting. The RN was so informative and helped eased my anxiety about traveling, as well as my fear of shots. In addition to wonderful service, I was given a traveling itinerary that was prepared for me before our meeting. I highly recommend this clinic to anyone traveling in the future!"
"

Very knowledgeable travel guidance

"

"My husband and I spent about an hour learning about the health concerns and vaccinations needed for our upcoming trip to Thailand, Vietnam and Cambodia. Very helpful and reassuring."
"

Great experience!

"

"The nurse was delightful, friendly, professional and I felt very confident in her care. She explained everything clearly about the vaccines, etc. needed for my trip to Vietnam and Cambodia. The booklet she provided is helpful and will be a good resource. My appointment began on time and the time spent reviewing everything about potential medical needs while on my trip was very worthwhile."
"

Travel shots

"

"The RN was familiar with me, where I was traveling, and what vaccinations I have already received. She didn't have to take time and look this up while I was sitting there. She was knowledgeable about the countries I am visiting (Cambodia and Vietnam) and gave great advice on how to stay healthy. Enjoyable overall!"
"

Medical safety Plan

"

"The nurse did a tremendous job in briefing me on what to do and don't do on my upcoming trip. The advice was very informative. I'm now all set for my trip to India and the Middle East."
"

Great Idea, Easy Solution

"

"I recently went to Passport Health in preparation for a mission trip to Cambodia. I found them via Google search and thought what a great idea to myself. Since I no longer have a primary physician, it seemed like a great alternative. As it turns out, my trip was fast, efficient, informative and cost effective to Passport Health. I would definitely use them again."
""
"Thank you to Passport Health for explaining our options in an organized and clear manner and for taking care of our immunization needs for a trip to Cambodia. We appreciated the option to schedule an appointment on Saturday, and the appointment was easy and efficient."
"

Great experience

"

"I first went to Passport Health to get shots before a school trip to Cambodia. The nurse I met was amazing and provided so much information! I just went back for my booster shot and the nurse today was amazing as well. Both experiences were great! Highly recommend."
"

Great Experience

"

"The nurse made the experience very smooth and informative. She prepared well for the appointment and was able to provide detailed explanation of the various risks and necessary vaccines for both Vietnam and Cambodia. She was is a very sincere and positive person."
"

Great!

"

"Very helpful! I was incredibly nervous about my trip to Cambodia before but now I am very confident that I will be okay and I can enjoy it!"
"

Excellent Service

"

"Excellent service by the nurse that met with me. She was very knowledgeable and personable. I feel that she provided information and immunizations that will be very useful on my trip to Cambodia."
Do I Need a Visa or Passport for Cambodia?
Travelers to Cambodia must have a valid passport and visa for entry.
Sources: Embassy of Cambodia and U.S. State Department
Tourist and business visas are valid for one month once the traveler enters the country. Additionally, the import and export of local currency (Riel) is prohibited.
For more information, see our Cambodia visa page. Or contact a Passport Health Passport and Visa specialist by calling or by filling out our online form.
What Is the Climate Like in Cambodia?
Due to the country's location close to the equator, Cambodia has a very warm climate.
November through February in is typically cool and dry. December and January are often thought of as the best times to visit due to the warm days and clear skies.
March through May are hot and dry, though there are occasional rain showers in the afternoons. From June to August it is hot and wet, as the monsoon rains begin.
Finally, September through early November is cool and wet, with the monsoon season coming to an end in late October.
Is It Safe to Travel to Cambodia?
The U.S. government has released some warnings regarding terrorism in Southeast Asia. All travelers should be cautious, particularly in places where large groups gather (schools, churches, nightclubs, etc).
Cambodia has a high crime rate. Petty crime, such as pick-pocketing and theft are common. Traveling alone after dark is not recommended.
Visiting Angkor Wat
Avoid mosquitoes and other bugs
Angkor Wat is the largest religious monument in the world found in Angkor, Cambodia. It was built as a Hindu temple for the god Vishnu in the Khmer Empire. During the 12th century it became a Buddhist temple. The temple architecture is meant to represent that of Mount Meru, home of the gods.
The site is a gorgeous place to visit for those wanting to admire its architectural beauty (there are pillars decorated with lotus rosettes and dancing figures) or for those looking to better understand the history of the country.
What Should I Pack for Cambodia?
A trip to Cambodia is an unforgettable experience. Make sure you bring everything you'll need to enjoy it to the fullest.
A money belt – Due to the amount of pick-pocketing that occurs, a money belt will allow you to keep your money and passport safe.
A sweater/pashmina – Many of the religious sites have a strict dress code, but the temperature outside will be very warm. A sweater or pashmina that one can wear inside and then remove is a great idea.
Sunscreen – Cambodia very warm and gets a lot of sunlight, meaning sunscreen is important.
Walking shoes – Visitors will likely want to explore the huge religious sites or the gorgeous outdoors, making good shoes a must.
U.S. Embassy in Cambodia
When traveling it is very helpful to find out exactly where the U.S. embassy or consulates are located. Keep the address written down in case you have a legal problem, you lose your passport, or you want to report a crime. Be sure to keep a copy of your passport with you in case you lose the original.
U.S. Embassy Phnom Penh
#1, Street 96
Sangkat Wat Phnom
Khan Daun Penh, Phnom Penh
Phone: (855-23) 728-000
Ready to start your next journey? Call us at or book online now!
On This Page:
Do I Need Vaccines for Cambodia?
Do I Need a Visa or Passport for Cambodia?
What Is the Climate Like in Cambodia?
Is It Safe to Travel to Cambodia?
Visiting Angkor Wat
What Should I Pack to Cambodia?
U.S. Embassy in Cambodia