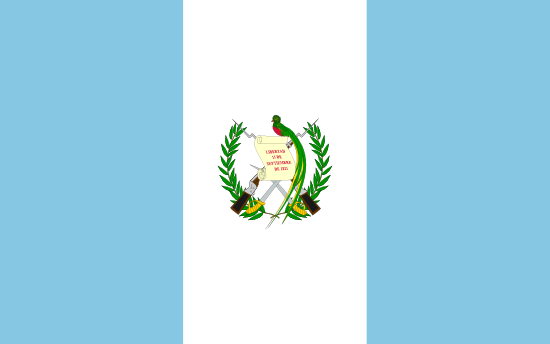 Travel Vaccines and Advice for Guatemala
Guatemala boasts some of the most stunning and diverse landscapes in Central America. With opportunities to explore ruins, volcanoes, and sandy beaches, there's something for everyone!
Both Guatemala City and Antigua offer great base points for travel to the Lake Atitlan, a stunning volcanic crater-formed lake still surrounded by the volcanoes that formed it. Lake Atitlan is regarded as a beautiful and largely spiritual destination.
A must-see destination for all types of travelers is Fuentes Georgina, a hot-spring created by Guatemala's volcanoes. All Guatemala's regions come into one at this destination.
If Mayan culture fascinates you, you should visit the Peten Region. Bordering Belize, it is home to many Mayan ruins including Tikal, the largest Mayan archeological site.
Whichever adventure you seek, Guatemala is calling your name.
Do I Need Vaccines for Guatemala?
Yes, some vaccines are recommended or required for Guatemala. The CDC and WHO recommend the following vaccinations for Guatemala: hepatitis A, hepatitis B, typhoid, yellow fever, rabies, meningitis, polio, measles, mumps and rubella (MMR), Tdap (tetanus, diphtheria and pertussis), chickenpox, shingles, pneumonia and influenza.
COVID-19 vaccination is recommended for travel to all regions, both foreign and domestic. Check with your local Passport Health clinic if immunization is offered in your area.
See the bullets below to learn more about some of these key immunizations:
See the tables below for more information:
Recommended Travel Vaccinations for Guatemala

VACCINE
HOW DISEASE SPREADS
DETAILS

COVID-19
Airborne & Direct Contact
Recommended for all unvaccinated individuals who qualify for vaccination
Hepatitis A
Food & Water
Recommended for most travelers
Hepatitis B
Blood & Body Fluids
Recommended for travelers
to most regions.
Typhoid
Food & Water
Recommended for travelers
to most regions.
Yellow Fever
Mosquito
Required if traveling from a country with risk of yellow fever transmission.
Rabies
Saliva of Infected Animals
High risk country. Vaccine recommended for long-term travelers and those who may come in contact with animals.
Routine Vaccinations for Guatemala

VACCINE
HOW DISEASE SPREADS
DETAILS

Measles Mumps Rubella (MMR)
Various Vectors
Given to anyone unvaccinated and/or born after 1957. One time adult booster recommended.
TDAP (Tetanus, Diphtheria & Pertussis)
Wounds & Airborne
Only one adult booster of pertussis required.
Chickenpox
Direct Contact & Airborne
Given to those unvaccinated that did not have chickenpox.
Shingles
Direct Contact
Vaccine can still be given if you have had shingles.
Pneumonia
Airborne
Two vaccines given separately. All 65+ or immunocompromised should receive both.
Influenza
Airborne
Vaccine components change annually.
Meningitis
Airborne & Direct Contact
Given to anyone unvaccinated or at an increased risk, especially students.
Polio
Food & Water
Considered a routine vaccination for most travel itineraries. Single adult booster recommended.
A vaccination against hepatitis A is recommended for trips to most destinations, including Guatemala. Every visitor should have received at least the first vaccine prior to traveling.
Some more health risks include:
Medical care in Guatemala City is readily accessible. In rural areas it can be scarce. Check with your insurance company before travel to solidify overseas coverage.
Visit our vaccinations page to learn more. Travel safely with Passport Health and schedule your appointment today by calling or book online now.
Do I Need a Visa or Passport for Guatemala?
If your stay is shorter than 90 days, a valid U.S. passport will get you to Guatemala. Be sure you do have a blank page in your passport for a valid entry stamp. Travel longer than 90 days requires a valid visa.
Guatemala Entry Requirements

Do I Need A…
For My Trip to Guatemala?

Passport
Tourist Visa
Business Visa
Vaccinations
Sources: Embassy of Guatemala and U.S. State Department
Before leaving the U.S., check your Passport's expiration date. Passports expiring within six months of your entry date can be subject to decline.
What Is the Climate Like in Guatemala?
Guatemala's climate is diverse for a country bordering the ocean. This allows a unique experience for travelers if one chooses to seek out all three zones. Here are the three climate zones that you will find in Guatemala:
Cool Area – Areas of the country encompassed by mountains and at a high altitude. Expect temperatures to be between 64 and 70 degrees. This is where the hot-spring Fuentes Georginas is located, along with Quetzaltenango.
Temperate Area – Moderate elevation areas that include both Guatemala City and Antigua. Expect temperatures to be around 85 degrees and lower.
Tropical Area – Any part of Guatemala in contact with the ocean. Temperatures can reach 100 degrees with fluctuations as low as 70 degrees. Cities include Livingston and Monterrico.
Due to the dry season, December to May are the most popular times to visit Guatemala. Expect the weather to be consistent with the above numbers during the daytime.
How Safe Is Guatemala?
The United States Government labels Guatemala as an area of "critical" concern for violent crimes. Most crimes are sexual assault, theft, armed robbery, and carjacking. In Guatemala, U.S. citizens are known for having material goods worth high monetary value. There are areas of the country, especially in the larger cities, to avoid to decrease risks.
It is important to remain vigilant immediately upon arriving in Guatemala. Reports of robberies and carjacking while leaving the airport are common at all hours of the day. Additionally, diversions are common in pick-pocketing attempts. Be sure to keep your belongings close and leave important items in a safe space at your lodging.
Transportation wise, cars are the best option though public transportation is available. Seek out radio-dispatched taxis and avoid public buses, as the crime rate is high. With the highest rate of motor-vehicle accidents at night, try driving during light hours. Tourists groups can also seek security escorts.
Fuentes Georginas Hot Springs in Guatemala
Avoid an Embarrassing Stop
These hot springs are popular with travelers seeking to relax or enjoy history. With views of the volcanoes and hot sulfur springs that created the pools themselves, it is a must see.
There are four separate pool areas, all differing in temperatures. Enjoy a tour of the entire Fuentes Georginas natural spa for a complete experience.
What Should I Take to Guatemala?
Here are some essential items to consider for your trip to Guatemala:
Medication and First Aid – It is always better to be prepared. Bring along any recommended medications by your Passport Health Specialist as a well as an appropriate first-aid kit.
Clothing – Though Guatemala is generally a hotter climate, nights can get very cold. Bring lightweight clothing for active travel and heavier clothing for the night time. A sturdy pair of hiking boots or sneakers will be perfect for any walking and hiking. As pick-pocketing is a threat, less flashy clothing is ideal.
Sunscreen and Bug Spray – Guatemala is close to the equator which equates to a stronger sun. Look to invest in sunscreen as well as sun protective clothing. Bug spray is available for buy in Guatemala but it is best to invest before leaving.
Electronics – If you cannot replace it, do not bring it due to the crime rate. ATM scams are also prevalent in Guatemala. Avoid public ATM's as well as using your credit card in unreliable places. Exchanging U.S. dollars to quetzales is the safest route.
U.S. Embassy in Guatemala
This is the only U.S. Embassy located in Guatemala. The U.S. State Department recommends signing up for the Smart Traveler Enrollment Program (STEP). This free program allows the U.S. Embassy in Guatemala to update you if any emergency or risks were to occur within the country.
U.S. Embassy Guatemala
Avenida Reforma 7-01, Zona 10
Guatemala City, Guatemala
Telephone: +(502) 2326-4000
Emergency After-Hours Telephone: +(502) 2331-2354
Fax: +(502) 2331-3804
AmCitsGuatemala@state.gov
Be sure to visit the embassy's website before departure to ensure you have the correct contact details.
If you have any questions about traveling to Guatemala or are wondering what shots you may need for your trip, schedule an appointment with your local Passport Health travel medicine clinic. Call us at or book online now and protect yourself today.
Customer Reviews
Passport Health – Travel Vaccines for Guatemala
Overall rating: 4.8 stars – 5 reviews
"

Quick, Courteous, and Knowledgeable

"

"I was met promptly when I arrived. A booklet of advice for Guatemala already prepared. We discussed various vaccinations/approaches and quickly came to a good decision. Even enjoyed a lollipop!"
"

Great Experience

"

"I was impressed with the professional and knowledgeable advice . So glad I went to this appt before leaving for Guatemala"
"

Detailed and Helpful

"

"This will be my first time going out of the country and Passport Health was wonderful! They provided detailed information, customized to my travel destination, and with one stop, I was able to get everything I needed to be ready for Guatemala."
"

Great Place for Travelers

"

"I went to Passport Health for an upcoming work trip to Guatemala. I had a great experience. The staff was knowledgeable about the vaccines and was thorough going over the information. I would recommend Passport Health to anyone traveling overseas."
"

Great Clinic

"

"The nurse was very knowledgeable and friendly. I am headed to Guatemala and she was able to answer all of my questions and provided a nice little travel packet. Saundra also gives fantastic shots. I hardly even realized she had poked me. Employing a top notch nurse is definitely a plus. Thank you for your service."
On This Page:
Do I Need Vaccines for Guatemala?
Do I Need a Visa or Passport for Guatemala?
What Is the Climate Like in Guatemala?
How Safe Is Guatemala?
Fuentes Georginas Hot Springs in Guatemala
What Should I Take to Guatemala?
U.S. Embassy in Guatemala