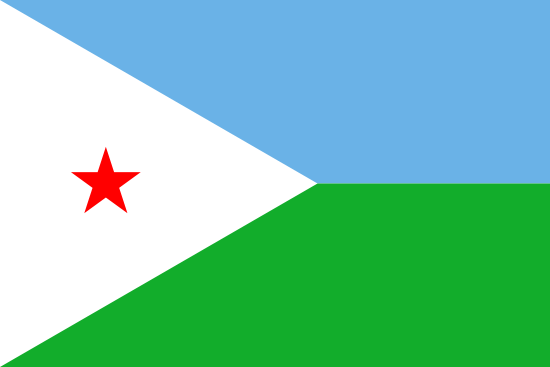 Travel Vaccines and Advice for Djibouti
Located on the horn of Africa, Djibouti is one of busiest shipping sites in the world. Due its prime location and access to various regions, it holds the only permanent United States military base in Africa.
Although it is small in size, there are many different kinds of landscapes throughout the country including volcanoes, desert, salt lakes, limestone, hot springs, and islands.
The official language of the country is French (mostly spoken by the upper class) and Arabic.
The majority of Djibouti holds two different ethnic groups: the Issa and the Afar and about 93% of the country practice Islam. The rest of the country practices Christianity.
The capital city of Djibouti, Djibouti City, holds 70% of the entire country's population. Djibouti's other major cities include Ali Sabieh, Tadjourah, and Dikhil.
Do I Need Vaccines for Djibouti?
Yes, some vaccines are recommended or required for Djibouti. The CDC and WHO recommend the following vaccinations for Djibouti: hepatitis A, hepatitis B, typhoid, yellow fever, rabies, meningitis, polio, measles, mumps and rubella (MMR), Tdap (tetanus, diphtheria and pertussis), chickenpox, shingles, pneumonia and influenza.
COVID-19 vaccination is recommended for travel to all regions, both foreign and domestic. Check with your local Passport Health clinic if immunization is offered in your area.
See the bullets below to learn more about some of these key immunizations:
See the tables below for more information:
Recommended Travel Vaccinations for Djibouti

VACCINE
HOW DISEASE SPREADS
DETAILS

COVID-19
Airborne & Direct Contact
Recommended for all unvaccinated individuals who qualify for vaccination
Hepatitis A
Food & Water
Recommended for most travelers
Hepatitis B
Blood & Body Fluids
Recommended for travelers
to most regions.
Typhoid
Food & Water
Recommended for travelers
to most regions.
Yellow Fever
Mosquito
Required if traveling from a country with risk of yellow fever transmission.
Rabies
Saliva of Infected Animals
High risk country. Vaccine recommended for long-term travelers and those who may come in contact with animals.
Routine Vaccinations for Djibouti

VACCINE
HOW DISEASE SPREADS
DETAILS

Measles Mumps Rubella (MMR)
Various Vectors
Given to anyone unvaccinated and/or born after 1957. One time adult booster recommended.
TDAP (Tetanus, Diphtheria & Pertussis)
Wounds & Airborne
Only one adult booster of pertussis required.
Chickenpox
Direct Contact & Airborne
Given to those unvaccinated that did not have chickenpox.
Shingles
Direct Contact
Vaccine can still be given if you have had shingles.
Pneumonia
Airborne
Two vaccines given separately. All 65+ or immunocompromised should receive both.
Influenza
Airborne
Vaccine components change annually.
Meningitis
Airborne & Direct Contact
Given to anyone unvaccinated or at an increased risk, especially students.
Polio
Food & Water
Considered a routine vaccination for most travel itineraries. Single adult booster recommended.
The CDC recommends antimalarials for Djibouti, as malaria is endemic there. Apply bug spray and sleep under mosquito nets.
Medical facilities in cities are limited and there are few in more rural areas. Bring medicine with you to Djibouti as there is a low supply of prescriptions the country.
Medicare and basic healthcare do not cover costs overseas. Be sure to get an international plan before traveling.
To find out more about these vaccines, see our vaccinations page. Ready to travel safely? Book your appointment either call or start booking online now.
Is Cholera in Djibouti?
Although there have been cholera outbreaks in Djibouti in the past, there are no current outbreaks. But, cholera is still a risk for many travelers visiting the country.
The best protection against cholera is through vaccination. Passport Health clinics offer the cholera vaccine. Book your cholera vaccination appointment today!
Do I Need a Visa or Passport for Djibouti?
A passport that will remain valid for at least six months is required to enter Djibouti. A tourist visa should be obtained before travel. Thirty-day visas may be obtained at arrival, but it can't be guaranteed.
Djibouti Entry Requirements

Do I Need A…
For My Trip to Djibouti?

Passport
Tourist Visa
Business Visa
Vaccinations
Sources: Embassy of Djibouti and U.S. State Department
If you have arrived from a yellow fever endemic country, you must have a yellow card showing proof of vaccination.
If you are a journalist, must have a letter of accreditation from the Ministry of Communication and Culture.
What Is the Climate Like in Djibouti?
Djibouti is mostly a tropical desert climate with a semi-desert in the southern region.
It is hot in Djibouti year-round, though it is a little cooler during the winter season. Temperatures throughout the year can range from 84 degrees Fahrenheit to 104 degrees Fahrenheit.
Rain is a rare occurrence and can happen throughout the year. When it does rain it is usually short and a large amount.
How Safe Is Djibouti?
Due to regional terrorist activity, terrorism is a risk in Djibouti. Terrorists can easily access and come into the country and will target tourist sites and westerners. Many refugees seek asylum from neighboring countries in Djibouti.
Some border conflicts occur at the border of Djibouti and Eritrea. Border areas between Djibouti, Somalia, and Ethiopia may contain landmines.
Theft, including identity theft are common in Djibouti. Dress conservatively and know where your credit card is at all time.
Remember that local authorities are responsible for investigating and prosecuting crime.
Limestone of Djibouti
Avoid an Embarrassing Stop
Lake Abbe is a salt lake in Djibouti that looks like it's from another planet. This site has limestone formations that makes almost what looks like a forest. This whole area is also surrounded by hot springs.
Lake Abbe is near the Djibouti and Ethiopian border. Due to their strong alliance, it is a safer place for tourists to visit in the country.
There are accommodations available for travelers in Lake Abbe including hotels, campsites and Afar Huts. The site is well known for its sunrises and sunsets.
What Should I Take to Djibouti?
If you're going to Djibouti, pack light clothes made of breathable fabric and comfortable shoes for walking. Bring your travel documents, medicine and camera to capture memories. Make sure to pack sunscreen, sunglasses and a hat to protect yourself from the sun.
Don't forget to bring cash or credit cards, a reusable water bottle to stay hydrated, and a power bank in case of emergency. If you plan on exploring the waters, bring snorkeling or diving gear, and a swimsuit for the beach or pool.
It's important to remember that Djibouti is a Muslim country, so it's important to dress modestly.
U.S. Embassy in Djibouti
The U.S. embassy in Djibouti helps American travelers with things like replacement passports and emergency assistance. They also provide important information about travel risks and potential dangers. If there's an emergency, the embassy can help with things like medical assistance or evacuation.
U.S. Embassy in Djibouti
Lotissement Haramous, Lot # 350-B
P.O. Box 185
Djibouti City, Republic of Djibouti
Telephone: +(253) 21-45-30-00 (Sunday to Thursday, 8:00 a.m.-4:30 p.m.)
Emergency After-Hours Telephone: +(253) 77-877-229
Fax: (+253) 21-45.33.40
Email: ConsularDjibouti@state.gov
Visit the Embassy to Djibouti website before departure to confirm correct contact details for the office.
If you have any questions about traveling to Djibouti or are wondering what shots you may need for your trip, schedule an appointment with your local Passport Health travel medicine clinic. Call us at or book online now! and protect yourself today.
Customer Reviews
Passport Health – Travel Vaccines for Djibouti