The COVID-19 pandemic has affected travel to many countries. Cote d'Ivoire may require you to have a negative COVID-19 test for entry.
Please see our COVID-19 Restrictions page to learn more.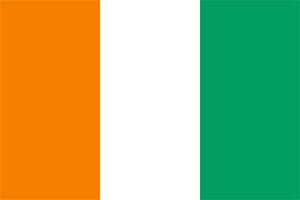 Travel Vaccines and Advice for Cote d'Ivoire
Cote d'Ivoire (also known as Ivory Coast) is a nation that has a prosperous history due to its production of cocoa. Despite its economic success, Ivory Coast has a history of political turmoil. There remains tension between different ethnic groups and political parties in the country.
The capital city of Cote d'Ivoire is Abidjan (though that is a recent change), the largest city in the country. Cote d'Ivoire's other major cities include Bouake, Daloa, and Korhogo.
Do I Need Vaccines for Cote d'Ivoire?
Yes, some vaccines are recommended or required for Cote d'Ivoire. The CDC and WHO recommend the following vaccinations for Cote d'Ivoire: hepatitis A, hepatitis B, typhoid, cholera, yellow fever, rabies, meningitis, polio, measles, mumps and rubella (MMR), Tdap (tetanus, diphtheria and pertussis), chickenpox, shingles, pneumonia and influenza.
COVID-19 vaccination is recommended for travel to all regions, both foreign and domestic. Check with your local Passport Health clinic if immunization is offered in your area.
See the bullets below to learn more about some of these key immunizations:
See the tables below for more information:
Recommended Travel Vaccinations for Cote d'Ivoire

VACCINE
HOW DISEASE SPREADS
DETAILS

COVID-19
Airborne & Direct Contact
Recommended for all unvaccinated individuals who qualify for vaccination
Hepatitis A
Food & Water
Recommended for most travelers
Hepatitis B
Blood & Body Fluids
Accelerated schedule available
Typhoid
Food & Water
Shot lasts 2 years. Oral vaccine lasts 5 years, must be able to swallow pills. Oral doses must be kept in refrigerator.
Cholera
Food & Water
Cholera is present, but rare, in the country. Vaccination is recommended for some travelers to Lagunes, Marahoue and Sud Comoe.
Yellow Fever
Mosquito
Required for all travelers over 9 months of age.
Rabies
Saliva of Infected Animals
High risk country. Vaccine recommended for long-term travelers and those who may come in contact with animals.
Meningitis
Airborne & Direct Contact
Located in the meningitis belt, vaccination is recommended during the dry season (Dec. – June)
Routine Vaccinations for Cote d'Ivoire

VACCINE
HOW DISEASE SPREADS
DETAILS

Measles Mumps Rubella (MMR)
Various Vectors
Given to anyone unvaccinated and/or born after 1957. One time adult booster recommended.
TDAP (Tetanus, Diphtheria & Pertussis)
Wounds & Airborne
Only one adult booster of pertussis required.
Chickenpox
Direct Contact & Airborne
Given to those unvaccinated that did not have chickenpox.
Shingles
Direct Contact
Vaccine can still be given if you have had shingles.
Pneumonia
Airborne
Two vaccines given seperately. All 65+ or immunocompromised should receive both.
Influenza
Airborne
Vaccine components change annually.
Polio
Food & Water
Considered a routine vaccination for most travel itineraries. Single adult booster recommended.
Dengue, malaria and chikungunya are all present in Cote d'Ivoire. Make sure you have repellent and netting. Antimalarials may also be recommended.
Yellow fever, another mosquito-borne disease, is present in Cote d'Ivoire. Proof of vaccination is required for entry.
See our vaccinations page to learn more about these infections and vaccines. Ready to protect yourself? Book your travel health appointment today by calling or schedule online now.
Is There Cholera in Cote d'Ivoire?
There is currently no cholera outbreak in Cote d'Ivoire. Cases are rare and can be avoided with some health precautions. Despite the lack of a current epidemic, a cholera vaccine is still recommended before travel.
The best protection against cholera is through vaccination. Passport Health clinics offer the cholera vaccine. Book your cholera vaccination appointment today!
Customer Reviews
Passport Health – Travel Vaccines for Cote d'Ivoire

Overall rating: 5 stars – 8 reviews

"

Great experience!

"

"I am preparing to leave in Cote d'Ivoire in a few short days and realized I had not looked into immunozations needed. Luckily, Passport Heath was able to get me in 2 days before my trip. The nurse was exceptional! She spent so much time detailing each vaccine, what to avoid in the areas I was traveling, and provided me a booklet with all the information. I really could not have asked for a better appointment. Thanks again!"

"

Excellent experience

"

"We were treated well and educated into the immunizations we would need for our trip to Cote d'Ivoire. The information provided that is specific to Uganda will be of great value. We highly recommend Passport Health."

"

Competency and Kindness

"

"Yesterday I took my 17 year old daughter into Passport Health so that she could get appropriate immunizations for a ministry trip to Cote d'Ivoire. The folks at Passport Health clearly know their stuff, and I'm thankful for it. I could relax knowing that Sarah was being well prepared for her trip. The nurse was thorough and kind as she helped with the records and the administration of immunizations. The office staff were knowledgable and supported us through the answering of questions as we walked through the process of making decisions about other products that would support a trip to Uganda. Thank you Passport Health."

Submitted by:

Deanna Fitzpatrick

"

Helpful and Knowledgable

"

"Your people are most helpful and you RN was very pleasant and most informative on the problems associated with traveling to Cote d'Ivoire."

"

Incredibly Efficient & Knowledgable

"

"The staff at Passport Health were incredibly helpful and took the time to walk me through all the issues with my travel to Cote d'Ivoire. They advised me on how to take the pills, if I could mix them with current medicine, and what to look out for during my travel across Africa! I feel very confident and at ease, now. Thanks so much!"

"

Excellent & Fast Service

"

"I was late getting my immunizations for a trip to Cote d'Ivoire. The staff quickly scheduled my appointment and managed to get everything I needed quickly and efficiently."

"

Adam was proffessional and knowledgable

"

"My girlfriend and I are traveling to Cote d'Ivoire and came for travel vaccinations. As a pediatrcian, I would instantly hire the nurse for my office. He was knoledgable, informative and I can tell he excels at patient care. My girlfriend, a massage therapist, was worried about soreness in her arms. After assessing her deltoid, he opted for a 5/8th needle which she greatley appreciated. Overall a great experience and I will absolutly recommend this Passport Health to friends, famlies and patients."

"

Helpful Experience

"

"My visit to Passport Health was a very pleasant one, and much more helpful and informational towards traveling than I expected it to be. The secretary was very friendly even from the phone scheduling, and then the nurse was knowledgeable and kind when I visited to get my shots. The booklet that I was given with all of the information on Cote d'Ivoire and even the airports is wonderful. Thank you to everyone involved for making this part of traveling so seamless!"

Do I Need a Visa for Cote d'Ivoire?

A passport and visa are required for entry to Cote d'Ivoire. Proof of yellow fever vaccination is also required.

Sources: Embassy of Cote d'Ivoire and U.S. State Department

For more information, see our Cote d'Ivoire visa page. Or contact a Passport Health Passport and Visa specialist by calling 1-844-366-8472 or by filling out our online form.

What Is the Climate Like in Cote d'Ivoire?

Ivory Coast has three main climates. Equatorial is along the southern coasts. A tropical climate permeates the midlands. Finally, the north has is semi-arid.

Seasons tend to stay the same. Fall is warm and dry, winter is hot and dry and the summer is hot and wet season.

How Safe Is Cote d'Ivoire?

Cote d'Ivoire is under a threat of terrorist activity with the last attack occurring in 2016. Although the country is not a hub for terrorism, it is in an area where terrorist activity is a threat.

The country's army and police are in a transitional phase right now and may not be properly trained for their jobs. Stay away from any political demonstrations or protests.

Do not travel outside of major cities. Rural areas are hard to reach in Cote d'Ivoire and you will not be protected.

If you are traveling in a large city, you should dress modestly and not show signs of wealth. Tourists that are perceived as wealthy are often targets for robberies and carjackings.

Pottery and Mountains in Cote d'Ivoire

Avoid mosquitoes and other bugs

Another popular tourist attraction is Cote d'Ivoire are its mountains. The most popular mountain to visit in the country is Mount Neinkoue, which is over 500 ft tall. The mountain is a popular destination due to its lush forests and dense wildlife. It's also a part of Tai National Park, a UNESCO World Heritage Site.

In recent years, Tai National Park has also become a popular spot for ecotourism. The government hopes that the opportunity for ecotourism will improve the chimpanzee population. The average camping trip here usually lasts three days.

Other animals include pygmy hippopotamus, leopards, and tree pangolins.

Tai National Park has been found to be home to chimpanzees that carry the Ebola virus. Practice extreme caution.

What Should I Take To Cote d'Ivoire?

Here are some essential items to consider for your trip to Cote d'Ivoire:

Breathable clothing to stay comfortable in the often warm and humid weather.
Shoes for hiking, if you plan to hike.
Mosquito repellent and clothing that covers bare skin to prevent mosquito bites.
Diarrhea can be common amongst travelers. It's always best to be prepared with a travelers' diarrhea kit.
Modest clothing for visits to smaller towns or villages.

U.S. Embassy in Cote d'Ivoire

All Americans visiting Cote d'Ivoire should register online with the U.S. Department of State before departure. This will inform the office of your travel plans within the country and will allow them to reach out in the case of an emergency or evacuation.

Once in Cote d'Ivoire, the information for the U.S. Embassy is:

U.S. Embassy Abidjan
Cocody Riviéra Golf, 01 BP 1712 Abidjan 01
Abidjan, Côte d'Ivoire
Phone: (+225) 22-49-40-00

Ready to start your next journey? Call us at or book online now!

On This Page:
Do I Need Vaccines for Cote d'Ivoire?
Is There Cholera in Cote d'Ivoire?
Do I Need a Visa for Cote d'Ivoire?
What Is the Climate Like in Cote d'Ivoire?
How Safe Is Cote d'Ivoire?
Pottery and Mountains in Cote d'Ivoire
What Should I Take To Cote d'Ivoire?
U.S. Embassy in Cote d'Ivoire