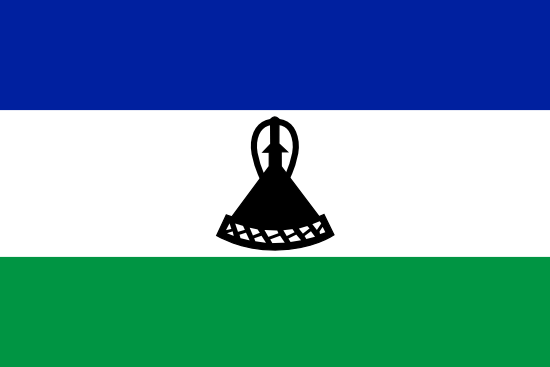 Travel Vaccines and Advice for Lesotho
Water and diamonds are Lesotho's largest natural resources. Dams provide water throughout the region and diamonds mines dot the landscape. Due to its mountainous terrain, Lesotho is a sought after location for serious hikers.
Sesotho is the official language of Lesotho and is spoken by the largest ethnic group in Lesotho: the Basotho. 90% of the population practices Christianity.
When traveling to Lesotho, remember to always respond when spoken to and never get angry. Both are seen as highly disrespectful.
Do I Need Vaccines for Lesotho?
Yes, some vaccines are recommended or required for Lesotho. The CDC and WHO recommend the following vaccinations for Lesotho: hepatitis A, hepatitis B, typhoid, yellow fever, rabies, meningitis, polio, measles, mumps and rubella (MMR), Tdap (tetanus, diphtheria and pertussis), chickenpox, shingles, pneumonia and influenza.
COVID-19 vaccination is recommended for travel to all regions, both foreign and domestic. Check with your local Passport Health clinic if immunization is offered in your area.
See the bullets below to learn more about some of these key immunizations:
See the tables below for more information:
Recommended Travel Vaccinations for Lesotho

VACCINE
HOW DISEASE SPREADS
DETAILS

COVID-19
Airborne & Direct Contact
Recommended for all unvaccinated individuals who qualify for vaccination
Hepatitis A
Food & Water
Recommended for most travelers
Hepatitis B
Blood & Body Fluids
Accelerated schedule available
Typhoid
Food & Water
Shot lasts 2 years. Oral vaccine lasts 5 years, must be able to swallow pills. Oral doses must be kept in refrigerator.
Yellow Fever
Mosquito
Required if traveling from a country with risk of yellow fever transmission.
Rabies
Saliva of Infected Animals
Moderate risk country. Vaccine recommended for certain travelers based on destination, activities and length of stay.
Routine Vaccinations for Lesotho

VACCINE
HOW DISEASE SPREADS
DETAILS

Measles Mumps Rubella (MMR)
Various Vectors
Given to anyone unvaccinated and/or born after 1957. One time adult booster recommended.
TDAP (Tetanus, Diphtheria & Pertussis)
Wounds & Airborne
Only one adult booster of pertussis required.
Chickenpox
Direct Contact & Airborne
Given to those unvaccinated that did not have chickenpox.
Shingles
Direct Contact
Vaccine can still be given if you have had shingles.
Pneumonia
Airborne
Two vaccines given separately. All 65+ or immunocompromised should receive both.
Influenza
Airborne
Vaccine components change annually.
Meningitis
Airborne & Direct Contact
Given to anyone unvaccinated or at an increased risk, especially students.
Polio
Food & Water
Considered a routine vaccination for most travel itineraries. Single adult booster recommended.
Medical facilities are scarce in Lesotho and there are no ambulance services. Depending on the treatment needed, you may be sent to South Africa. Good facilities are located in Blomfontein.
Medicare does not cover procedures done in Lesotho. It is recommended to get comprehensive travel medical insurance.
Visit our vaccinations page to learn more. Travel safely with Passport Health and schedule your appointment today by calling or book online now.
Do I Need a Visa or Passport for Lesotho?
U.S. travelers must have a passport for travel to Lesotho. The country does not require a visa for stays under 180 days within a 12-month period.
Lesotho Entry Requirements

Do I Need A…
For My Trip to Lesotho?

Passport
Tourist Visa
Business Visa
Vaccinations
Sources: Embassy of Lesotho and U.S. State Department
Proof of yellow fever vaccination is not required if traveling from the United States. But, it may be necessary if coming to Lesotho from another African country.
What Is the Climate Like in Lesotho?
Lesotho is a mountainous country, the weather can be different depending on where you are. Maseru, which is the capital city, is in the lowlands and has mild weather. The temperature there is usually between 70 and 80 degrees in the summer and 50 to 60 in the winter.
Semonkong is in the highlands and is cooler than Maseru. The temperature there is usually between 60 and 70 in the summer and 40 to 50 in the winter. Thaba Bosiu is also in the lowlands and has weather like Maseru. Katse Dam is in the highlands and is cooler like Semonkong. It rains a lot in Semonkong and Katse Dam, especially from October to April.
It's always a good idea to check the weather forecast before planning a trip because the weather in Lesotho can be unpredictable.
How Safe Is Lesotho?
Lesotho is a generally safe country to visit, but there are things you can do to stay safe while you're there. Here are some tips:
Be aware of your surroundings and keep your valuables close.
Stay in a safe and reputable hotel or guesthouse.
Don't walk alone at night and use a taxi or ride-sharing app instead.
Be respectful of the local culture and customs.
Don't carry too much cash and keep your wallet or purse close to you.
Stay up-to-date on current events in Lesotho.
Make sure to get vaccinated before traveling to Lesotho.
Following these tips can help you stay safe during your trip to Lesotho.
Hiking in Lesotho
Avoid an Embarrassing Stop
Due to its mountainous geography, Lesotho is considered a paradise to many hikers. Although there are not a lot of official hiking trails, there are many walking trails which allow hikers to more freedom to explore.
Hikes in Lesotho include rivers, gorges, caves and a variety of rock formations.
Some of the best hiking (and lodging) can be found in Lesotho's National Parks such as Sehlabathebe National Park, Ts'ehlanyane National Park and the Bokong Nature Reserve.
If you plan on hiking in Lesotho, have map reading skills due to the number of unmarked trails.
What Should I Take to Lesotho?
Here are some essential items to consider for your trip to Lesotho:
Get Loti (official currency) before coming to Lesotho. Cashing travelers checks can be a lengthy process and there are a limited amount of ATMs. Once out of big cities, most establishments won't accept credit cards.
Hand sanitizer
Scarves. To protect from the elements and for rural areas where women must wear scarves to cover their heads.
Prescription and emergency medications as pharmacies are hard to come by.
If you go during the rainy season (May-September), bring rain gear.
U.S. Embassy in Lesotho
All Americans visiting Lesotho should register online with the U.S. Department of State before departure. This will inform the office of your travel plans within the country and will allow them to reach out in the case of an emergency or evacuation.
Once in Lesotho, the information for the U.S. Embassy is:
U.S. Embassy Maseru
254 Kingsway Avenue
Maseru 100, Lesotho
Telephone: +(266) 2231-2666
Emergency After-Hours Telephone: +(266) 5888-4035
Fax: +(266) 2231-0116
Email: USConsularMaseru@state.gov
If you have any questions about traveling to Lesotho or are wondering what shots you may need for your trip, schedule an appointment with your local Passport Health travel medicine clinic. Call us at or book online now and protect yourself today.
Customer Reviews
Passport Health – Travel Vaccines for Lesotho
Overall rating: 5 stars – 3 reviews
"

Lesotho Travel

"

"The nurse was very professional and thorough. I have a much better understanding of the medical and security issues associated with traveling to Lesotho. I was very concerned about going to get the necessary shots and she put me at ease and explained everything. Receiving the antibiotics package was very helpful as well as the repellent. Overall had a great experience at this location."
"

Very Helpful

"

"The RN and team provided specific information on the process of vaccination and additional information far beyond what I anticipated for my upcoming travel to Lesotho and South Africa. I was very happy to have a service provided by Passport Health by the Travel Health Specialist and do plan to refer future travelers to this establishment."
"

Friendly

"

"The RN was a joy , she put my daughters fears to rest. She was very personable and knowledgeable on the immunizations , that my daughter needed for our Lesotho trip. I was very impressed with the Morristown office."
On This Page:
Do I Need Vaccines for Lesotho?
Do I Need a Visa or Passport for Lesotho?
What Is the Climate Like in Lesotho?
How Safe Is Lesotho?
Hiking in Lesotho
What Should I Take to Lesotho?
U.S. Embassy in Lesotho