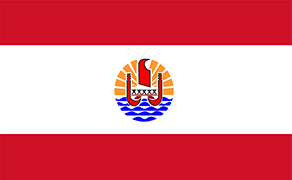 Travel Vaccines and Advice for French Polynesia
In French Polynesia travelers will see the many shades of blue of the ocean and experience cool waters. The mountain views will take your breath away with their moss green peaks. If you want to experience life at a slow pace and lay back and relax, French Polynesia is the place for you.
There are many activities to enjoy in French Polynesia. You can dive and snorkel in Rangiroa, watch the whales in Rurutu, and much more. There are also sites to experience art, music, and dance of French Polynesia.
French Polynesia offers travelers fresh ingredients like fish, taro, and fruits to experience. These ingredients are prepared in many ways. Cuisines include savory vanilla sauces, Chinese specialties and gratins.
There is so much to discover in French Polynesia whether it's in the water or on land. If you're interested in island life, then this is the perfect fit for you. French Polynesia awaits you.
Do I Need Vaccines for French Polynesia?
Yes, some vaccines are recommended or required for French Polynesia. The CDC and WHO recommend the following vaccinations for French Polynesia: hepatitis A, hepatitis B, typhoid, yellow fever, rabies, meningitis, polio, measles, mumps and rubella (MMR), Tdap (tetanus, diphtheria and pertussis), chickenpox, shingles, pneumonia and influenza.
COVID-19 vaccination is recommended for travel to all regions, both foreign and domestic. Check with your local Passport Health clinic if immunization is offered in your area.
See the bullets below to learn more about some of these key immunizations:
See the tables below for more information:
Recommended Travel Vaccinations for French Polynesia

VACCINE
HOW DISEASE SPREADS
DETAILS

COVID-19
Airborne & Direct Contact
Recommended for all unvaccinated individuals who qualify for vaccination
Hepatitis A
Food & Water
Recommended for most travelers
Hepatitis B
Blood & Body Fluids
Accelerated schedule available
Typhoid
Food & Water
Shot lasts 2 years. Oral vaccine lasts 5 years, must be able to swallow pills. Oral doses must be kept in refrigerator.
Yellow Fever
Mosquito
Required if traveling from a country with risk of yellow fever transmission.
Rabies
Saliva of Infected Animals
Vaccine recommended for long-term travelers and those who may come in contact with animals.
Routine Vaccinations for French Polynesia

VACCINE
HOW DISEASE SPREADS
DETAILS

Measles Mumps Rubella (MMR)
Various Vectors
Given to anyone unvaccinated and/or born after 1957. One time adult booster recommended.
TDAP (Tetanus, Diphtheria & Pertussis)
Wounds & Airborne
Only one adult booster of pertussis required.
Chickenpox
Direct Contact & Airborne
Given to those unvaccinated that did not have chickenpox.
Shingles
Direct Contact
Vaccine can still be given if you have had shingles.
Pneumonia
Airborne
Two vaccines given separately. All 65+ or immunocompromised should receive both.
Influenza
Airborne
Vaccine components change annually.
Meningitis
Airborne & Direct Contact
Given to anyone unvaccinated or at an increased risk, especially students.
Polio
Food & Water
Considered a routine vaccination for most travel itineraries. Single adult booster recommended.
Dengue is present in some parts of French Polynesia. This mosquito-borne disease can be deadly. Be sure to bring mosquito repellent and netting.
Visit our vaccinations page to learn more. Travel safely with Passport Health and schedule your appointment today by calling or book online now.
Do I Need a Visa for French Polynesia?
A visa is not required for stays less than 90 days in French Polynesia. Passports must be valid for at least six months and proof of onward travel may be required.
French Polynesia Entry Requirements

Do I Need A…
For My Trip to French Polynesia?

Passport
Tourist Visa
Business Visa
Vaccinations
Sources: Embassy of French Polynesia and U.S. State Department
What Is the Climate like in French Polynesia?
This country has a mixture of tropical climates. French Polynesia's higher regions have a subtropical climate because of the temperatures. A tropical savanna climate and unpredictable weather are what French Polynesia mainly experiences.
The western islands of Tahiti and Bora Bora have dry and wet seasons. From June until October travelers will see the least amount of precipitation. But, after these months pass the precipitation increases. The north, south, and east islands don't see this increase in precipitation.
French Polynesia is located in a region with severe tropical weather. Hurricane season starts from the end of October until June.
How Safe Is French Polynesia?
French Polynesia is a beautiful travel destination, but it's important to take some precautions to stay safe during your trip. Here are some tips to help you stay safe:
Pay attention to your surroundings and avoid deserted areas, especially at night.
Try not to carry a lot of cash with you, use credit cards or travelers' checks instead.
Keep your belongings close to you at all times and avoid displaying expensive items in public.
Be careful when swimming and follow the lifeguards' advice.
Respect the local culture and customs, and dress appropriately when visiting religious sites.
Drink plenty of water to stay hydrated in the hot and humid weather.
By following these tips, you can have a safe and enjoyable trip to French Polynesia.
Moorea in French Polynesia
Avoid an Embarrassing Stop
Moorea is a beautiful island in French Polynesia that tourists love to visit because of its stunning natural scenery.
Visitors can enjoy different outdoor activities like swimming, sunbathing, kayaking, hiking and snorkeling. The island also offers cultural experiences like watching traditional dances, visiting ancient temples and tasting local foods.
Divers can explore the marine life of Moorea, which includes colorful fish, sharks and rays. During the months of August to October, tourists can also go dolphin and whale watching. One of the popular sites to see is the Tiki Reef, and the Shark Pit for diving.
Moorea is a perfect place to appreciate the beauty of nature, and there are different ways to enjoy it. The island is also rich in cultural history, and visitors can learn a lot about Polynesian traditions. Snorkeling and diving are exciting activities to do while on the island, and one can see amazing marine creatures.
The island is a great destination to explore, and there's something for everyone to enjoy.
What Should I Take to French Polynesia?
If you are traveling to French Polynesia, a warm and tropical place, you should bring clothes that are comfortable and easy to move around in. Things like cotton or linen shirts, shorts, skirts and dresses are ideal. Bring swimwear like bathing suits, rash guards, and cover-ups as you will spend a lot of time in the water.
Don't forget sun protection, like sunscreen, sunglasses and a hat, to protect your skin and eyes from the sun. Bring insect repellent to protect against mosquitoes and other pests. Bring any necessary medications and a first aid kit with items like bandages, antiseptic, and pain relievers.
Don't forget comfortable walking shoes for exploring the islands and flip-flops or sandals for the beach. In case of sudden rain showers, bring a lightweight rain jacket or poncho. Bring a small backpack or tote bag to carry essentials like water bottles, snacks, and a camera.
Remember to pack light, as you'll likely be moving between different islands and accommodations during your trip. Most importantly, don't forget to bring a sense of adventure and an open mind to fully enjoy your time in French Polynesia!
U.S. Embassy in French Polynesia
An embassy or consulate is not available in French Polynesia, but there is a U.S. Consular agent in French Polynesia who can help with any questions you have. You can also get in touch with the U.S. Embassy in Suva, Fiji.
While there is no embassy in French Polynesia, there is a U.S. Consul serving the region:
Centre Tamanu Iti, 1er etage
98718 Punaauia
French Polynesia
Telephone: +(689) 4042-6535
Fax: +(689) 4050-8096
Travelers to French Polynesia are advised to enroll in the Smart Traveler Enrollment Program (STEP) to receive important information about safety conditions in French Polynesia.
Stay safe abroad with Passport Health. Call or book online now and start traveling safely today!
Customer Reviews
Passport Health – Travel Vaccines for French Polynesia

Overall rating: 5 stars – 5 reviews

"

Excellent

"

"My experience with Passport Health in Lawrenceville, NJ was excellent. The nurse exhibited outstanding knowledge and expertise in the information pertaining to our business travel arrangement to French Polynesia."

"

Terrific Service

"

"Convenient location and apt. times. Very knowledgeable about what I needed for travel to French Polynesia."

"

Painless and informative

"

"Had a great experience. I'm an experience global traveler, but have been off the road for a while. I'm now headed to India and French Polynesia (for work), and got a great update and reminder on what to do (and what not to do)!"

"

Fantastic!

"

"The nurse thoroughly educated us on the vaccines we were receiving and what health related issues we might face during our upcoming trip to French Polynesia."

"

Efficient and informative appointment

"

"My appointment to receive information and immunizations for an upcoming business trip to French Polynesia was very efficient. The nurse was prepared in advance with detailed information and I was out of the office within 30 minutes."

On This Page:
Do I Need Vaccines for French Polynesia?
Do I Need a Visa for French Polynesia?
What Is the Climate like in French Polynesia?
How Safe Is French Polynesia?
Moorea in French Polynesia
What Should I Take to French Polynesia?
U.S. Embassy in French Polynesia