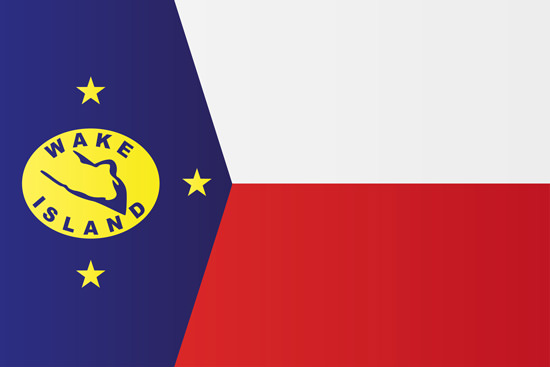 Travel Vaccines and Advice for Wake Island
Wake Island is an unorganized and unincorporated territory of the United States. This small coral atoll in the Pacific Ocean is a restricted area, with only military personnel and scientists allowed on the island.
It is administered by the U.S. Air Force and is often used as a military refueling spot of aircraft. There are no permanent residents on Wake Island. But, there are usually about 100 military personnel living on the island at any given time.
Every once in a while there is a day trip from Military Historical Tours that can visit the island.
Do I Need Vaccines for Wake Island?
Yes, some vaccines are recommended or required for Wake Island. The CDC and WHO recommend the following vaccinations for Wake Island: hepatitis A, hepatitis B, typhoid, meningitis, polio, measles, mumps and rubella (MMR), Tdap (tetanus, diphtheria and pertussis), chickenpox, shingles, pneumonia and influenza.
COVID-19 vaccination is recommended for travel to all regions, both foreign and domestic. Check with your local Passport Health clinic if immunization is offered in your area.
See the bullets below to learn more about some of these key immunizations:
See the tables below for more information:
Recommended Travel Vaccinations for Wake Island

VACCINE
HOW DISEASE SPREADS
DETAILS

COVID-19
Airborne & Direct Contact
Recommended for all unvaccinated individuals who qualify for vaccination
Hepatitis A
Food & Water
Recommended for most travelers
Hepatitis B
Blood & Body Fluids
Accelerated schedule available
Typhoid
Food & Water
Shot lasts 2 years. Oral vaccine lasts 5 years, must be able to swallow pills. Oral doses must be kept in refrigerator.
Routine Vaccinations for Wake Island

VACCINE
HOW DISEASE SPREADS
DETAILS

Measles Mumps Rubella (MMR)
Various Vectors
Given to anyone unvaccinated and/or born after 1957. One time adult booster recommended.
TDAP (Tetanus, Diphtheria & Pertussis)
Wounds & Airborne
Only one adult booster of pertussis required.
Chickenpox
Direct Contact & Airborne
Given to those unvaccinated that did not have chickenpox.
Shingles
Direct Contact
Vaccine can still be given if you have had shingles.
Pneumonia
Airborne
Two vaccines given separately. All 65+ or immunocompromised should receive both.
Influenza
Airborne
Vaccine components change annually.
Meningitis
Airborne & Direct Contact
Given to anyone unvaccinated or at an increased risk, especially students.
Polio
Food & Water
Considered a routine vaccination for most travel itineraries. Single adult booster recommended.
To find out more about these vaccines, see our vaccinations page. Ready to travel safely? Book your appointment either call or start booking online now.
What Is the Climate Like on Wake Island?
Wake Island is a small island in the Pacific Ocean that is mainly used for military purposes, but it does have some tourist facilities. The weather on Wake Island is tropical, which means it is generally hot and humid throughout the year.
The average high temperature ranges from the mid-80s to low 90s, while the average low temperature is in the mid-70s. The rainy season runs from June through December, with the most rainfall occurring in October and November.
There are few tourist destinations on Wake Island, as it is mostly undeveloped. Most visitors are there for military or scientific purposes.
How Safe Is Wake Island?
Wake Island is a remote, uninhabited island located in the Pacific Ocean. It is mostly used for military purposes, and there are a few things travelers can do to stay safe if they decide to visit.
Be aware of the weather conditions. Wake Island is located in a tropical region and can experience typhoons and tropical storms. Check the weather before planning your trip.
Respect the island's military presence. It is a military base, and visitors must follow the rules and regulations set by the military authorities.
Watch out for wildlife. The island has many animals, and while they can be beautiful to observe, they can also be dangerous if provoked.
Use protective gear when swimming. The coral reefs can be sharp and dangerous, so wear protective gear and do not touch or step on the reefs.
Bring enough water and food. There are no restaurants or grocery stores on Wake Island, so bring enough supplies for your trip.
Military Historical Tours on Wake Island
Avoid an Embarrassing Stop
Wake Island is a small island in the Pacific Ocean that is mainly used by the United States military. There are not many tourist facilities or things to do on the island, and it is not a popular tourist destination.
People who are allowed to visit the island are usually military personnel, government officials or researchers. The island is not open to the public for tourism, and there are no regular flights or tourist services available. It is not a place that many people go to visit for vacation.
Even then, there is a criteria on who may visit. People must be donors of the Pacific Aviation Museum, be a U.S. Citizen, or they can be WWII veterans, POWs, and their families.
What Should I Take to Wake Island?
Wake Island is a small, uninhabited territory of the United States in the Pacific Ocean. If you are planning a trip there, you should bring a few important things with you.
You will need a valid passport to enter the island. Since the island is in a tropical region, you should pack light and comfortable clothing, such as shorts, t-shirts, and sandals. The island also has a lot of sun, so be sure to bring sunscreen, sunglasses, and a hat to protect yourself. You may also want to bring insect repellent since there may be mosquitoes and other insects on the island.
Wake Island has beautiful coral reefs and clear waters, so if you plan on going snorkeling, bring your own gear. You should also bring a refillable water bottle to stay hydrated, and a camera or smartphone to capture the memories.
It's important to bring any prescription medications or medical supplies you need. Wake Island has limited supplies and services, so it's best to come prepared. The island also uses 120-volt power outlets, so bring a travel adapter to charge your electronics.
Wake Island is a remote and unique destination, so be sure to pack wisely and prepare for your adventure.
U.S. Embassy on Wake Island
All Americans visiting Wake Island should register online with the U.S. Department of State before departure. This will inform the office of your travel plans within the country and will allow them to reach out in the case of an emergency or evacuation.
Wake Island is a U.S. Territory, no consulate or embassy is present.
If you have any questions about traveling to Wake Island or are wondering what shots you may need for your trip, schedule an appointment with your local Passport Health travel medicine clinic. Call us at or book online now and protect yourself today.
Customer Reviews
Passport Health Travel Vaccines for Western Sahara
Overall rating: 5 stars – 2 reviews
"

Efficient and Knowledgeable

"

"Simple, made it easy to figure out what we needed for our trip to Wake Island. Two doctors had given us conflicting advice. Passport clearly articulated what was critical vs. advised and helped us make an informed decision."
"

Off to the Pacific!

"

"I was very impressed with Stephanie's prepared information and complete knowledge of my needs for Wake Island."
On This Page:
Do I Need Vaccines for Wake Island?
What Is the Climate Like on Wake Island?
How Safe is Wake Island?
Military Historical Tours On Wake Island
What Should I Take To Wake Island?
U.S. Embassy on Wake Island