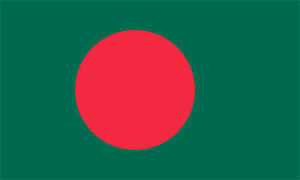 Do I Need Vaccines for Bangladesh?
Is Cholera in Bangladesh?
Is a Visa Required for Bangladesh?
What Is the Climate in Bangladesh?
How Safe Is Bangladesh?
Tour the Time-Tested Old Dhaka
What Should I Take to Bangladesh?
U.S. Embassy in Bangladesh
Bangladesh is one of Asia's most culture-rich destinations. The country is characterized by centuries of Hindu, Buddhist and, today, Muslim traditions.
The region has nearly 800 rivers, most of which run the full length of the country and spill out into the Bay of Bengal. Travel by boat is more common than travel by vehicle or any other means.
Bangladesh is relatively traveler-free area which lends to the country's authenticity. In most cities, the influences of tourism have yet to take hold. This is also partially due to the country's poverty.
Unfortunately, this beautiful country has seen disease outbreaks terrorist activity. Some of the most recent attacks have involved tourists. Experts advise against travel to Bangladesh unless a trip is mandatory.
Do I Need Vaccines for Bangladesh?
Yes, some vaccines are recommended or required for Bangladesh. The CDC and WHO recommend the following vaccines for Bangladesh: typhoid, hepatitis A, hepatitis B, cholera, rabies, Japanese encephalitis, and influenza.
---
Dengue, malaria and chikungunya are present in Bangladesh. Be sure to bring and use repellents and netting. Antimalarials may be recommended, depending on your trip itinerary.
See our vaccinations page to learn more about these infections and vaccines. Ready to protect yourself? Book your travel health appointment today by calling or schedule online now.
Is Cholera in Bangladesh?
There is currently no cholera outbreak in Bangladesh. Cases are rare and can be avoided with some health precautions. Despite the lack of a current epidemic, the cholera vaccine is still recommended before travel.
Passport Health locations throughout the United States carry Vaxchora, the only US-approved cholera vaccine.
Customer Reviews
Passport Health –

Travel Vaccines for Bangladesh
Overall rating:

5

stars –

4

reviews
"

Great service

"

"I got six shots for an upcoming trip to Bangladesh and India; the process was quick and as painless as I've ever experienced. Thanks!"
"

Quick and Easy Visit

"

"I was able to get a review of my shots, receive additional ones as needed, and request prescriptions for my business trip to Bangladesh. It was quick and easy with no issues."
"

Great Experience

"

"In preparation for my trip to Bangladesh in a week, I came to Passport Health and saw a nurse. She was efficient, professional, and very thorough. She also had a great bedside manner, which is critical for any nurse. I will definitely come back to Passport Health for my next travel vaccination needs."
"

The Way To Prepare for Exotic Locations

"

"As I prepared for a an upcoming trip to Bangladesh, i had found information on health in foreign locations through the CDC, but Janet at Passport Health really took the time to explain the risk factors and how i can mitigate the risks (through my own actions and decisions while abroad and through preventive medicines and vaccinations). I have been able to use clinics at my place of work before, but will look to Passport Health in the future to coordinate my health on overseas trips."
Is a Visa Required for Bangladesh?
A passport and visa are required for entry to Bangladesh. If travelers are carrying more than 5,000 U.S. dollars with them upon entry, it must be declared. Travelers cannot leave with more money than they declared upon entering.
Sources: Embassy of Bangladesh and U.S. State Department
For more information, see our Bangladesh visa page. Or contact a Passport Health Passport and Visa specialist by calling 1-844-366-8472 or by filling out our online form.
What Is the Climate in Bangladesh?
Although the rivers are beneficial for travel, they also bring humidity. The country has a subtropical monsoon climate with high temperatures and high humidity. Bangladesh has three prominent seasons: hot, humid summers, a rainy fall and cooler, dry winters.
Because climate varies by region, be sure to pack for your itinerary. A few regional differences include:
Khulna – At the southwest end of the country near the Sundarbans, Khulna has hot summers, cool winters and year-round off and on rainfall.


Dhaka – In the middle of the country, the capital has a tropical wet climate and harshly-dry winters.


Rangpur – At the northern tip of the country, this region has the most rainfall. Expect consistent monsoons and high levels of humidity.
How Safe Is Bangladesh?
Travel to Bangladesh is rewarding, but you should take precautions. Some of the most recent terrorist attacks targeted foreigners.
In some areas, tourists are sometimes seen as a nuisance. Be aware of your surroudings and consider using a licensed guide.
Petty crime such as pickpocketing is also common. Travelers should exercise caution at all times. Avoid traveling at night and never travel alone.
Tour the Time-Tested Old Dhaka
Dhaka is the country's largest and most bustling city. A tour to Old Dhaka is well worth the trek. A tour guide who understands the culture, history and food of the area that has been centuries in the making. Be sure to stop by ancient sites such as the Hindu Dhakeswari Temple or one of the handful of local mosques.
What Should I Take to Bangladesh?
Unless traveling in winter, tourists should prepare for rain and humidity. Be sure you have everything you need for your trip.
Clothing – A light sweater for cooler nights plus long sleeves and pants to avoid mosquitoes. Modest clothing is recommended for visits to religious sites.


Rain Gear – A poncho or rain jacket that is lightweight and can be packed on day excursions.


Insect Repellent or Netting – Mosquito-borne diseases are common in southeast Asia. Be sure to bring repellents, netting and similar items.
U.S. Embassy in Bangladesh
The U.S. embassy can help travelers with issues including lost passports or acts of violence. For quick service, appointments should be made ahead of time
U.S. Embassy Dhaka
Madani Avenue,
Baridhara, Dhaka -1212,
Bangladesh
Tel: (880) (2) 5566-2000
Ready to start your next journey? Call us at or book online now!