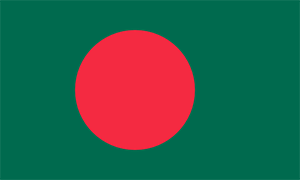 Travel Vaccines and Advice for Bangladesh
Bangladesh is one of Asia's most culture-rich destinations. The country is characterized by centuries of Hindu, Buddhist and, today, Muslim traditions.
The region has nearly 800 rivers, most of which run the full length of the country and spill out into the Bay of Bengal. Travel by boat is more common than travel by vehicle or any other means.
Bangladesh is relatively traveler-free area which lends to the country's authenticity. In most cities, the influences of tourism have yet to take hold. This is also partially due to the country's poverty.
Unfortunately, this beautiful country has seen disease outbreaks terrorist activity. Some of the most recent attacks have involved tourists. Experts advise against travel to Bangladesh unless a trip is mandatory.
Do I Need Vaccines for Bangladesh?
Yes, some vaccines are recommended or required for Bangladesh. The CDC and WHO recommend the following vaccinations for Bangladesh: hepatitis A, hepatitis B, typhoid, cholera, yellow fever, Japanese encephalitis, rabies, meningitis, polio, measles, mumps and rubella (MMR), Tdap (tetanus, diphtheria and pertussis), chickenpox, shingles, pneumonia and influenza.
COVID-19 vaccination is recommended for travel to all regions, both foreign and domestic. Check with your local Passport Health clinic if immunization is offered in your area.
See the bullets below to learn more about some of these key immunizations:
See the tables below for more information:
Recommended Travel Vaccinations for Bangladesh

VACCINE
HOW DISEASE SPREADS
DETAILS

COVID-19
Airborne & Direct Contact
Recommended for all unvaccinated individuals who qualify for vaccination
Hepatitis A
Food & Water
Recommended for most travelers
Hepatitis B
Blood & Body Fluids
Accelerated schedule available
Typhoid
Food & Water
Shot lasts 2 years. Oral vaccine lasts 5 years, must be able to swallow pills. Oral doses must be kept in refrigerator.
Cholera
Food & Water
Recommended for travel to most regions of Bangladesh.
Yellow Fever
Mosquito
Required if traveling from a country with risk of yellow fever transmission.
Japanese Encephalitis
Mosquito
Recommended depending on itinerary and activities. May be given to short- and extended-stay travelers, recurrent travelers and travel to rural areas. Present throughout country. Most cases from May to October.
Rabies
Saliva of Infected Animals
High risk country. Vaccine recommended for long-term travelers and those who may come in contact with animals.
Routine Vaccinations for Bangladesh

VACCINE
HOW DISEASE SPREADS
DETAILS

Measles Mumps Rubella (MMR)
Various Vectors
Given to anyone unvaccinated and/or born after 1957. One time adult booster recommended.
TDAP (Tetanus, Diphtheria & Pertussis)
Wounds & Airborne
Only one adult booster of pertussis required.
Chickenpox
Direct Contact & Airborne
Given to those unvaccinated that did not have chickenpox.
Shingles
Direct Contact
Vaccine can still be given if you have had shingles.
Pneumonia
Airborne
Two vaccines given separately. All 65+ or immunocompromised should receive both.
Influenza
Airborne
Vaccine components change annually.
Meningitis
Airborne & Direct Contact
Given to anyone unvaccinated or at an increased risk, especially students.
Polio
Food & Water
Considered a routine vaccination for most travel itineraries. Single adult booster recommended.
Dengue, malaria and chikungunya are present in Bangladesh. Be sure to bring and use repellents and netting. Antimalarials may be recommended, depending on your trip itinerary.
See our vaccinations page to learn more about these infections and vaccines. Ready to protect yourself? Book your travel health appointment today by calling or schedule online now.
Is Cholera in Bangladesh?
There is currently no cholera outbreak in Bangladesh. Cases are rare and can be avoided with some health precautions. Despite the lack of a current epidemic, the cholera vaccine is still recommended before travel.
The best protection against cholera is through vaccination. Passport Health clinics offer the cholera vaccine. Book your cholera vaccination appointment today!
Is a Visa Required for Bangladesh?
Bangladesh requires all visitors have at least six months' validity remaining on their passports at entry. One blank passport page is also required. Visas are required for entry to Bangladesh, but are available upon arrival.
Bangladesh Entry Requirements

Do I Need A…
For My Trip to Bangladesh?

Passport
Tourist Visa
Business Visa
Vaccinations
Sources: Embassy of Bangladesh and U.S. State Department
The U.S. State Department strongly recommends travelers get their visas prior to arrival to avoid any potential issues. There are penalties for overstaying a visa and even prosecution in some cases.
Travelers may also be required to pay a departure tax, but this tax is often included in the price of airfare.
What Is the Climate in Bangladesh?
Although the rivers are beneficial for travel, they also bring humidity. The country has a subtropical monsoon climate with high temperatures and high humidity. Bangladesh has three prominent seasons: hot, humid summers, a rainy fall and cooler, dry winters.
Because climate varies by region, be sure to pack for your itinerary. A few regional differences include:
Khulna – At the southwest end of the country near the Sundarbans, Khulna has hot summers, cool winters and year-round off and on rainfall.
Dhaka – In the middle of the country, the capital has a tropical wet climate and harshly-dry winters.
Rangpur – At the northern tip of the country, this region has the most rainfall. Expect consistent monsoons and high levels of humidity.
How Safe Is Bangladesh?
Here are some tips that can help you stay safe while traveling to Bangladesh:
Research and plan ahead: Research the places you plan to visit in Bangladesh. Familiarize yourself with local customs, laws, and social norms. This can help you avoid any cultural misunderstandings and potential safety risks.
Dress conservatively: Bangladesh is a conservative country in many ways. It's important to dress modestly and avoid revealing clothing. This is especially important for women. They should consider covering their heads and wearing loose-fitting clothes that cover arms and legs.
Use reputable transportation: Use reputable taxi services or ride-sharing apps to get around, especially at night. Avoid unlicensed taxis or rickshaws, as they may not be safe or reliable.
Be cautious with food and water: Be careful with food and water consumption to avoid getting sick. Stick to bottled or filtered water and avoid eating street food or raw or undercooked food.
Be aware of pickpockets and thieves: Pickpockets and thieves can be a problem in crowded areas. Be aware of your surroundings and keep your belongings close to you.
Register with your embassy: Register with your embassy or consulate when you arrive in Bangladesh. This can help ensure that you receive important safety updates and that your government can provide assistance if needed.
See the Wonders of Srimangal
Avoid mosquitoes and other bugs
Srimangal is a small town located in the northeastern part of Bangladesh. It is known as the tea capital of the country. There are several reasons why tourists would want to visit Srimangal:
Tea Gardens: Srimangal is surrounded by lush green tea gardens and is one of the largest tea producing regions in Bangladesh. Tourists can visit these tea gardens and witness the entire tea production process.
Natural Beauty: Tourists can visit Madhabpur Lake, Baikka Beel Wetland Sanctuary, and Lawachara National Park to explore the region's natural beauty and wildlife.
Cultural Experience: Srimangal is also known for its unique cultural experiences. Tourists can visit the Khashia tribal village and learn about their lifestyle, culture, and traditions. They can also visit the nearby Monipuri villages to see traditional handloom weaving and embroidery.
Srimangal is a must-visit destination for tourists who want to explore a lesser-known region of Bangladesh.
What Should I Take to Bangladesh?
Unless traveling in winter, tourists should prepare for rain and humidity. Be sure you have everything you need for your trip.
Clothing – A light sweater for cooler nights plus long sleeves and pants to avoid mosquitoes. Modest clothing is recommended for visits to religious sites.
Rain Gear – A poncho or rain jacket that is lightweight and can be packed on day excursions.
Insect Repellent or Netting – Mosquito-borne diseases are common in southeast Asia. Be sure to bring repellents, netting and similar items.
U.S. Embassy in Bangladesh
The U.S. Embassy in Bangladesh offers a range of services to U.S. citizens visiting or residing in Bangladesh. Some of the services that the embassy provides include:
Consular Services: This includes emergency assistance, notary services, and passport and visa services.
Security Alerts: The embassy issues security alerts to U.S. citizens traveling or residing in Bangladesh. These alerts provide information on current security situations and potential risks.
Travel Information: The embassy provides information on travel and tourism in Bangladesh, including visa requirements, local customs and culture and transportation options.
The U.S. Embassy in Bangladesh is located at:
U.S. Embassy Dhaka
Madani Avenue,
Baridhara, Dhaka -1212,
Bangladesh
Tel: (880) (2) 5566-2000
It's important to note that the services provided by the U.S. Embassy in Bangladesh can vary. U.S. citizens traveling to Bangladesh are encouraged to check the embassy's website or contact the embassy directly to obtain the most up-to-date information.
Ready to start your next journey? Call us at or book online now!
Customer Reviews
Passport Health – Travel Vaccines for Bangladesh
Overall rating: 5 stars – 4 reviews
"

Great service

"

"I got six shots for an upcoming trip to Bangladesh and India; the process was quick and as painless as I've ever experienced. Thanks!"
"

Quick and Easy Visit

"

"I was able to get a review of my shots, receive additional ones as needed, and request prescriptions for my business trip to Bangladesh. It was quick and easy with no issues."
"

Great Experience

"

"In preparation for my trip to Bangladesh in a week, I came to Passport Health and saw a nurse. She was efficient, professional, and very thorough. She also had a great bedside manner, which is critical for any nurse. I will definitely come back to Passport Health for my next travel vaccination needs."
"

The Way To Prepare for Exotic Locations

"

"As I prepared for a an upcoming trip to Bangladesh, i had found information on health in foreign locations through the CDC, but Janet at Passport Health really took the time to explain the risk factors and how i can mitigate the risks (through my own actions and decisions while abroad and through preventive medicines and vaccinations). I have been able to use clinics at my place of work before, but will look to Passport Health in the future to coordinate my health on overseas trips."
On This Page:
Do I Need Vaccines for Bangladesh?
Is Cholera in Bangladesh?
Is a Visa Required for Bangladesh?
What Is the Climate in Bangladesh?
How Safe Is Bangladesh?
See the Wonders of Srimangal
What Should I Take to Bangladesh?
U.S. Embassy in Bangladesh