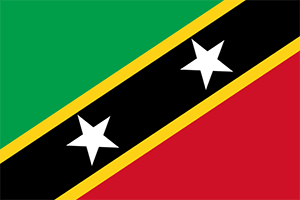 Travel Vaccines and Advice for Saint Kitts and Nevis
Saint Kitts and Nevis is the smallest country in the Caribbean in both population and land area. But, that doesn't mean they don't have plenty of beauty and sights to offer. Some highlights include African green monkeys, music festivals and a mile-wide volcanic crater.
The water dividing Saint Kitts and Nevis is called the Narrows since in several places it is only two miles wide.
Do I Need Vaccines for Saint Kitts and Nevis?
Yes, some vaccines are recommended or required for Saint Kitts and Nevis. The CDC and WHO recommend the following vaccinations for Saint Kitts and Nevis: hepatitis A, hepatitis B, typhoid, yellow fever, rabies, meningitis, polio, measles, mumps and rubella (MMR), Tdap (tetanus, diphtheria and pertussis), chickenpox, shingles, pneumonia and influenza.
COVID-19 vaccination is recommended for travel to all regions, both foreign and domestic. Check with your local Passport Health clinic if immunization is offered in your area.
See the bullets below to learn more about some of these key immunizations:
See the tables below for more information:
Recommended Travel Vaccinations for Saint Kitts and Nevis

VACCINE
HOW DISEASE SPREADS
DETAILS

COVID-19
Airborne & Direct Contact
Recommended for all unvaccinated individuals who qualify for vaccination
Hepatitis A
Food & Water
Recommended for most travelers
Hepatitis B
Blood & Body Fluids
Accelerated schedule available
Typhoid
Food & Water
Shot lasts 2 years. Oral vaccine lasts 5 years, must be able to swallow pills. Oral doses must be kept in refrigerator.
Yellow Fever
Mosquito
Required if traveling from a country with risk of yellow fever transmission.
Rabies
Saliva of Infected Animals
Vaccine recommended for long-term travelers and those who may come in contact with animals.
Polio
Food & Water
Required if arriving from a region with polio transmission. Considered a routine vaccination for most travel itineraries. Single adult booster recommended.
Routine Vaccinations for Saint Kitts and Nevis

VACCINE
HOW DISEASE SPREADS
DETAILS

Measles Mumps Rubella (MMR)
Various Vectors
Given to anyone unvaccinated and/or born after 1957. One time adult booster recommended.
TDAP (Tetanus, Diphtheria & Pertussis)
Wounds & Airborne
Only one adult booster of pertussis required.
Chickenpox
Direct Contact & Airborne
Given to those unvaccinated that did not have chickenpox.
Shingles
Direct Contact
Vaccine can still be given if you have had shingles.
Pneumonia
Airborne
Two vaccines given separately. All 65+ or immunocompromised should receive both.
Influenza
Airborne
Vaccine components change annually.
Meningitis
Airborne & Direct Contact
Given to anyone unvaccinated or at an increased risk, especially students.
Dengue, Zika and chikungunya pose a threat to travelers to the region. Make sure to use mosquito repellents and netting. Women who are pregnant or may become pregnant should consider not traveling to the area.
See our vaccinations page to learn more about these infections and vaccines. Ready to protect yourself? Book your travel health appointment today by calling or schedule online now.
Do I Need a Visa to Travel to Saint Kitts and Nevis?
A visa is not required for stays under 90 days in Saint Kitts and Nevis. A passport with at least six months' validity is required.
Saint Kitts and Nevis Entry Requirements

Do I Need A…
For My Trip to Saint Kitts and Nevis?

Passport
Tourist Visa
Business Visa
Vaccinations
Sources: Embassy of Saint Kitts and Nevis and U.S. State Department
What Is the Climate Like in Saint Kitts and Nevis?
Saint Kitts and Nevis have a hot, humid tropical climate with consistent temperatures. These are balanced by northeast trade winds and rainfall all year round.
Winters and summers are similar with highs in the 80's. Nighttime temperatures are often cooler, especially for higher elevations on the islands.
The rainy season is from May to November. July to November is also the hurricane season. Hurricanes can be very violent for Saint Kitts and Nevis.
How Safe Are Saint Kitts and Nevis?
Saint Kitts and Nevis is a relatively safe region. But, there are still some things to be aware of. Don't leave valuables unattended and take measure to avoid street crime.
Consider your safety before making the choice to enjoy a water sport or similar activity. This includes thinking about the weather and jet ski traffic, for example. Medical facilities in Saint Kitts and Nevis are lower than in developed nations. This includes a lack of hyperbaric chambers for decompression illness.
Hurricane season can affect Saint Kitts and Nevis during August and October especially. Be aware of the time you are going and check weather conditions.
See the Many Monkeys of Saint Kitts and Nevis
Avoid an Embarrassing Stop
Saint Kitts and Nevis are known for its free-roaming monkeys. The African green monkeys have lived on the islands for more than 300 years. They were brought from Africa in the late 17th century.
Monkeys can sometimes be pests for the country. But, they are ingrained in the culture of Saint Kitts and Nevis.
It may be easy to see a monkey at your local beach bar or by stepping outside. But, for some quality monkey time try hiking on Monkey Hill, going to the Monkey Bar, or diving at Monkey Shoals. You can also consult travel guides for helpful information on good nature trails and tours.
What Should I Pack for Saint Kitts and Nevis?
If you're planning a trip to Saint Kitts and Nevis, you should pack light and comfortable clothing, such as cotton or linen shirts, shorts, sundresses, and skirts, as the temperature is warm throughout the year.
Bring swimwear, a wide-brimmed hat, sunglasses, and plenty of sunscreen to protect yourself from the strong Caribbean sun. Mosquitoes and other insects are prevalent on the islands, so pack insect repellent. Comfortable and sturdy walking shoes or sandals are recommended for exploring the island's attractions. Bring a refillable water bottle, cash, and a credit card for shopping and dining.
If you plan to explore the underwater world of Saint Kitts and Nevis, consider bringing your own snorkeling or diving gear. Bring an adapter if you're coming from another country, as the electrical outlets in Saint Kitts and Nevis use a different voltage and plug type than most countries.
Due to the COVID-19 pandemic, it's important to bring face masks, hand sanitizer, and follow any other health and safety protocols set forth by the local government.
Check the latest travel advisories and requirements before packing.
U.S. Embassy for Saint Kitts and Nevis
All Americans visiting Saint Kitts and Nevis should register online with the U.S. Department of State before departure. This will inform the office of your travel plans within the country and will allow them to reach out in the case of an emergency or evacuation.
While the islands do not have an embassy, the Barbados embassy serves the region:
U.S. Embassy Bridgetown
Wildey Business Park
Saint Michael BB 14006
Barbados, W.I.
Phone: (246) 227-4000
Stay safe abroad with Passport Health. Call or book online now and start traveling safely today!
Customer Reviews
Passport Health – Travel Vaccines for Saint Kitts and Nevis