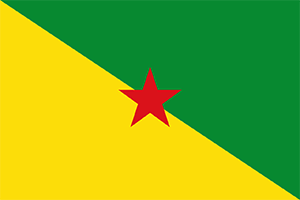 Do I Need Vaccines for French Guiana?
Do I Need a Visa to Travel to French Guiana?
What is the Climate Like in French Guiana?
How Safe is French Guiana?
What Should I Pack for French Guiana?
U.S. Embassy for French Guiana
French Guiana is a territory of France and part of the European Union. It is surrounded by Brazil on the South and East, Suriname on the West, and the Atlantic Ocean on the Northeast.
The territory's population is made of Creole, with minorities being French, Haitians and other groups.
Do I Need Vaccines for French Guiana?
Yes, some vaccines are recommended or required for French Guiana. The CDC and WHO recommend the following vaccines for French Guiana: typhoid, hepatitis A, hepatitis B, yellow fever, rabies, and influenza.
---
Yellow fever is a risk to travelers to French Guiana. Make sure you've been vaccinated.
Malaria, dengue and Zika are also present. Be sure to bring and use mosquito netting and repellent. Antimalarials may also be recommended based on your itinerary.
See our vaccinations page to learn more about these infections and vaccines. Ready to protect yourself? Book your travel health appointment today by calling or schedule online now.
Customer Reviews
Passport Health

Travel Vaccines for French Guiana
Overall rating:

5

stars –

4

reviews
"

Extremely Detailed

"

"The nurse was very detailed in her review about my trip plans to French Guiana. She focused on not only when but where I would be traveling withing the country. Overall, Passport is the best and most comprehensive place to go for any traveling or health-related questions concerning immunizations."
"

Nice Work!

"

"Christina did a nice job advising me in preparation for my upcoming trip to French Guiana."
"

Best Customer Service

"

"For one that really hates shots, both of the resources I have met with at Passport Health have been so understanding and helpful through this whole process of getting vaccinated prior to my trip to French Guiana. It has made the process bearable!! Thanks so much."
"

Incredible

"

"I have been using Passport Health for the past 5 years of international travel, but this past experience has been the best ever. The nurse was incredible in giving me the shots I needed, but also the information that was so helpful in preparing me for our trip to French Guiana, and later this Summer to India and Nepal. I can strongly recommend using Passport Health. I look forward to using their passport service for my next trip."
Do I Need a Visa to Travel to French Guiana?
No, you do not need a visa to travel to French Guiana. You do need a passport with a blank page for each stamp and three months validity.
Sources: U.S. State Department and Embassy of France
For more information contact a Passport Health Passport and Visa specialist by calling 1-844-366-8472 or by filling out our online form.
What is the Climate Like in French Guiana?
French Guiana has a warm and wet tropical climate with even temperatures year round. The tradewinds help stabilize the coastal weather.
The dry season is from June to November and the wet season is from December to May. The northwest has consistent rainfall while the rest of French Guiana follows dry and rainy season patterns. The Marawijne River regularly floods surrounding areas with all the rainfall it gets.
The coolest month for French Guiana is January. September is both the driest and warmest month with May being the wettest. Cayenne, the capital city, has average daily highs of the mid 80s, sometimes going up to the low 90s.
French Guiana is typically away from standard hurricane routes.
How Safe is French Guiana?
According to the U.S. Department of State, French Guiana is usually a safe place for travelers as it is quite remote. Here are some helpful tips to keep you safe while there.
Avoid flaunting wealth and take necessary precautions in French Guiana. Petty street crime can be common in the major cities especially.
Travelers wishing to go deep into French Guiana should only use well-established sources and tour companies.
What Should I Pack for French Guiana?
Think ahead on what to pack by perusing these suggestions:
Clothing – French Guiana can often be hot and humid due to its tropical climate. Be sure to pack accordingly for the time of year and the activities you wish to do. Consider items such as sunscreen, water-protective gear, and bathing suits.


Health Kit – It is always useful to have important first aid kit items while traveling. Consider bringing a traveler's diarrhea kit as well.


Insect Repellent – French Guiana has a variety of mosquito-borne diseases. Be sure to bring repellent with you for added protection.
U.S. Embassy for French Guiana
All Americans visiting French Guiana should register online with the U.S. Department of State before departure. This will inform the office of your travel plans within the country and will allow them to reach out in the case of an emergency or evacuation.
There is no U.S. embassy in French Guiana, but the embassy in Suriname serves the area:
U.S. Embassy Paramaribo
165 Kristalstraat
Paramaribo, Suriname
Stay safe abroad with Passport Health. Call or book online now and start traveling safely today!