The COVID-19 pandemic has affected travel to many countries. Micronesia may require you to have a negative COVID-19 test for entry.
Please see our COVID-19 Restrictions page to learn more.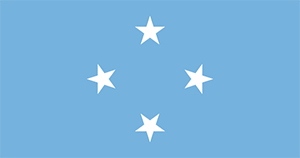 Travel Vaccines and Advice for Micronesia
Micronesia is in the Western Pacific Ocean, north of Papua New Guinea and south of the Marshall Islands. The country is hot and humid all year long and receives a great deal of rain.
Each island is unique, offering visitors different types of activities. The island Chuuk has colorful reefs full of marine life and over 70 sunken Japanese ships for divers to explore. Kosrae is known for its archaeological sites. There are coral walkways between basalt logs in the Lelu ruins. Pohnpei has large stone buildings that are separated by canals and beautiful waterfalls.
Micronesia is the perfect place for visitors who want to be outside and explore.
Do I Need Vaccines for Micronesia?
Yes, some vaccines are recommended or required for Micronesia. The CDC and WHO recommend the following vaccinations for Micronesia: hepatitis A, hepatitis B, typhoid, rabies, meningitis, polio, measles, mumps and rubella (MMR), Tdap (tetanus, diphtheria and pertussis), chickenpox, shingles, pneumonia and influenza.
COVID-19 vaccination is recommended for travel to all regions, both foreign and domestic. Check with your local Passport Health clinic if immunization is offered in your area.
See the bullets below to learn more about some of these key immunizations:
See the tables below for more information:
Recommended Travel Vaccinations for Micronesia

VACCINE
HOW DISEASE SPREADS
DETAILS

COVID-19
Airborne & Direct Contact
Recommended for all unvaccinated individuals who qualify for vaccination
Hepatitis A
Food & Water
Recommended for most travelers
Hepatitis B
Blood & Body Fluids
Accelerated schedule available
Typhoid
Food & Water
Shot lasts 2 years. Oral vaccine lasts 5 years, must be able to swallow pills. Oral doses must be kept in refrigerator.
Rabies
Saliva of Infected Animals
Moderate risk country. Vaccine recommended for long-term travelers and those who may come in contact with animals.
Routine Vaccinations for Micronesia

VACCINE
HOW DISEASE SPREADS
DETAILS

Measles Mumps Rubella (MMR)
Various Vectors
Given to anyone unvaccinated and/or born after 1957. One time adult booster recommended.
TDAP (Tetanus, Diphtheria & Pertussis)
Wounds & Airborne
Only one adult booster of pertussis required.
Chickenpox
Direct Contact & Airborne
Given to those unvaccinated that did not have chickenpox.
Shingles
Direct Contact
Vaccine can still be given if you have had shingles.
Pneumonia
Airborne
Two vaccines given seperately. All 65+ or immunocompromised should receive both.
Influenza
Airborne
Vaccine components change annually.
Meningitis
Airborne & Direct Contact
Given to anyone unvaccinated or at an increased risk, especially students.
Polio
Food & Water
Considered a routine vaccination for most travel itineraries. Single adult booster recommended.
Dengue and chikungunya are in Micronesia. Take steps to prevent them including using mosquito repellents and netting.
See our vaccinations page to learn more about these infections and vaccines. Ready to protect yourself? Book your travel health appointment today by calling or schedule online now.
Does Micronesia Have COVID-19 Travel Restrictions?
Micronesia has not instituted any travel restrictions, but two of its states have. Travelers may not enter Pohnpei and entrance to Chuuk is restricted to medical and technical personnel. Those entering Chuuk must present a medical certificate and self-isolate for 14 days before arrival in Micronesia. They must then isolate for 14 days after arrival.
All passengers and airline crew, even if in transit, must go through medical screening upon arrival in Micronesia.
Other infections are still present in the region like rabies or travelers' diarrhea. Make sure you stay protected with a visit to Passport Health. Call or book online now.
Customer Reviews
Passport Health – Travel Vaccines for Micronesia

Overall rating: 5 stars – 2 reviews

"

Superb Professionalism & Expertise

"

"The fastest and most thorough appointment I've ever had. Every detail for my upcoming trip to Micronesia was thought of. Thank you for such wonderful service."

"

Excellent service/comprehensive

"

"Passport Health was a great experience — they provided me with a comprehensive and thorough review of what was necessary for travel to Micronesia. The nurse also provided information for prevention of disease when traveling. I am very happy that I made the decision to see Passport Health."

Do I Need a Visa for Micronesia?

A visa is not required for stays in Micronesia. Your passport must have at least six months validity for entry.

Micronesia Entry Requirements
Do I Need A…
For My Trip to Micronesia?
Passport
Tourist Visa
Business Visa
Vaccinations

Sources: Embassy of Micronesia and U.S. State Department

For more information contact a Passport Health Passport and Visa specialist by calling 1-844-366-8472 or by filling out our online form.

What is the Climate Like in Micronesia?

Micronesia has a warm, tropical climate. There are two different seasons: dry and rainy. The rainy season lasts from April to December. Temperatures range are usually in the 80's. Typhoons can occur from July to mid-November.

Weno – Weno is located on Chuuk and is the largest city in the country. The warmest month is October, with temperatures in the mid-80's. January and February are cooler, but, temperatures only dip a few degrees.
Tofol – Tofol is located in Lelu Town and is the capital of the state of Kosrae. Weather varies little throughout the year, with an average temperature in the 80's. The wettest month is May.

How Safe is Micronesia?

Petty crime, such as pick-pocketing or bag-snatching, is common in Micronesia. Travelers should avoid carrying unnecessary valuables with them. Avoid demonstrations or large gatherings, as they are good opportunities for pick-pocketing. Do not leave valuable items unattended in public areas or in hotel rooms/rental homes.

Sexual assault or assault on visitors does occur in Micronesia, particularly in Chuuk. Only walk in well-lit areas and avoid traveling alone, if possible.

Be sure to have the number of the local police and embassy to call in case of emergency.

Visiting Yap: the Island of Stone Money

Avoid an Embarrassing Stop

Yap is known for having large, round "coins" around the island. They are made of stone with a hole in the middle and range in size from 1.4 inches to 13 feet. The coins can and are actually used in transactions, such as during land sales or marriages. But, some of the larger stones are never moved.

The island was settled by migrants from the Asian mainland. The people are very proud of their history. Men still navigate by the stars and make decisions while chewing on betel nuts. In March, you can see the island celebrate their history and culture through song, dance, and dress. Women don colorful grass skirts and men red loincloths to sing and dance.

Visitors can stay in one of the beautiful resorts. Many of them also cater to diving, meaning you can see the beautiful ocean and mangroves. Some have floating restaurants, heated pools, or dining facilities on old ships.

What Should I Take to Micronesia?

Micronesia is a popular destination. Make sure you pack these key items for your trip.

Cash – Bring cash to pay departure fees, as credit cards are not accepted. ATM's are not readily available.
Light Clothing – it is very hot and humid in Micronesia. You will be most comfortable in light, flowy clothing.
Swimsuit – Micronesia is an island country so bring a swimsuit or two to enjoy the warm water.
Umbrella – Micronesia can get a fair amount of rain. Bring an umbrella or rain jacket to keep yourself dry during a downpour.

U.S. Embassy to Micronesia

When traveling it is very helpful to find out exactly where the U.S. embassy or consulates are located. Keep the address written down in case you have a legal problem, you lose your passport, or you want to report a crime. Be sure to keep a copy of your passport with you in case you lose the original.

U.S. Embassy Kolonia
1286 U.S. Embassy Pl.
Kolonia, Pohnpei, FM 96941
Phone: +691 320-2187

Ready to start your next journey? Call us at or book online now!

On This Page:
Do I Need Vaccines for Micronesia?
Do I Need a Visa for Micronesia?
What is the Climate Like in Micronesia?
How Safe is Micronesia?
Visiting Yap: the Island of Stone Money
What Should I Take to Micronesia?
U.S. Embassy to Micronesia