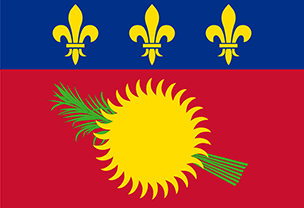 Travel Vaccines and Advice for Guadeloupe
Guadeloupe is part of the Caribbean in the Lesser Antilles chain. The territory is a small collection of islands which include several notable mountains and volcanoes. Each of these summits rise above 4,000 feet.
Most of the population of the islands is Creole. Local creole language is spoken along with the traditional official language of French.
Do I Need Vaccines for Guadeloupe?
Yes, some vaccines are recommended or required for Guadeloupe. The CDC and WHO recommend the following vaccinations for Guadeloupe: hepatitis A, hepatitis B, typhoid, yellow fever, rabies, meningitis, polio, measles, mumps and rubella (MMR), Tdap (tetanus, diphtheria and pertussis), chickenpox, shingles, pneumonia and influenza.
COVID-19 vaccination is recommended for travel to all regions, both foreign and domestic. Check with your local Passport Health clinic if immunization is offered in your area.
See the bullets below to learn more about some of these key immunizations:
See the tables below for more information:
Recommended Travel Vaccinations for Guadeloupe

VACCINE
HOW DISEASE SPREADS
DETAILS

COVID-19
Airborne & Direct Contact
Recommended for all unvaccinated individuals who qualify for vaccination
Hepatitis A
Food & Water
Recommended for most travelers
Hepatitis B
Blood & Body Fluids
Accelerated schedule available
Typhoid
Food & Water
Shot lasts 2 years. Oral vaccine lasts 5 years, must be able to swallow pills. Oral doses must be kept in refrigerator.
Yellow Fever
Mosquito
Required if traveling from a country with risk of yellow fever transmission.
Rabies
Saliva of Infected Animals
Vaccine recommended for long-term travelers and those who may come in contact with animals.
Routine Vaccinations for Guadeloupe

VACCINE
HOW DISEASE SPREADS
DETAILS

Measles Mumps Rubella (MMR)
Various Vectors
Given to anyone unvaccinated and/or born after 1957. One time adult booster recommended.
TDAP (Tetanus, Diphtheria & Pertussis)
Wounds & Airborne
Only one adult booster of pertussis required.
Chickenpox
Direct Contact & Airborne
Given to those unvaccinated that did not have chickenpox.
Shingles
Direct Contact
Vaccine can still be given if you have had shingles.
Pneumonia
Airborne
Two vaccines given seperately. All 65+ or immunocompromised should receive both.
Influenza
Airborne
Vaccine components change annually.
Meningitis
Airborne & Direct Contact
Given to anyone unvaccinated or at an increased risk, especially students.
Polio
Food & Water
Considered a routine vaccination for most travel itineraries. Single adult booster recommended.
Not all diseases are vaccine preventable. Be sure to take precautions against these infections:
Dengue Fever – Dengue fever is a viral disease. It can cause severe flu-like symptoms and can be fatal. It is a mosquito-borne disease. You are more likely to catch the disease in urban and residential areas. The best way to avoid dengue fever is to avoid mosquito bites.
African Tick-Bite Fever – African tick-bite fever is a bacterial infection. Common symptoms include headache, muscle soreness, fever, and a rash. Infected bites are most common November through April. The best way to avoid African tick-bite fever is to avoid tick bites.
Travelers' diarrhea is a common issue not preventable by vaccine. Be sure to bring a travelers' diarrhea kit with you to avoid this sometimes embarrassing ailment.
See our vaccinations page to learn more about these infections and vaccines. Ready to protect yourself? Book your travel health appointment today by calling or schedule online now.
Customer Reviews
Passport Health – Travel Vaccines for Guadeloupe

Overall rating: 5 stars – 2 reviews

"

Friendly, informative and great at shots!

"

"I visited Passport Health in Bethesda for a business trip to Guadeloupe. My nurse was great! She was very friendly and was excellent when giving me my shots. She was very knowledgeable and her instructions were clear. I would recommend this clinic to anyone in the area needing travel health services."

"

All my questions were answered!

"

"We're on our way to the Guadeloupe with our 13 month old son for the first time. So we are very concerned about our travel with him and we had specific questions about food, water and medical care etc. All are questions were answered with extensive details and resources were provided specifically for our needs."

Do I Need a Visa to Travel to Guadeloupe?

You do not need a visa to travel to Guadeloupe for stays under 90 days. Proof of onward or return travel may be required.

You will need a passport valid six months past your entry date with a blank page in it for an entry stamp.

Guadeloupe Entry Requirements
Do I Need A…
For My Trip to Guadeloupe?
Passport
Tourist Visa
Business Visa
Vaccinations

Sources: Embassy of Guadeloupe and U.S. State Department

While passports are not always required for cruises in this region, it is best to be prepared. Make sure you have a passport with you for your trip.

Ready to start your next journey? Call us at or book online now!

What is the Climate Like in Guadeloupe?

Guadeloupe has a warm, tropical climate with consistent temperatures and Northeast tradewinds year-round. Average temperatures for coastal areas range are in the 70's. Temperatures for inland regions are in the mid-to-high 70's.

Humidity can become quite high in Guadeloupe. The territory has a wet season from June through November and a dry season from December to May. Rain and storms can happen at any time but they generally pass quickly.

Hurricane season is from June to November. Though it is uncommon for hurricanes to reach the islands – it happens roughly once or twice every decade.

How Safe is Guadeloupe?

While Guadeloupe is a relatively safe travel destination, there are some thing to be aware of.

Don't leave valuables unattended and watch yourself against petty street crime. Take extra precautions at beaches and other public areas.

Carefully consider your safety before enjoying a watersport or similar activity. Make sure you only used licensed rental or tour groups or bring your own gear for some activities.

Stay aware of your surroundings at all times. Avoid traveling alone, especially at night.

Experience the Amazing Marie Galante Island

Avoid an Embarrassing Stop

Marie Galante is a small island about 15 miles away from the Guadeloupe. It was named after the flagship Marigalante by Columbus in 1493 on his second voyage to the Antilles.

It is an excellent spot for travelers who want a little of everything.

The island has beautiful, relaxing white-sand beaches with picnic sites and coral reefs. You can feel free to enjoy snorkeling and swimming.

For culture and architecture, the island offers sites like the Notre Dame de Marie Galante church. Built in 1827, the building has a sky-blue ceiling and a detailed marble alter. Other notable stops include the Château Murat and the Habitation Roussel. Ruins of sugar factories and windmills can also be seen all over.

Marie Galante enjoys a celebrated history of one of Guadeloupe's main exports: rum. The island has three currently working distilleries famous for the drink. If you wish to try it, it packs quite a strong punch at about 59% proof.

What Should I Pack for Guadeloupe?

Think ahead on what to pack by perusing these suggestions:

Clothing – Guadeloupe can often be hot and humid due to its tropical climate. Be sure to pack for the time of year and the activities you wish to do. Consider items such as sunscreen, water-protective gear, and bathing suits.
Bug Repellant – Dengue, Zika and other mosquito-borne diseases are present on Guadeloupe. Make sure to bring protection.
Copies of Travel Documents – Be sure to bring copies of your documents in case of loss or theft.

U.S. Embassy for Guadeloupe

Guadeloupe does not have an embassy on the island. For help and information, contact the U.S. embassy on Barbados:

U.S. Embassy Bridgetown
Wildey Business Park
St. Michael BB 14006
Barbados, W.I.
Phone: (246) 227-4000

Stay safe abroad with Passport Health. Call or book online now and start traveling safely today!

On This Page:
Do I Need Vaccines for Guadeloupe?
Do I Need a Visa to Travel to Guadeloupe?
What is the Climate Like in Guadeloupe?
How Safe is Guadeloupe?
Experience the Amazing Marie Galante Island
What Should I Pack for Guadeloupe?
U.S. Embassy for Guadeloupe