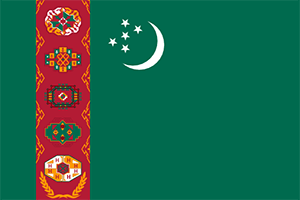 Travel Vaccines and Advice for Turkmenistan
Turkmenistan remembered for its weird dictatorship of Saparmyrat Niyazov. He ruled until 2006 when he died, and he had monuments as well as statues of himself to show what he achieved.
Turkmenistan is a country that has been less explored and is more of a mystery then Central Asia's 'stans. It's natural beauty, traditions, and spirituality makes Turkmenistan a great destination.
Do I Need Vaccines for Turkmenistan?
Yes, some vaccines are recommended or required for Turkmenistan. The CDC and WHO recommend the following vaccinations for Turkmenistan: hepatitis A, hepatitis B, typhoid, rabies, anthrax, meningitis, polio, measles, mumps and rubella (MMR), Tdap (tetanus, diphtheria and pertussis), chickenpox, shingles, pneumonia and influenza.
COVID-19 vaccination is recommended for travel to all regions, both foreign and domestic. Check with your local Passport Health clinic if immunization is offered in your area.
See the bullets below to learn more about some of these key immunizations:
See the tables below for more information:
Recommended Travel Vaccinations for Turkmenistan

VACCINE
HOW DISEASE SPREADS
DETAILS

COVID-19
Airborne & Direct Contact
Recommended for all unvaccinated individuals who qualify for vaccination
Hepatitis A
Food & Water
Recommended for most travelers
Hepatitis B
Blood & Body Fluids
Accelerated schedule available
Typhoid
Food & Water
Shot lasts 2 years. Oral vaccine lasts 5 years, must be able to swallow pills. Oral doses must be kept in refrigerator.
Rabies
Saliva of Infected Animals
High risk country. Vaccine recommended for long-term travelers and those who may come in contact with animals.
Anthrax
Animals & Biological Agents
Vaccination may be recommended or required for U.S. government employees or contractors.
Routine Vaccinations for Turkmenistan

VACCINE
HOW DISEASE SPREADS
DETAILS

Measles Mumps Rubella (MMR)
Various Vectors
Given to anyone unvaccinated and/or born after 1957. One time adult booster recommended.
TDAP (Tetanus, Diphtheria & Pertussis)
Wounds & Airborne
Only one adult booster of pertussis required.
Chickenpox
Direct Contact & Airborne
Given to those unvaccinated that did not have chickenpox.
Shingles
Direct Contact
Vaccine can still be given if you have had shingles.
Pneumonia
Airborne
Two vaccines given separately. All 65+ or immunocompromised should receive both.
Influenza
Airborne
Vaccine components change annually.
Meningitis
Airborne & Direct Contact
Given to anyone unvaccinated or at an increased risk, especially students.
Polio
Food & Water
Considered a routine vaccination for most travel itineraries. Single adult booster recommended.
See our vaccinations page to learn more about these infections and vaccines. Ready to protect yourself? Book your travel health appointment today by calling or schedule online now.
Do I Need a Visa or Passport for Turkmenistan?
A passport and visa are required for travel to Turkmenistan. Passports must have at least six months validity at entry.
Turkmenistan Entry Requirements

Do I Need A…
For My Trip to Turkmenistan?

Passport
Tourist Visa
Business Visa
Vaccinations
Sources: Embassy of Turkmenistan and U.S. State Department
Note, Turkmenistan has very different requirements for dual citizens and may deny exit. Be sure to consult with a Passport Health passport and visa specialist before your trip.
What Is the Climate like in Turkmenistan?
Turkmenistan is a hot and dry country with a desert climate. The temperature can be very hot in the summer, sometimes going over 100 degrees, and cooler in the winter, around 41-50 degrees. The weather is usually mild in the spring and fall, with temperatures ranging from 60 to 75 degrees.
The most popular tourist destinations in Turkmenistan are Ashgabat, Darvaza Gas Crater, and the ancient city of Merv. Ashgabat and the Darvaza Gas Crater have similar weather patterns, while Merv is located in the eastern part of the country.
If you plan to visit Turkmenistan, it is important to check the weather forecast for the region and time of year you are planning to visit. This will help you prepare for the weather conditions and make the most out of your trip.
How Safe Is Turkmenistan?
People visiting Turkmenistan are not allowed to travel to "restricted zones" without permission. Iran, Uzbekistan, and Afghanistan are places people are restricted from. Dashoguz, Dashoguz City, and some places along the coast of Caspian are not allowed as well. It usually takes 10 working days for the State Migration Service to process requests. People who plan to travel by Turkmenistan Airlines need to have proof of their permission to travel to the restricted zones.
Visitors to the country may be put under surveillance. Certain places or things may be monitored like hotel rooms, telephones and internet traffic. It's important to keep your passport with you at all times because you don't want to be detained. At night officers may be more aggressive in asking for your identity papers and they might ask for a bribe. If you're unsure that the officer is official, you should ask for their identification to feel more at ease.
There aren't many reports of violence. But, you should take precautions anyway. Don't travel in the dark or in deserted or unfamiliar areas of Turkmenistan. Victims of a crime or victims of domestic violence should contact the embassy for assistance.
The Gates of Hell
Avoid an Embarrassing Stop
There is so much to see and do in Turkmenistan. If you're interested in a real piece of history in nature, the Gates of Hell is the place to see. It is a 230 ft. wide crater that is located in the Karakum Desert and can be seen for miles. The crater is about the size of a football field and is approximately 20 meters deep. It has been on fire for more than 50 years and travelers can see the flames rising from the earth.
The people who live nearby this crater call it the Gates of Hell because of the glow that continues to come up from the pit. This place has become a popular tourist site, as travelers stay overnight to experience it. Visitors will experience the extreme heat if they stay near the crater.
Tourists can get to the Gates of Hell from Ashgabat on camel. A traditional yurt is what tourists will be able to stay in when they arrive at the Gates of Hell.
What Should I Take to Turkmenistan?
When packing for a trip to Turkmenistan, there are some important things to remember. You'll need your passport and visa. Turkmenistan is a conservative country, so it's best to dress modestly. Women should cover their head, arms, and legs, while men should wear pants and a shirt with sleeves. Since it can get very hot, you'll also need sunscreen and a hat. Mosquito repellent is also important to bring along, as mosquitoes can be a problem in some areas.
It's a good idea to bring any prescription medications you need and a basic first-aid kit. You'll also need cash, as credit cards are not always accepted. If you plan to use any electronics, you'll need an adapter and converter since Turkmenistan uses European-style plugs. Travel insurance is always a good idea in case of emergencies.
If you plan to explore on your own, bring a guidebook and maps. Lastly, don't forget your camera to capture your memories!
U.S. Embassy in Turkmenistan
All Americans visiting Turkmenistan should register online with the U.S. Department of State before departure. This will inform the office of your travel plans within the country and will allow them to reach out in the case of an emergency or evacuation.
The U.S. embassy in Turkmenistan provides services to travelers. These services may include help with passports and citizenship, information about visas, safety and security alerts, emergency assistance and legal assistance.
Once in Turkmenistan, the information for the U.S. Embassy is:
U.S. Embassy Ashgabat
9 1984 Street (formerly Pushkin Street)
Ashgabat, Turkmenistan 744000
Phone: (+99312) 940045
But, the services offered can vary depending on the location and the specific circumstances. Travelers should check the embassy's website or contact them directly for up-to-date information.
Ready to start your next journey? Call us at or book online now!
Customer Reviews
Passport Health – Travel Vaccines for Turkmenistan

Overall rating: 5 stars – 3 reviews

"

Best way to ensure you are ready to travel

"

"A wonderful experience was had by my wife and I as we prepare for our trip to Turkmenistan. We received needed vaccinations to ensure a safe trip, as well as pointers and tips for our travel plans. I highly recommend using this service"

"

Lawton Office

"

"The staff is very professional and friendly. The information I received before my trip to Turkmenistan was most informative."

"

Extremely Helpful

"

"I came to Passport Health before my first trip abroad to Turkmenistan. The staff was very helpful with everything I was concerned about with vaccinations. They don't try to scare you into spending a thousand dollars on vaccines, and the ones you choose to do they do on the spot. I left feeling much more knowledgeable about where I was going to be traveling too, and a prescription waiting for me at my pharmacy. Would DEFINITELY recommend again!"

On This Page:
Do I Need Vaccines for Turkmenistan?
Do I Need a Visa or Passport for Turkmenistan?
What Is the Climate like in Turkmenistan?
How Safe Is Turkmenistan?
The Gates of Hell
What Should I Take to Turkmenistan?
U.S. Embassy in Turkmenistan