The COVID-19 pandemic has affected travel to many countries. Cameroon may require you to have a negative COVID-19 test for entry.
Please see our COVID-19 Restrictions page to learn more.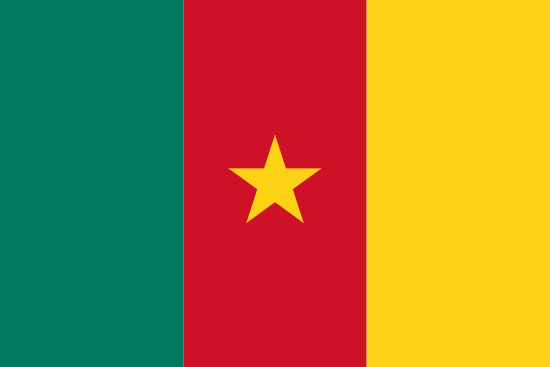 Travel Vaccines and Advice for Cameroon
Cameroon is home to famous national parks and is noted for its biodiversity.
It is known as "Africa miniature" because of its diversity. It is home to over 200 different linguistic groups. The country also houses the tallest mountain in sub-Saharan Africa, Mt. Cameroon. The capital of Cameroon is Yaounde, which is located in the south-central part of the country.
Tourism in Cameroon is steadily increasing. Tourists are also fond of the cultural traditions and superb hospitality provided by the locals.
Do I Need Vaccines for Cameroon?
Yes, some vaccines are recommended or required for Cameroon. The CDC and WHO recommend the following vaccinations for Cameroon: hepatitis A, hepatitis B, typhoid, cholera, yellow fever, rabies, meningitis, polio, measles, mumps and rubella (MMR), Tdap (tetanus, diphtheria and pertussis), chickenpox, shingles, pneumonia and influenza.
COVID-19 vaccination is recommended for travel to all regions, both foreign and domestic. Check with your local Passport Health clinic if immunization is offered in your area.
See the bullets below to learn more about some of these key immunizations:
See the tables below for more information:
Recommended Travel Vaccinations for Cameroon

VACCINE
HOW DISEASE SPREADS
DETAILS

COVID-19
Airborne & Direct Contact
Recommended for all unvaccinated individuals who qualify for vaccination
Hepatitis A
Food & Water
Recommended for most travelers
Hepatitis B
Blood & Body Fluids
Accelerated schedule available
Typhoid
Food & Water
Shot lasts 2 years. Oral vaccine lasts 5 years, must be able to swallow pills. Oral doses must be kept in refrigerator.
Cholera
Food & Water
Recommended for travel to most regions of Cameroon. Active transmission has been reported in multiple areas over the last year.
Yellow Fever
Mosquito
Required for all travelers over 9 months of age.
Rabies
Saliva of Infected Animals
High risk country. Vaccine recommended for long-term travelers and those who may come in contact with animals.
Meningitis
Airborne & Direct Contact
Located in the meningitis belt, vaccination is recommended during the dry season (Dec. – June)
Polio
Food & Water
Polio is present in Cameroon. Vaccination recommended for some travelers.
Routine Vaccinations for Cameroon

VACCINE
HOW DISEASE SPREADS
DETAILS

Measles Mumps Rubella (MMR)
Various Vectors
Given to anyone unvaccinated and/or born after 1957. One time adult booster recommended.
TDAP (Tetanus, Diphtheria & Pertussis)
Wounds & Airborne
Only one adult booster of pertussis required.
Chickenpox
Direct Contact & Airborne
Given to those unvaccinated that did not have chickenpox.
Shingles
Direct Contact
Vaccine can still be given if you have had shingles.
Pneumonia
Airborne
Two vaccines given seperately. All 65+ or immunocompromised should receive both.
Influenza
Airborne
Vaccine components change annually.
Polio is still present in some parts of Africa. A single booster dose of polio vaccine may be recommended for Cameroon.
There is a risk of contracting the dengue or malaria while in Cameroon. Both mosquito-borne diseases are potentially life-threatening. Be sure to use mosquito repellents and consider taking a antimalarial medication.
There is a threat of meningitis due to the country's location in Africa. Travelers should receive a meningitis vaccine, especially if visiting between December and June.
Traveler's diarrhea is a risk for those visiting Cameroon. Make sure to include a traveler's diarrhea kit on your packing list.
Visit our vaccinations page to learn more. Travel safely with Passport Health and schedule your appointment today by calling or book online now.
Is There Cholera in Cameroon?
Cholera is active in certain regions of Cameroon. The CDC recommends that those who plan on traveling to areas of active cholera transmission get vaccinated. Vaccination is the best way to prevent contracting cholera.
The best protection against cholera is through vaccination. Passport Health clinics offer the cholera vaccine. Book your cholera vaccination appointment today!
Customer Reviews
Passport Health – Travel Vaccines for Cameroon

Overall rating: 5 stars – 8 reviews

"

Great!

"

"Nice office. Friendly nurse. Pleasant. Humor. Good facts on Cameroon and immunization. Good YF injection. Very helpful."

"

Extremely knowledgable nurse

"

"I was extremely impressed with the nurse who met with me to discuss my upcoming 9 month service trip to Cameroon. At the beginning of our appointment, she presented me with a comprehensive and personally tailored book that addressed all matters related to safe travel, above and beyond an identification of vaccines needed. She took the time to answer all of my questions and to provide useful information related to prevention and overall safe travel. I felt I was in the most competent of hands and walked away with far more than the two vaccines I came for."

"

Very Personable and Thorough

"

"The staff are very knowledgeable and thorough with every detail that you could think of when preparing to travel abroad. I was very impressed and felt I was completely prepared for my trip to Cameroon."

"

Got an appointment on the same day I called!

"

"It was necessary to get travel vaccines asap because of last minute plans to travel to Cameroon in 7 days. When I contacted Passport Health at 11 am on a Friday, I was able to be seen the same day at 2 pm!"

"

Great Work

"

"It was very quick and personable. It was explained in detail what I needed to travel to Cameroon. I am scared of needles and process was not too traumatic for me as nurse made it less stressful"

"

Vaccination Update for Cameroon

"

"Pre-printed a medical review for traveling to Cameroon. Had all vaccinations on site and completed the shots without any issues."

"

Fantastic Help

"

"The nurses for all of our visits were very considerate and gave us information information that we will need but hadn't thought about.. They had good senses of humor about the perils of our trip to Cameroon."

"

excellent presentation on global health

"

"She did a good job explaining travel pre-cautions, based on the CDC and particularly in cameroon. the personalized travel booklet was very good."

Do I Need a Passport for Cameroon?

A passport and visa are required for entry to Cameroon. All travelers must also have proof of yellow fever vaccination.

Sources: Embassy of Cameroon and U.S. State Department

If your visit to Cameroon is longer than four weeks, individuals must also show proof of a polio vaccination.

For more information, see our Cameroon visa page. Or contact a Passport Health Passport and Visa specialist by calling 1-844-366-8472 or by filling out our online form.

What is the Climate Like in Cameroon?

The climate in Cameroon is very diverse.

The south is very hot and dry from November to February, and the rainy season lasts from June to October.

Temperatures in the North are more diverse. The rainy season is from May to October. Inland, the grasslands tend to be much cooler than coastal regions and experience regular rainfall.

The best months to visit Cameroon are January through April.

How Safe is Cameroon?

Travelers should exercise a high level of caution when visiting Cameroon. The Boko Haram terrorist group is active and targets foreign residents, tourists, and government leaders in northern regions. Boko Haram is also responsible for dozens of suicide bombings in the North and Far North region.

The State Department warns U.S. citizens to avoid traveling to the north and far north regions, parts of eastern Cameroon, and the Adamawa regions. These areas experience a high level of violent crime and terrorist threats.

Travelers should also exercise extreme caution when traveling within 60 miles of bordering countries. While visiting, monitor security messages from the embassy for updates.

Dja Faunal Reserve

Avoid mosquitoes and other bugs

The Dja Faunal Reserve is a UNESCO World Heritage Site. It is one of the largest and best protected rainforests in Africa as 90% of the area is undisturbed. It is home to 107 mammal species, including 5 that are threatened. The Dja Faunal Reserve is often noted for its biodiversity, and primate habitats. For travelers who seek to witness the untouched natural beauty of Africa, the Dja Faunal Reserve is a must-see.

What Should I Pack for Cameroon?

Cameroon is not your average destination and requires a bit extra travel preparation. Make sure you bring the following items with you:

Insect repellent to help ward off mosquitoes and ticks. There is a risk of contracting Zika in Cameroon. Take appropriate precautions to prevent mosquito bites.
A rain jacket and umbrella. Especially if you are traveling to Cameroon during the rainy season.
A pair of good walking boots for hikes. There are numerous beautiful hiking trails available to tourists. Hiking boots are highly encouraged as some of these trails can be treacherous and muddy.
Electrical adapters. There are both French and UK plugs throughout Cameroon.
Cool cotton garments are great for the heat in Cameroon. It important to dress modestly when attending religious sites.
Water purification tablets if you plan on camping or visiting remote areas.

U.S. Embassy in Cameroon

All Americans visiting Cameroon should register online with the U.S. Department of State before departure. This will inform the office of your travel plans within the country and will allow them to reach out in the case of an emergency or evacuation.

Once in Cameroon, the information for the U.S. Embassy is:

U.S. Embassy Yaounde
Avenue Rosa Parks
Yaounde, Cameroon
Phone: (237) 22220-1500
Fax: (237) 22220-1500 x4531

Visit the Embassy to Cameroon website before departure to confirm correct contact details for the office.

On This Page:
Do I Need Vaccines for Cameroon?
Is There Cholera in Cameroon?
Do I Need a Passport for Cameroon?
What is the Climate Like in Cameroon?
How Safe is Cameroon?
Dja Faunal Reserve
What Should I Pack To Cameroon?
U.S. Embassy in Cameroon