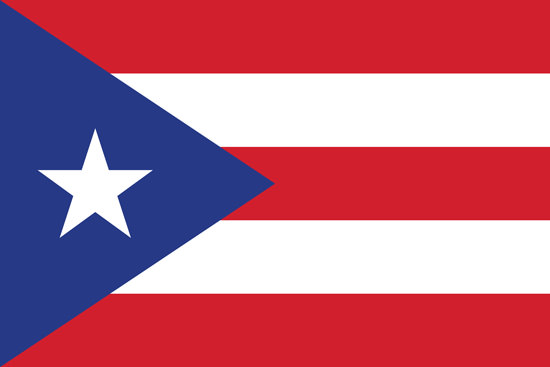 Travel Vaccines and Advice for Puerto Rico
Puerto Rico is an unincorporated territory of the United States in the Caribbean Sea. It is made up of a main island (Puerto Rico) and several small islands including Mona, Culebra, and Vieques. People that live in Puerto Rico are U.S. Citizens, but do not have a vote or representative in the U.S. Congress.
The population of Puerto Rico is just over 3 million with the islands spanning about 3,500 square miles. The official languages of Puerto Rico are both Spanish and English.
The largest cities in Puerto Rico include San Juan, Bayamon, and Carolina.
Do I Need Vaccines for Puerto Rico?
Yes, some vaccines are recommended or required for Puerto Rico. The CDC and WHO recommend the following vaccinations for Puerto Rico: hepatitis A, hepatitis B, typhoid, rabies, meningitis, polio, measles, mumps and rubella (MMR), Tdap (tetanus, diphtheria and pertussis), chickenpox, shingles, pneumonia and influenza.
COVID-19 vaccination is recommended for travel to all regions, both foreign and domestic. Check with your local Passport Health clinic if immunization is offered in your area.
See the bullets below to learn more about some of these key immunizations:
See the tables below for more information:
Recommended Travel Vaccinations for Puerto Rico

VACCINE
HOW DISEASE SPREADS
DETAILS

COVID-19
Airborne & Direct Contact
Recommended for all unvaccinated individuals who qualify for vaccination
Hepatitis A
Food & Water
Recommended for most travelers
Hepatitis B
Blood & Body Fluids
Accelerated schedule available
Typhoid
Food & Water
Shot lasts 2 years. Oral vaccine lasts 5 years, must be able to swallow pills. Oral doses must be kept in refrigerator.
Rabies
Saliva of Infected Animals
High risk country. Vaccine recommended for long-term travelers and those who may come in contact with animals.
Routine Vaccinations for Puerto Rico

VACCINE
HOW DISEASE SPREADS
DETAILS

Measles Mumps Rubella (MMR)
Various Vectors
Given to anyone unvaccinated and/or born after 1957. One time adult booster recommended.
TDAP (Tetanus, Diphtheria & Pertussis)
Wounds & Airborne
Only one adult booster of pertussis required.
Chickenpox
Direct Contact & Airborne
Given to those unvaccinated that did not have chickenpox.
Shingles
Direct Contact
Vaccine can still be given if you have had shingles.
Pneumonia
Airborne
Two vaccines given separately. All 65+ or immunocompromised should receive both.
Influenza
Airborne
Vaccine components change annually.
Meningitis
Airborne & Direct Contact
Given to anyone unvaccinated or at an increased risk, especially students.
Polio
Food & Water
Considered a routine vaccination for most travel itineraries. Single adult booster recommended.
Zika is a risk in Puerto Rico. Zika is a mosquito-borne illness that can cause an infection. This infection can cause severe birth defects. If you are pregnant, be wary of traveling to Puerto Rico.
There are 90 medical facilities and hospitals throughout Puerto Rico along with pharmacies. The healthcare practice is comparable to the U.S.
To find out more about these vaccines, see our vaccinations page. Ready to travel safely? Book your appointment either call or start booking online now.
What Is the Climate Like in Puerto Rico?
Puerto Rico is considered to have a tropical climate in which it is hot and humid year-round. It is warmer on the North Coast than it is in the South and it gets cooler once you get into the hills and mountains. Average temperatures can range from the upper 60's to the lower 90's.
It rains throughout the year, with the rainiest seasons running from October to May.
Puerto Rico is hit by hurricanes which can cause property damage, landslides, and floods. If there is a hurricane threat, no not travel to Puerto Rico. Hurricane season runs from June to November.
How Safe is Puerto Rico?
Puerto Rico is safe for tourists. The more rural the area, the safer tourists generally are. Large cities can pose a risk for tourists as they might become targets for pick-pocketing and theft. Muggings also may occur.
Don't walk alone, especially at night. Keep your credit card out of sight; and keep your valuables in a safe place.
Local authorities are responsible for investigating and prosecuting crime if a crime should be committed against you.
Historical Forts in Puerto Rico
Avoid an Embarrassing Stop
Due to its strategic location in the Caribbean, Puerto Rico is home to eight historical forts. These are frequently visited by tourists each year.
El Castillo de San Felipe del Morro is the second-oldest freestanding fort in all the Americas. It was estimated to have been built as early as 1539. It's located in Old San Juan and is a World Heritage Site and is a part of the National Park Service in the United States. It is now a museum that tourists can visit. To learn more visit here.
What Should I Take To Puerto Rico?
Here are some essential items to consider for your trip to Puerto Rico:
Lightweight clothing to make the humid weather more bearable.
Insect repellent and mosquito nets to protect against mosquito-borne illnesses such as Zika.
Sunscreen and hat for sun protection.
Swimsuit and beach shoes if you plan on spending any days on the beach.
Hiking boots or walking shoes
U.S. Embassy in Puerto Rico
All Americans visiting Puerto Rico should register online with the U.S. Department of State before departure. This will inform the office of your travel plans within the country and will allow them to reach out in the case of an emergency or evacuation.
As a United States Territory, there are no consular services as such In Puerto Rico.
If you have any questions about traveling to Puerto Rico or are wondering what shots you may need for your trip, schedule an appointment with your local Passport Health travel medicine clinic. Call us at or book online now and protect yourself today.
Customer Reviews
Passport Health – Travel Vaccines for Puerto Rico
Overall rating: 5 stars – 10 reviews
"

Great People, Great Service

"

"The people are friendly, very informed and informative about Puerto Rico. It says a lot that I genuinely enjoy my visits."
"

Great service

"

"Our nurse was so helpful. She was not rushed and made certain I was comfortable with all of her instructions for Puerto Rico."
"

Excellent experience, helpful staff, convenient location

"

"The staff were helpful, prepared and efficient. They have everything you need to prepare for a trip to Puerto Rico."
"

Amazing nurse.

"

"I am a big baby of an adult, I hate shots and needles gross me out! The nurse was amazing and quick, great at putting me at ease for our vaccines for Puerto Rico. Very happy with how our appointment went!"
"

Highly professional

"

"Well prepared. All relevant information stored and accessed under my consultation. Great knowledgeable advice and information for PR. This organization is well run and have excellent medical advisors."
"

Professional and thorough

"

"Paid attention to detail and answered my questions about Puerto Rico before I had a chance to ask them. It was a pleasure dealing with a professional who cared."
"

Travel Injection Assessment

"

"From the greeting of the receptionist to the discussion with Carey, the RN, the Passport Health staff were proficient as well as professional in answering questions and proposing things to consider on my trip to Puerto Rico."
"

Very Knowledgeable and kind

"

"Was just at the clinic today, the nurse who consulted me and gave me my shots was very nice and experienced. I can't wait to visit PR!"

Submitted by:

Christopher
"

Best experience ever

"

"Nurse was very informative and explained in detail everything we asked about Puerto Rico. She was very professional and before you knew what was happening the shots was done. That was a real treat for me because I don't like needles."
"

Overall Great

"

"The information provided by our RN about Puerto Rico was very helpful and she was very thorough in going through the various health concerns for the region my son is traveling to. Very impressive! Thank you."
On This Page:
Do I Need Vaccines for Puerto Rico?
What Is the Climate Like in Puerto Rico?
How Safe is Puerto Rico?
Historical Forts in Puerto Rico
What Should I Take To Puerto Rico?
U.S. Embassy in Puerto Rico