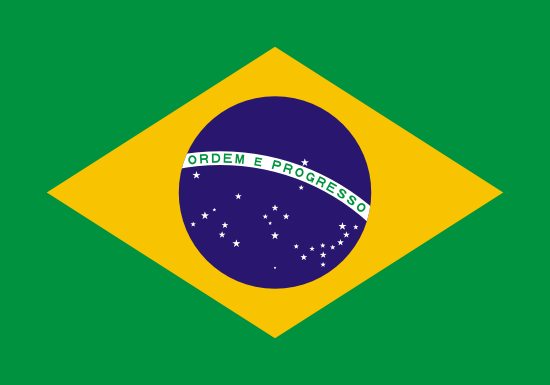 Travel Vaccines and Advice for Brazil
Rich with beaches, rain forests, and vibrant urban centers, Brazil offers a wide variety of attractions.
For the adventurous, there are mountains to climb and islands to explore. For the more historically inclined, there are whole settlements from the colonial era that have not been renovated since their construction.
To experience the rich culture of Brazil, it is best to come during the time of Carnaval. Dancers flood the streets showing off sambo rhythms and other aspects of Brazil's musical fabric. This is not to say Carnaval is the only time to behold such an event. Smaller versions of the festival happen throughout the year, and serve as a perfect window into the country's heart.
Due to Brazil's history as a trading port and colony, it is a melting pot of African, European, and Latin American cultures.
Brazil is also home to one of the most diverse ecosystems on the planet, offering an incredible range of flora and fauna. A trip to Brazil is a chance to experience a taste of everything.
Do I Need Vaccines for Brazil?
Yes, some vaccines are recommended or required for Brazil. The CDC and WHO recommend the following vaccinations for Brazil: hepatitis A, hepatitis B, typhoid, yellow fever, rabies, meningitis, polio, measles, mumps and rubella (MMR), Tdap (tetanus, diphtheria and pertussis), chickenpox, shingles, pneumonia and influenza.
COVID-19 vaccination is recommended for travel to all regions, both foreign and domestic. Check with your local Passport Health clinic if immunization is offered in your area.
See the bullets below to learn more about some of these key immunizations:
See the tables below for more information:
Recommended Travel Vaccinations for Brazil

VACCINE
HOW DISEASE SPREADS
DETAILS

COVID-19
Airborne & Direct Contact
Recommended for all unvaccinated individuals who qualify for vaccination
Hepatitis A
Food & Water
Recommended for most travelers
Hepatitis B
Blood & Body Fluids
Accelerated schedule available
Typhoid
Food & Water
Shot lasts 2 years. Oral vaccine lasts 5 years, must be able to swallow pills. Oral doses must be kept in refrigerator.
Yellow Fever
Mosquito
Recommended for all regions except Fortaleza and Recife
Rabies
Saliva of Infected Animals
Moderate risk country. Vaccine recommended for certain travelers based on destination, activities and length of stay.
Routine Vaccinations for Brazil

VACCINE
HOW DISEASE SPREADS
DETAILS

Measles Mumps Rubella (MMR)
Various Vectors
Given to anyone unvaccinated and/or born after 1957. One time adult booster recommended.
TDAP (Tetanus, Diphtheria & Pertussis)
Wounds & Airborne
Only one adult booster of pertussis required.
Chickenpox
Direct Contact & Airborne
Given to those unvaccinated that did not have chickenpox.
Shingles
Direct Contact
Vaccine can still be given if you have had shingles.
Pneumonia
Airborne
Two vaccines given separately. All 65+ or immunocompromised should receive both.
Influenza
Airborne
Vaccine components change annually.
Meningitis
Airborne & Direct Contact
Given to anyone unvaccinated or at an increased risk, especially students.
Polio
Food & Water
Considered a routine vaccination for most travel itineraries. Single adult booster recommended.
A yellow fever vaccination is not required to enter Brazil, but is highly recommended. See the yellow fever section below.
Malaria and dengue are present in Brazil. Be sure to take proper precautions to avoid these mosquito-borne diseases. Bring repellents netting and antimalarials, if needed.
Zika virus has been found in Brazil. Some travelers are at an increased risk including women who are pregnant or may become pregnant. Make sure you use repellents and netting where needed.
Visit our vaccinations page to learn more. Travel safely with Passport Health and schedule your appointment today by calling or book online now.
Yellow Fever in Brazil
Source: CDC
Brazil has been the site of multiple yellow fever outbreaks in the past few years. The most recent outbreak started in December 2016 and is still ongoing.
Yellow fever vaccination is highly recommended for travelers to:
Espirito Santo
Rio de Janeiro
São Paulo
Bahia
Do I Need a Visa or Passport for Brazil?
As of June 2019, a visa is no longer required for entry to Brazil for stays under 90 days. Proof of a return or onward travel may still be required at entry.
Brazil Entry Requirements

Do I Need A…
For My Trip to Brazil?

Passport
Tourist Visa
Business Visa
Vaccinations
Sources: Embassy of Brazil and U.S. State Department
What Is the Climate Like in Brazil?
Brazil's climate can vary depending on which region you are visiting.
In the northern parts of the country, the climate is tropical, while in the southern regions the climate is more temperate. Most of the population lives in cooler areas like high altitudes or the coast.
Popular tourist destinations like Rio de Janeiro suffer from an extremely hot climate. Temperatures there are usually above 100 degrees Fahrenheit during the dry season.
In the areas closer to the Amazon rain forest, temperatures higher than 90 degrees Fahrenheit are rare. If you are traveling to cities in the upper region of the Amazon belt like Belem, heavy rainfall is common between December and April.
It is best to study the micro-climate of the region you are visiting while planning a trip to Brazil.
Is It Safe to Travel to Brazil?
U.S. citizens should travel with their passports on them at all times and be prepared to present it to local law enforcement, if necessary.
As a whole, the danger level of Brazil is classified as high. The murder rate if four times that of developed nations, and the crime rate reaches similar numbers. Travelers should remain vigilant at all times. Try not to travel outside of where you are staying after dark.
Do not ever enter the favelas. They are mostly operated by gangs, and are extremely dangerous even for locals. It is best to avoid them completely. If you are planning on going somewhere that is off the beaten path, consult with locals first to find out if it is safe.
Avoid carrying large amounts of money with you. If absolutely necessary, divide it up between several pockets. The efficiency of the police force varies depending on the region. It is imperative that you do not attempt to bribe them for any reason.
Amazing Rio
Avoid mosquitoes and other bugs
Rio de Janeiro is a city in Brazil that is popular for tourists to visit. People go there to see famous landmarks like the Christ the Redeemer statue and Sugarloaf Mountain.
Travelers can also go to the beach at Copacabana, Ipanema, and Leblon to swim, surf and play. Rio de Janeiro is also famous for Carnival, a big party with music, dancing, and colorful parades. Visitors can try different kinds of food like feijoada and churrasco, and drinks like caipirinhas.
At night, there are many bars and clubs to go to, or visitors can have drinks and watch the sunset at the beach. People can also go hiking, biking, or take a jeep tour to explore the city's parks and natural areas like Tijuca National Park and the Botanical Garden.
Rio de Janeiro has something for everyone and is a great place to experience Brazil's unique blend of culture and natural beauty.
What Should I Take to Brazil?
Here are some essential items to consider for your trip to Brazil:
Medical Supplies – These can be expensive in Brazil. It is important to bring one's own. Make sure to include anti-diarrheal medication, antimalarials, and basic over the counter aides.
Breathable Clothing – The climate of Brazil in the central areas like Rio de Janeiro can be quite hot. Wear clothing that is not too thick, and that you wouldn't mind sweating in.
Warm Clothing – This is advised if traveling to an area south of the Tropic of Capricorn where the climate is more temperate.
Documents – Be sure to bring your passport, visa and other forms of identification.
Cash – It is safest to operate on a cash-only basis while in Brazil.
U.S. Embassy in Brazil
All Americans visiting Brazil should register online with the U.S. Department of State before departure. This will inform the office of your travel plans within the country and will allow them to reach out in the case of an emergency or evacuation.
Once in Brazil, the information for the U.S. Embassy is:
U.S. Embassy Brasilia
SES 801- Avenida das Nacoes, Lote 03
70403-900 – Brasilia, DF Brazil
Telephone: 011-55-61-3312-7000
Emergency After-Hours Telephone: 011-55-61-3312-7400
Fax: (61) 3312-7651
Email: BrasiliaACS@state.gov
Visit the Embassy to Brazil website before departure to confirm correct contact details for the office.
If you have any questions about traveling to Brazil or are wondering what shots you may need for your trip, schedule an appointment with your local Passport Health travel medicine clinic. Call us at or book online now!
Customer Reviews
Passport Health – Travel Vaccines for Brazil
Overall rating: 4.9 stars – 15 reviews
"

Helpful and Efficient

"

"Our time frame was very short as we had not got our immunizations before we left NZ. Passport Health was able to assist us with this immediately and gave a very thorough review of what was essential for travel to Brazil"
"

Great Experience

"

"The nurse did a great job getting me the information needed for my trip to Brazil. We discussed the possible diseases for the regions I plan to visit. She recommended vaccines to minimize the risks of getting sick. It was a great experience."
"

Easy experience

"

"Passport health made it very easy for me to get required vaccinations for my trip to Brazil. Very helpful with recommendations for my trip"
"

Wonderful Experience

"

"I'm planning a business trip to Brazil. The staff was so helpful in providing me with valuable information about the country. They really helped me to better prepare for this trip!"
"

Professional & Efficient!

"

"I met with an RN for immunizations and was very pleased with her professionalism and efficiency and the valuable information she shared in regards for travel to Brazil."
"

Complete Travel Needs

"

"I was able to get all of the immunizations that I needed for my trip to Brazil, and I also picked up a couple travel items."
"

Wonderful Visit!

"

"My visit to the clinic went very smoothly. The nurse was thorough in her explanation of potential diseases and other safety issues that I might encounter during my visit to Brazil. She explained the details of the vaccines that I needed to receive, and provided all necessary paperwork, including helpful contacts while in Brazil."
"

Great experience!

"

"I went to Passport Health to get shots for my upcoming trip to Brazil and the staff was great!!!!"
"

Great Clinic

"

"The Passport Health was quick and easy to understand process was a great help it obtaining the information and proper protection for my visit to Brazil. I have since returned happy and healthy"
"

Great Experience

"

"The nurse did a great job detailing all of the shots required for my travels to Brazil. Also, the shots were painless!"
"

Great personality by practitioner

"

"My kids received great care and discussion about their upcoming trip to Brazil. The shot was pretty painless, and they learned a lot from the meeting."
"

Great Job!

"

"An RN assisted my family with vaccines for a trip to Amazonas Brazil and we found him to be very informative and helpful. We could not have asked for better service. Thanks!"
"

Very professional

"

"I was quite impressed with the thorough coverage of my future travel to Brazil. The very informative booklet gave me information on all aspects of staying healthy during my visit."
"

Fantastic Experience!

"

"We were impressed by this clinic. It even sent directions to find it. We like the booklet on Brazil that was given to us as we discussed the shots we needed. It was a very, very good experience."
"

Great Visit

"

"all information I submitted for my trip was at hand and previously reviewed by the nurse before my visit to the office. the nurse was very well informed on my history and various needs for this trip to Brazil."
On This Page:
Do I Need Vaccines for Brazil?
Yellow Fever in Brazil
Do I Need a Visa or Passport for Brazil?
What Is the Climate Like in Brazil?
Is It Safe to Travel to Brazil?
Amazing Rio
What Should I Take To Brazil?
U.S. Embassy in Brazil