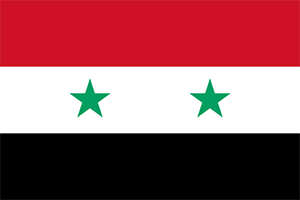 Do I Need Vaccines for Syria?
Do I Need a Visa for Syria?
What is the Climate Like in Syria?
How Safe is Syria?
U.S. Embassy in Syria
Syria is known for its mountains, deserts, and diverse ethnic and religious groups.
Due to recent violence, much has changed in Syria. The State Department and other organizations recommend against travel to the region.
Do I Need Vaccines for Syria?
Yes, some vaccines are recommended or required for Syria. The CDC and WHO recommend the following vaccines for Syria: typhoid, hepatitis A, hepatitis B, rabies, polio, and influenza.
---
Due to the ongoing conflicts in Syria, polio has made a resurgence. Ensure your vaccination is up-to-date.
Previously uncommon infections like measles and tetanus have rising case numbers in the region. Update any routine vaccinations you may need.
See our vaccinations page to learn more about these infections and vaccines. Ready to protect yourself? Book your travel health appointment today by calling or schedule online now.
Customer Reviews
Passport Health

Travel Vaccines for Syria
Overall rating:

5

stars –

2

reviews
"

Safe Travels

"

"My nurse was friendly and professional. She gave me a good overview of the risks and costs associated with travel to Syria. Felt the experience was very positive and would recommend this service."
"

Shots for India

"

"The nurse was extremely helpful and very professional. She gave me lots of great tips for my trip to Syria!"
Do I Need a Visa for Syria?
Travelers to Syria must have a valid passport and visa for entry. Visas are not available on-arrival. If you plan to stay in-country for more than 15 days, you must register with immigration authorities.
Individuals with Israeli entry stamps in their passport will be denied entry.
Sources: U.S. State Department
Due to ongoing conflict, entry regulations can change at any time. Be sure to speak with a travel documents specialist before planning your trip.
For more information, see our Syria visa page. Or contact a Passport Health Passport and Visa specialist by calling 1-844-366-8472 or by filling out our online form.
What is the Climate Like in Syria?
Syria has a Mediterranean influenced climate, characterized by long, hot and dry summers. Winters are wet and mild.
Summers are in the 80's while Syrian winters stay in the 40's. Due to the desert climate, daily temperatures vary significantly from day to night.
The coastal region of Syria receives limited rainfall. The landlocked, desert regions see much less.
How Safe is Syria?
Due to internal conflict and violent radical groups, Syria is very unsafe. The State Department and other organizations highly recommend against travel to Syria.
Kidnappings, bombings, murder and terrorism are common throughout Syria. Some regions are active conflict zones.
Crime rates vary by regions, but most are generally unsafe.
U.S. Embassy in Syria
The U.S. Embassy in Damascus suspended operations in February 2012. For emergency assistance, contact the U.S. Interests Section of the Embassy of the Czech Republic in Damascus at USIS_damascus@embassy.mzv.cz., or the U.S. Embassy in Amman, Jordan at 962-6-5906500.
Stay safe abroad with Passport Health. Call or book online now and start traveling safely today!