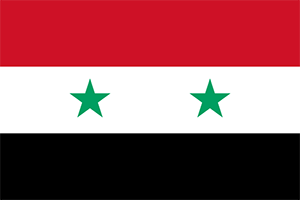 Travel Vaccines and Advice for Syria
Syria is known for its mountains, deserts, and diverse ethnic and religious groups.
Due to recent violence, much has changed in Syria. The State Department and other organizations recommend against travel to the region.
Do I Need Vaccines for Syria?
Yes, some vaccines are recommended or required for Syria. The CDC and WHO recommend the following vaccinations for Syria: hepatitis A, hepatitis B, typhoid, cholera, rabies, anthrax, meningitis, polio, measles, mumps and rubella (MMR), Tdap (tetanus, diphtheria and pertussis), chickenpox, shingles, pneumonia and influenza.
COVID-19 vaccination is recommended for travel to all regions, both foreign and domestic. Check with your local Passport Health clinic if immunization is offered in your area.
See the bullets below to learn more about some of these key immunizations:
See the tables below for more information:
Recommended Travel Vaccinations for Syria

VACCINE
HOW DISEASE SPREADS
DETAILS

COVID-19
Airborne & Direct Contact
Recommended for all unvaccinated individuals who qualify for vaccination
Hepatitis A
Food & Water
Recommended for most travelers
Hepatitis B
Blood & Body Fluids
Accelerated schedule available
Typhoid
Food & Water
Shot lasts 2 years. Oral vaccine lasts 5 years, must be able to swallow pills. Oral doses must be kept in refrigerator.
Cholera
Food & Water
Recommended for travel to most regions.
Rabies
Saliva of Infected Animals
High risk country. Vaccine recommended for long-term travelers and those who may come in contact with animals.
Anthrax
Animals & Biological Agents
Vaccination may be recommended or required for U.S. government employees or contractors.
Polio
Food & Water
Required if arriving from Cameroon, Equatorial Guinea and Pakistan. Multiple polio cases have been reported in the last year. Considered a routine vaccination for most travel itineraries. Single adult booster recommended.
Routine Vaccinations for Syria

VACCINE
HOW DISEASE SPREADS
DETAILS

Measles Mumps Rubella (MMR)
Various Vectors
Given to anyone unvaccinated and/or born after 1957. One time adult booster recommended.
TDAP (Tetanus, Diphtheria & Pertussis)
Wounds & Airborne
Only one adult booster of pertussis required.
Chickenpox
Direct Contact & Airborne
Given to those unvaccinated that did not have chickenpox.
Shingles
Direct Contact
Vaccine can still be given if you have had shingles.
Pneumonia
Airborne
Two vaccines given separately. All 65+ or immunocompromised should receive both.
Influenza
Airborne
Vaccine components change annually.
Meningitis
Airborne & Direct Contact
Given to anyone unvaccinated or at an increased risk, especially students.
Due to the ongoing conflicts in Syria, polio has made a resurgence. Ensure your vaccination is up-to-date.
Previously uncommon infections like measles and tetanus have rising case numbers in the region. Update any routine vaccinations you may need.
See our vaccinations page to learn more about these infections and vaccines. Ready to protect yourself? Book your travel health appointment today by calling or schedule online now.
Do I Need a Visa for Syria?
Travelers to Syria must have a valid passport and visa for entry. Visas are not available on-arrival. If you plan to stay in-country for more than 15 days, you must register with immigration authorities.
Individuals with Israeli entry stamps in their passport will be denied entry.
Syria Entry Requirements

Do I Need A…
For My Trip to Syria?

Passport
Tourist Visa
Business Visa
Vaccinations
Sources: Embassy of Syria and U.S. State Department
Due to ongoing conflict, entry regulations can change at any time. Be sure to speak with a travel documents specialist before planning your trip.
What Is the Climate Like in Syria?
Damascus has a semi-arid climate, with hot and dry summers and cool and rainy winters. The average temperature in the summer months (June-August) ranges from 80 to 95 degrees. In the winter months (December-February), it ranges from 40 to 55 degrees.
Aleppo has a Mediterranean climate, with hot and dry summers and mild and rainy winters. Temperatures are similar to those in Damascus.
Latakia has a Mediterranean climate, with hot and humid summers and mild and rainy winters. Gain, temperatures resemble those in Damascus.
It is worth noting that Syria has been affected by the ongoing civil war, which has disrupted many aspects of life in the country. It is essential to check the latest travel advisories before planning a trip to Syria.
The Crusader Castle of Krak des Chevaliers
The Crusader Castle of Krak des Chevaliers, also known as Qalaat al-Hosn, is a stunning example of medieval military architecture. It is considered one of the best-preserved castles of its kind in the world. The castle is on a hilltop, offering breathtaking views of the surrounding countryside. A visit to this castle is a step back in time to the Middle Ages, when knights and crusaders roamed the region.
The castle is also a marvel of engineering, with its sophisticated water management system, intricate fortifications and ingenious defensive features. Visitors can explore the castle's various rooms, towers, and courtyards. You can imagine what life was like for the knights who once lived and fought there.
While the ongoing conflict in Syria has made travel to the country difficult and dangerous, the Crusader Castle of Krak des Chevaliers remains a testament to the rich history and cultural heritage of the region.
How Safe Is Syria?
Avoid mosquitoes and other bugs
It is strongly recommended that travelers do not visit Syria.
If you must travel to Syria, here are some safety tips to consider:
Do your research: Before traveling to Syria, do thorough research on the current situation, local customs and laws.
Keep a low profile: It is important to keep a low profile while traveling in Syria. Avoid wearing clothing that identifies you as a tourist, and do not display valuable items such as jewelry or electronic devices.
Avoid large crowds: Avoid large gatherings or protests, as they may turn violent.
Be aware of your surroundings: Always be aware of your surroundings, and stay alert to any signs of danger or suspicious activity. Be cautious when using public transportation and avoid walking alone at night.
Obtain appropriate visas and permits: Make sure to have all necessary visas and permits before traveling to Syria.
Use trusted transportation: Use reputable transportation companies or private drivers, and avoid using public transport.
Stay in touch with family and friends: Let your family and friends know your itinerary and keep in touch with them throughout your trip.
It is important to note that the situation in Syria can change rapidly. It is important to keep up to date with the latest news and advisories from your country's government.
What Should I Pack for Syria?
The U.S. Department of State currently advises against all travel to Syria.
If it is necessary to travel to Syria, it is important to do extensive research and consult with travel experts to ensure safety.
Some essential items to bring include:
Valid passport and visa
Personal identification documents
Adequate travel insurance
Medications and prescriptions
Sufficient cash or credit cards
A reliable mode of communication (such as a mobile phone or satellite phone)
Proper clothing and supplies for the climate and culture of the region
A comprehensive first aid kit
A map and GPS device for navigation
Note, the situation in Syria is constantly changing. Travelers should stay informed of the latest developments and follow all safety precautions advised by local and home authorities.
U.S. Embassy in Syria
The United States embassy in Syria had suspended its operations and is not offering any services to U.S. travelers to the country. The embassy was closed in 2012 due to the ongoing civil war in Syria.
The U.S. Department of State currently advises U.S. citizens against all travel to Syria and urges those in the country to depart immediately while it is still safe to do so. The situation in Syria remains dangerous and unpredictable, with the ongoing conflict and the presence of various armed groups and terrorist organizations.
If you are a U.S. citizen and require assistance while traveling abroad, you can contact the nearest U.S. embassy or consulate in a neighboring country. They may be able to offer limited services such as emergency assistance, passport replacement, and communication with family and friends in the United States.
Stay safe abroad with Passport Health. Call or book online now and start traveling safely today!
Customer Reviews