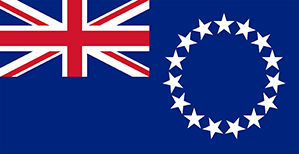 Travel Vaccines and Advice for the Cook Islands
With 15 regions, the Cook Islands present countless opportunities to explore cave pools, beaches and Polynesian culture.
The Cook Islands are also the second largest pearl farming producer in the world. Manihiki is the main location for the territory's many local family-run pearl farms. The island is made up of 40 small coral inlets which encircle a tremendous blue lagoon.
Do I Need Vaccines for the Cook Islands?
Yes, some vaccines are recommended or required for the Cook Islands. The CDC and WHO recommend the following vaccinations for the Cook Islands: hepatitis A, hepatitis B, typhoid, meningitis, polio, measles, mumps and rubella (MMR), Tdap (tetanus, diphtheria and pertussis), chickenpox, shingles, pneumonia and influenza.
COVID-19 vaccination is recommended for travel to all regions, both foreign and domestic. Check with your local Passport Health clinic if immunization is offered in your area.
See the bullets below to learn more about some of these key immunizations:
See the tables below for more information:
Recommended Travel Vaccinations for the Cook Islands

VACCINE
HOW DISEASE SPREADS
DETAILS

COVID-19
Airborne & Direct Contact
Recommended for all unvaccinated individuals who qualify for vaccination
Hepatitis A
Food & Water
Recommended for most travelers
Hepatitis B
Blood & Body Fluids
Accelerated schedule available
Typhoid
Food & Water
Shot lasts 2 years. Oral vaccine lasts 5 years, must be able to swallow pills. Oral doses must be kept in refrigerator.
Routine Vaccinations for the Cook Islands

VACCINE
HOW DISEASE SPREADS
DETAILS

Measles Mumps Rubella (MMR)
Various Vectors
Given to anyone unvaccinated and/or born after 1957. One time adult booster recommended.
TDAP (Tetanus, Diphtheria & Pertussis)
Wounds & Airborne
Only one adult booster of pertussis required.
Chickenpox
Direct Contact & Airborne
Given to those unvaccinated that did not have chickenpox.
Shingles
Direct Contact
Vaccine can still be given if you have had shingles.
Pneumonia
Airborne
Two vaccines given separately. All 65+ or immunocompromised should receive both.
Influenza
Airborne
Vaccine components change annually.
Meningitis
Airborne & Direct Contact
Given to anyone unvaccinated or at an increased risk, especially students.
Polio
Food & Water
Considered a routine vaccination for most travel itineraries. Single adult booster recommended.
Dengue is present on the islands. Make sure to bring repellents and mosquito netting.
See our vaccinations page to learn more about these infections and vaccines. Ready to protect yourself? Book your travel health appointment today by calling or schedule online now.
Do I Need a Visa to Travel to the Cook Islands?
Visitors do not need a visa to travel to the Cook Islands for stays under 90 days. All travelers will need a passport with a blank page for the entry stamp and three months validity.
Cook Islands Entry Requirements

Do I Need A…
For My Trip to Cook Islands?

Passport
Tourist Visa
Business Visa
Vaccinations
Sources: Embassy of Cook Islands and U.S. State Department
What is the Climate Like in the Cook Islands?
The Cook Islands have a tropical climate with high, stable temperatures year round.
The territory has a rainy season with afternoon storms from December to March and a dry season from April to November. The wet season is also hurricane season.
There is little temperature difference between the seasons. The average temperature is in the high-70's, while the average low is in the high-60's.
February is typically the warmest month for the Cook Islands while August is the coolest. January is the wettest month while July is the driest.
How Safe are the Cook Islands?
The Cook Islands are a very safe travel destination.
Swimming in sheltered lagoons is fine but reef passages can have very strong currents to be avoided.
The Cook Islands' major island, Rarotonga, has major reef passages at Avana Harbour, Avaavaroa, Papua, and Rutaki. The other islands have reef passages as well, typically on opposite streams.
Be wary of bug bites as they can lead to dengue fever.
Take a Dip in Mitiaro's Underground Cave Pools
Avoid an Embarrassing Stop
Mitiaro is one of the 15 islands that make up the Cook Islands. But, it is unique in that it is known for its underground cave pools.
The heart of the island it is very flat and swampy. It has two freshwater lakes, Rotunui and Rotoiti, which are filled with eels and tilapia.
One of the most popular island spots is the underground cavern Vai Nouri. The cavern is said to have healing powers and possess water that is strikingly deep and clear. Travelers and locals alike can go to many points along the coast to discover and enjoy countless small coves with ample opportunities to take a dip in the tranquil waters. see the reef, explore the caves, relax on the beaches, and enjoy sights few get to see.
Tourists can get a wonderful cultural experience by staying with welcoming locals. Because the island is rarely visited, travelers can expect a quiet and beautiful experience.
What Should I Pack for the Cook Islands?
Think ahead on what to pack by perusing these suggestions:
Appropriate Clothing – The Cook Islands can often be hot and humid. Be sure to pack accordingly for the time of year and the activities you wish to do. Consider items such as sunscreen, water-protective gear, and bathing suits.
Health Kit – Be sure to have important first aid kit items while traveling. Consider using a pre-made first aid kit for your trip.
Bug Repellent – With the possibility of dengue fever in the Cook Islands it is especially important to ward against mosquito bites.
U.S. Embassy for the Cook Islands
All Americans visiting the Cook Islands should register online with the U.S. Department of State before departure. This will inform the office of your travel plans within the country and will allow them to reach out in the case of an emergency or evacuation.
There is no embassy on the islands, but New Zealand serves the area:
U.S. Embassy Wellington
29 Fitzherbert Terrace
Thorndon
Wellington
New Zealand
Phone: +64 4 462 6000
Stay safe abroad with Passport Health. Call or book online now and start traveling safely today!
Customer Reviews