The COVID-19 pandemic has affected travel to many countries. Burundi may require you to have a negative COVID-19 test for entry.
Please see our COVID-19 Restrictions page to learn more.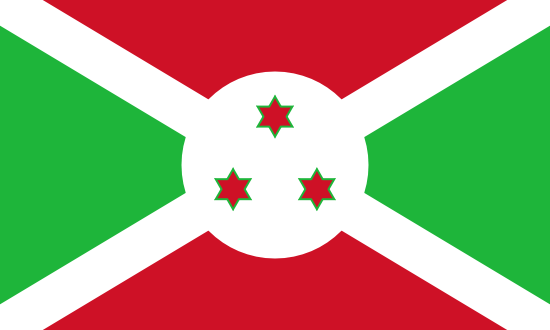 Travel Vaccines and Advice for Burundi
Burundi is one of the smallest countries. But, it is also one of the most densely populated countries in Africa. The capital is Bujumbura and the whole country is so compact that nearly all of it is accessible by road.
There is a wide range of geographical features in Burundi including riverbeds, mountains and plateaus. The plateaus are home to cultivate farms and other agriculture such as coffee and tea.
Due to civil unrest after a failed coup in 2015, Burundi can be a dangerous place to travel (see How Safe is Burundi?).
Do I Need Vaccines for Burundi?
Yes, some vaccines are recommended or required for Burundi. The CDC and WHO recommend the following vaccinations for Burundi: hepatitis A, hepatitis B, typhoid, cholera, yellow fever, rabies, meningitis, polio, measles, mumps and rubella (MMR), Tdap (tetanus, diphtheria and pertussis), chickenpox, shingles, pneumonia and influenza.
COVID-19 vaccination is recommended for travel to all regions, both foreign and domestic. Check with your local Passport Health clinic if immunization is offered in your area.
See the bullets below to learn more about some of these key immunizations:
See the tables below for more information:
Recommended Travel Vaccinations for Burundi

VACCINE
HOW DISEASE SPREADS
DETAILS

COVID-19
Airborne & Direct Contact
Recommended for all unvaccinated individuals who qualify for vaccination
Hepatitis A
Food & Water
Recommended for most travelers
Hepatitis B
Blood & Body Fluids
Accelerated schedule available
Typhoid
Food & Water
Shot lasts 2 years. Oral vaccine lasts 5 years, must be able to swallow pills. Oral doses must be kept in refrigerator.
Cholera
Food & Water
Cases have been reported in multiple regions since Nov. 2017. Active outbreaks have been reported in Bujumbura Mairie and Rumonge.
Yellow Fever
Mosquito
Required for all travelers over nine months of age.
Rabies
Saliva of Infected Animals
High risk country. Vaccine recommended for long-term travelers and those who may come in contact with animals.
Routine Vaccinations for Burundi

VACCINE
HOW DISEASE SPREADS
DETAILS

Measles Mumps Rubella (MMR)
Various Vectors
Given to anyone unvaccinated and/or born after 1957. One time adult booster recommended.
TDAP (Tetanus, Diphtheria & Pertussis)
Wounds & Airborne
Only one adult booster of pertussis required.
Chickenpox
Direct Contact & Airborne
Given to those unvaccinated that did not have chickenpox.
Shingles
Direct Contact
Vaccine can still be given if you have had shingles.
Pneumonia
Airborne
Two vaccines given seperately. All 65+ or immunocompromised should receive both.
Influenza
Airborne
Vaccine components change annually.
Meningitis
Airborne & Direct Contact
Recommended for minors and those with additional risk factors.
Polio
Food & Water
Considered a routine vaccination for most travel itineraries. Single adult booster recommended.
Zika virus is a risk in Burundi. The virus can cause severe birth defects. Pregnant women are highly advised not to travel to Burundi.
Medical facilities are limited throughout the country. Hospital Bumeric in the capital provides emergency care.
Medicare and most insurance companies do not cover costs overseas. Money must be presented before treatment is performed.
For more see our vaccinations page. Or, make an appointment with your local Travel Medicine Specialist. To book your appointment at one of our 270+ locations call or book online now.
Is There Cholera in Burundi?
Cholera is a food- and water-borne disease found throughout Africa. It is prevalent and a risk for travelers to Burundi. Health agencies recommend all travelers get a cholera vaccine before traveling to the country.
The best protection against cholera is through vaccination. Passport Health clinics offer the cholera vaccine. Book your cholera vaccination appointment today!
Customer Reviews
Passport Health – Travel Vaccines for Burundi

Overall rating: 5 stars – 3 reviews

"

Wonderful Staff

"

"I have a business trip in Burundi so I needed vaccinations. The staff at the office I went to was very friendly, informative and answered every question I had. I would definitely recommend Passport Health and will use this office again if needed."

"

Quick and Convenient

"

"Setting up the appointment and getting all I needed was a breeze! I'm going to India in a couple weeks, and they told me exactly what vaccinations I needed and walked me through the dos and don'ts of travel to Burundi."

"

Very thorough!

"

"I was not expecting to get so educated about health issues concerning my upcoming trip to Burundi. I left with confidence having the resource booklet to take with me. The shots didn't hurt either!"

Do I Need a Visa or Passport for Burundi

To travel to Burundi you must have your passport, tourist visa and a yellow card with proof of yellow fever immunization.

A tourist visa is required to enter Burundi and must be acquired before the trip.

Sources: Embassy of Burundi and U.S. State Department

All non-Burundian residents of one year or more must register their presence at the main office of the Migration Police Police de l'Air, des Frontiereset des Etrangers (PAFE) in Bujumbura. Contact the PAFE office at +257 22 25 79 00 for more information.

For more information, see our Burundi visa page. Or contact a Passport Health Passport and Visa specialist by calling 1-844-366-8472 or by filling out our online form.

What is the Climate Like in Burundi?

Burundi has an equatorial climate with the average temperature varying by region:

The central plateau has cool weather around 70 degrees Fahrenheit.
The Lake Tanganyika is fairly mild, around 70 as well.
The mountain regions are cooler, averaging around 60 degrees Fahrenheit.
Rain is irregular in Burundi and there are often long periods of drought. Burundi receives 50 to 60 inches of rain a year.

There are four seasons in Burundi: the long dry season (June–August), the short wet season (September–November), the short dry season (December–January), and the long wet season (February–May).

How Safe is Burundi?

Due to the unstable political climate since 2015, security is unpredictable in Burundi.

Violent crimes continue to occur throughout the country, but are mostly concentrated in Bujumbura. These crimes include: grenade attacks, political assassinations, armed clashes between protesters and security and extrajudicial killings.

Police are authorized to conduct home and car searches, but must present identification and a warrant. There are also police checkpoints throughout the country.

Harassment and physical violence has been reported, especially near the Burundi-Rwandan border.

Power outages are a frequent and may affect access to safe drinking water.

It is also illegal to take photographs of government buildings, airports and border patrols are prohibited.

Do not take photographs of Burundians without their permission.

In 2009, the Burundian government criminalized homosexuality.

National Parks in Burundi

Avoid mosquitoes and other bugs

Burundi is home to three national parks: Kibira, Rusizi and Ruvubu.

Kibira is located in northwestern Burundi and is a forest-region ideal for birdwatching.

Rusizi is on the Rusizi River and is home to many hippos and an infamous man-eating alligator named Gustave.

Ruvubu is the largest national park is is located in northeastern Burundi. Founded in 1980, it's a space meant to help preserve wildlife. There are no human inhabitants.

These national parks provide a place to birdwatch and see a variety of local wildlife such as hippos and reptiles.

If you're planning to go to a national park, remember to bring bug spray and boots to prevent bug bites and wear long sleeves to protect yourself from long grass.

What Should I Take To Burundi?

Here are some essential items to consider for your trip to Burundi:

Travelers' diarrhea kit
Water purification tablets
Hand sanitizer
Bed net to ward off mosquitos
Proof of yellow fever vaccination

U.S. Embassy in Burundi

All Americans visiting Burundi should register online with the U.S. Department of State before departure. This will inform the office of your travel plans within the country and will allow them to reach out in the case of an emergency or evacuation.

U.S. Embassy Bujumbura
Avenue Des Etats-Unis
Bujumbura, Burundi
Telephone: +(257) 22-20-7000
Emergency After-Hours Telephone: +(257) 79-938-841
Fax: +(257) 22-24-3467
Email: bujumburac@state.gov

Visit the Embassy to Burundi website before departure to confirm correct contact details for the office.

Ready to start your next journey? Call us at or book online now!

On This Page:
Do I Need Vaccines for Burundi?
Is There Cholera in Burundi?
Do I Need a Visa or Passport for Burundi
What is the Climate Like in Burundi?
How Safe is Burundi?
National Parks in Burundi
What Should I Take to Burundi?
U.S. Embassy in Burundi