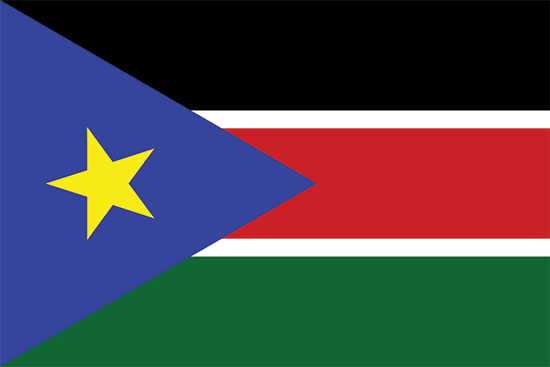 Travel Vaccines and Advice for South Sudan
The Republic of South Sudan is located in northeastern Africa, bordered by Sudan, Ethiopia, Kenya, Uganda, the Democratic Republic of the Congo, and the Central African Republic.
The country is currently unstable, with violent crime prevalent, making travel unsafe. But, once travelers are able to safely visit, they will be able to enjoy a wealth of national parks packed with different animals, as well as meet a wide variety of tribal groups, each with their own customs and traditions.
Do I Need Vaccines for South Sudan?
Yes, some vaccines are recommended or required for South Sudan. The CDC and WHO recommend the following vaccinations for South Sudan: hepatitis A, hepatitis B, typhoid, yellow fever, rabies, meningitis, polio, measles, mumps and rubella (MMR), Tdap (tetanus, diphtheria and pertussis), chickenpox, shingles, pneumonia and influenza.
COVID-19 vaccination is recommended for travel to all regions, both foreign and domestic. Check with your local Passport Health clinic if immunization is offered in your area.
See the bullets below to learn more about some of these key immunizations:
See the tables below for more information:
Recommended Travel Vaccinations for South Sudan

VACCINE
HOW DISEASE SPREADS
DETAILS

COVID-19
Airborne & Direct Contact
Recommended for all unvaccinated individuals who qualify for vaccination
Hepatitis A
Food & Water
Recommended for most travelers
Hepatitis B
Blood & Body Fluids
Accelerated schedule available
Typhoid
Food & Water
Shot lasts 2 years. Oral vaccine lasts 5 years, must be able to swallow pills. Oral doses must be kept in refrigerator.
Yellow Fever
Mosquito
Required for arriving travelers from ALL countries. Recommended for all travelers over 9 months of age.
Rabies
Saliva of Infected Animals
High risk country. Vaccine recommended for long-term travelers and those who may come in contact with animals.
Meningitis
Airborne & Direct Contact
Located in the meningitis belt, vaccination is recommended during the dry season (Dec. – June)
Polio
Food & Water
While there is no active polio transmission in South Sudan, it is vulnerable for outbreaks. Considered a routine vaccination for most travel itineraries. Single adult booster recommended.
Routine Vaccinations for South Sudan

VACCINE
HOW DISEASE SPREADS
DETAILS

Measles Mumps Rubella (MMR)
Various Vectors
Given to anyone unvaccinated and/or born after 1957. One time adult booster recommended.
TDAP (Tetanus, Diphtheria & Pertussis)
Wounds & Airborne
Only one adult booster of pertussis required.
Chickenpox
Direct Contact & Airborne
Given to those unvaccinated that did not have chickenpox.
Shingles
Direct Contact
Vaccine can still be given if you have had shingles.
Pneumonia
Airborne
Two vaccines given separately. All 65+ or immunocompromised should receive both.
Influenza
Airborne
Vaccine components change annually.
Yellow fever vaccination is highly recommended for travelers to Kenya. Malaria, dengue and chikungunya are also present in-country. Bring repellents, netting and be sure to use antimalarials.
Visit our vaccinations page to learn more. Travel safely with Passport Health and schedule your appointment today by calling or book online now.
Do I Need a Visa or Passport for South Sudan?
American travelers visiting South Sudan must have a valid passport and visa for entry. The government of South Sudan also requires all travelers show proof of yellow fever vaccination.
South Sudan Entry Requirements

Do I Need A…
For My Trip to South Sudan?

Passport
Tourist Visa
Business Visa
Vaccinations
Sources: Embassy of South Sudan and U.S. State Department
A single-entry visa is valid for one month and a multiple-entry visa is valid for up to three months in South Sudan. Travelers staying in South Sudan for more than three days should register with the Department of Immigration and Aliens Control at the Ministry of Interior in Juba.
What Is the Climate Like in South Sudan?
South Sudan is a country with a tropical climate. It has a rainy season from May to October and a dry season from November to April. The temperature in South Sudan is usually high throughout the year. During the day, it can be between 85 and 105, while at night, it can be between 60 and 80.
Due to conflict in the region, weather tracking is unavailable for many areas. Check a weather website or app before your trip for more specific regional information.
How Safe Is South Sudan?
The U.S. Department of State warns against traveling to South Sudan due to ongoing fighting and violent crime.
In July 2016, violent fighting between the government of South Sudan and opposing forces began in Juba. Instability has continued and been exacerbated by economic instability and inter-communal violence.
There is a high risk of violent crime throughout the country. Travel outside of Juba should be done with at least two vehicles and appropriate recovery and medical equipment in case of an emergency. Robbery, muggings, pick-pocketing also occur.
Visiting Boma National Park
Avoid an Embarrassing Stop
Boma National Park is a large national park in South Sudan that covers a large area and has many animals and birds. It is a good place to visit if you like wildlife and nature. You can go on a guided safari and see animals like elephants, giraffes, and lions. You can also take a walking tour to learn about the local villages and people who live nearby. If you like birds, there are many different types to see, including some that only live in this area.
South Sudan is a new country, and it is important to be careful when traveling there. Before planning a trip, you should learn about the current situation in the country and talk to someone who knows about it. You should also travel with a guide to be safe.
Boma National Park is a great place to visit, but you need to be careful and follow the rules to make sure you have a good trip.
What Should I Pack for South Sudan?
If you're planning to travel to South Sudan, it's important to pack the right things. South Sudan is very hot and humid, so you should pack light and loose clothing made of cotton or linen. You'll also need to protect yourself from the sun by wearing a hat, sunglasses, and sunscreen.
Insects that carry diseases like malaria are common in South Sudan. You should bring insect repellent and wear long sleeves and pants in the evenings. To make sure you have clean drinking water, you might want to bring a water filter or purification tablets. It's also important to bring any medications you need and a basic first aid kit.
South Sudan is mostly a cash-based economy, so bring enough cash for your trip. You might also need a portable charger for your phone, as electricity can be unreliable. And don't forget your travel documents, like your passport and visa.
Be sure to check the weather and plan accordingly. If you're prepared and pack the right things, you'll be able to enjoy your trip to South Sudan.
U.S. Embassy in South Sudan
When traveling it is very helpful to find out exactly where the U.S. embassy or consulates are located. Keep the address written down in case you have a legal problem, you lose your passport, or you want to report a crime. Be sure to keep a copy of your passport with you in case you lose the original.
U.S. Embassy Juba
Kololo Road, Tongping
Juba, South Sudan
Telephone: +(211) 912-105-188 (Monday through Friday, 8:00 a.m. to 12:00 p.m.)
Emergency After-Hours Telephone: +(211) 912-105-107
Email: ACSJuba@state.gov
It's important to remember that the specific services provided by the embassy can change. It's a good idea to check their website or contact them directly for up-to-date information.
Stay safe abroad with Passport Health. Call or book online now and start traveling safely today!
Customer Reviews
Passport Health – Travel Vaccines for South Sudan

Overall rating: 5 stars – 3 reviews

"

Great experience

"

"I did not have to wait at all- everything was ready when I walked in. The nurse was extremely helpful and informative. She gave me all of the information I needed, and warned me about South Sudan without making me crazy with worry."

"

A happy Experience

"

"My husband and I have just returned from our first ever visit to Passport Health in Vienna, VA. We will be traveling to Juba, South Sudan in seven weeks so we needed to get vaccinations and health info. for our trip. We were greeted by our nurse, who led us straight in to her office, and gave us a book already prepared for us by Passport Health regarding our trip to South Sudan. Our first happy surprise. Janet was exceptional in the time she gave us, in her relaxed but competent knowledge, in her advice and her assistance. We felt utterly confident in her professional hands, and we will recommend her, and Passport Health, to others. Thank You."

"

Not Afraid of Shots Anymore

"

"My experience at Passport Health was extremely positive. The nurse was kind, friendly, and understanding of my fear of needles. But I needn't have worried, because she give the shots so well that I barely felt them. (all 6!) She was also very helpful with the important information that I need for travel to a refugee camp and South Sudan in general."

On This Page:
Do I Need Vaccines for South Sudan?
Do I Need a Visa or Passport for South Sudan?
What is the Climate Like in South Sudan?
How Safe is South Sudan?
Visiting Boma National Park
What Should I Pack To South Sudan?
U.S. Embassy in South Sudan