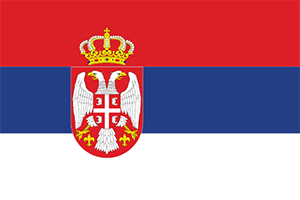 Travel Vaccines and Advice for Serbia
Serbia, which is home to more than seven million people, is a country located in central Europe.
This country's expansive history has made it famous for many different things. These include its authentic rakija (or brandy) and being the home country of inventor Nikola Tesla.
Do I Need Vaccines for Serbia?
Yes, some vaccines are recommended or required for Serbia. The CDC and WHO recommend the following vaccinations for Serbia: hepatitis A, hepatitis B, rabies, meningitis, polio, measles, mumps and rubella (MMR), Tdap (tetanus, diphtheria and pertussis), chickenpox, shingles, pneumonia and influenza.
COVID-19 vaccination is recommended for travel to all regions, both foreign and domestic. Check with your local Passport Health clinic if immunization is offered in your area.
See the bullets below to learn more about some of these key immunizations:
See the tables below for more information:
Recommended Travel Vaccinations for Serbia

VACCINE
HOW DISEASE SPREADS
DETAILS

COVID-19
Airborne & Direct Contact
Recommended for all unvaccinated individuals who qualify for vaccination
Hepatitis A
Food & Water
Recommended for most travelers
Hepatitis B
Blood & Body Fluids
Recommended for travelers
to most regions.
Rabies
Saliva of Infected Animals
High risk country. Vaccine recommended for long-term travelers and those who may come in contact with animals.
Routine Vaccinations for Serbia

VACCINE
HOW DISEASE SPREADS
DETAILS

Measles Mumps Rubella (MMR)
Various Vectors
Given to anyone unvaccinated and/or born after 1957. One time adult booster recommended.
TDAP (Tetanus, Diphtheria & Pertussis)
Wounds & Airborne
Only one adult booster of pertussis required.
Chickenpox
Direct Contact & Airborne
Given to those unvaccinated that did not have chickenpox.
Shingles
Direct Contact
Vaccine can still be given if you have had shingles.
Pneumonia
Airborne
Two vaccines given seperately. All 65+ or immunocompromised should receive both.
Influenza
Airborne
Vaccine components change annually.
Meningitis
Airborne & Direct Contact
Given to anyone unvaccinated or at an increased risk, especially students.
Polio
Food & Water
Considered a routine vaccination for most travel itineraries. Single adult booster recommended.
Some more routine infections like measles and whooping cough occur in Serbia. Make sure your routine vaccinations are up-to-date before your trip.
See our vaccinations page to learn more about these infections and vaccines. Ready to protect yourself? Book your travel health appointment today by calling or schedule online now.
Does Serbia Have COVID-19 Travel Restrictions?
Travelers may now enter Serbia! Incoming travelers will be provided with instructions on preventing the spread of COVID-19 on arrival. Flight cancellations may occur as airlines adjust their schedules.
Foreigners with temporary stay authorizations in Serbia which expired after March 15, 2020 will be permitted entrance until July 1, 2020.
Other infections are still present in the region like rabies or travelers' diarrhea. Make sure you stay protected with a visit to Passport Health. Call or book online now.
Customer Reviews
Passport Health – Travel Vaccines for Serbia

Overall rating: 5 stars – 2 reviews

"

Making Travel Vaccines Fun

"

"Our family went to Passport Health today to get vaccines for an upcoming Mission trip to Serbia. The office is very nice, convenient and the staff is efficient and very friendly. We had fun talking about our trips, understanding the shots needed and the shots were administered pain free and quick. We now can travel with confidence knowing we are well protected. We highly recommend the team at Passport Health."

"

Excellent Experience

"

"I was referred to Passport Health Houston by my physician due to a planned business trip to Serbia. The staff was very helpful in finding an appointment time that met my needs. The RN discussed all of the concerns and available immunizations/medications available for the location I was traveling to and erased any fears/concerns I had about my trip.I highly recommend the services offered."

Do I Need a Visa or Passport for Serbia?

A visa is not required to visit Serbia unless you plan on staying longer than 90 days. Those traveling to Serbia will need to have a passport that is valid on the day they enter the country.

Serbia Entry Requirements
Do I Need A…
For My Trip to Serbia?
Passport
Tourist Visa
Business Visa
Vaccinations

Sources: Embassy of Serbia and U.S. State Department

Be sure keep your passport somewhere safe for the duration of your stay as you will be unable to leave without it. In the event that you do lose your passport, you will need a police report as well as a new passport to exit Serbia.

Additionally, if you are a U.S. citizen, you must register within 24 hours of arriving to Serbia. Hotels will do this for you when you check in. But if you are staying at a private home, you will need to go to the nearest police station to register.

For more information contact a Passport Health Passport and Visa specialist by calling 1-844-366-8472 or by filling out our online form.

What is the Climate like in Serbia?

Serbia's climate is warm-humid continental or humid subtropical. The northern regions' weather features rain and humidity. Southern areas experiences drier weather.

Summers in Serbia are hot and humid with temperatures in the 60's to 80's. Winters are in the 30's to 40's.

Serbia is of the few countries in Europe that is at a very high risk for natural disasters. The most likely are earthquakes, floods and droughts.

How Safe is Serbia?

Avoid an Embarrassing Stop

In Serbia, most crime against travelers is from letting their guard down. Petty crime is the most common. Beware of theft, pickpocketing and burglary.

Other more violent crimes are less likely to occur but are not unheard of. Xenophobia is a prevalent issue in this country and can result in violence. Tourists are rarely the targets of these crimes. Avoid clubs and other night time hotspots.

Americans traveling to Serbia should be aware that anti-U.S. sentiments are common. Certain anniversaries and national holidays are hotspots for these sentiments.

What Should I Take to Serbia?

When traveling to Serbia, you'll want to pack the following items:

Outlet Converters – The outlets in Serbia are not the same as the outlets in America. You will need to find an outlet converter that is compatible with a 230V/50hz electricity outlet.
Debit/Credit Cards – ATMs are very safe and well-maintained in Serbia. Carry these cards with you to access Serbian currency when needed. as it is much safer to carry these cards rather than large amounts of cash.
Comfortable Shoes – Cities offer a wide variety of experiences that are easily accessible by walking. Bringing good quality and comfortable footwear is a must.

U.S. Embassy in Serbia

There is one U.S. Embassy in Serbia. If you need help, use the following contact information to reach the U.S. Embassy of Serbia:

U.S. Embassy Belgrade
92 Bulevar kneza Aleksandra Karadjordjevica
11040 Belgrade, Serbia
Phone: +381 11 706-4000

Stay safe abroad with Passport Health. Call or book online now and start traveling safely today!

On This Page:
Do I Need Vaccines for Serbia?
Do I Need a Visa or Passport for Serbia?
What is the Climate like in Serbia?
How Safe is Serbia?
What Should I Take to Serbia?
U.S. Embassy in Serbia