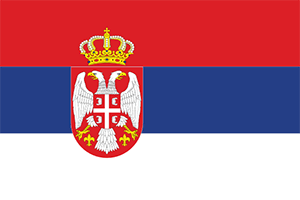 Travel Vaccines and Advice for Serbia
Serbia, which is home to more than seven million people, is a country located in central Europe.
This country's expansive history has made it famous for many different things. These include its authentic rakija (or brandy) and being the home country of inventor Nikola Tesla.
Do I Need Vaccines for Serbia?
Yes, some vaccines are recommended or required for Serbia. The CDC and WHO recommend the following vaccinations for Serbia: hepatitis A, hepatitis B, rabies, tickborne encephalitis, meningitis, polio, measles, mumps and rubella (MMR), Tdap (tetanus, diphtheria and pertussis), chickenpox, shingles, pneumonia and influenza.
COVID-19 vaccination is recommended for travel to all regions, both foreign and domestic. Check with your local Passport Health clinic if immunization is offered in your area.
See the bullets below to learn more about some of these key immunizations:
See the tables below for more information:
Recommended Travel Vaccinations for Serbia

VACCINE
HOW DISEASE SPREADS
DETAILS

COVID-19
Airborne & Direct Contact
Recommended for all unvaccinated individuals who qualify for vaccination
Hepatitis A
Food & Water
Recommended for most travelers
Hepatitis B
Blood & Body Fluids
Recommended for travelers
to most regions.
Rabies
Saliva of Infected Animals
High risk country. Vaccine recommended for long-term travelers and those who may come in contact with animals.
Tickborne Encephalitis
Ticks & Unpasteurized Animal Products
Cases are likely underreported, disease is present throughout country.
Routine Vaccinations for Serbia

VACCINE
HOW DISEASE SPREADS
DETAILS

Measles Mumps Rubella (MMR)
Various Vectors
Given to anyone unvaccinated and/or born after 1957. One time adult booster recommended.
TDAP (Tetanus, Diphtheria & Pertussis)
Wounds & Airborne
Only one adult booster of pertussis required.
Chickenpox
Direct Contact & Airborne
Given to those unvaccinated that did not have chickenpox.
Shingles
Direct Contact
Vaccine can still be given if you have had shingles.
Pneumonia
Airborne
Two vaccines given separately. All 65+ or immunocompromised should receive both.
Influenza
Airborne
Vaccine components change annually.
Meningitis
Airborne & Direct Contact
Given to anyone unvaccinated or at an increased risk, especially students.
Polio
Food & Water
Considered a routine vaccination for most travel itineraries. Single adult booster recommended.
Some more routine infections like measles and whooping cough occur in Serbia. Make sure your routine vaccinations are up-to-date before your trip.
See our vaccinations page to learn more about these infections and vaccines. Ready to protect yourself? Book your travel health appointment today by calling or schedule online now.
Do I Need a Visa or Passport for Serbia?
A visa is not required to visit Serbia unless you plan on staying longer than 90 days. Those traveling to Serbia will need to have a passport that is valid on the day they enter the country.
Serbia Entry Requirements

Do I Need A…
For My Trip to Serbia?

Passport
Tourist Visa
Business Visa
Vaccinations
Sources: Embassy of Serbia and U.S. State Department
Be sure keep your passport somewhere safe for the duration of your stay as you will be unable to leave without it. In the event that you do lose your passport, you will need a police report as well as a new passport to exit Serbia.
Additionally, if you are a U.S. citizen, you must register within 24 hours of arriving to Serbia. Hotels will do this for you when you check in. But if you are staying at a private home, you will need to go to the nearest police station to register.
What is the Climate like in Serbia?
Serbia has many popular tourist destinations with varying weather patterns. Belgrade, the capital city, has a humid subtropical climate with hot summers and cold winters. Novi Sad, the second-largest city, has a humid continental climate with warm summers and cold winters. Kopaonik is a popular ski resort with a mountain climate that has cold winters and mild summers. Zlatibor is another popular tourist destination with a moderate continental climate that has cold winters and mild summers.
During the summer months, the average temperature in Belgrade and Novi Sad is around 70 degrees, while Kopaonik and Zlatibor are slightly cooler with temperatures around 70. In the winter months, temperatures drop significantly, with Belgrade and Novi Sad averaging around 30, Kopaonik around 20, and Zlatibor around 25.
Remember that these are general climate patterns, and the actual weather conditions may vary depending on the time of year and other factors. It's always a good idea to check the weather forecast before traveling to any destination to ensure that you pack appropriately for the conditions.
How Safe is Serbia?
Avoid an Embarrassing Stop
In Serbia, most crime against travelers is from letting their guard down. Petty crime is the most common. Beware of theft, pick-pocketing and burglary.
Other more violent crimes are less likely to occur but are not unheard of. Xenophobia is a prevalent issue in this country and can result in violence. Tourists are rarely the targets of these crimes. Avoid clubs and other night time hot spots.
Americans traveling to Serbia should be aware that anti-U.S. sentiments are common. Certain anniversaries and national holidays are hot spots for these sentiments.
What Should I Take to Serbia?
If you're going to Serbia, here's what you might need to bring:
Your passport and travel documents.
Comfy shoes for walking.
Light clothes made of cotton or linen for warm weather. Bring a jacket or sweater for cooler evenings.
Sunscreen and a hat to protect yourself from the sun.
An adapter plug for your electronic devices.
Insect repellent for mosquitoes during summer.
Your medications and a copy of your prescription.
Cash and credit cards for emergencies.
A camera or smartphone to take pictures of beautiful places.
A guidebook or map to learn about Serbia's history and culture.
Make sure to pack lightly and check the weather before you go. Have a fun trip!
U.S. Embassy in Serbia
The U.S. embassy in Serbia helps American citizens who are living or visiting Serbia. Some of the services they offer include giving new or renewed passports, helping in emergencies like medical or legal situations and giving information about local resources.
There is one U.S. Embassy in Serbia. If you need help, use the following contact information to reach the U.S. Embassy of Serbia:
U.S. Embassy Belgrade
92 Bulevar kneza Aleksandra Karadjordjevica
11040 Belgrade, Serbia
Phone: +381 11 706-4000
If you need help or have questions while you're in Serbia, the embassy is a good place to start. You can check their website to find out more about what they can do for you and how to get in touch with them. Remember, it's always a good idea to be prepared before you travel, and the embassy is there to help if you need them.
Stay safe abroad with Passport Health. Call or book online now and start traveling safely today!
Customer Reviews
Passport Health – Travel Vaccines for Serbia

Overall rating: 5 stars – 2 reviews

"

Making Travel Vaccines Fun

"

"Our family went to Passport Health today to get vaccines for an upcoming Mission trip to Serbia. The office is very nice, convenient and the staff is efficient and very friendly. We had fun talking about our trips, understanding the shots needed and the shots were administered pain free and quick. We now can travel with confidence knowing we are well protected. We highly recommend the team at Passport Health."

"

Excellent Experience

"

"I was referred to Passport Health Houston by my physician due to a planned business trip to Serbia. The staff was very helpful in finding an appointment time that met my needs. The RN discussed all of the concerns and available immunizations/medications available for the location I was traveling to and erased any fears/concerns I had about my trip.I highly recommend the services offered."

On This Page:
Do I Need Vaccines for Serbia?
Do I Need a Visa or Passport for Serbia?
What is the Climate like in Serbia?
How Safe is Serbia?
What Should I Take to Serbia?
U.S. Embassy in Serbia