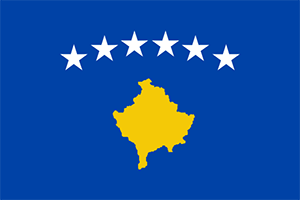 Travel Vaccines and Advice for Kosovo
Kosovo's history, mountain views, beautiful towns and monasteries are must-sees. It is a great place to discover the unbeaten path and enjoy what this country has to offer its travelers.
There is so much to experience in Kosovo. Prizen's Old Town, the Rugova Mountains, Peja's Cheese Market, and the Visoki Decani Monastery are just a few.
Whether you love to explore the sites, learn about history or are interested in tasting the cuisine Kosovo has everything for a good time.
Do I Need Vaccines for Kosovo?
Yes, some vaccines are recommended or required for Kosovo. The CDC and WHO recommend the following vaccinations for Kosovo: hepatitis A, hepatitis B, rabies, meningitis, polio, measles, mumps and rubella (MMR), Tdap (tetanus, diphtheria and pertussis), chickenpox, shingles, pneumonia and influenza.
COVID-19 vaccination is recommended for travel to all regions, both foreign and domestic. Check with your local Passport Health clinic if immunization is offered in your area.
See the bullets below to learn more about some of these key immunizations:
See the tables below for more information:
Recommended Travel Vaccinations for Kosovo

VACCINE
HOW DISEASE SPREADS
DETAILS

COVID-19
Airborne & Direct Contact
Recommended for all unvaccinated individuals who qualify for vaccination
Hepatitis A
Food & Water
Recommended for most travelers
Hepatitis B
Blood & Body Fluids
Recommended for travelers
to most regions.
Rabies
Saliva of Infected Animals
High risk country. Vaccine recommended for long-term travelers and those who may come in contact with animals.
Routine Vaccinations for Kosovo

VACCINE
HOW DISEASE SPREADS
DETAILS

Measles Mumps Rubella (MMR)
Various Vectors
Given to anyone unvaccinated and/or born after 1957. One time adult booster recommended.
TDAP (Tetanus, Diphtheria & Pertussis)
Wounds & Airborne
Only one adult booster of pertussis required.
Chickenpox
Direct Contact & Airborne
Given to those unvaccinated that did not have chickenpox.
Shingles
Direct Contact
Vaccine can still be given if you have had shingles.
Pneumonia
Airborne
Two vaccines given separately. All 65+ or immunocompromised should receive both.
Influenza
Airborne
Vaccine components change annually.
Meningitis
Airborne & Direct Contact
Given to anyone unvaccinated or at an increased risk, especially students.
Polio
Food & Water
Considered a routine vaccination for most travel itineraries. Single adult booster recommended.
Visit our vaccinations page to learn more. Travel safely with Passport Health and schedule your appointment today by calling or book online now.
Do I Need a Passport or Visa for Kosovo?
A valid passport is needed for U.S. citizens to enter Kosovo. You may be also asked to show documentation showing the purpose of your visit. A visa isn't needed if you're staying up to 90 days within six months.
Kosovo Entry Requirements

Do I Need A…
For My Trip to Kosovo?

Passport
Tourist Visa
Business Visa
Vaccinations
Sources: Embassy of Kosovo and U.S. State Department
What Is the Climate like in Kosovo?
Kosovo has a variety of climates. The Mediterranean Mild Climate and the European Continental Climate influence this country. Kosovo's climate is affected by its position in Eurasia.
July is the warmest month with temperatures in the 80's, and January is the coldest in the teens.
Precipitation occurs mostly in July and August. Rainfall is common in the hills and valleys and snowfall takes place in the mountains. Hail also occurs in Kosovo and is very unfortunate to the country's agriculture.
The rainfall varies depending on what region you decide to travel to in Kosovo. The west gets over 28 inches of rain while the east get over 24 inches of rain. The snowfall occurs during the cold months with low areas of 26 days of snow while high areas have 100 days of snow.
How Safe Is Kosovo?
Of most concern is the occurrence of petty street crime. pick-pocketing and other petty theft is common in many parts of Kosovo. Be aware of your surroundings and avoid taking anything valuable with you.
Avoid travel to areas heavily involved in the 1990's conflicts. Grenades, landmines and other ordinance is still present in many areas and pose a risk.
Demonstrations can erupt in violence and should be avoided. While against tourists is rare, street crime and theft are known to happen.
The National Library of Kosovo
Avoid an Embarrassing Stop
There is so much to do and explore in Kosovo. The National Library of Kosovo is a great destination. The library is in Pristina and has a futuristic, prison like look that is very usual. While the library is not the most appealing at first site, it is still a library. Travelers shouldn't let the outside fool them.
The library was finished in 1986, and its metal fence covers the windows, giving them a prison like feel. The building was intended to be designed in this brutal way while the white domes on top look like men's hats. While the building does lack a certain warmth and beauty, it is a unique piece of architecture. It reflects a country changed by war and a country that is trying to move towards the future and rebuild.
The library has some history with Croatian and Bosnian refugees using it as living quarters. The Serbian army also used the library as a command center. During this time, many of the books were destroyed.
You will need some identification or a passport to enter the library. When you enter the inside of the library, you will find books, newspapers, manuscripts, maps, and photographs. You will also come across two reading rooms, an amphitheater, and a meeting hall.
What Should I Take to Kosovo?
When you travel to Kosovo, there are some things you need to take with you on your trip.
Travel Documents — You need a passport that must be valid when you enter Kosovo. You won't need a visa unless you're staying longer than 90 days.
Money — You can use euros while in Kosovo, but there are some places that may not take them. Debit cards and credit cards like Visa and MasterCard are accepted in most establishments. Be sure to have some cash on hand just in case.
Pack for Health and Safety — Be sure to bring any prescription medicines and medical supplies you may need. A travelers' diarrhea kit is also recommended.
U.S. Embassy in Kosovo
All Americans visiting Kosovo should register online with the U.S. Department of State before departure. This will inform the office of your travel plans within the country and will allow them to reach out in the case of an emergency or evacuation.
The U.S. Embassy in Kosovo offers many services for travelers. If you are a U.S. citizen, they can help you if you have an emergency, like if you lose your passport or get sick.
Once in Kosovo, the information for the U.S. Embassy is:
U.S. Embassy Pristina
U.S. Embassy Pristina
Rr. "4 Korriku" Nr. 25
10000 Pristina, Kosovo
Telephone: +(383) (38) 5959-3000
Emergency After-Hours Telephone: +(383) (38) 5959-3000
If you need any help while traveling, you can contact the U.S. Embassy in Kosovo to find out more about the services they offer.
Ready to start your next journey? Call us at or book online now!
Customer Reviews
Passport Health – Travel Vaccines for Kosovo