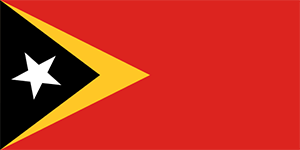 Do I Need Vaccines for East Timor?
Do I Need a Visa for East Timor?
What is the Climate Like in East Timor?
How Safe is East Timor?
Visiting the Cristo Rei of Dili Statue
What Should I Take to East Timor?
U.S. Embassy to East Timor
East Timor is a sovereign state located in Maritime Southeast Asia and is made up of half of the island of Timor. The country has abundant natural beauty and offers some amazing adventures.
Travelers can hike jungle caves, relax by the beach or walk along the cliffs to the north. In the cities, you can explore the colorful market or taste delicious local coffee. This Asian country will offer travelers a beautiful and historical trip.
Do I Need Vaccines for East Timor?
Yes, some vaccines are recommended or required for East Timor. The CDC and WHO recommend the following vaccines for East Timor: typhoid, hepatitis A, hepatitis B, rabies, Japanese encephalitis, and influenza.
---
Japanese encephalitis is a mosquito-borne disease found in some parts of East Timor. The vaccine is recommended for travelers of various types.
Malaria, dengue and chikungunya are also present. All three can be prevented through proper use of repellents and mosquito netting. Malaria prevention may also require an antimalarial prescription.
See our vaccinations page to learn more about these infections and vaccines. Ready to protect yourself? Book your travel health appointment today by calling or schedule online now.
Customer Reviews
Passport Health

Travel Vaccines for East Timor
Overall rating:

5

stars –

2

reviews
"

Traveling Fears Put to Rest

"

"If you are traveling abroad, need shots, and want to be informed about the good, bad, and ugly of your destination, Passport Health is the place to go. Our nurse was absolutely awesome! We are armed with all the information (and shots and meds) we need to safely send our daughter to East Timor."
"

Good experience

"

"I have had two appointments with the staff at Passport Health. Both have been very, very good. I am thankful for a service like this…helpful, knowledgeable, and very gracious in their interactions with me. I travel to East Timor each year and the staff had all of the resources needed to prepare me for my trip. Good work!"
Do I Need a Visa for East Timor?
A visa is required for travel to East Timor. While you can get one on arrival, it is best to have it before leaving for your trip.
Sources: Timor-Leste Immigration Department and U.S. State Department
East Timor requires travelers to show proof of yellow fever vaccination if they are entering from a country with a the virus.
For more information, see our East Timor visa page. Or contact a Passport Health Passport and Visa specialist by calling 1-844-366-8472 or by filling out our online form.
What is the Climate Like in East Timor?
East Timor is part of southeast Asia. The climate is particularly hot and humid with distinct rainy and dry seasons. The eastern part of the country has the last remaining tropical dry forested area in the country.
Dili – Dili is the capital of East Timor, located on the northern coast of the island. The temperature is almost always high. The warmest month is October with highs in the 90's. The coolest month is January with temperatures in the 80's. The rainy season is from December to March with the wettest month being January. The driest month is September.


Suai – Suai is located in the southwest part of the country. The average temperature is in the 70's. The driest month is September and the wettest is January.
How Safe is East Timor?
East Timor experienced several violent episodes from 2002 to 2008. But, there have not been any major civil disturbances since.
Petty crime, such as pick-pocketing, bag-snatching, theft, or break ins does occur. Travelers should avoid carrying unnecessary valuables with them. Travelers should avoid demonstrations or large gatherings, these good opportunities for pick-pocketing. Do not resist theft, as those who do many face violence by perpetrators. Do not open the door for strangers and confirm with reception if someone knocking at the door is with the hotel.
Stone throwing attacks on vehicles has occurred during gang conflicts or civil unrest. Travel only in well-lit areas and avoid traveling alone if possible. Additionally, avoid taking taxis alone. All travelers should exercise caution and be aware of their surroundings while traveling.
Visiting the Cristo Rei of Dili Statue
One of main tourist attractions of East Timor, the Cristo Rei of Dili Statue is an 88.6 ft tall statue of Jesus. It was designed by Mochamad Syailillah, better known as Bolil an unveiled in 1996. It was originally a gift from the Indonesian government to the people of East Timor. It took almost a year and 30 workers to build the body of the statue. It is located at the end of the Fatucama peninsula facing the ocean. Visitors must climb about 500 steps before reaching it.
What Should I Take to East Timor?
East Timor is a fairly popular destination. But, it's important to make sure you have everything you may need for your trip. Here are some great, must-pack items:
Light Clothing – It can get very hot and humid in East Timor. You will be most comfortable in light, flowy clothing.


Sweater – Nights or restaurants can get a bit chilly. Bring something to keep warm.


Knee-Length Skirt or Pants – Many areas of East Timor dress more conservatively. Make sure to bring appropriate clothing.


Walking Shoes – You'll definitely want to take a hike in the beautiful wilderness, so bring comfortable shoes.
U.S. Embassy to East Timor
When traveling it is very helpful to find out exactly where the U.S. embassy or consulates are located. Keep the address written down in case you have a legal problem, you lose your passport, or you want to report a crime. Be sure to keep a copy of your passport with you in case you lose the original.
U.S. Embassy Dili
Avenida de Portugal,
Praia dos Coqueiros,
Dili, Timor-Leste
Phone: (670) 332-4684
Travelers should look into enrolling in the Smart Traveler Enrollment Program (STEP). This is a service offered by the Bureau of Consular Affairs. It is a free service that provides travelers with information from the Embassy about safety conditions in the country of travel. It also allows the Embassy or your family and friends to get in touch with you in the case of emergency.
Stay safe abroad with Passport Health. Call or book online now and start traveling safely today!