The COVID-19 pandemic has affected travel to many countries. Mozambique may require you to have a negative COVID-19 test for entry.
Please see our COVID-19 Restrictions page to learn more.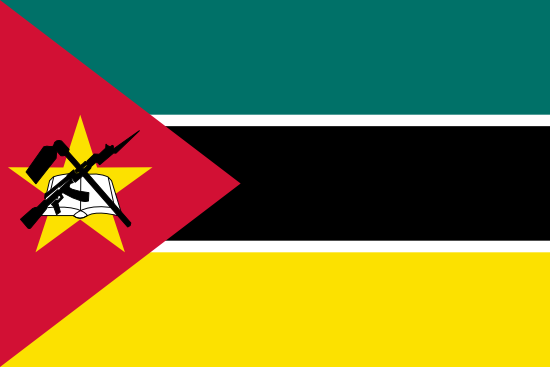 Travel Vaccines and Advice for Mozambique
Mozambique is one of the fastest growing African vacation destinations. It is home to beautiful stretches of white sand beaches and pristine turquoise water. The waters are home to diverse marine animals and coral reefs.
The tropical climate makes it an ideal winter getaway. Besides marine activities, there are safari's and historical monuments to explore. Mozambique offers travelers seeking an adventure plenty of opportunity to find one.
Do I Need Vaccines for Mozambique?
Yes, some vaccines are recommended or required for Mozambique. The CDC and WHO recommend the following vaccinations for Mozambique: hepatitis A, hepatitis B, typhoid, cholera, yellow fever, rabies, meningitis, polio, measles, mumps and rubella (MMR), Tdap (tetanus, diphtheria and pertussis), chickenpox, shingles, pneumonia and influenza.
COVID-19 vaccination is recommended for travel to all regions, both foreign and domestic. Check with your local Passport Health clinic if immunization is offered in your area.
See the bullets below to learn more about some of these key immunizations:
See the tables below for more information:
Recommended Travel Vaccinations for Mozambique

VACCINE
HOW DISEASE SPREADS
DETAILS

COVID-19
Airborne & Direct Contact
Recommended for all unvaccinated individuals who qualify for vaccination
Hepatitis A
Food & Water
Recommended for most travelers
Hepatitis B
Blood & Body Fluids
Accelerated schedule available
Typhoid
Food & Water
Shot lasts 2 years. Oral vaccine lasts 5 years, must be able to swallow pills. Oral doses must be kept in refrigerator.
Cholera
Food & Water
Areas of active transmission include Cabo Delgado and Nampula.
Yellow Fever
Mosquito
Required if traveling from a country with risk of yellow fever transmission.
Rabies
Saliva of Infected Animals
Moderate risk country. Vaccine recommended for certain travelers based on destination, activities and length of stay.
Routine Vaccinations for Mozambique

VACCINE
HOW DISEASE SPREADS
DETAILS

Measles Mumps Rubella (MMR)
Various Vectors
Given to anyone unvaccinated and/or born after 1957. One time adult booster recommended.
TDAP (Tetanus, Diphtheria & Pertussis)
Wounds & Airborne
Only one adult booster of pertussis required.
Chickenpox
Direct Contact & Airborne
Given to those unvaccinated that did not have chickenpox.
Shingles
Direct Contact
Vaccine can still be given if you have had shingles.
Pneumonia
Airborne
Two vaccines given seperately. All 65+ or immunocompromised should receive both.
Influenza
Airborne
Vaccine components change annually.
Meningitis
Airborne & Direct Contact
Given to anyone unvaccinated or at an increased risk, especially students.
Polio
Food & Water
Considered a routine vaccination for most travel itineraries. Single adult booster recommended.
Polio immunization is not recommended for Mozambique. But, a polio booster for adults may be recommended for surrounding countries
Antimalarial medication is recommended to travelers visiting Mozambique. The must be taken before, during and after your trip. Dengue and chikungunya are also present and can be prevented through use of mosquito repellents and nettings.
Traveler's diarrhea can easily ruin a trip. Be sure to bring a traveler's diarrhea kit with you to avoid this embarrassing symptom.
Visit our vaccinations page to learn more. Travel safely with Passport Health and schedule your appointment today by calling or book online now.
Is There Cholera in Mozambique?
There is a risk of contracting cholera in parts of Mozambique. The CDC recommends travelers receive a cholera vaccine before visiting the country. Vaccination is the most effective way to prevent cholera.
The best protection against cholera is through vaccination. Passport Health clinics offer the cholera vaccine. Book your cholera vaccination appointment today!
Customer Reviews
Passport Health – Travel Vaccines for Mozambique

Overall rating: 5 stars – 5 reviews

"

Friendly and Efficient

"

"I was very impressed with my visit to Passport Health. Connie was very friendly and knowledgeable, and the process was very efficient. Also, the pamphlet that was prepared is very informative and insightful. Overall, I feel more confident and safe going into my travels and I know I will remain healthy during my stay in Mozambique."

"

Excellent as always

"

"The nurse did an excellent job in discussing the risks associated with travel to Mozambique. I am the HSE manager for the project and I truly appreciate your company and employees' focus on health."

"

Speedy service

"

"I am leaving on a last-minute trip to Mozambique, and the Charlotte office was extremely responsive in helping me get the medicines needed for a safe, healthy journey across the world. Thanks!"

"

Caring service

"

"The nurse provided our shot quite painlessly and gave advice on malaria medication for our upcoming trip. She pulled off the state department pages for Madagascar and Mozambique and bound them to add to previous pages given us by another Passport Health professional. It didn't hurt that she was quite a pretty lady."

"

Vaccinations for Mozambique

"

"Excellent, courteous and thorough service. I felt in safe hands for my business trip to Mozambique."

Do I Need a Visa or Passport for Mozambique?

A visa is required for entry to Mozambique. Proof of yellow fever vaccination may be required based on your country of origin.

Sources: Embassy of Mozambique and U.S. State Department

There are currency restrictions for travelers upon entry and exit.

For more information, see our Mozambique visa page. Or contact a Passport Health Passport and Visa specialist by calling or by filling out our online form.

What is the Climate Like in Mozambique?

Mozambique is known for its warm and tropical climate. Temperatures along the coast remain sunny and warm even in the winter. From October to April, the weather is very hot, humid, and rainy. Whereas, from June to October the weather is cool and dry.

How Safe is Mozambique?

It is important to exercise a high degree of caution while traveling in Mozambique.

In 2015, the country was declared free of all known land mines. But, some could still remain in rural areas.

It is dangerous to travel outside the city after dark. Mugging is prevalent. Pedestrians have been mugged at all hours of the day. Avoid walking alone in isolated or wooded areas as these are common places for crimes to occur.

Bazaruto Archipelago

Avoid an Embarrassing Stop

The Bazaruto Archipelago consists of six islands off the coast of Mozambique. These islands are known for their stretches of white sand beaches and beautiful turquoise waters. Beneath the water lies beautiful coral reefs that rare marine animals call home.

A diverse array of animals found only in Bazaruto, like the rare dugong.

Visitors to the Bazaruto Archipelago can partake in a variety of outdoor activities such as scuba diving, fishing, and sailing. To limit environmental damage, visitors must stay in one of the several private lodges on the island. The Bazaruto Archipelago is the perfect Indian Ocean adventure.

What Should I Pack for Mozambique?

Mozambique is a beautiful destination. But, it does require some extra preparation. See what you should make sure is in your luggage:

Mosquitos are a problem in Mozambique and repellant should always be worn, especially after sunset.
Extra memory cards and batteries for your camera as these can be difficult to find while traveling.
Avoid wearing blue or black clothing. The tsetse flies are attracted to these colors.
Consider bringing a headlamp. Power outages are not uncommon in Mozambique.
Lightweight clothing that is suitable for hot weather.
Water can be expensive and drinking the tap water is not encouraged. Consider bringing a water filter or iodine tablets.

U.S. Embassy to Mozambique

If you find yourself in need of help while traveling in Mozambique, there is a U.S. embassy in the capital city of Maputo.

U.S. Embassy Maputo
Av. Kenneth Kaunda, 193
Caixa Postal, 783
Maputo, Mozambique
Telephone: (258) 21-49 27 97
Fax: (258) 21-49 01 14

Visit the Embassy to Mozambique website before departure to confirm correct contact details for the office.

Stay safe abroad with Passport Health. Call or book online now and start traveling safely today!

On This Page:
Do I Need Vaccines for Mozambique?
Is There Cholera in Mozambique?
Do I Need a Visa or Passport for Mozambique?
What is the Climate Like in Mozambique?
How Safe is Mozambique?
Bazaruto Archipelago
What Should I Pack To Mozambique?
U.S. Embassy to Mozambique