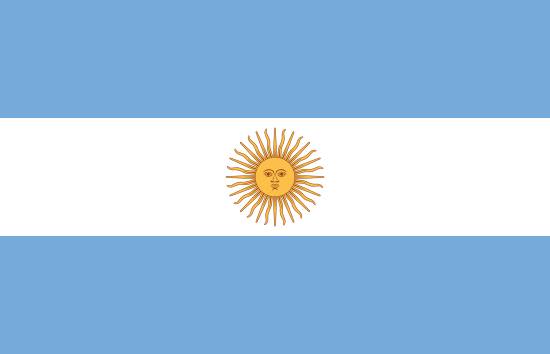 Travel Vaccines and Advice for Argentina
Argentina is an alluring destination brimming with a rich, diverse culture. From tropical, sunny northern cities to snow and skiing in the south, Argentina offers a variety of options for any traveler's desires.
Buenos Aires, the nation's capital, is a lively, invigorating city that immerses travelers in the culture and history of Argentina. At the heart of the capital is the Plaza de Mayo, filled with preserved Spanish and European style buildings from the 19th century.
The Iguazú Falls line the border of Argentina and Brazil, and are among some of the largest waterfall systems in the world. The Iguazú National Park in Argentina is a UNESCO World Heritage Site.
If you're looking to feel a chill, then you can still find what you seek in one of Argentina's many ski resorts. Tourists can also head to snowy Ushuaia, which is considered the most southern city in the world.
Do I Need Vaccines for Argentina?
Yes, some vaccines are recommended or required for Argentina. The CDC and WHO recommend the following vaccinations for Argentina: hepatitis A, hepatitis B, typhoid, yellow fever, rabies, meningitis, polio, measles, mumps and rubella (MMR), Tdap (tetanus, diphtheria and pertussis), chickenpox, shingles, pneumonia and influenza.
COVID-19 vaccination is recommended for travel to all regions, both foreign and domestic. Check with your local Passport Health clinic if immunization is offered in your area.
See the bullets below to learn more about some of these key immunizations:
See the tables below for more information:
Recommended Travel Vaccinations for Argentina

VACCINE
HOW DISEASE SPREADS
DETAILS

COVID-19
Airborne & Direct Contact
Recommended for all unvaccinated individuals who qualify for vaccination
Hepatitis A
Food & Water
Recommended for most travelers
Hepatitis B
Blood & Body Fluids
Recommended for travelers
to most regions.
Typhoid
Food & Water
Recommended for travelers
to most regions.
Yellow Fever
Mosquito
Recommended for travel to Corrientes and Misiones provinces. May be recommended for Formosa, Chaco, Jujuy and Salta.
Rabies
Saliva of Infected Animals
High risk country. Vaccine recommended for long-term travelers and those who may come in contact with animals.
Routine Vaccinations for Argentina

VACCINE
HOW DISEASE SPREADS
DETAILS

Measles Mumps Rubella (MMR)
Various Vectors
Given to anyone unvaccinated and/or born after 1957. One time adult booster recommended.
TDAP (Tetanus, Diphtheria & Pertussis)
Wounds & Airborne
Only one adult booster of pertussis required.
Chickenpox
Direct Contact & Airborne
Given to those unvaccinated that did not have chickenpox.
Shingles
Direct Contact
Vaccine can still be given if you have had shingles.
Pneumonia
Airborne
Two vaccines given separately. All 65+ or immunocompromised should receive both.
Influenza
Airborne
Vaccine components change annually.
Meningitis
Airborne & Direct Contact
Given to anyone unvaccinated or at an increased risk, especially students.
Polio
Food & Water
Considered a routine vaccination for most travel itineraries. Single adult booster recommended.
Yellow fever vaccination is recommended for some travelers to Argentina, based on their itinerary. Consult with a travel health specialist to learn if you'll need one for your trip.
There is a risk of contracting the Zika virus in Argentina. Zika cases are present in the provinces of Chaco, Formosa, Salta, and Tucuman. All travelers are at risk, especially women who are pregnant or may become pregnant. Taking steps to prevent insect bites, such as using DEET-based repellents can lower your risk.
For more information on any of the vaccines above, visit Passport Health's detailed specialty vaccination pages or make an appointment with your local Travel Medicine Specialist. To make your appointment, call or booking online now.
Do I Need a Visa or Passport for Argentina?
Americans planning to go to Argentina do not need a visa for tourism or business visits that do not exceed 90 days. The reciprocity fee for travelers from the U.S. has also been suspended, meaning you do not have to pay. But, you do still need a valid passport to gain entry into Argentina.
Argentina Entry Requirements

Do I Need A…
For My Trip to Argentina?

Passport
Tourist Visa
Business Visa
Vaccinations
Sources: Embassy of Argentina and U.S. State Department
What Is the Climate Like in Argentina?
The climate in Argentina is diverse, ranging from tropical to polar. Precipitation is generally light to moderate throughout most of Argentina. Here is what to expect in a few diverse tourist destinations:
Buenos Aires – The capital city has a moderate temperature, similar to cities in the southeastern United States. Winters are mild, while the summers get quite humid and hot. Buenos Aires rarely sees snow.
Ushuaia – The capital of Tierra del Fuego is one of the colder regions in Argentina. This area experiences a mild tundra climate. It is also very humid and experiences frequent rain, sleet and snow in the winter months.
Iguazú Falls – The climate along the Iguazú River and the Misiones Province is humid subtropical. The temperatures stay high all year. The chance of precipitation near the Iguazú Falls is high. The rainy season is from January to March.
Is It Safe to Travel to Argentina?
There is criminal activity in Argentina, particularly in bigger cities.
The U.S. Department of State reports frequent scams involving black and yellow taxis at airports in Buenos Aires. Some of these scams include pretending to help tourists with their money while secretly exchanging their bills for counterfeits. When flying into Argentina, pre-arrange your ride from the airport using flat-rate "remise" services. When in town, always arrange for your taxi from secure locations such as hotels.
There is also a concern about "express kidnappings". Victims are kidnapped and forced to withdraw as much money as they can from ATMs. Family, friends or coworkers are contacted and demanded to bring a ransom or as much money as possible. The victim is usually released once the ransom is paid. Some of these victims have included foreigners.
Street crime is a general problem. Common criminals include muggers, scam artists, pickpockets and purse-snatches. It is important to keep your guard up when in hotel lobbies, restaurants, at public transportation locations and on the street.
The U.S. Embassy reports many cases of stolen passports. Keep your passport and any valuables in a hotel safe and keep a photocopy of your passport on your person.
Extreme Sporting in Argentina
Avoid mosquitoes and other bugs
With abundant nature and sprawling, snowy mountains, Argentina is the perfect destination to try out extreme sports. Tourists can enjoy skiing, snowboarding, mountain biking, diving, rafting, mountaineering and more.
But, while Argentina is the perfect paradise for these unique sports, it is still important to exercise caution before speeding down mountains or jumping into unknown waters.
Research all excursions to ensure that you know exactly what you are getting yourself into or if you are even capable of participating. This will prevent unwanted injury while you are abroad. Going with a reputable vendor or guide is extremely important as well.
What Should I Take to Argentina?
In addition to all travel documents and medications recommended by a Passport Health Travel Medicine Specialist, here are some items to consider packing:
Insect Repellent – Many viruses and potential illnesses in Argentina, including Zika, come from mosquitoes or other insects. Packing a repellent with at least 20%-30% DEET will help keep those infecting pests away. Also consider packing neutral-colored and loose-fitting clothing that covers your arms and legs.
Motion Sickness Medicine – If you are planning to travel, you may have to take buses over bumpy roads or even boats over choppy waters. Having medication on-hand will help you avoid any discomfort, headaches or nausea.
Insect Repellent – Mosquitoes feast at night. Apply repellent whether you're planning to go out on the town, or stay close to your lodging especially during wet seasons.
Sunscreen – The best way to protect your skin's health and prevent sunburn is to apply sunscreen. While it may not seem necessary in certain regions or if it is raining, skin damage can still occur.
Varied Clothing – You will need a variety of clothing to deal with the wide range of the temperatures you will face. While wearing shorts and a t-shirt may be comfortable in Buenos Aires, you may need a jacket if you go to areas such as Patagonia or Ushuaia. Bring an umbrella, as rain is common in some parts of the country.
Feminine Products – If you are a female traveler, make sure you pack enough sanitary napkins and tampons. Many bloggers and travelers have reported difficulty finding and buying feminine care products throughout parts of South America, particularly in Argentina.
U.S. Embassy in Argentina
All Americans visiting Argentina should register with the U.S. Embassy in Buenos Aires. This will inform the office of your travel plans and will allow them to reach out in the case of an emergency or evacuation. You can register online, through the Smart Traveler Enrollment Program. If you plan to buy a local SIM card you can also enter your phone number to receive SMS updates from the office.
U.S. Embassy Buenos Aires
Av. Colombia 4300
(C1425GMN) Buenos Aires
Argentina
Telephone: +(54)(11) 5777-4533
Emergency After-Hours Telephone: +(54)(11) 5777-4354
Fax: +(54)(11) 5777-4240
Email: BuenosAires-ACS@state.gov
Visit the U.S. Embassy website before leaving to confirm correct contact details for the U.S. Embassy in Argentina.
The embassy also offers an emergency contact line for U.S. citizens. If you have an emergency, you can call the ACS Emergency Line at (54-11) 5777-4354 while in Argentina.
If you have any questions or concerns about traveling to Argentina or are wondering what shots you may need for your trip, schedule an appointment with your local Passport Health travel medicine clinic or call us at or booking online today.
Customer Reviews
Passport Health – Travel Vaccines for Argentina
Overall rating: 5 stars – 10 reviews
"

Trip to Argentina

"

"My daughter is going to Argentina for the first time. The nurse gave us a nice packet about the country and made recommendations for vaccinations and other over the counter medicines to take. We bought all of them there at the office."
"

Updating shots

"

"My wife & I needed to update our shots for a trip to South America. Our nurse was friendly, informative (specifically Argentina), and "soft sell" products that might be needed on our 4 week trip. This was our 2nd time using Passport Health in 3 years. We will continue to use them for our world travels."
"

Good experience

"

"I had an excellent experience at Passport. I was seen at the exact time of my appointment, the nurse was very friendly and knowledgeable (and an excellent shot-giver!). I was in and out in 20 minutes with the two shots and all the information I needed for my trip to Argentina."
"

Great Clinic Experience

"

"VERY friendly, professional, knowledgeable! I absolutely made the right choice by using this service to get myself prepared and up to date to travel to Argentina."
"

Fantastic Experience!

"

"My visit was custom created for me, very thorough and answered all of my questions. I felt very prepared for my trip to Argentina."
"

Very informative!

"

"Our experience at the passport health office in Lawrenceville, with MaryAnn, was excellent. She provided extensive information for our upcoming trip to Argentina & answered all of our questions. She was very attentive to each of us."
"

Review of Appointment

"

"I visited Passport Health in order to determine the right vaccinations to visit Argentina. My nurse was very knowledgeable and approachable."
"

Great Expectations

"

"I arrived early for my appt. as I didn't know that part of town. I was greeted by Jane and she explained that there were two appts. ahead of me and I expected that. She attended to me before my apt time and explained everything to me about traveling to Argentina. She gave me two vaccinations that I didn't feel at all. She was professional and friendly and exceed my expectations. Thank you Jane for outstanding service."
"

Attention to Details

"

"I left the Passport Health facility feeling a little better know that I have been armed with the necessary vaccinations, and tools to make my trip to Argentina a safe and pleasant trip. Your staff was very professional and Mary Kate made me feel very comfortable with our discussion."
"

Feeling prepared for my trip

"

"I feel very informed about what preparations I need to make for my visit to Argentina. I appreciate the assistance in figuring out what I need to take with me on the trip."
On This Page:
Do I Need Vaccines for Argentina?
Do I Need a Visa or Passport for Argentina?
What Is the Climate Like in Argentina?
Is It Safe to Travel to Argentina?
Extreme Sporting in Argentina
What Should I Take to Argentina?
U.S. Embassy in Argentina