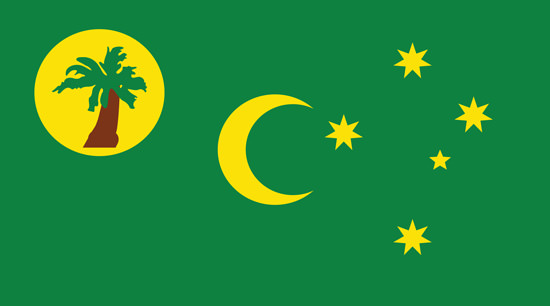 Travel Vaccines and Advice for the Cocos (Keeling) Islands
Cocos (Keeling) Islands is an external territory of Australia located in the Indian Ocean to the west of Australia. The islands consist of 27 coral islands, but only two are inhabited: West and Home Island.
Only 600 people are official residents of the Cocos, with the majority of people living in Bantam.
A majority of the population practices Sunni Islam and speak a native dialect of Malay. English is also a native language.
About 400 people live in Bantam on Home Island and 200 live on West Island.
Do I Need Vaccines for Cocos (Keeling) Islands?
Yes, some vaccines are recommended or required for Cocos (Keeling) Islands. The CDC and WHO recommend the following vaccinations for Cocos (Keeling) Islands: hepatitis A, hepatitis B, typhoid, yellow fever, meningitis, polio, measles, mumps and rubella (MMR), Tdap (tetanus, diphtheria and pertussis), chickenpox, shingles, pneumonia and influenza.
COVID-19 vaccination is recommended for travel to all regions, both foreign and domestic. Check with your local Passport Health clinic if immunization is offered in your area.
See the bullets below to learn more about some of these key immunizations:
See the tables below for more information:
Recommended Travel Vaccinations for Cocos (Keeling) Islands

VACCINE
HOW DISEASE SPREADS
DETAILS

COVID-19
Airborne & Direct Contact
Recommended for all unvaccinated individuals who qualify for vaccination
Hepatitis A
Food & Water
Recommended for most travelers
Hepatitis B
Blood & Body Fluids
Accelerated schedule available
Typhoid
Food & Water
Shot lasts 2 years. Oral vaccine lasts 5 years, must be able to swallow pills. Oral doses must be kept in refrigerator.
Yellow Fever
Mosquito
Required if traveling from a country with risk of yellow fever transmission. Excludes the Galapagos in Ecuador and Misiones in Argentina.
Routine Vaccinations for Cocos (Keeling) Islands

VACCINE
HOW DISEASE SPREADS
DETAILS

Measles Mumps Rubella (MMR)
Various Vectors
Given to anyone unvaccinated and/or born after 1957. One time adult booster recommended.
TDAP (Tetanus, Diphtheria & Pertussis)
Wounds & Airborne
Only one adult booster of pertussis required.
Chickenpox
Direct Contact & Airborne
Given to those unvaccinated that did not have chickenpox.
Shingles
Direct Contact
Vaccine can still be given if you have had shingles.
Pneumonia
Airborne
Two vaccines given separately. All 65+ or immunocompromised should receive both.
Influenza
Airborne
Vaccine components change annually.
Meningitis
Airborne & Direct Contact
Given to anyone unvaccinated or at an increased risk, especially students.
Polio
Food & Water
Considered a routine vaccination for most travel itineraries. Single adult booster recommended.
Health Clinics are available on West and Home Island and are able to provide basic services. If you need serious medical care, you will likely be flown to Perth for treatment.
To find out more about these vaccines, see our vaccinations page. Ready to travel safely? Book your appointment either call or start booking online now.
Do I Need a Visa or Passport for Cocos (Keeling) Islands?
The Cocos is a territory of Australia.
Americans planning to go to the Cocos will need a valid U.S. passport and a visa (or ETA) to enter. Many U.S. passport holders choose to get an Electronic Travel Authority (ETA), which is a label-free, electronic visa.
An ETA holder can travel to Australia as many times as they wish within 12 months of the ETA's issue date. The longest length of each stay is three months.
Cocos (Keeling) Islands Entry Requirements

Do I Need A…
For My Trip to Cocos (Keeling) Islands?

Passport
Tourist Visa
Business Visa
Vaccinations
Sources: Embassy of Australia and U.S. State Department
What Is the Climate Like in Cocos (Keeling) Islands?
The Cocos Keeling Islands are located in the Indian Ocean between Australia and Sri Lanka. The islands have a warm and humid tropical climate with two main seasons: a wet season and a dry season.
West Island is the most popular tourist destination on the islands. The weather there is warm and humid all year round. During the wet season from December to April, visitors can expect frequent showers and thunderstorms. The dry season from May to November offers sunny weather with low humidity.
Home Island is also a popular destination and has a similar climate to West Island.
Visitors to the Cocos Keeling Islands should expect warm, tropical weather, occasional rain during the wet season, and dry, sunny conditions during the dry season.
How Safe Is Cocos (Keeling) Islands?
The Cocos Keeling Islands are a generally safe place to visit. But, travelers should still take precautions to ensure their safety.
When visiting the Cocos Keeling Islands, it is important to dress modestly and avoid revealing clothing. It is also important to be aware of the weather, as the islands can experience tropical cyclones and other weather events.
Travelers should only swim in designated areas and follow safety guidelines provided by local authorities. Strong currents are common in the region. Wildlife, including sharks, can be present, so it is important to take precautions when swimming or diving.
Travelers should use common sense, stay aware of their surroundings, avoid walking alone at night.
By following these tips, travelers can enjoy a safe and enjoyable trip to the Cocos Keeling Islands.
Direction Island
Avoid an Embarrassing Stop
Direction Island is a pretty island in the Cocos Keeling Islands that is great for tourists to visit. People like to go there because it is beautiful with clear water, sand and sea life. There are lots of colorful fish, turtles, and even some sharks that live in the coral reef around the island. Visitors can rent gear to go snorkeling or diving.
You can also have a picnic on Direction Island or camp there overnight if you want to stay longer. There are tables and barbecues available for visitors to use. It is a good idea to get a camping permit from the local visitor center before you go.
Direction Island has a stunning beach with soft white sand and clear water. It is perfect for taking a walk or relaxing in the sun.
What Should I Take To Cocos (Keeling) Islands?
If you're going on a trip to the Cocos Keeling Islands, located in the Indian Ocean, there are some important things you should pack.
It's a tropical place, so it's important to bring light and breathable clothing like t-shirts, shorts, dresses, and swimwear. Don't forget comfortable walking shoes, sandals, and flip-flops for exploring the island. You should also bring sun protection, like sunscreen, sunglasses, and a hat, to protect yourself from the strong sun.
Mosquitoes are common on the island, so it's important to bring insect repellent too. If you have your own snorkeling gear, it's a good idea to bring it, but you can also rent gear on the island. Bring a camera or a waterproof phone case to take pictures underwater.
Bring any necessary prescription medications, as well as over-the-counter medications like pain relievers and motion sickness medication. Be sure to have enough cash as credit cards are not widely accepted.
Remember to pack light, as there are weight restrictions on flights to the island. Check the weather forecast before you go to ensure you're packing properly for the conditions.
U.S. Embassy in Cocos (Keeling) Islands
All Americans visiting the Cocos should register online with the U.S. Department of State before departure. This will inform the office of your travel plans within the country and will allow them to reach out in the case of an emergency or evacuation.
There is no U.S. embassy in the Cocos, but it is served by the embassy in Australia.
U.S. Embassy Canberra
Moonah Place
Yarralumla, ACT 2600
Telephone: (02) 6214-5600
Email: AskEmbassyCanberra@state.gov
If you have any questions about traveling to the Cocos or are wondering what shots you may need for your trip, schedule an appointment with your local Passport Health travel medicine clinic. Call us at or book online now and protect yourself today.
Customer Reviews
Passport Health – Travel Vaccines for the Cocos