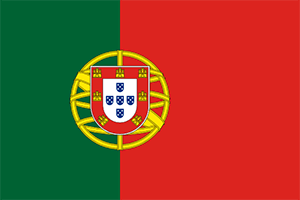 Do I Need Vaccines for Portugal?
Do I Need a Passport or Visa for Portugal?
What Is the Climate like in Portugal?
How Safe Is Portugal?
Capela de Ossos Bone Chapel
What Should I Take to Portugal?
U.S. Embassy in Portugal
Portugal is located in southwestern Europe. It is a sovereign state on the Iberian Peninsula. With an amazing Atlantic coast, Portugal is a must visit.
Travelers can ride the rails, surf the beaches, and enjoy breathtaking scenery. People can also experience the amazing sights of Sintra, immerse themselves in the nightlife of Lisbon and much more.
While Portugal has a lot to offer like wine and port, architecture, and music, the food is no exception. They are known for their seafood, country cooking, and many other specialties.
Whether you love to see the sites, learn about history or enjoy the food, Portugal has something for everyone.
Do I Need Vaccines for Portugal?
Yes, some vaccines are recommended or required for Portugal. The CDC and WHO recommend the following vaccines for Portugal: hepatitis A, hepatitis B, rabies, and influenza.
---
It's important to stay up-to-date with the current health issues in Portugal. If you end up not feeling well after you trip, you should go see your doctor. You should tell your doctor where you went and what you did on your trip.
See our vaccinations page to learn more about these infections and vaccines. Ready to protect yourself? Book your travel health appointment today by calling or schedule online now.
Customer Reviews
Passport Health

Travel Vaccines for Portugal
Overall rating:

5

stars –

8

reviews
"

Really Knew Their Stuff

"

"Myself, my husband and my son are going to Portugal and the team at Passport Health put all of our fears to rest. They were very knowledgable about where exactly we were going and asked all of the right questions about how we were going to get there, what we were going to do and every other relevant detail of our trip. We left feeling assured with a 6-year-old son who just got a shot…and was happy."
"

Great Service!

"

"The nurse at the Bowie office was excellent! She was very knowledgeable and advised on the required vaccines for my trip to Portugal. I will definitely refer friends to Passport Health!"
"

Pre-Travel Consultation

"

"My wife and I visited this facility in preparation for an upcoming trip to Portugal. The location is very convenient, the staff is very knowledgeable, and the nurse who took care of us was extremely professional."
"

Highly Recommend

"

"Passport Health achieved and exceeded all of my expectations for my families needs for traveleing to Portugal. The Nurse Practitioner was excellent. I had to call back with questions for the clerical staff and they were also very helpful. I totally recommend Passport for anyone traveling abroad as they have the expertise! xaceived"
"

Learned so much

"

"Our RN was very knowledgable in assisting my wife and I with vaccinations needed for our upcoming trip to Portugal. The information binder is full of interesting information. It was a very pleasant experience!"
"

More than I expected

"

"My wife and I came to Passport Health to get immunizations before a trip to Portugal. We got so much more. The nurse took the time to explain everything about our trip, not a generic trip. He helped with planning what we should pack and eat, as well as providing us with the shots that we needed. He really prepared us for our trip."
"

Vaccines for South Africa

"

"Our nurse spent a lot of time with us informing us about our upcoming trip to Portugal which we found very informative. We were very pleased with our experience."
"

Fabulous Service

"

"Our nurse bent over backwards to help usget through the maze of medical requirements for our travels to Portugal and North Africa. Due to some recent cancer issues, that thankfully are now ok, special handling was required. She made it all happen with no stress on our part."
Do I Need a Passport or Visa for Portugal?
A visa is not required for Portugal if you are staying less than 90 days. But, you should have a valid passport at entry.
Sources: U.S. State Department and Embassy of Portugal
For more information contact a Passport Health Passport and Visa specialist by calling 1-844-366-8472 or by filling out our online form.
What Is the Climate like in Portugal?
The climate is different in certain areas of Portugal. Portugal is colder than Spain because the Atlantic Ocean is cool. There's a maritime climate in the western part of Portugal. The southern part has a Mediterranean climate. Portugal has precipitation, hurricanes, and hot and cold weather.
How Safe Is Portugal?
Pickpocketing and purse-snatchers exist in Portugal in tourist sites, restaurants, and public transportation. You should keep your valuables close to you, be aware of what is around you, and avoid using ATMs in sketchy areas. Keep your valuables in a safe place like your hotel room. Don't stand near doors when you use public transportation. Only use a reputable taxi service when traveling, and don't leave valuables alone on the beach.
If you're a victim of a crime or domestic violence, you should contact the embassy for help.
Capela de Ossos Bone Chapel
There are a lot of cool and unusual places to explore in Portugal. The Cappela de Ossos Bone Chapel is one of those places. The chapel is made of human bones and a golden skeleton can be seen inside the chapel.
The chapel is located in Faro, Portugal and appears to be a normal looking chapel on the outside. It holds a lot of history with an inscription on the door that says, "Stop here and think of the fate that will befall you". The Carmelite monks who created the chapel put up this inscription.
The chapel walls are made from femurs with mortar. The interior is filled with skulls and the bones of 1,245 monks.
What Should I Take to Portugal?
Packing for a trip to Portugal, there are certain things you need to bring to be ready to travel.
Visa and Passport — You need to have a passport that is 3 months before the date of departure. You don't need a visa if you are only planning to stay less than 90 days.


Money — Euros are accepted in Portugal. Typically you will need 50 euros a day to stay at a hostel and shop cheaply at grocery stores.


Clothes — If you're seeing the sites, you should bring comfortable shoes. But, to the beach sandals or flip-flops are ideal. The evenings can be cold. Dress in layers and bring clothes like a pashmina, scarf, cardigan, and a long sleeve cotton top. In the warmer weather you should pack clothes that are breathable as well as comfortable.


Pack for Health — You want to pack for not only your health but also for your safety. Prescription medicines, medical supplies, and over the counter medicines are ideal for your trip to Portugal. You should also bring supplies to prevent illness or injury and a first aid kit.
U.S. Embassy in Portugal
All Americans visiting Tunisia should register online with the U.S. Department of State before departure. This will inform the office of your travel plans within the country and will allow them to reach out in the case of an emergency or evacuation.
Once in Portugal, the information for the U.S. Embassy is:
U.S. Embassy Lisbon
Avenida das Forças Armadas
1600-081 Lisboa
Phone: 351-21-727-3300
Ready to start your next journey? Call us at or book online now!