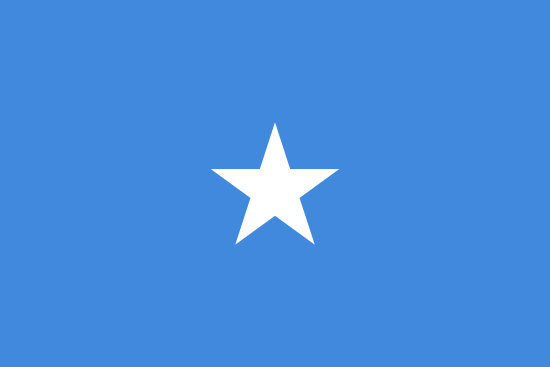 Historically, Somalia is a large commercial center due to its location on the Horn of Africa.
After its independence in 1969, several civil wars have occurred leading into perpetual civil unrest. Somali law consists of civil law, Islamic law, and customary law.
As a result of civil war, al-Shabaab, a militant group emerged in 2006 and pledged its allegiance to al-Qaeda in 2012. Due to this threat of terrorism and ongoing violence in Somalia, it is advised to not travel to the area.
The capital city of Somalia, Hargeisa, is the largest city of Somaliland. The city is a commercial center known for its rock art and construction. Somalia's other major cities include Mogadishu, Bosaso, and Galkayo.
Do I Need Vaccines for Somalia?
Yes, some vaccines are recommended or required for Somalia. The CDC and WHO recommend the following vaccines for Somalia: typhoid, hepatitis A, hepatitis B, cholera, rabies, and influenza.
---
Malaria is present and can be a serious risk in Somalia. Antimalarials are key to make sure you stay protected during your trip. Mosquito repellents and netting will also help you avoid diseases like malaria and Dengue.
Healthcare in Somalia is extremely limited with very low stocks of prescription medicine. Make sure to bring enough prescription drugs for your stay. Most medical facilities need payment before a procedure (costs not covered by Medicare).
Visit our vaccinations page to learn more. Travel safely with Passport Health and schedule your appointment today by calling or book online now.
Is Cholera in Somalia?
Due to recent drought conditions, cholera has spread quickly in parts of Somalia. Health organizations recommend cholera vaccination for travelers to the area.
Passport Health's travel clinics carry VaxChora, the only cholera vaccine approved for use in the United States. Book your cholera vaccination appointment today by calling or book online now.
Customer Reviews
Passport Health

Travel Vaccines for Somalia
Overall rating:

5

stars –

2

reviews
"

Nurse Was Great

"

"The nurse was ready for our appointment and had a helpful booklet on Somalia printed out for us to refer to. She was very knowledgeable and helpful. I like that you can buy the deet related products at the office too."
"

Excellent, thorough service

"

"I needed some vaccinations prior to my upcoming trip to Somalia, and this was an excellent choice. This place is conveniently located near the Farragurt North metro station, and they also have flexible hours. I was able to make a 7:30am appointment and was in and out in 30 minutes. The staff is friendly, knowledgeable, and helpful."
Do I Need a Visa or Passport for Somalia?
A valid passport and visa are required to travel to Somalia. It is important to prepare these documents long in advance as Somalia's changing political climate can affect document processing times.
Sources: U.S. State Department
For more information, see our Somalia visa page. Or contact a Passport Health Passport and Visa specialist by calling 1-844-366-8472 or by filling out our online form.
What is the Climate Like in Somalia?
Somalia tends to generally have a hot and tropical climate. Heat and humidity are to be expected.
Somalia remains hot year-round, due to its proximity to the equator.
Temperatures range from 82 degrees Fahrenheit to 104 degrees Fahrenheit. Depending on the region, dryness can vary. In the northeastern and central regions of Somalia, the climate is arid. In the northwestern and southwestern regions of Somalia, the climate is semiarid.
There are four main seasons, defined by wind patterns. They include the rainy season of Gu (April-June); the dry season of Xagaa (July-September); a short, rainy season named Dayr; and the tangambili periods that are in-between the two monsoons.
How safe is Somalia?
Due to increased terrorist activity from the al-Qaida affiliated group al Shabaab, the U.S. government strongly cautions against travel to Somalia.
There is a large threat of kidnapping of Westerners, especially in Somaliland and Puntland.
Attacks are most common at hotels, restaurants and airports (especially the Mogadishu Aden Adde International Airport).
U.S. citizens should avoid the coasts and sailing due to the high-risk of pirate attacks.
Don't walk alone at night, dress conservatively and don't openly display cash or valuables while in Somalia. Do not eat in public during the holy month of Ramadan.
Alcohol is prohibited in Somalia.
The U.S. does not have an embassy in Somalia, which further increases U.S. citizen's risks.
Neolithic Rock Paintings in Somalia
In Laas Geel, you will find Neolithic rock paintings throughout a large network of caves, recently discovered in 2003. It is now a UNESCO Heritage Site.
Many travelers claim that if Somalia was more safe, this would be a popular tourist attraction.
These cave paintings on the outskirts of Hargeisa, Somaliland, are some of the earliest cave paintings in Africa. It is a good day trip from the city and would take a couple of hours to view the caves.
The paintings depict cattle, dogs and giraffes.
What Should I Take To Somalia?
Here are some essential items to consider for your trip to Somalia:
Prescription meds are hard to find in Somalia and when found, they could be counterfeit.


Bring clothing to dress like the locals. Women should pack long shirts and skirts; no pants. They should also wear headscarves around their heads. Men should always wear long pants.
U.S. Embassy in Somalia
All Americans visiting Somalia should register online with the U.S. Department of State before departure. This will inform the office of your travel plans within the country and will allow them to reach out in the case of an emergency or evacuation.
Unfortunately, there is not currently an embassy nor consulate in Somalia. The U.S. government has put Somalia under the jurisdiction of the Kenyan Embassy:
U.S. Embassy Kenya
United Nations Avenue
Gigiri, Nairobi, Kenya
Telephone: (254) (20) 363-6000 (Monday through Thursday, 8:15 a.m. to 5:30 p.m. and Friday from 8:15 a.m. to 1:00 p.m.)
Emergency After-Hours Telephone: (254) (20) 363-6170
Fax: (254) (20) 363-6410
Email: kenya_acs@state.gov
If you have any questions about traveling to Somalia or are wondering what shots you may need for your trip, schedule an appointment with your local Passport Health travel medicine clinic. Call us at or book online now! and protect yourself today.