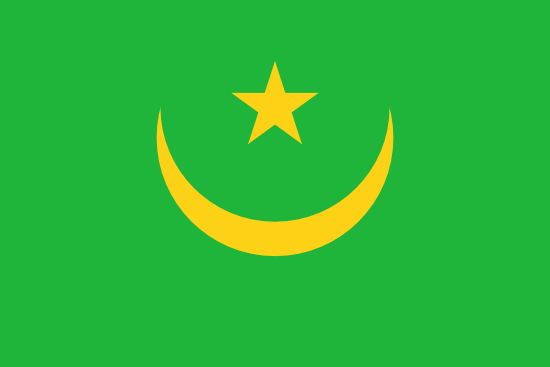 Travel Vaccines and Advice for Mauritania
Mauritania is one of the least-densely populated countries in the world, with many of its citizens residing in a single city. The majority of the population is concentrated in the south due to the desert region in the north.
Human Rights issues are present in Mauritania, mostly slavery, in which 4% of the population is enslaved. Mauritania has also received international scrutiny for its justice system.
Mauritania has a variety of languages including French, Pulaar, Soninke, and different forms of Arabic. Nearly everyone in the country practices Islam.
Do I Need Vaccines for Mauritania?
Yes, some vaccines are recommended or required for Mauritania. The CDC and WHO recommend the following vaccinations for Mauritania: hepatitis A, hepatitis B, typhoid, yellow fever, rabies, meningitis, polio, measles, mumps and rubella (MMR), Tdap (tetanus, diphtheria and pertussis), chickenpox, shingles, pneumonia and influenza.
COVID-19 vaccination is recommended for travel to all regions, both foreign and domestic. Check with your local Passport Health clinic if immunization is offered in your area.
See the bullets below to learn more about some of these key immunizations:
See the tables below for more information:
Recommended Travel Vaccinations for Mauritania

VACCINE
HOW DISEASE SPREADS
DETAILS

COVID-19
Airborne & Direct Contact
Recommended for all unvaccinated individuals who qualify for vaccination
Hepatitis A
Food & Water
Recommended for most travelers
Hepatitis B
Blood & Body Fluids
Accelerated schedule available
Typhoid
Food & Water
Shot lasts 2 years. Oral vaccine lasts 5 years, must be able to swallow pills. Oral doses must be kept in refrigerator.
Yellow Fever
Mosquito
Required if traveling from a region with yellow fever. Recommended for all travelers over 9 months of age traveling south of the Sahara.
Rabies
Saliva of Infected Animals
High risk country. Vaccine recommended for long-term travelers and those who may come in contact with animals.
Meningitis
Airborne & Direct Contact
Southern regions are located in the meningitis belt, vaccination is recommended during the dry season (Dec. – June)
Routine Vaccinations for Mauritania

VACCINE
HOW DISEASE SPREADS
DETAILS

Measles Mumps Rubella (MMR)
Various Vectors
Given to anyone unvaccinated and/or born after 1957. One time adult booster recommended.
TDAP (Tetanus, Diphtheria & Pertussis)
Wounds & Airborne
Only one adult booster of pertussis required.
Chickenpox
Direct Contact & Airborne
Given to those unvaccinated that did not have chickenpox.
Shingles
Direct Contact
Vaccine can still be given if you have had shingles.
Pneumonia
Airborne
Two vaccines given separately. All 65+ or immunocompromised should receive both.
Influenza
Airborne
Vaccine components change annually.
Polio
Food & Water
Considered a routine vaccination for most travel itineraries. Single adult booster recommended.
Proof of yellow fever immunization is required for entry to Mauritania. The mosquito-borne disease is still present in the African nation.
Malaria is also a risk for travelers to the region. Antimalarial medication is recommended.
Dengue and chikungunya are two more mosquito-borne infections found in Mauritania. While there is no vaccine against these diseases, repellents and mosquito netting are the best forms of protection.
Medical care is limited in Mauritania. There are facilities in large urban areas, but pharmacies may not be well-stocked. It is advised that you bring your own prescriptions and medicines.
See our vaccinations page to learn more about these infections and vaccines. Ready to protect yourself? Book your travel health appointment today by calling or schedule online now.
Do I Need a Visa or Passport for Mauritania?
A visa, valid passport and proof of yellow fever vaccination are required to enter Mauritania.
Mauritania Entry Requirements

Do I Need A…
For My Trip to Mauritania?

Passport
Tourist Visa
Business Visa
Vaccinations
Sources: Embassy of Mauritania and U.S. State Department
It is best to obtain your visa before arrival to avoid any unforeseen difficulty when entering the country.
What is the Climate Like in Mauritania?
Mauritania is a country in West Africa known for its hot and dry climate. Although it is mostly covered by the Sahara desert, there are some coastal areas that experience milder weather.
Nouakchott, the capital city, and Banc d'Arguin National Park are located on the Atlantic coast and have hot desert climates with high temperatures around 85 degrees throughout the year. They both experience a short rainy season from July to September.
Chinguetti, a small town located in the Adrar Region, has a hot desert climate with high temperatures averaging around 95 during the summer and 80 during the winter.
Atar, the capital of the Adrar Region, has a hot desert climate with high temperatures averaging around 100 degrees during the summer and 70 during the winter.
How Safe is Mauritania?
Try to stay in well-lit areas and keep an eye on your belongings.
Dress appropriately when you're in public. Mauritania is mostly a Muslim country, so it's important to cover your shoulders and legs, and men should not wear shorts. Avoid political demonstrations as these can sometimes be dangerous. If you're planning on exploring the deserts or rural areas of Mauritania, it's important to use a trusted guide who knows the area well. They can help you stay safe.
Be cautious of people who approach you on the street and try to sell you something or offer unsolicited help. Check the latest travel advisories from your government before you travel. These advisories will give you important information on safety and security concerns in the country.
By following these tips, you can have a safe and enjoyable trip to Mauritania.
Bird Watching in Mauritania
Avoid an Embarrassing Stop
Along the Atlantic coast, Parc National du Banc d'Arguin welcomes birds of all species that are migrating from Europe to Africa. Recognized as a World-Heritage site, this national park is the perfect place for bird-watching and is considered one of the best places to bird watch in Africa.
You can enter the park best by boat if you take one from a small village called Iwik. The park itself is made up of sand-dunes, swamps and coastal waters.
Millions of birds are recorded coming to this spot every year, including sandpipers, flamingos, pelicans, and egrets.
The best time of year to visit the park is in December and January, which is mating season.
What Should I Take To Mauritania?
Mauritania is a hot desert country, it's important to pack light and breathable clothing like loose-fitting shirts and pants to stay comfortable. You should also bring items to protect yourself from the sun, like sunscreen, sunglasses, and a hat. Drinking lots of water is essential, so bring a reusable water bottle.
A basic first aid kit with bandages and medication is a good idea, and you may need a travel adapter to charge your electronics. Cash is recommended, as credit cards may not be accepted everywhere. To protect against insect-borne diseases like malaria and dengue fever, bring insect repellent containing DEET.
Comfortable walking shoes are a must for exploring Mauritania's natural and historical sites, and a camera can capture memories of your trip. Remember to dress respectfully, as Mauritania is a Muslim country where conservative dress is expected.
U.S. Embassy in Mauritania
All Americans visiting Mauritania should register online with the U.S. Department of State before departure. This will inform the office of your travel plans within the country and will allow them to reach out in the case of an emergency or evacuation.
Once in Mauritania, the information for the U.S. Embassy is:
U.S. Embassy Nouakchott
Nouadhibou Road, Avenue Al Quds,
NOT PRTZ.
Nouakchott, Mauritania
Telephone: +(222) 4525-2660
Emergency After-Hours Telephone: +(222) 3662-8163
Fax: (222) 4525-1592
Email: ConsularNKC@state.gov
If you have any questions about traveling to Mauritania or are wondering what shots you may need for your trip, schedule an appointment with your local Passport Health travel medicine clinic. Call us at or book online now and protect yourself today.
Customer Reviews