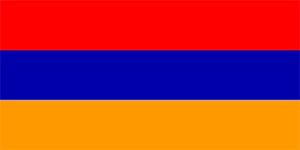 Do I Need Vaccines For Armenia?
Do I Need a Visa for Armenia?
What is the Climate Like in Armenia?
How Safe is Armenia?
The Geghard Monastery in Armenia
What Should I Take To Armenia?
U.S. Embassy in Armenia
Armenia may not have a reputation as a tourist destination, but do not let that deter you from visiting. From breathtaking monasteries to great cafes, Armenia is on travelers' radar.
Armenia is considered a European or Middle Eastern country despite being in Asia.
Yerevan is a cozy destination for all types of travelers. The city is full of restaurants, venues, and shops. Museums here are popular including the History Museum of Armenia and the Armenian Military Museum. Geghard Monastery is a must see. It is in the Yerevan region, and has religious significance with superb views.
Armenia is a very mountainous country and Dilijan is in the center of it all. Often a getaway for citizens from all over the country, Dilijan is an escape for those outdoor loving travelers. Its pleasant hiking trails, lakes, and distant mountains provide a great scenic backdrop.
Do I Need Vaccines For Armenia?
Yes, some vaccines are recommended or required for Armenia. The CDC and WHO recommend the following vaccines for Armenia: hepatitis A, hepatitis B, rabies, and influenza.
---
Tuberculosis is a threat in Armenia. No tuberculosis vaccine is available in the U.S. If you feel you may have been exposed, Passport Health clinics offer TB testing at most locations.
Visit our vaccinations page to learn more. Travel safely with Passport Health and schedule your appointment today by calling or book online now.
Customer Reviews
Passport Health

Travel Vaccines for Armenia
Overall rating:

5

stars –

2

reviews
"

Best Clinic Visit Ever

"

"Got my shots for a trip to Armenia. The health care provider was informative, engaging and funny. I feel fully preparred to travel with the guidance she gave. I wish all medical related visits were this delightful. She's a keeper!"
"

Shots for trip to Armenia

"

"This was a great experience. I would recommend this to everyone. The RN was very helpful and answered all my questions. I was put at ease once I left knowing what I can do and can't do once arriving in Armenia. Thanks!"
Do I Need a Visa for Armenia?
Travelers staying shorter than 180 days in Armenia do not need a visa. You must have a valid passport at the time of entry. If you do plan to stay longer than 180 days, a visa is required.
Sources: U.S. State Department and Embassy of Armenia
For more information contact a Passport Health Passport and Visa specialist by calling 1-844-366-8472 or by filling out our online form.
What is the Climate Like in Armenia?
Armenia is considered a highland continental climate, with mountainous features. Because of its size, it is best to classify Armenia by season. Here are the descriptions of the four major seasons in Armenia:
Spring – Spring is short in Armenia. Expect decent temperatures in the 70's.


Summer – The warmest time of the year; nights can be colder though. Temperatures stay in the 80's most days.


Fall – A longer season in Armenia. Temperatures are usually in the 60's.


Winter – A dry climate means harsher winters with lots of snow. Temperatures hover in the 20's with occasion dips lower.
Temperatures do vary by geographical area in the country. A rainy season occurs during the summer, though only amounts to about 10 to 20 inches of rain total. The best time to visit is in June or September, when rainfall is low and temperatures are comfortable.
How Safe is Armenia?
Armenia is as an area with little crime. But, remain alert in crowded areas and keep belongings close. The most frequent reported crime is theft. Store important belongings in a safe space.
Transportation in Armenia is more variable than that in the U.S. Rules of the road are different including more reckless driving and unkept or unpaved roads. Avoid traveling in the nighttime and avoiding any bordering areas of Azerbaijan due to conflict.
Public transportation in Armenia is frequently reported as dangerous and poorly kept. If you do choose public transportation, minibuses are the most common form in Armenia. Taxis are also available.
The Geghard Monastery in Armenia
A UNESCO World Heritage Site, the Geghard Monastery stunning architecture will take you on a trip through history. Dating back to the 4th century, this monastery was crafted over time with authentic Armenian stonework. The structure is beautifully built into the land and rock formations around it.
Another aspect of its significance comes from what is found inside. During the crucifixion, Jesus was pierced with a spear. It is said to now be housed here at the Geghard Monastery.
Not quite that enthralled by religion? Geghard Monastery also offers fantastic views of the Azat River Gorge. It is a very calming location, a great day trip to escape the bustling of city life. Additionally, the castle-like architecture is a mecca for those seeking a great photograph!
What Should I Take To Armenia?
Here are recommended items to bring along with you to Armenia:
Medication and First Aid – It is always better to be prepared. Bring a simple first aid kit and any medications you may need.


Sunscreen and Bug Spray – Sunscreen should be on your list even in the winter months. Look to invest in bug spray that contains at least 20 percent of DEET or more.


Clothing – High quality fabric clothing is suggested for Armenia. Armenian women do not go out in public in anything above their knees. Be sure to pack proper clothing to accommodate for local customs. A good pair of shoes is also suggested for the varying conditions.
U.S. Embassy in Armenia
There is one U.S. Embassy located in Armenia. The U.S. State Department recommends signing up for the Smart Traveler Enrollment Program (STEP). This free program allows the U.S. Embassy in Armenia to update you if any emergency or risks were to occur within the country.
U.S. Embassy Yerevan
1 American Avenue
Yerevan 0082, Republic of Armenia
Telephone: (+37410) 464-700
Ready to start your next journey? Call us at or book online now!