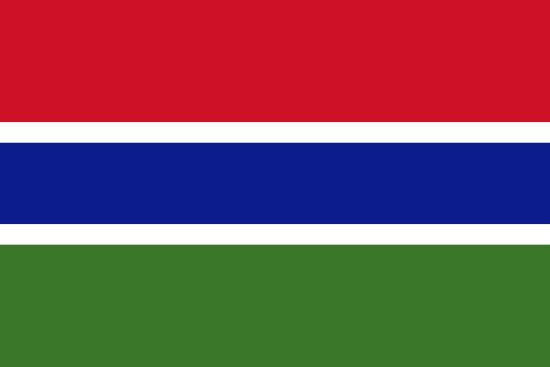 Travel Vaccines and Advice for Gambia
The Gambia is also called "The Smiling Coast of Africa". Its beautiful coastline and temperate weather attracts travelers from all corners of the globe.
Gambia is biologically diverse and is home to many national parks with a wide variety of species.
The country was once heavily involved in the slave trade. As a result, there are many monuments and museums that serve to educate travelers about the trade.
Whether you are looking to relax on the beach, seeking an adventure, or dive into a different culture, Gambia has something to offer for every traveler.
Do I Need Vaccines for Gambia?
Yes, some vaccines are recommended or required for Gambia. The CDC and WHO recommend the following vaccinations for Gambia: hepatitis A, hepatitis B, typhoid, yellow fever, rabies, meningitis, polio, measles, mumps and rubella (MMR), Tdap (tetanus, diphtheria and pertussis), chickenpox, shingles, pneumonia and influenza.
COVID-19 vaccination is recommended for travel to all regions, both foreign and domestic. Check with your local Passport Health clinic if immunization is offered in your area.
See the bullets below to learn more about some of these key immunizations:
See the tables below for more information:
Recommended Travel Vaccinations for Gambia

VACCINE
HOW DISEASE SPREADS
DETAILS

COVID-19
Airborne & Direct Contact
Recommended for all unvaccinated individuals who qualify for vaccination
Hepatitis A
Food & Water
Recommended for most travelers
Hepatitis B
Blood & Body Fluids
Accelerated schedule available
Typhoid
Food & Water
Shot lasts 2 years. Oral vaccine lasts 5 years, must be able to swallow pills. Oral doses must be kept in refrigerator.
Yellow Fever
Mosquito
Required for all travelers over 9 months of age.
Rabies
Saliva of Infected Animals
High risk country. Vaccine recommended for long-term travelers and those who may come in contact with animals.
Meningitis
Airborne & Direct Contact
Proof of vaccination may be required. Located in the meningitis belt, vaccination is recommended during the dry season (Dec. – June)
Routine Vaccinations for Gambia

VACCINE
HOW DISEASE SPREADS
DETAILS

Measles Mumps Rubella (MMR)
Various Vectors
Given to anyone unvaccinated and/or born after 1957. One time adult booster recommended.
TDAP (Tetanus, Diphtheria & Pertussis)
Wounds & Airborne
Only one adult booster of pertussis required.
Chickenpox
Direct Contact & Airborne
Given to those unvaccinated that did not have chickenpox.
Shingles
Direct Contact
Vaccine can still be given if you have had shingles.
Pneumonia
Airborne
Two vaccines given separately. All 65+ or immunocompromised should receive both.
Influenza
Airborne
Vaccine components change annually.
Polio
Food & Water
Considered a routine vaccination for most travel itineraries. Single adult booster recommended.
Proof of yellow fever vaccination is required for entry to Gambia.
Malaria is an ongoing threat in Gambia. It is strongly recommended individuals take antimalarial medication before visiting Gambia. Other measures such as repellents and netting will provide more protection.
Gambia is in the 'meningitis belt', a section of Africa known for meningitis transmission. Meningitis vaccination is recommended for individuals traveling from December to June.
'Banjul Belly' or travelers diarrhea is common and precautions should be taken. Make sure to add a traveler's diarrhea kit to your packing list.
Visit our vaccinations page to learn more. Travel safely with Passport Health and schedule your appointment today by calling or book online now.
Do I Need a Visa or Passport for Gambia?
Yes, U.S. citizens visiting Gambia must have a visa and and passport valid for the duration of their stay.
Sources: Embassy of Gambia and U.S. State Department
Proof of yellow fever vaccination is also required for entry.
What is the Climate Like in Gambia?
Gambia has a wet and dry season. The wet seasons lasts from June to October. The dry season ranges from November to May.
The months of November to March are cool and involve a sporadic breeze. January to April is characterized by the Harmattan winds that blow from the Indian to the Atlantic Ocean. In Gambia the average daytime temperature is around 80 degrees.
How Safe is Gambia?
There has been a rise in attacks on tourists. It is important to exercise a high degree of caution while traveling in Gambia.
pick-pocketing is very common, as is theft from hotel rooms and vehicles. Men called "bumsters" will often target tourists and offer themselves as tour guides. Beware of "bumsters" as they often demand high payments that are not agreed upon, politely decline any offers.
While in Gambia, monitor local media to avoid demonstrations and other large gatherings which often result in violence.
Many of the roads in Gambia, are narrow, poorly lit, and require a four wheel drive. Avoid driving in rural areas after dark. Police road blocks are common, and you may be asked for identification. Always cooperate with the authorities and stop at all police roadblocks and checkpoints.
For river crossings, wooden pirogues are often used. Do not use wooden pirogues as they lack security measures and are prone to overcrowding.
Visit Janjangbureh and Basse
Avoid an Embarrassing Stop
The town Janjangbureh, known as "Georgetown" is the old 'second' city of colonial times. Janjangbureh is one of the oldest river towns in Gambia. It serves as the administrative headquarters for the central river region.
Basse is another a river town with a lively feel. It is one of the major trading centers along the river. Basse is linguistically diverse with languages such as Arabic, French, Wolof, Serer, Mandinka and English being spoken.
An excursion to Janjangbureh and Basse is ideal for a traveler seeking an adventure.
What Should I Take To Gambia?
Here are some essential items to consider for your trip to Gambia:
Boots for Bush Treks or Safaris – Nothing is worse than sore feet, make sure you're protected.
Cover-Ups – Gambia is a very modest society. Men and women may need to cover up in some areas.
Long Sleeves, Pants, and Hats – These will help protect you from the sun as well as mosquitoes.
Personal Medical Kit – Some medical supplies can be difficult to find in Gambia. Make sure you bring a fully-stocked first-aid kit with you.
U.S. Embassy in Gambia
If you find yourself in need of help while traveling in Gambia, there is a U.S. embassy in the capital city of Banjul.
U.S. Embassy Banjul
92 Kairaba Avenue, Fajara
Banjul
The Gambia
Telephone: +(220) 439-2856, +(220) 439-2858 or +(220) 439-1971
Emergency After-Hours Telephone: +(220) 437-2856, x-2466
Fax: +(220) 439-2475
Email: ConsularBanjul@state.gov
Ready to start your next journey? Call us at or book online now!
Customer Reviews
Passport Health – Travel Vaccines for Gambia

Overall rating: 5 stars – 4 reviews

"

Well Worth The Visit

"

"In preparing for a trip to Gambia, the staff was extremely helpful, professional and thorough with not only immunizations needed, but other considerations to make for a trip that will be enjoyable. So glad I made the appointment and would very much recommend to others!"

"

What an experience! Amazing Service!

"

"I wish I remembered my Nurse Practitioners name, but she works in the Stamford office and she is amazing. She immediately greeted us and brought us to the evaluation room. She presented me with a detailed handbook made for my trip to Gambia with everything I need to know health wise and walked me through everything. I had four shots that day that was done in less than 15 seconds. I love the Stamford office of Passport Health!"

"

Travel advice

"

"Very informative visit covering recommended vaccines and travel precautions for my Gambia trip. Printed information will be valuable guide to take on the trip."

"

Just what I needed

"

"I received the shots and preventative medication I needed for a trip to Gambia but I also became educated on what I did or didn't need and why. I came away vaccinated and informed."

On This Page:
Do I Need Vaccines for Gambia?
Do I Need a Visa or Passport for Gambia?
What is the Climate Like in Gambia?
How Safe is Gambia?
Visit Janjangbureh and Basse
What Should I Take To Gambia?
U.S. Embassy in Gambia