The COVID-19 pandemic has affected travel to many countries. Angola may require you to have a negative COVID-19 test for entry.
Please see our COVID-19 Restrictions page to learn more.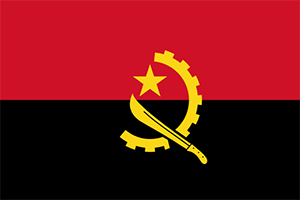 Travel Vaccines and Advice for Angola
Located in southern Africa, Angola has tropical beaches deserts and cultural history.
Travelers find themselves enchanted by hospitable communities and dazzling landmarks, like the Fortaleza de São Miguel.
Whether you are looking to set sail on a coastal escape up the Atlantic Ocean, to check an african safari off of your bucket list; Angola provides a trip filled with relaxation and exploration.
Do I Need Vaccines for Angola?
Yes, some vaccines are recommended or required for Angola. The CDC and WHO recommend the following vaccinations for Angola: hepatitis A, hepatitis B, typhoid, cholera, yellow fever, rabies, meningitis, polio, measles, mumps and rubella (MMR), Tdap (tetanus, diphtheria and pertussis), chickenpox, shingles, pneumonia and influenza.
COVID-19 vaccination is recommended for travel to all regions, both foreign and domestic. Check with your local Passport Health clinic if immunization is offered in your area.
See the bullets below to learn more about some of these key immunizations:
See the tables below for more information:
Recommended Travel Vaccinations for Angola

VACCINE
HOW DISEASE SPREADS
DETAILS

COVID-19
Airborne & Direct Contact
Recommended for all unvaccinated individuals who qualify for vaccination
Hepatitis A
Food & Water
Recommended for most travelers
Hepatitis B
Blood & Body Fluids
Accelerated schedule available
Typhoid
Food & Water
Shot lasts 2 years. Oral vaccine lasts 5 years, must be able to swallow pills. Oral doses must be kept in refrigerator.
Cholera
Food & Water
Areas of active cholera transmission include Uige and Cabinda.
Yellow Fever
Mosquito
Required for all travelers over 9 months of age
Rabies
Saliva of Infected Animals
High risk country. Vaccine recommended for long-term travelers and those who may come in contact with animals.
Routine Vaccinations for Angola

VACCINE
HOW DISEASE SPREADS
DETAILS

Measles Mumps Rubella (MMR)
Various Vectors
Given to anyone unvaccinated and/or born after 1957. One time adult booster recommended.
TDAP (Tetanus, Diphtheria & Pertussis)
Wounds & Airborne
Only one adult booster of pertussis required.
Chickenpox
Direct Contact & Airborne
Given to those unvaccinated that did not have chickenpox.
Shingles
Direct Contact
Vaccine can still be given if you have had shingles.
Pneumonia
Airborne
Two vaccines given seperately. All 65+ or immunocompromised should receive both.
Influenza
Airborne
Vaccine components change annually.
Meningitis
Airborne & Direct Contact
Given to anyone unvaccinated or at an increased risk, especially students.
Polio
Food & Water
Considered a routine vaccination for most travel itineraries. Single adult booster recommended.
Yellow fever vaccination is highly recommended. Recent outbreaks in Brazil and various regions of Africa have underscored the importance of this vaccine.
Dengue, malaria and chikungunya are also present in Angola. Make sure to bring mosquito repellent and netting. Antimalarials may be recommended based on your itinerary.
Some tick-borne infections are present as well. Be sure to take precautions.
Visit our vaccinations page to learn more. Travel safely with Passport Health and schedule your appointment today by calling or book online now.
Customer Reviews
Passport Health – Travel Vaccines for Angola

Overall rating: 5 stars – 6 reviews

"

Fast, informative and courteous.

"

"I was greeted promptly when i arrived at the office. Kim took the time to completely explain all of the imunizations that I would need for my upcomming trip to Angola. The fact binder that she gave me was filled with useful travel information. I also liked the fact that she was not pushy and let me decide what immunizations i needed. I have recommended Passport Health to my senior management."

"

North belt Office

"

"very efficient and professional. I left there feeling very comfortable with the health issues I could expect in Angola."

"

Travel Vaccinations

"

"The nurse was very professional, attentive, efficient and gave me very useful advice for my trip to Angola."

"

Great Education

"

"We are traveling to Angola and other parts of Africa. We were surprised by the complete rundown on what is needed or recommended. Full and easy to understand and we received the initial shots. Will return for followup as needed."

"

Immunizations Needed for Trip

"

"I discussed the immunizations needed for a trip that my wife and I will be taking to Angola. The nurse was very helpful in explaining what is needed and why."

"

Great Experience, First Rate Clinic

"

"I was very impressed with the clinic in Warrington, PA. The facility itself was first rate! It was the cleanest and most well kept medical center / health center / hospital I have ever been in. The nurse I saw was outstanding and provided me with everything I will need for my trip to Angola. I found my appointment to be very informative and the supplies as well as information I received will serve to be very useful I am sure!"

Do I Need a Visa for Angola?

A tourist visa is required for entry to Angola. A passport with at least six month's validity is also required.

Sources: Embassy of Angola and U.S. State Department

Visitors must show proof of yellow fever vaccination at entry. If you do not have proof of vaccination you may be sent home or quarantined for up to 10 days.

For more information, see our Angola visa page. Or contact a Passport Health Passport and Visa specialist by calling 1-844-366-8472 or by filling out our online form.

What Is the Climate Like in Angola?

There are two seasons: a dry, cool season from June to late September, and a rainy, hot season from October to April or May. The average temperature is in the high-60's. The weather is warmer along the coast and cooler on the central plateau.

Angola has a very distinct climate. The best time to visit Angola is during the winter months from May to October. Dry season occurs throughout May to October, and the hot rainy season which is November to April.

How Safe Is Angola?

This region of Africa can be dangerous. It is important to be aware of the potential dangers in the area.

Several epidemics have plagued the region of Angola. Yellow fever outbreaks are known to occur. Vaccination is required for entry to avoid the virus's spread.

Angola has also suffered war, and still affects certain areas of local life, to this day. Some of these areas contain large amounts of active landmines and explosives. Avoid wandering off of roads or trails in the rural Angola.

Crime rates are high throughout the country. Be careful in urban and rural areas. Avoid walking alone at night and travel in a group.

Parque Nacional de Kissama

Avoid an Embarrassing Stop

Outside of Luanda, this park is a wildlife sanctuary with stunning natural environments. The park began as a preserve in 1938 and evolved into a National Park in 1957.

Following the civil war, the Parque Nacional de Kissama is the only functioning national park in Angola. The park's population of buffalo, elephants and sea turtles is currently thriving. The park also received 10 elephants by air from Russia in 2000.

What Should I Take to Angola?

Like many African nations, Angola requires a bit of extra prep work. Make sure you have everything you need before your trip.

Insect Repellent – Angola is known for its mosquitoes population. Insect repellent could prove to be a lifesaver while traveling throughout the country. The repellent will likely be used a lot, so try purchasing a cream or mild-spray.
Electrical Adaptors – Electrical outlet standards vary by country. Make sure you bring the right connectors for Angolan outlets.
Modest Attire – While not required for many places, be sure to bring some modest attire for visits to sacred areas.

U.S. Embassy in Angola

No matter where you are traveling, be aware of the location of the U.S. Embassy. Should you ever need help or find yourself in danger, embassies or consulates can provide aid.

U.S. Embassy Luanda
Rua Houari Boumedienne #32
Luanda, Angola
C.P. 6468

Ready to start your next journey? Call us at or book online now!

On This Page:
Do I Need Vaccines for Angola?
Do I Need a Visa for Angola?
What Is the Climate Like in Angola?
How Safe Is Angola?
Parque Nacional de Kissama
What Should I Take to Angola?
U.S. Embassy in Angola