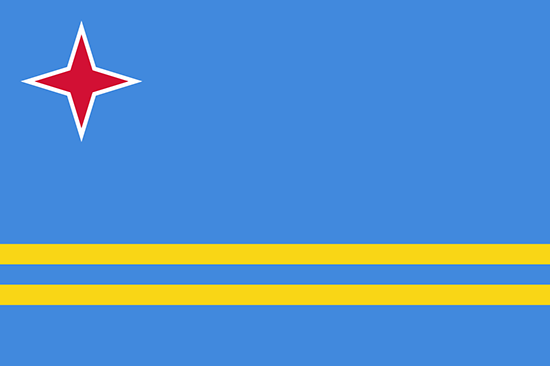 Travel Vaccines and Advice for Aruba
Popular with American travelers, Aruba is a top tropical destination. The country has ideal weather, including little rain. This makes Aruba's world-renowned beaches that much more astounding.
Aruba gives visitors the opportunity to experience a unique blend of cultures. You will find elements of many cultures plus its current Dutch influence throughout your stay.
Do I Need Vaccines for Aruba?
Yes, some vaccines are recommended or required for Aruba. The CDC and WHO recommend the following vaccinations for Aruba: hepatitis A, hepatitis B, typhoid, rabies, meningitis, polio, measles, mumps and rubella (MMR), Tdap (tetanus, diphtheria and pertussis), chickenpox, shingles, pneumonia and influenza.
COVID-19 vaccination is recommended for travel to all regions, both foreign and domestic. Check with your local Passport Health clinic if immunization is offered in your area.
See the bullets below to learn more about some of these key immunizations:
See the tables below for more information:
Recommended Travel Vaccinations for Aruba

VACCINE
HOW DISEASE SPREADS
DETAILS

COVID-19
Airborne & Direct Contact
Recommended for all unvaccinated individuals who qualify for vaccination
Hepatitis A
Food & Water
Recommended for most travelers
Hepatitis B
Blood & Body Fluids
Accelerated schedule available
Typhoid
Food & Water
Shot lasts 2 years. Oral vaccine lasts 5 years, must be able to swallow pills. Oral doses must be kept in refrigerator.
Rabies
Saliva of Infected Animals
Vaccine recommended for long-term travelers and those who may come in contact with animals.
Routine Vaccinations for Aruba

VACCINE
HOW DISEASE SPREADS
DETAILS

Measles Mumps Rubella (MMR)
Various Vectors
Given to anyone unvaccinated and/or born after 1957. One time adult booster recommended.
TDAP (Tetanus, Diphtheria & Pertussis)
Wounds & Airborne
Only one adult booster of pertussis required.
Chickenpox
Direct Contact & Airborne
Given to those unvaccinated that did not have chickenpox.
Shingles
Direct Contact
Vaccine can still be given if you have had shingles.
Pneumonia
Airborne
Two vaccines given separately. All 65+ or immunocompromised should receive both.
Influenza
Airborne
Vaccine components change annually.
Meningitis
Airborne & Direct Contact
Given to anyone unvaccinated or at an increased risk, especially students.
Polio
Food & Water
Considered a routine vaccination for most travel itineraries. Single adult booster recommended.
Dengue, Zika and chikungunya have all been found in Aruba. These mosquito-borne diseases pose a risk to all travelers. Be sure to bring mosquito repellents and netting.
Due to the presence of Zika, women who are pregnant or may become pregnant should consult with a physician before travel.
Travelers' diarrhea is another risk to travelers to Aruba. This common symptom can occur at any time for a variety of reasons. Consider bringing a travelers' diarrhea kit with you to avoid any unwanted gastric situations.
See our vaccinations page to learn more about these infections and vaccines. Ready to protect yourself? Book your travel health appointment today by calling or schedule online now.
Do I Need a Visa to Go to Aruba?
A passport is required for travel to Aruba. A visa is only required for stays longer than 30 days.
Aruba Entry Requirements

Do I Need A…
For My Trip to Aruba?

Passport
Tourist Visa
Business Visa
Vaccinations
Sources: Embassy of Aruba and U.S. State Department
Aruba may require proof of return travel and proof of sufficient funds upon entry.
Tourists cannot exceed six months of stay in a calendar year.
What is the Climate Like in Aruba?
Aruba has consistent weather throughout the year. The island stays in the low-80's on average. As expected, all the coastlines follow the typical beach climate.
The mainland area is a desert climate, with drier air. Each season has its own unique characteristics, prepare accordingly.
Winter – Though the coolest month in Aruba is January, do not let this fool you. Temperatures only fall to the mid-70's in winter months.
Spring – Generally less crowded, making it a great time to visit. Expect temperatures in the low- to mid-80's.
Summer – The driest part of the year, summer temperatures are only slightly warmer than spring.
Fall – September is the hottest month in Aruba due to the decrease in winds from the summer months. Temperatures can get to the high-80's.
The rainiest months are October to January, but rainfall is still lower than most the Caribbean.
How Safe is Aruba?
Aruba has very low crime levels. But, theft does take place on beaches where belonging are left unattended. Stay alert in crowds and keep your items close to you.
Always carry identification, specifically a photocopy of your passport. Leave your passport and travel documents in a safe space in your resort or hotel.
If you are under the age of 21 or traveling with people who are, be aware the legal drinking age is 18 in Aruba. It is important to be aware of how many alcoholic beverages you are consuming especially in an unfamiliar location.
Both rental vehicles and public transit are available. Aruban roads differ from the U.S. as animals and scooters are common. Keep in mind Aruba has different driving laws than the U.S. and you should be aware of these before driving.
Natural Bridge and Natural Pool in Aruba
Avoid an Embarrassing Stop
The north-eastern area of Aruba offers both the Natural Bridge and Natural Pool.
The Natural Bridge, originally a cave, was created over time by the constant ocean waves. Eventually, the cave collapsed creating the bridge you will see upon your travels. The bridge lost some of its original form in 2005 but is still a brilliant natural element of the island. You will find the Natural Bridge just north of Arikok National Park.
The Natural Pool is located in Arikok National Park, near the bridge. The pool is completely natural and is found among the rocks on the coastline. It is shielded by the rock face from the ocean waves, making for a unique and pleasant experience.
Access the Natural Pool either via an ATV tour or a hike through the natural park. The views of the ocean and surrounding land will not disappoint.
What Should I Take To Aruba?
Such a beautiful destination still requires some extra thing in your suitcase. Make sure you have these items in your luggage:
Medication and First Aid – It is always better to be prepared. Bring along any recommended medications and an appropriate first-aid kit.
Sunscreen and Bug Spray – Look to invest in sunscreen as well as sun protective clothing. Use bug spray that contains at least 20 percent of DEET or more.
Water and Beach Gear – Though available to buy in Aruba, consider bringing any beach gear with you. This includes goggles, snorkels, flippers, or beach games.
Electronics and Personal Belonging – If you cannot replace it, do not bring it. The risk of theft is low in Aruba but it can happen. The less you bring, the better for both travel and replacement purposes.
Clothing and Shoes – Sturdy shoes, and water shoes or flip flops for the beach are recommended.
United States Consulate in Aruba
There is no U.S. Consulate or Embassy located in Aruba. All requests are deferred to the nearby U.S. Consulate in Curacao. The U.S. State Department recommends signing up for the Smart Traveler Enrollment Program (STEP). This free program allows the U.S. Embassy in Curacao to update you if any emergency or risks were to occur.
U.S. Consulate General Curacao
J.B. Gorsiraweg 1,
Willemstad, Curaçao
Telephone: +(599) (9) 461-3066
Emergency After-Hours Telephone: +(599) (9) 510-6870
Fax: +(599) (9) 461-6489
Stay safe abroad with Passport Health. Call or book online now and start traveling safely today!
Customer Reviews
Passport Health Travel Vaccines for Aruba
Overall rating: 5 stars – 4 reviews
"

Great experience!

"

"I went to Passport Health to get shots for my upcoming trip to Aruba and the nurse as great!!!!"
"

1st experience and it was fantastic

"

"It was awesome. The nurse was excellent and knowledgeable about the country I was going to visit. She was calming my concerns regarding Aruba. Also it was a pleasure just to meet someone who has a great personality and loves what she does. I could tell. She is a New Yorker and her interpersonal skills were "awesome sauce"!! Pleasure was mine."
"

The nurse was so amazing

"

"This was my first to a travel health office. The nurse that worked with me was so professional , so knowledgeable and was so nice. I had a few reservations before I got there, but after to going over my trip to Aruba with her I was all in and best of all when I was getting my shots she had the hand of an angel. Thank you, so much a very happy customer."
"

Caribbean Travel health made easy

"

"I am traveling to Aruba for work. The nurse at Passport Health fully informed me of all of the health risks present in Aruba, especially the area of India I am traveling to. Based on those health risks I was provided with the appropriate preventative vaccinations, medications, and other prophylactics. The nurse was sensitive about the cost and insurance coverage when selecting medications, and also reviewed any side effects/complications associated with each medication. I walked away feeling well prepared for my trip."
On This Page:
Do I Need Vaccines For Aruba?
Do I Need a Visa to Go to Aruba?
What is the Climate Like in Aruba?
How Safe is Aruba?
Natural Bridge and Natural Pool in Aruba
What Should I Take To Aruba?
United States Consulate in Aruba