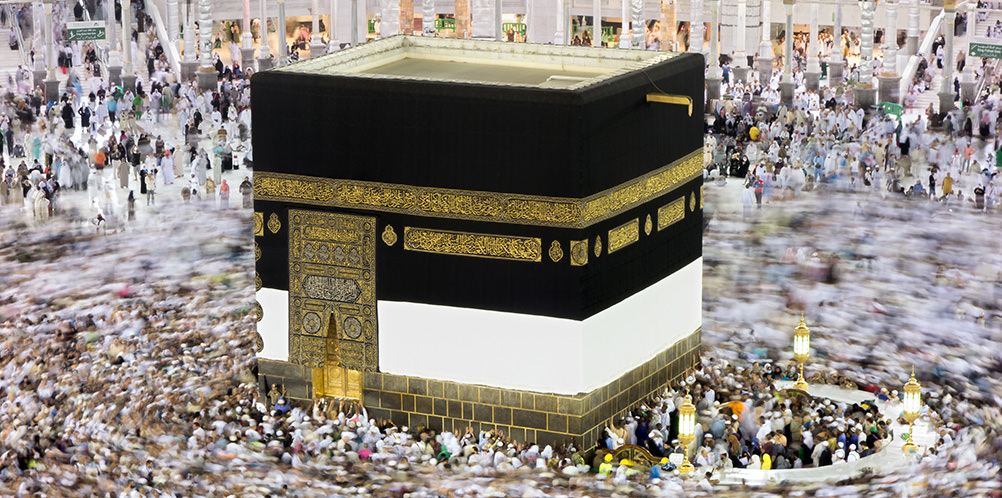 Meningitis Vaccination
What Is Meningitis?
Meningitis is an inflammation of the membranes that cover the brain and spinal cord. About 10 to 15 percent of cases can lead to death. But, some outbreaks have reached 50 percent mortality. Serious permanent side effects like deafness, brain damage and amputation can occur.
Each form of meningitis has some identifying markers. A few to be aware of are:
Bacterial – Carried and spread by bacteria, this form of the disease is vaccine-preventable.
Viral – While serious, this is often less severe than bacterial. Vaccines provide protection against this strain as well.
Fungal – This fungi-caused variant is rare and brings with it higher risks.
How Does Meningitis Spread?
Each form of meningitis spreads differently. Viral and bacterial will spread person-to-person through air droplets, kissing or nasal secretions. Fungal and parasitic are ususally cause by environmental factors.
Viral and bacterial are the most common variants. They are most often spread within communities that live or work together. Dorm living, close contact and shared facilities are some common risk areas.
Some regions of the world are at an increased risk for meningitis. These include the 'meningitis belt' in Africa and Saudi Arabia during the Hajj.
What Are the Symptoms of Meningitis?
Symptoms of meningitis can vary slightly based on the type of meningitis an individual has. Symptoms may develop over a few days or even a few hours. The most common symptoms include:
Severe headache
Nausea or vomiting
Light sensitivity
Seizures
Confusion or trouble concentrating
Skin rash (in some cases)
Symptoms can vary in newborns, but are generally the same. If you believe a newborn has meningitis, seek medical attention immediately.
What Types of Meningitis Are There?
There are six primary types of meningitis:
Bacterial – Meningitis caused by bacteria is one of the most dangerous. Those who believe they may have bacterial meningitis should seek medical attention immediately. Vaccines are available for protection from this form of meningitis.
Viral – Often dangerous, viral meningitis is caused by viruses in the body. This type of meningitis is vaccine-preventable.
Fungal – This type of meningitis is most common when fungal infection spreads from another part of the body to the spinal cord or brain. This infection cannot spread between people. Individuals with compromised immune systems are at an increased risk of a fungal infection spreading in this way. Fungal meningitis is rare, but is not vaccine preventable.
Parasitic – There are three main types of parasites that can cause meningitis. These generally come from ingesting contaminated or under-cooked meats that contain parasite eggs. Parasitic meningitis is not vaccine preventable.
Amebic – Known as primary amebic meningoencephaltis (PAM), this is a rare type of meningitis caused by ameba reaching the brain. Only 154 cases were reported between 1962 and 2021, but there have been only four survivors. This type of meningitis is not vaccine preventable.
Non-infectious – Meningitis is a symptom of some infections or medical conditions. Certain cancers, drugs or injuries can cause swelling of the brain or spinal cord (meningitis) and lead to life-threatening situations. Non-infectious meningitis is not vaccine preventable.
What Is the Meningitis Vaccine?
Do you need a meningitis vaccine?
Schedule an appointment with your local Passport Health Travel Medicine Specialist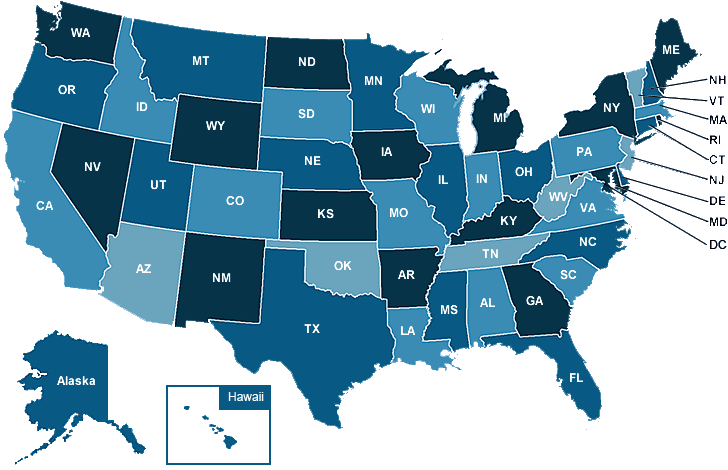 There are two types of meningitis vaccinations available in the U.S. One protects against A, C, W and Y strains, the other against B strains.
Meningitis B vaccination is recommended for youth age 16 to 23. It provides short term protection against infection. It is also recommended as a routine vaccination for some individuals over the age of 10 if: there has been an outbreak of meningitis B, they have a damaged or removed spleen, certain immune conditions among other similar indications.
Immunization against meningitis A, C, W and Y is recommended or required for most preteens.
Both of these vaccinations are relatively new. Many individuals over the age of 30 may not have been vaccinated.
Who Should Receive a Meningitis Vaccine?
Meningitis vaccination is recommended for individuals over 11-years-old. This includes both the A, C, W and Y immunization and the B vaccination.
Travelers or others who could be exposed to meningitis should also be vaccinated this includes:
Travelers to the 'meningitis belt' in Africa
Travelers going to Hajj in Saudi Arabia
Individuals who work in confined conditions
Healthcare workers
College or other students
If you have not been vaccinated, or are unsure of your vaccination history, Passport Health can help. We keep meningitis vaccinations in-stock and ready for your trip or need. Call to schedule your appointment or book online now.
Where Does Meningitis Occur?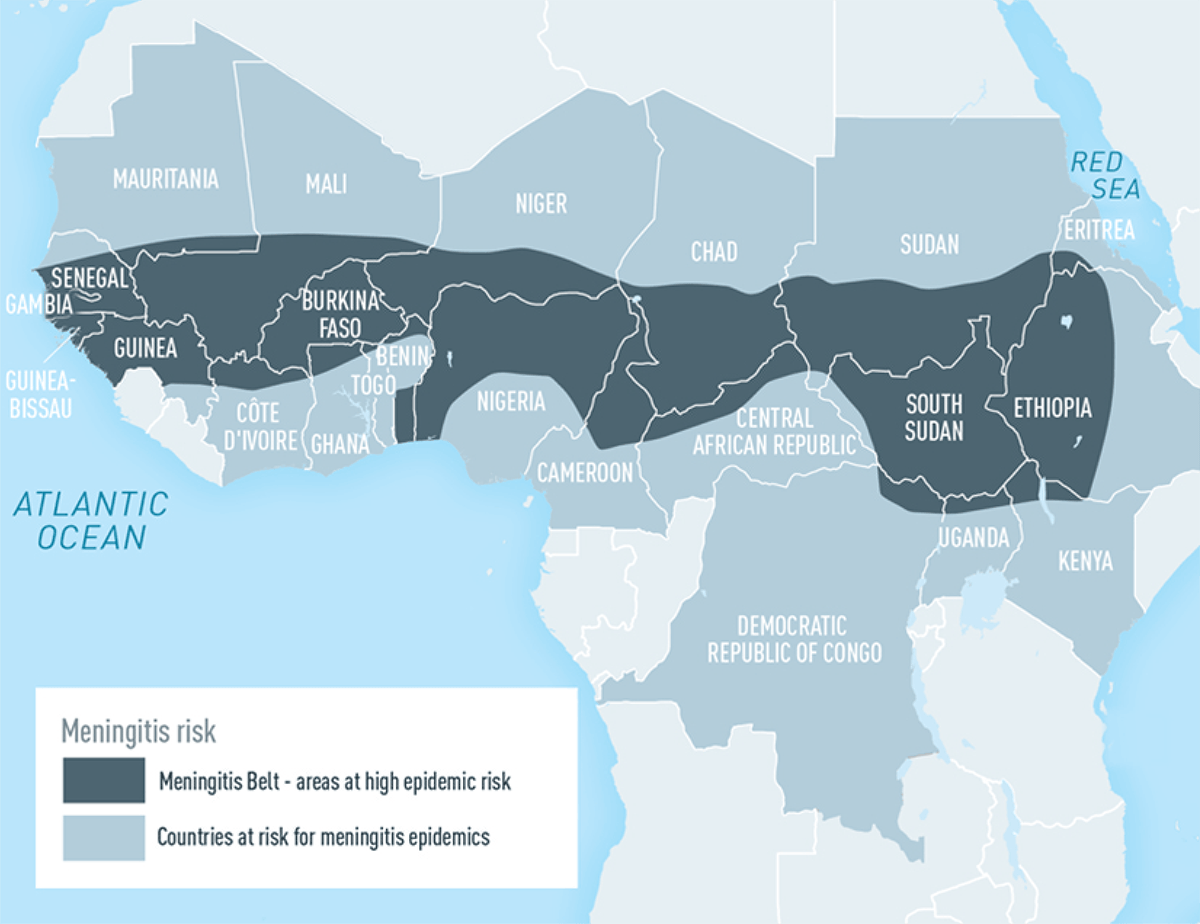 Source: CDC
Some regions are more likely to have meningitis due to environmental or other factors. These higher risk zones include:
The Meningitis Belt – This region of sub-Saharan Africa has more meningitis cases than most of the world. Three countries, Burkina Faso, Ethiopia, and Niger, account for 65 percent of meningitis cases in Africa. In some communities in the belt, one percent of the population will contract meningitis during an outbreak. The countries in the belt are (from West to East): Gambia, Senegal, Guinea-Bissau, Guinea, Mali, Burkina Faso, Ghana, Niger, Nigeria, Cameroon, Chad, Central African Republic, Sudan, South Sudan, Uganda, Kenya, Ethiopia, Eritrea.
Sub-Saharan Africa – The rest of the region does have occasional outbreaks. Regions of note are Kenya and the Democratic Republic of the Congo.
Hajj Pilgrimage – Saudi Arabia has seen some outbreaks during the pilgrimage. Proof of vaccination is required for entry into the country during this time.
In the United States, dorms, schools or other areas with long-term close contact are sites of infection. Many educational centers now require proof of meningitis vaccination for enrolling.
Meningitis vaccinations are available at all Passport Health clinics. Call or make your appointment online now to schedule your appointment today.
Do I Need a Meningitis Vaccine Booster?
There are two main types of meningitis vaccines. Both are administered over multiple doses at set periods of time. Individuals should check with their healthcare provider to see if they need a meningitis vaccine booster dose.
Where Can I Get the Meningitis Vaccine?
Meningitis vaccines, both A, C, W, Y and B vaccines, are available and in-stock at all Passport Health travel medicine clinics. Schedule an appointment today with your local Passport Health travel medicine clinic by calling or schedule online now.
Customer Reviews
Passport Health – Meningitis Vaccination

Overall rating: 5 stars – 5 reviews

"

Very Informative and Comfortable

"

"The RN that assisted me in this office visit to learn about the necessary precautions / shots needed for my travel to Saudi Arabia was very thorough, friendly and extremely informative. She made me comfortable to ask questions and was able to provide all the answers."

"

Professional Service

"

"The RN was very professional and explained in detail each immunization i was going to receive. She explained the travel risks for the Middle East but didn't "oversell" the vaccine requirements for the country. Her recommendation of meningitis was invaluable. I was provided a guide book as well for personal health and safety."

"

Professional Clinic

"

"We were given excellent travel advice. The nurse had maps to demonstrate the frequency of certain diseases around the world (lot of meningitis in Africa), and we were given a booklet with detailed information about our destination and the immunizations that are suggested. Our experience was excellent and fully addressed our health concerns in regard to travel to Niger. The oral meds were fully explained and the injections were well-administered."

"

Great Visit

"

"The nurse was absolutely fantastic and very informative. I appreciated her sharing her knowledge and giving me tips for my upcoming trip to Kenya. Setting up the appt all the way thru receiving the vaccinations (like meningitis and yellow fever) was incredibly easy."

"

Great Experience!

"

"I am so happy I was recommended to Passport Health – it was such a great experience. I am traveling alone to Tanzania and was very worried I would forget a vaccine or not have all of the proper information I'd need for my trip. The nurse at the clinic was so knowledgeable and explained everything I would need to know about preparing for my trip to the Meningitis Belt. I'd definitely recommend this to anyone planning a major trip!"

On This Page:
What Is Meningitis?
How Does Meningitis Spread?
What Is the Meningitis Vaccine?
Who Should Receive a Meningitis Vaccine?
Where Does Meningitis Occur?
Where Can I Get the Meningitis Vaccine?