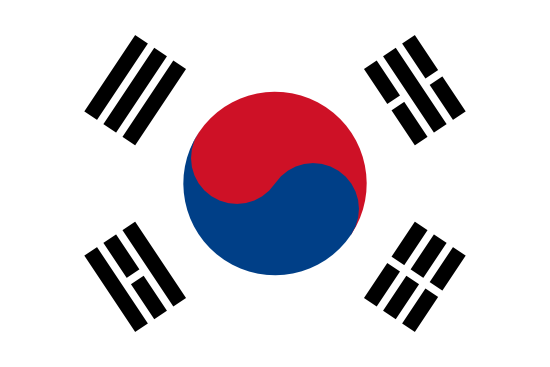 Travel Vaccines and Advice for South Korea
South Korea is a bustling country of history. The country boasts over 50 million people, beautiful mountain regions and even yellow dust winds from the Gobi Desert in the spring and autumn.
Its capital, Seoul, has five grand palaces which include museums, ponds, scenic overlooks, carved bridges and gates, and beautiful courtyards in their grounds. The country is a can't miss for any world traveler.
Do I Need Vaccines for South Korea?
Yes, some vaccines are recommended or required for South Korea. The CDC and WHO recommend the following vaccinations for South Korea: hepatitis A, hepatitis B, typhoid, Japanese encephalitis, rabies, meningitis, polio, measles, mumps and rubella (MMR), Tdap (tetanus, diphtheria and pertussis), chickenpox, shingles, pneumonia and influenza.
See the bullets below to learn more about some of these key immunizations:
See the tables below for more information:
Recommended Travel Vaccinations for South Korea

VACCINE
HOW DISEASE SPREADS
DETAILS

Hepatitis A
Food & Water
Recommended for most travelers
Hepatitis B
Blood & Body Fluids
Accelerated schedule available
Typhoid
Food & Water
Shot lasts 2 years. Oral vaccine lasts 5 years, must be able to swallow pills. Oral doses must be kept in refrigerator.
Japanese Encephalitis
Mosquito
Recommended depending on itinerary and activities. May be given to short- and extended-stay travelers, recurrent travelers and travel to rural areas. Present throughout country. Most cases from May to October.
Rabies
Saliva of Infected Animals
Moderate risk country. Vaccine recommended for certain travelers based on destination, activities and length of stay.
Routine Vaccinations for South Korea

VACCINE
HOW DISEASE SPREADS
DETAILS

Measles Mumps Rubella (MMR)
Various Vectors
Given to anyone unvaccinated and/or born after 1957. One time adult booster recommended.
TDAP (Tetanus, Diphtheria & Pertussis)
Wounds & Airborne
Only one adult booster of pertussis required.
Chickenpox
Direct Contact & Airborne
Given to those unvaccinated that did not have chickenpox.
Shingles
Direct Contact
Vaccine can still be given if you have had shingles.
Pneumonia
Airborne
Two vaccines given seperately. All 65+ or immunocompromised should receive both.
Influenza
Airborne
Vaccine components change annually.
Meningitis
Airborne & Direct Contact
Given to anyone unvaccinated or at an increased risk, especially students.
Polio
Food & Water
Considered a routine vaccination for most travel itineraries. Single adult booster recommended.
The CDC also recommends travelers be up-to-date on all routine vaccines before any travel, including: measles, mumps and rubella (MMR), Tdap (tetanus, diptheria and pertussis), chickenpox, polio and a flu shot.
Traveler's diarrhea is a common issue among travelers. While some infections that cause the symptom can are vaccine-preventable, it can be hard to avoid. Be sure to bring a traveler's diarrhea kit.
Visit our vaccinations page to learn more. Travel safely with Passport Health and schedule your appointment today by calling or book online now.
What Other Diseases are in South Korea?
As a developed country, South Korea does not have many diseases that cannot be prevented through vaccination. Be sure to consider the following before your next trip:
Malaria – Antimalarial medication may be required for your trip. These pills do not protect against mosquito bites, but do prevent malaria. Talk to a Passport Health travel specialist to learn more and see if this option is right for you.
Tickborne Encephalitis – Spread through tick bites or unpasteurized dairy products, this disease can ruin a trip. Travelers doing outdoor activities are at higher risk of catching the virus. Take extra precautions from April to November. The peak number of reported cases in early and late summer.
H5N1 Avian Influenza (Bird Flu) – Bird flu is a respiratory disease often spread by infected birds to humans. There have been no human cases of avian influenza reported in South Korea, but there is some risk in the region. The effect of the bird flu on humans can range from flu-like symptoms to death.
Customer Reviews
Passport Health

Travel Vaccines for South Korea
Overall rating:

5

stars –

10

reviews
"

Informative and great service

"

"I really appreciated the information and conversation that was exchanged about traveling to South Korea. I appreciated that we were able to decide which vaccinations and shots were recommended or required and right for me as an individual. The services felt very individualized."
"

Extremely thorough

"

"The RN was extremely thorough and very knowledgeable in giving us information in regards to my daughter traveling overseas to Korea as well as Thailand. She was factual, yet objective. It is very refreshing to go to an establishment where you experience someone who knows their job as well as loves their job. Kudos to Jen!"
"

Travel Health Review

"

"My wife and I have arranged to take a trip to Japan in October with a one day stopover in Pusan, South Korea. We found the clinic, and the travel nurse, Alicia, to be very helpful. This covered both our planned trip, as well as a general overview of the status of our vaccinations and other concerns. Bottom line, the nurse was very helpful and did an excellent job of taking care of our concerns, as well as using her knowledge to help us in general."
"

great information at Passport

"

"I took my 16 year old daughter to Passport Health at the suggestion of her pediatrician because of her upcoming trip to South Korea. The nurse was excellent. She was well informed on what was needed and explained to us the pros and cons of each vaccine that may be needed. We were not rushed. She provided many other practical travel tips and advisories. Well worth our time. Simplified the process."
"

Very efficient and accommodating

"

"Our nurse at Passport has been a terrific asset in getting ready for our trip to South Korea. She is knowledgeable and proficient. I also appreciate how clear she has been on the schedule for our vaccinations."
"

Meredith was great!

"

"The RN was wonderful, she was so informative, she really helped us prepare for our health and medical needs for our trip to South Korea next month. I would highly recommend here."
"

Going to South Korea

"

"The nurse was fabulous. She was friendly and informative. She spoke to my son and addressed him as the traveler in my presence. I am his mother but appreciated her knowing her audience. She spoke clearly. On his level and asked him if he had any questions. She told him about other patients she had that have been to South Korea and let him know they all loved it and did not get sick on their travels!"
"

Great experience

"

"Really good consult, the nurse was knowledgable and sweet. Got lots of information, 3 shots and a feeling of confidence we will remain healthy while traveling as a family in South Korea. Would recommend this to a friend because it is important to have the latest information on disease control when leaving the country."
"

Very enjoyable and educational appointment

"

"My fiance and I were referred to Passport Health through our physician, in preparation for an upcoming trip to South Korea. Our appointment specialiast, Meg, was very knowledgeable and very personable. She provided us all the information we needed and many recommendations that we will certainly review. We would gladly recommend Passport Health to any friends or family that plan on traveling abroad in higher risk areas to ensure a safe and fun trip!"
"

Great Experience!

"

"Our nurse was a wealth of knowledge and information for my daughters' trip to South Korea."
Do I Need a Visa to Travel to South Korea?
You do not need a visa to travel to South Korea for stays under 90 days. You do need a passport valid at the time of entry, as well as one blank page in that passport for the stamp.
Military and U.S. government personnel do have some limitations on travel. Be sure to check with your specific branch as part of your travel preparations.
South Korea Entry Requirements

Do I Need A…
For My Trip to South Korea?

Passport
Tourist Visa
Business Visa
Vaccinations
Sources: Embassy of South Korea and U.S. State Department
For more information contact a Passport Health Passport and Visa specialist by calling 1-844-366-8472 or by filling out our online form.
What is the Climate Like in South Korea?
South Korea's climate is temperate with varying seasons. The country has long, cold winters, short hot summers, and short spring and autumn seasons.
Winters bring regular snowfall, with average temperatures in the mid 20's. Rainfall is common in the summer and temperatures tend to stay in the 70's. Spring and fall usually stay in the mid-60's.
The late summer brings the wet season, called "changma", from July to August. Severe storms and flooding can occur during this time. Mosquitoes and other insects are more common as well. Typhoon season is from May to November.
While rain storms are not common in spring and fall, yellow dust winds are common. This dust originates from the Gobi Desert and hangs around in the air causing limited visibility for those caught in it. Protection from the dust is recommended.
How Safe is South Korea?
As a developed nation, South Korea is generally safe. But, there are some items to consider before going there.
Tensions with North Korea are usually high. Incidents have been known to occur along the DMZ. But, these are generally isolated to the region.
If you plan on driving in South Korea, be sure to research traffic laws. The traffic fatality rate is higher than some other countries. Drivers are automatically presumed to be at fault in accidents involving pedestrians.
Typhoon season is from May to November and monsoon season from June to August. While these rarely pose threats to travelers, it is good to be prepared.
Petty crime does occur in South Korea. When traveling, be sure to take normal precautions like not walking alone at night and keeping an eye on your surroundings.
Pirated and counterfeit goods may be available in South Korea. But, these items are not legal there or in the United States. It may seem normal to buy them if they are well circulated but purchasing or selling them is still illegal.
The Five Palaces of Seoul
If you want to get an impressive sense of South Korea and Seoul's history and culture, checking out each of the five palaces. Three out of the five are larger and more well-known than the other two. But, each has its merits, and all share a distinct beauty.
Gyeongbokgung – Built in 1395, Gyeongbokgung is the oldest and the largest palace. Visitors can enjoy changing of the guard ceremonies, visit ornamental gardens, museums, a lake and island overlook and more. Gyeongbokgung was once burnt down in 1592 and left in ruins for 300 years. It has been restored to much of its former glory through reconstruction. Its name means "Palace Greatly Blessed by Heaven".
Changdeokgung – Built in 1405, the it's name translates to "Palace of Virtue". This castle has been destroyed and repaired many times over its long history. It can only be seen through a guided tour. Changdeokgung has a grand entrance with a large gate followed by a stone bridge with carved guardian animals. Inside you will find a many buildings made for a variety of purposes. There are also pavilions, ponds, brooks and gardens. Special monthly Moonlight Tours are available from April to June.
Changgyeonggung – Built in 1483, Changgyeonggung is the "Palace of Flourishing Gladness". At one point the grounds were changed to be a zoo with a botanical garden. But, that was done under Japanese rule, and since then those elements have been removed. Changgyeonggung now features two ponds in the back and its original style. It is also a short walk away from Changdeokgung.
Deoksugung – Though it is called the "Palace of Virtuous Longevity", Deoksugung wasn't a palace until 1592 after palaces were destroyed during Japanese invasion. Deoksugung has the most Western-style buildings including an art museum and forested gardens. Though it is three times smaller than it once was, its unique mix of architectural styles make it worth a visit.
Gyeonghuigung – This palace is small in comparison to the others, but still worthwhile. It is the "Palace of Serene Harmony" and was built in 1623 as a "secondary palace". The palace was actually leveled for a middle school during Japanese occupation. Gyeonghuigung contains the Seoul Museum of History making it a must-see.
What Should I Pack for South Korea?
Think ahead on what to pack by perusing these suggestions:
Appropriate items for the weather – South Korea can be warm, wet, or very cold. Be sure to pack for the time of year and the activities you wish to do. Consider items such as sunscreen, dehumidifiers, and clothing that can easily be layered.
Protection for more hazardous weather – South Korea has its wet/monsoon season (changma) from July to August, typhoon season from May to November, and yellow dust winds during the Spring and Autumn seasons. Many Koreans wear surgical masks or similar attire to protect their lungs from the potentially damaging yellow dust. Water-protective gear is good to consider during the heavy rain of the Summer.
First aid kit/Traveler's diarrhea kit – It is always useful to have important first aid kit items while traveling, such as bandages and antibacterial wipes. The CDC also advises to bring a traveler's diarrhea kit to help deal with the effects of the illness should it be necessary.
Bug repellant – With the possibility of malaria and tickborne encephalitis it is especially important to ward against mosquitos and ticks.
Copies of your passport and travel documents – In case of lost luggage or theft, bring copies of important documents.
Adapters for Electronics – South Korea uses a standard voltage of 220 V while 12V is used in America. Many of your electrical devices (hair dryers, chargers, etc) may not be compatible. Bringing adapters for these items is a must.
U.S. Embassy in South Korea
The U.S. Department of State recommends all travelers register with the free STEP (Smart Traveler Enrollment Program for important automatic notifications about in-country security and for help in case of an emergency while in South Korea.
U.S. Embassy Seoul
Seoul, Korea
188 Sejong-daero, Jongno-gu,
Seoul, Korea
03141
Phone: 82-2-397-4114
Stay safe abroad with Passport Health. Call or book online now and start traveling safely today!
On This Page:
Do I Need Vaccines for South Korea?
What Other Diseases are in South Korea?
Do I Need a Visa to Travel to South Korea?
What is the Climate Like in South Korea?
How Safe is South Korea?
The Five Palaces of Seoul
What Should I Pack for South Korea?
U.S. Embassy in South Korea