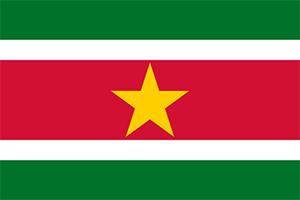 Travel Vaccines and Advice for Suriname
Suriname is on the northeastern coast of South America near French Guiana, Guyana, and Brazil. The country is rich with diversity.
Upon visiting you will receive a genuine welcome from descendants of African slaves, Dutch or British colonialists. The capital city, Paramaribo, is filled with shopping, clubs, and restaurants. Just a few miles away is a beautiful jungle waiting to be explored.
This country has something for everyone.
Do I Need Vaccines for Suriname?
Yes, some vaccines are recommended or required for Suriname. The CDC and WHO recommend the following vaccinations for Suriname: hepatitis A, hepatitis B, typhoid, yellow fever, rabies, meningitis, polio, measles, mumps and rubella (MMR), Tdap (tetanus, diphtheria and pertussis), chickenpox, shingles, pneumonia and influenza.
COVID-19 vaccination is recommended for travel to all regions, both foreign and domestic. Check with your local Passport Health clinic if immunization is offered in your area.
See the bullets below to learn more about some of these key immunizations:
See the tables below for more information:
Recommended Travel Vaccinations for Suriname

VACCINE
HOW DISEASE SPREADS
DETAILS

COVID-19
Airborne & Direct Contact
Recommended for all unvaccinated individuals who qualify for vaccination
Hepatitis A
Food & Water
Recommended for most travelers
Hepatitis B
Blood & Body Fluids
Accelerated schedule available
Typhoid
Food & Water
Shot lasts 2 years. Oral vaccine lasts 5 years, must be able to swallow pills. Oral doses must be kept in refrigerator.
Yellow Fever
Mosquito
Required for travelers arriving from ALL countries. Recommended for all travelers over 9 months of age.
Rabies
Saliva of Infected Animals
High risk country. Vaccine recommended for long-term travelers and those who may come in contact with animals.
Routine Vaccinations for Suriname

VACCINE
HOW DISEASE SPREADS
DETAILS

Measles Mumps Rubella (MMR)
Various Vectors
Given to anyone unvaccinated and/or born after 1957. One time adult booster recommended.
TDAP (Tetanus, Diphtheria & Pertussis)
Wounds & Airborne
Only one adult booster of pertussis required.
Chickenpox
Direct Contact & Airborne
Given to those unvaccinated that did not have chickenpox.
Shingles
Direct Contact
Vaccine can still be given if you have had shingles.
Pneumonia
Airborne
Two vaccines given separately. All 65+ or immunocompromised should receive both.
Influenza
Airborne
Vaccine components change annually.
Meningitis
Airborne & Direct Contact
Given to anyone unvaccinated or at an increased risk, especially students.
Polio
Food & Water
Considered a routine vaccination for most travel itineraries. Single adult booster recommended.
Yellow fever vaccination is highly recommended for trips to Suriname. Dengue is also present in the country. Make sure to have repellents and netting as well.
Visit our vaccinations page to learn more. Travel safely with Passport Health and schedule your appointment today by calling or book online now.
Do I Need a Visa for Suriname?
A passport and visa are required for trips to Suriname. Travelers may opt for a tourist card upon arrival, but it is best to get a visa before visiting.
Suriname Entry Requirements

Do I Need A…
For My Trip to Suriname?

Passport
Tourist Visa
Business Visa
Vaccinations
Sources: Embassy of Suriname and U.S. State Department
Proof of yellow fever vaccination is required for entry. If you have not received the vaccine, you may have to return home or enter quarantine.
What Is the Climate Like in Suriname?
Suriname's most popular tourist destinations are located along the coast and have a tropical climate with high temperatures and humidity all year round. The capital city, Paramaribo, and Nieuw Nickerie both have hot and humid weather with temperatures ranging from 80 to 90 degrees. They have a rainy season from May to August and a dry season from September to April.
Brownsberg Nature Park and Galibi Nature Reserve are also popular tourist destinations, their weather is similar to Paramaribo and Nieuw Nickerie. Brownsberg has a rainy season from November to April and a dry season from May to October. Galibi has a rainy season from November to April and a dry season from May to October.
It's important to know that Suriname is in a region that is prone to tropical storms and hurricanes, particularly during the rainy season. It's necessary for tourists to keep an eye on the weather forecast and follow local guidance to stay safe.
How Safe Is Suriname?
Suriname is generally a safe country to travel to, but travelers should still be careful to stay safe. Here are some tips:
Always be aware of your surroundings and look out for suspicious activities or people.
Avoid traveling alone at night, especially in areas that are not well lit or safe.
Only use trusted transportation such as taxis or other services.
Keep your valuables such as your passport, money, and electronic devices in a safe and secure place.
Be careful of scams, especially those involving money or offers that seem too good to be true.
Respect the local customs and traditions, and be mindful of your behavior in public.
Learn some basic Dutch since it is the official language of Suriname.
Stay informed of current events and news before traveling.
By following these tips, travelers can have a safe and enjoyable trip to Suriname.
Visiting Brownsberg Nature Park
Avoid mosquitoes and other bugs
Brownsberg Nature Park is a great place to visit if you're a tourist in Suriname. It's a big park with lots of cool things to see and do. You can go hiking on the trails to see beautiful views of the rainforest and the Brokopondo Reservoir. There are also many animals to see, like monkeys, jaguars, and birds. You can even swim in some of the waterfalls! If you want to spend more time in the park, you can camp there or stay in a cabin.
The park is also a great place to learn about the culture of the Maroon communities that live there. They have a unique way of life and you can learn a lot from them.
Brownsberg Nature Park is a special place that lets you experience the natural beauty of Suriname and learn about its people and wildlife. If you're a nature lover or adventurer you should definitely visit Brownsberg Nature Park.
What Should I Take to Suriname?
If you are planning a trip to Suriname you should pack lightweight and breathable clothing made of cotton, such as shorts and T-shirts, and comfortable walking shoes. The weather can be unpredictable, so it's a good idea to bring a lightweight raincoat or umbrella. Insect repellent with DEET or other effective ingredients is essential to keep away mosquitoes and other biting insects.
The sun can be intense, so bring sunglasses, a hat and sunscreen. A sturdy backpack to hold all your essentials is a good choice. If you take medications, bring enough for the duration of your trip, and a small first aid kit. Suriname's power outlets are different, so bring a travel adapter.
Bring cash or credit cards because Suriname's official currency is the Surinamese dollar. It's also helpful to know a few basic phrases in Dutch or Sranan Tongo, the local Creole language.
Suriname is a beautiful country, and packing accordingly can make your trip more enjoyable and stress-free.
U.S. Embassy to Suriname
When traveling it is very helpful to find out exactly where the U.S. embassy or consulates are located. Keep the address written down in case you have a legal problem, you lose your passport, or you want to report a crime. Be sure to keep a copy of your passport with you in case you lose the original.
U.S. Embassy Paramaribo
Kristalstaat 165
Paramaribo, Suriname
Telephone:(597) 556-700
Emergency After-Hours Telephone: (597) 710-1112
Fax: 597-551-524
The U.S. embassy in Suriname provides different types of services to U.S. citizens traveling or living in Suriname. These services include help during emergencies like natural disasters, terrorist attacks, or medical emergencies. The embassy can provide advice and information about local conditions, such as safety and security, health issues, and travel restrictions.
It is important to check the official website of the U.S. embassy in Suriname to see what specific services are available to travelers.
Ready to start your next journey? Call us at or book online now!
Customer Reviews
Passport Health – Travel Vaccines for Suriname

Overall rating: 5 stars – 8 reviews

"

Great service

"

"A friend from New Mexico referred me, I'm glad I picked Passport Health for this service. I learned a lot about Suriname."

"

Friendly Health Care Providers

"

"My family and I have been planning a trip to Suriname, but we didn't finalize it about a month before our trip. We needed to apply for a Visa quickly, and we needed to get immunizations before we could even go to the Consulate. Luckily, Passport Health had almost immediate availability and was able to see us the same day we called. When we got there, the front desk person was friendly, and the nurse who met with us talked us through the whole process and was so awesome and pleasant. I would come back again, and I would definitely recommend Passport Health to others."

"

Fast Friendly Service

"

"So happy to have found Passport Health here in DC — I needed to complete a series of vaccinations before going to Suriname, and they were able to get my vaccines taken care of in the time window necessary. The staff is friendly and efficient too! Many thanks."

"

Thorough Informative Visit

"

"Today I met with a nurse at the Wilshire location to get up to date on vaccinations before traveling to Suriname. Stephanie was very patient and thorough and helped me decide whether or not I really need some vaccinations. She was down to earth, friendly and professional and understood my concerns with cost. All in all a successful visit."

"

Great Experience

"

"Although I did some research on the vaccinations that were required or recommended for travel to Suriname, our nurse was very knowledgeable and helpful in helping me make decisions on the types of vaccinations necessary and precautions to take while traveling."

"

Great Visit!

"

"I had a wonderful experience this morning to get my immunizations for my medical mission trip to Suriname. Thank you, Passport Health."

"

Great

"

"This was excellent and my nurse was very knowledgeable. She pointed out a few things that I did not know about my trip to Suriname that I do need to know health-wise. I would highly recommend her services to anyone traveling overseas"

"

Good overview of what to expect

"

"Visited the location for info on Suriname and the RN was very capable as explaining my options, side effects and costs to consider. Very efficient."

On This Page:
Do I Need Vaccines for Suriname?
Do I Need a Visa for Suriname?
What is the Climate Like in Suriname?
How Safe is Suriname?
Visiting Brownsberg Nature Park
What Should I Take to Suriname?
U.S. Embassy to Suriname