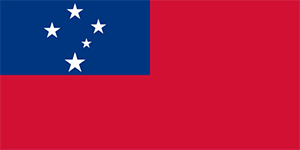 Do I Need Vaccines for Samoa?
Do I Need a Visa or Passport for Samoa?
What is the Climate Like in Samoa?
How Safe is Samoa?
See the To Sua Ocean Trench
What Should I Take to Samoa?
U.S. Embassy in Samoa
Samoa's closest neighbors are Australia, New Zealand, and the American state of Hawaii.
The channel of islands were discovered and settled just 3,500 years ago. The Lapita people wasted no time in created a unique language and culture all their own. In those hundreds of years, the fa'a Samoa culture has not wavered even after European influence.
This dense culture is one of the many things that draws visitors to its shores. It's shores, in fact, are another thing that pull people in. Samoa's many beaches and cultural experiences provide a balanced trip for all.
Do I Need Vaccines for Samoa?
Yes, some vaccines are recommended or required for Samoa. The CDC and WHO recommend the following vaccines for Samoa: typhoid, hepatitis A, hepatitis B, and influenza.
---
Dengue is present in Samoa. Make sure you're protected from mosquito bites with repellent or netting.
Traveler's diarrhea is another risk in Samoa and throughout the world. A traveler's diarrhea kit is recommended for all travelers.
See our vaccinations page to learn more about these infections and vaccines. Ready to protect yourself? Book your travel health appointment today by calling or schedule online now.
Customer Reviews
Passport Health

Travel Vaccines for Samoa
Overall rating:

5

stars –

4

reviews
"

Great Vaccination Clinic

"

"Received our Qatar Vaccinations, the RN was professional and amazing."
"

Great Informative Experiance

"

"The nurse practitioner was very helpful and provided me with a ton of useful information not only pertaining to shots, but about the warnings and risks of Qatar in general. I would recommend passport health to anyone traveling out of the country."
"

Our first visit

"

"Joan was that wonderful mix of professionalism and compassion. We left with plenty of information and ideas for Evan's trip to Qatar. We'd be happy to refer friends and business associates to your clinic, should the need arise."
"

Fast, Friendly, Efficient

"

"Really a great clinic. I used Passport Health to prepare for a business trip to Qatar and was very pleased with the customer service, friendliness and efficiency of the staff. I recommend this office for anyone needing a quick physical or immunizations for overseas travel."
Do I Need a Visa or Passport for Samoa?
A visa is required for stays over 60 days in Samoa. Passports must be valid at the time of entry into Samoa. If you plan to stay longer than sixty days, you must have a visa. Proof of return or ongoing travel may be required at entry.
Sources: U.S. State Department and Samoa Immigration
For more information contact a Passport Health Passport and Visa specialist by calling 1-844-366-8472 or by filling out our online form.
What is the Climate Like in Samoa?
As a channel of islands near the equator, Samoa's climate is tropical. It is hot and humid with temperatures in the 80's. Breezes cool the eastern and south-eastern parts of the island channel.
Samoa has a wet season and a dry season. The dry season runs from May to October and the wet season runs from November to April.
How Safe is Samoa?
Samoa is a relatively safe country. Petty theft and robberies are common in some areas. Stay aware of your surroundings at all times and avoid traveling at night.
Other violent assaults, like sexual assaults, are rare in Samoa, but do occur. Always be cautious especially when visiting Apia's downtown nightlife. Alcohol can cause situations to escalate and turn violent. Make sure to always keep your wits about you.
Protests, road blocks, and hostility can arise because of ongoing disputes between villages and the government. of Samoa and the country's central government. Keep an eye out for early signs of demonstrations forming around you. Remove yourself before things become violent.
See the To Sua Ocean Trench
As a channel of islands, Samoa has many incredible sea sights and water activities to be enjoyed. One of the most unique of these features is actually hidden deep in Samoa's dense jungle. The To Sua Ocean Trench is what the name translates to, a giant swimming hole.
To Sua is a 30-meter deep swimming hole that is full of clear salt water. Visitors can swim in this water after climbing down a long ladder to a wooden diving platform. This unique feature of Samoa was formed naturally by an ancient lava tube cave.
What Should I Take to Samoa?
Be sure to take these key items with you on your trip to Samoa:
Modest Clothing – Samoa's culture is traditional, especially in the villages. Dress as modestly as possible within reason. Cover your shoulders when you can and avoid wearing short skirts or dresses.


Swimsuit Cover – You'll want to have a coverup for at the beach. Bathing suits are okay to wear when speaking or sunbathing. But, you should cover up before you get there and after you leave.


Reef Shoes – The beaches are covered with fine sand. But, if you plan on entering the water, you'll want to be wearing reef shoes. These help prevent cutting your feet on mostly coral shores.
U.S. Embassy in Samoa
All Americans visiting Samoa should register online with the U.S. Department of State before departure. This will inform the office of your travel plans within the country and will allow them to reach out in the case of an emergency or evacuation.
Once in Samoa, the information for the U.S. Embassy is:
U.S. Embassy Apia
5th Floor
ACC Building
Matafele Apia, Samoa
Phone: +685 21436+685 21436 / 21631 / 21452 or 22696
Fax: +685 22030
Ready to start your next journey? Call us at or book online now!