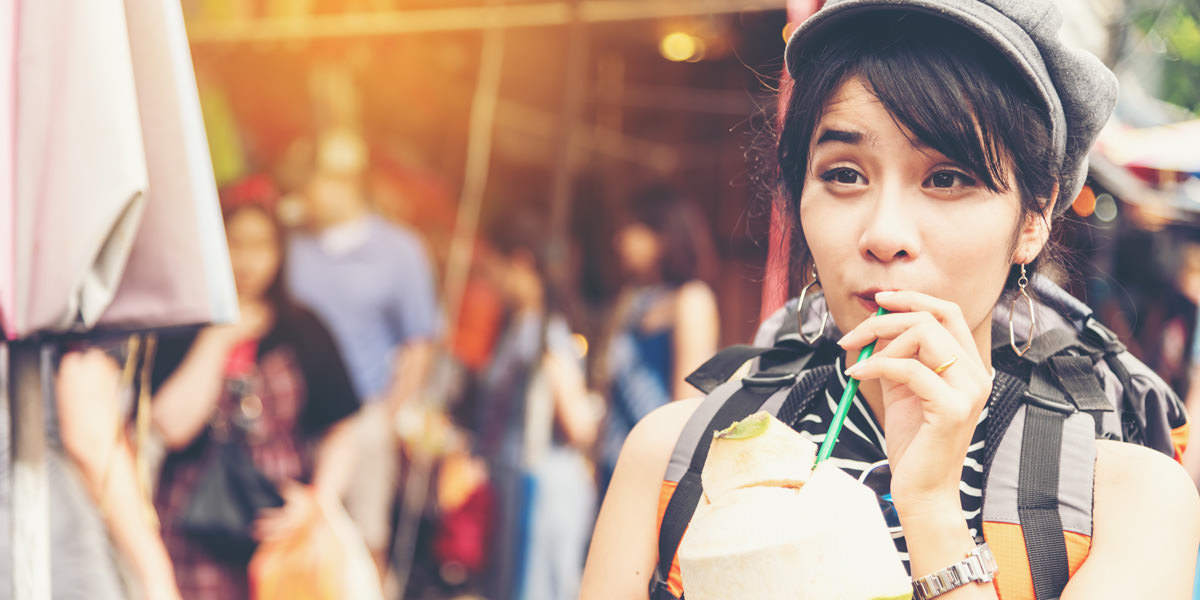 Typhoid Vaccination for International Travel
What Is Typhoid Fever?
Typhoid fever, or typhoid, spreads through contaminated food or water. Caused by Salmonella typhi, typhoid fever is an acute illness infecting about 21.5 million people worldwide.
Typhoid fever can be fatal in up to 10% of reported cases. There has been an increase in the number of drug-resistant strains of Salmonella typhi since 1989. Unfortunately, drug resistance is spreading worldwide due to overcrowding, poor sanitation, inadequate control of infections and extensive international travel, trade and population movements.
Humans are the sole hosts of the bacteria which is shed in feces from 6 weeks to 3 months after infection. Most common symptoms include fever, anorexia, abdominal discomfort and headaches.
What Is the Typhoid Fever Vaccine?
There are two vaccines available to prevent typhoid fever:
Typhoid Vaccine Live Oral Ty21a – Also known as 'typhoid pills', the vaccine is made from attenuated live bacteria. The vaccine provides up to five years' protection and is approved for use in individuals over six-years-old. It is taken orally over the course of four doses. Due to ongoing supply limitations, oral typhoid vaccine may not be available at all locations.
Typhoid Vaccine (Injectable) – Made from inactive bacteria, the injectable typhoid vaccine provides protection for up to two years. This vaccine is approved for use in individuals over two-years-old.
The risk of either typhoid vaccination causing serious harm is rare and reactions to either vaccine are generally mild.
Do I Need a Typhoid Vaccine?
The typhoid vaccine is recommended for almost all international travelers. You may need the vaccine if they will be visiting smaller cities or rural areas.
The vaccine is highly recommended for regions with drug-resistant typhoid. This includes large portions Asia and Africa.
What Are the Symptoms of Typhoid?
The most common symptom of typhoid is high fever. Other symptoms include weakness, stomach pain, diarrhea and cough. Some individuals may develop a rash or rose-colored spots.
Vaccination is the best form of protection against typhoid infection.
Where Does Typhoid Fever Occur?
The CDC recommends travelers headed to developing countries, where exposure to contaminated food or water is likely, receiving the typhoid vaccine. Over the past 10 years, travelers from the United States to Asia, Africa, and Latin America have been especially at risk.
How Does Typhoid Spread?
Typhoid is spread through contaminated water and food or through person-to-person contact. Those who are infected with typhoid can spread the disease through their stool. If you eat food or drink touched by a person with typhoid you may contract the infection. Some food or drinking water may also become contaminated with salmonella typhi which causes typhoid. Be sure to rinse any food you eat raw, avoid drinking water or using ice from unknown sources and get vaccinated before your trip.
How Long Does the Typhoid Vaccine Last?
The duration of typhoid vaccine protection varies based on the type of immunization you receive. Oral typhoid vaccines provide five years of protection while injectable offers two years protection. Be sure to speak with a travel health specialist on which vaccine is right for you.
Do I Need a Typhoid Vaccine Booster?
As both the oral and injectable typhoid vaccines do not provide lifetime protection, re-vaccination (or a booster dose) is recommended if traveling to an area with typhoid after protection has been lost. This means an individual who has received the injectable typhoid vaccine would need to be re-vaccinated after two years and an individual who received the oral typhoid vaccine would need to be re-vaccinated after five years.
If you have previously received a typhoid immunization but are unsure of your level of protection, contact your local Passport Health by calling for assistance.
Where Can I Get the Typhoid Vaccine?
Passport Health offers typhoid vaccinations throughout North America. Meet with a travel medicine specialist today to discuss your travel plans and receive your vaccine.
Customer Reviews
Passport Health – Typhoid Vaccination
Overall rating: 5 stars – 20 reviews
"

The Best Customer Service Ever!!

"

"The nurse was amazing. She went above and beyond to help my son when he lost his last pill of Typhoid. He had 1 pill left to finish his dose when he forgot it in a hotel. When I found out I reached out to Passport Health on what to do when medicine is lost. I was put in touch with the nurse to try and figure out a solution on how to get my son his last pill before he left to Thailand. Carol was kind and patient, she helped us find a solution and followed up to make sure the medicine was received. The bottom line is, in this day and age you don't find customer service like this anymore, when I was in a panic she made me feel everything was going to be ok and it was. Thank you from the bottom of my heart."
"

Speedy Service

"

"I called PH because I needed a typhoid shot for a mission trip that needed a last-minute replacement. No one else in Syracuse had the shot, and I had started to think I wouldn't be able to get it, but PH found a spot for me the same morning I called."
"

Necessary

"

"Took both my kids to get vaccinated for Typhoid."
"

Great Service

"

"The process was super easy, they go in details about the pro and cons of each vaccines that arerequired, or recomended and what options there are for the vaccines (like typhoid which comes in 2 types, pills and shot) finally they provide you with additional services like a document on your destination country which includes details about healthcare system of the country (is it save to have transfusion there?) and all kind of other general travel info."
"

Thorough & professional

"

"Administered Typhoid shot in little time with no problems."
"

Excellent very educational

"

"the nurse went over every scenario and disease that could possibly happen while my daughter visits Peru. She also explained to her how to take her malaria and typhoid pill. We also purchased the travelers medicine pouch in case she gets a stomach bug traveling."
"

Great Service

"

"My visit to PassportHealth in New York made me even more excited to travel. I received lots of information from the Director and she administered my Typhoid vaccine herself. It was quick and painless. I will absolutely return for future vaccinations."
"

Excellent Friendly Service

"

"I, my wife, and a friend needed yellow fever and Typhoid vaccinations for a trip to South America. We arrived for our appointments early and were taken on time. Everyone was very courteous, polite and friendly. The required inoculations were expertly administered. The shots were barely noticed when given."
"

Very pleasant, thorough visit!

"

"Great experience at the office – super informative, walked me through all of the health precautions, what to bring, what to look out for, and a lot of material to read and have on hand for my travels. Went for Typhoid shot, and came away with great advice, and reading materials."
"

My Dad & I

"

"My 86 year old father and I are going to Cuba. The RN was great giving us suggestions, explaining their products yet not pushing them at you. She told us what to be concerned about and take precautions, and what not to worry about. She had also been to Cuba so she was an excellent resource beyond the awesome job she did. Then she gave us our Typhoid shots I'm scared of needles even though I'm an RN too, she did such a good job–no pain. I hold other nurses at a standard being one myself. Great technique and she is very personal so she distracts you duriythe injection. All in all a great experience and you come out confident about where your going."
"

Excellent and quick

"

"The RN provided an excellent and speedy intake interview and vaccination – making the processes quite pleasant. She provided additional information for Typhoid, which I also got but wasn't planning on getting the vaccination. I planned on getting Yellow Fever. I will come to Passport Health for my future travel needs; the operators over the phone were also quite excellent and helpful in providing me with last minute appointments."
"

Very Thorough

"

"I received very thorough information on the vaccines needed from the clinic. She offered coffee, tea and water as well as some ice to keep my Typhoid vaccine cold in transit."
"

Easy Vaccination

"

"I needed only a typhoid vaccine for an upcoming trip, but the Passport Health nurse printed out and reviewed with me all the recommended vaccines and area where, for example, malaria is prevalent to insure that I had all the immunizations I needed. I was not rushed; she was very pleasant and helpful."
"

First Visit

"

"The nurse covered what immunizations were needed in all four countries that we plan to visit in Africa. She also provided travel tips on what not to eat/drink, and what to take if we were to become sick. Besides selling us the Typhoid pills (note: best to bring a small cooler so that you can keep the pills below 45 degrees until you return home), she also has for sale other helpful meds available."
"

An excellent Experience

"

"I have visited Passport Health on two occasions in prep for my travels to Bali and Indonesia. Both visits were thorough and informative. I actually got Typhoid meds on my first visit and came home to check my medical records before taking Hep A. I was very pleased with the care items reviewed during my visit and have purchased additional items to ensure that I would get the most out of my travel. i.e. water bottles, mosquito spray, and sunscreen. Looking forward to enjoying my travels thanks to the counseling I received through Ms. Hennessy."
"

Very quick

"

"I was able to secure, via on-line, an appointment within 2 days. Arrived at the appointment and since I filled out forms on line Doreen was ready to review with me. She answered all o my questions and in addition to the Typhoid shot, I was able to secure my Malaria medicine. In and out in less than 20 minutes. I have already recommended to my friends that travel"
"

Helped us out in a bind

"

"Passport Health helped us get the vaccines we needed on short notice. They also had the 5 year oral Typhoid vaccine that is unavailable elsewhere."
"

Very helpful

"

"The woman was very helpful, showing me the region I would be visiting and giving clear instructions on taking the oral Typhoid pills. The injections were all over before i realized it. Very skillful."
"

Getting ready for Africa

"

"My husband and I are planning a trip to Africa in the next few months. We went to the Frisco, TX location of Passport Health to receive our inoculations and oral medications for typhoid and malaria prevention. The RN was very knowledgeable, helpful and everything required was in stock. The inoculations were done professionally and we were both pleased with the service. Would definitely recommend Passport Health."
"

Fast & Efficient

"

"Had a wonderful quick visit. I was on my way to work that morning so it was great to have everything explained to me really carefully and clearly. I was offered 2 options for the typhoid vaccine, which was great! And the man who helped me was lovely!"
On This Page:
What Is Typhoid Fever?
What Is the Typhoid Fever Vaccine?
Do I Need a Typhoid Vaccine?
Who Should Get a Typhoid Vaccine?
Where Does Typhoid Fever Occur?
Where Can I Get the Typhoid Vaccine?