Vivotif (Oral Typhoid Vaccine)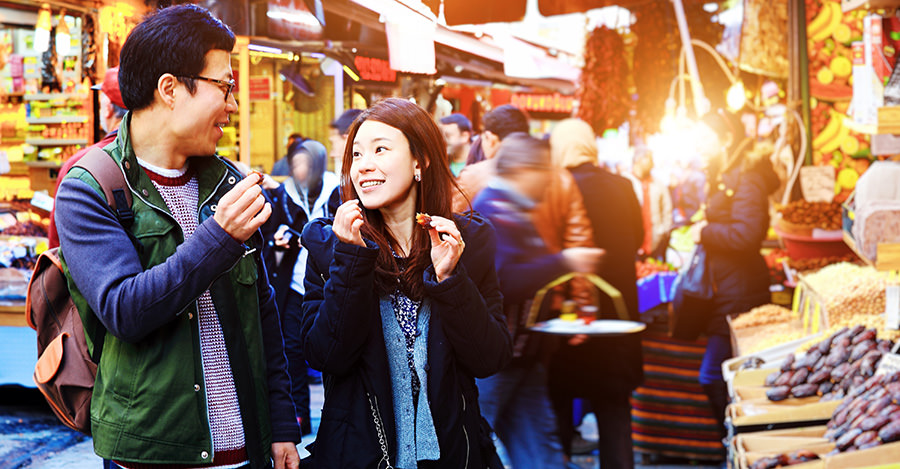 Don't take a chance with typhoid fever! Schedule your appointment at one of Passport Health's 270+ travel clinics by calling or schedule online now.
What Is Typhoid?
Typhoid fever is a potentially serious foodborne disease common in developing countries. Notable regions at-risk for typhoid are: India, Southeast Asia, Africa and South America. Typhoid fever symptoms include:
High fever
Weakness
Stomach pain
Headache
Internal bleeding and death can occur, but is rare
More than 20 million cases of typhoid occur around the globe each year. About 200,000 of those infected will die from the disease.
The most effective way of preventing typhoid is through vaccination.
What Is An Oral Typhoid Vaccine?
The oral typhoid vaccine is a vaccination against typhoid given orally, through pills. Sometimes called, "typhoid pills" this vaccine provides longer protection than traditional injectable typhoid vaccines.
Vivotif (Typhoid Vaccine Live Oral Ty21a) is the only live oral typhoid vaccine available in the U.S.. The vaccine works with your body to protect you from typhoid bacteria in food, water or other sources. Because of typhoid's prevalence, many travelers come in contact with the disease. But, an oral typhoid vaccine can help you travel safely.
What Makes The Oral Typhoid Vaccine Different?
Typhoid vaccination is a reliable way to help prevent typhoid fever. When used with smart eating and drinking habits, travelers are sure to feel safe.
But, there is more than one option for typhoid vaccination. It is important to choose the vaccine that's right for you. Vivotif has some differences from other typhoid vaccination options:
Vivotif is sometimes known as an oral typhoid vaccine pill. This means you can take it on your schedule. Other injectable typhoid vaccines will need a shot. The 'typhoid pills' are taken over a seven day period.
Oral delivery also allows the body to form two different kinds of immune response (local and systemic) to help protect individuals.
The oral typhoid vaccine only requires a re-vaccination every five years. Injectable typhoid vaccines requires re-vaccination every two years.
Don't start your journey unprotected! Schedule your travel consultation today by calling or book online now. And don't forget to ask about Vivotif!
Is the Oral Typhoid Vaccine Safe?
Studies conducted by public health organizations like the Centers for Disease Control show the oral typhoid vaccine is safe and effective.
Vivotif is approved for use in adults and children over the age of six. For more oral typhoid vaccination safety information, see Vivotif's vaccine information sheet. For full prescribing information, click here.
Is An Oral Typhoid Vaccine Right For Me?
Vivotif provides protection against typhoid at home and abroad. The CDC recommends the following groups receive the typhoid vaccine:
Travelers to areas where typhoid is present
People who may have been exposed to a typhoid carrier
Laboratory technicians who could come in contact with typhoid
Where Can I Get The Oral Typhoid Vaccine?
Vivotif is offered at Passport Health travel clinics throughout the United States. To find out more about the vaccine or to book your appointment, call us at or book online now.
Additional Information
Vivotif is contraindicated in persons with hypersensitivity to any component of the vaccine or the enteric-coated capsule. The vaccine should not be administered to persons during an acute febrile illness. Safety of the vaccine has not been demonstrated in persons deficient in their ability to mount a humoral or cell-mediated immune response, due to either a congenital or acquired immunodeficient state including treatment with immunosuppressive or antimitotic drugs. The vaccine should not be administered to these persons regardless of benefits.
Vivotif® (Typhoid Vaccine Live Oral Ty21a) is not to be taken during an acute gastrointestinal illness. The vaccine should not be administered to individuals receiving sulfonamides and antibiotics since these agents may be active against the vaccine strain and prevent a sufficient degree of multiplication to occur in order to induce a protective immune response. Postpone taking the vaccine if persistent diarrhea or vomiting is occurring. Unless a complete immunization schedule is followed, an optimum immune response may not be achieved. Not all recipients of Vivotif® will be fully protected against typhoid fever. Vaccinated individuals should continue to take personal precautions against exposure to typhoid organisms, i.e. travelers should take all necessary precautions to avoid contact or ingestion of potentially contaminated food or water. The health care provider should take all necessary precautions to ensure the safe and effective use of the vaccine.
*For additional Important Safety Information, please click here for full Prescribing Information.